Asparagus beds can take up more space than we have or are willing to devote to a single vegetable. But thanks to diligent researchers and modern varieties, we can now plant asparagus much, much closer and get bigger yields.
Jump to:
High-yield varieties
The first step is to choose a high-yield variety, which will be an all-male hybrid.
Asparagus naturally has male and female plants, which are referred to as 'open-pollinated' varieties. But male plants produce more spears, so researchers have created all-male hybrid varieties.
According to asparagus expert, Carl Cantaluppi, "male hybrids can out-yield the old open pollinated, male/female varieties by 3 to 1. These male hybrids are not technically all male, but about 93% males, having about 7% female plants mixed in." (source: pdf)
The Jersey series used to be the go-to male hybrid species, but it's no longer being propagated. A newer variety, Millennium, bred in Canada has become quite popular with North Dakota State University claiming, "Millennium is the new leader in asparagus."
Closer spacing & triple rows
Traditional advice tells us to space asparagus plants 18" apart, with 3-5 feet between rows. That requires a ton of space! In fact, 25 asparagus crowns would take up about 100 square feet.
But researchers at UC Davis and NC State have conducted decade-long research studies to determine the effect of spacing on yield. It turns out, you can plant them much, much closer without sacrificing their productivity.
The trick is to use 12" (30cm) spacing between the plants and use double or triple-rows.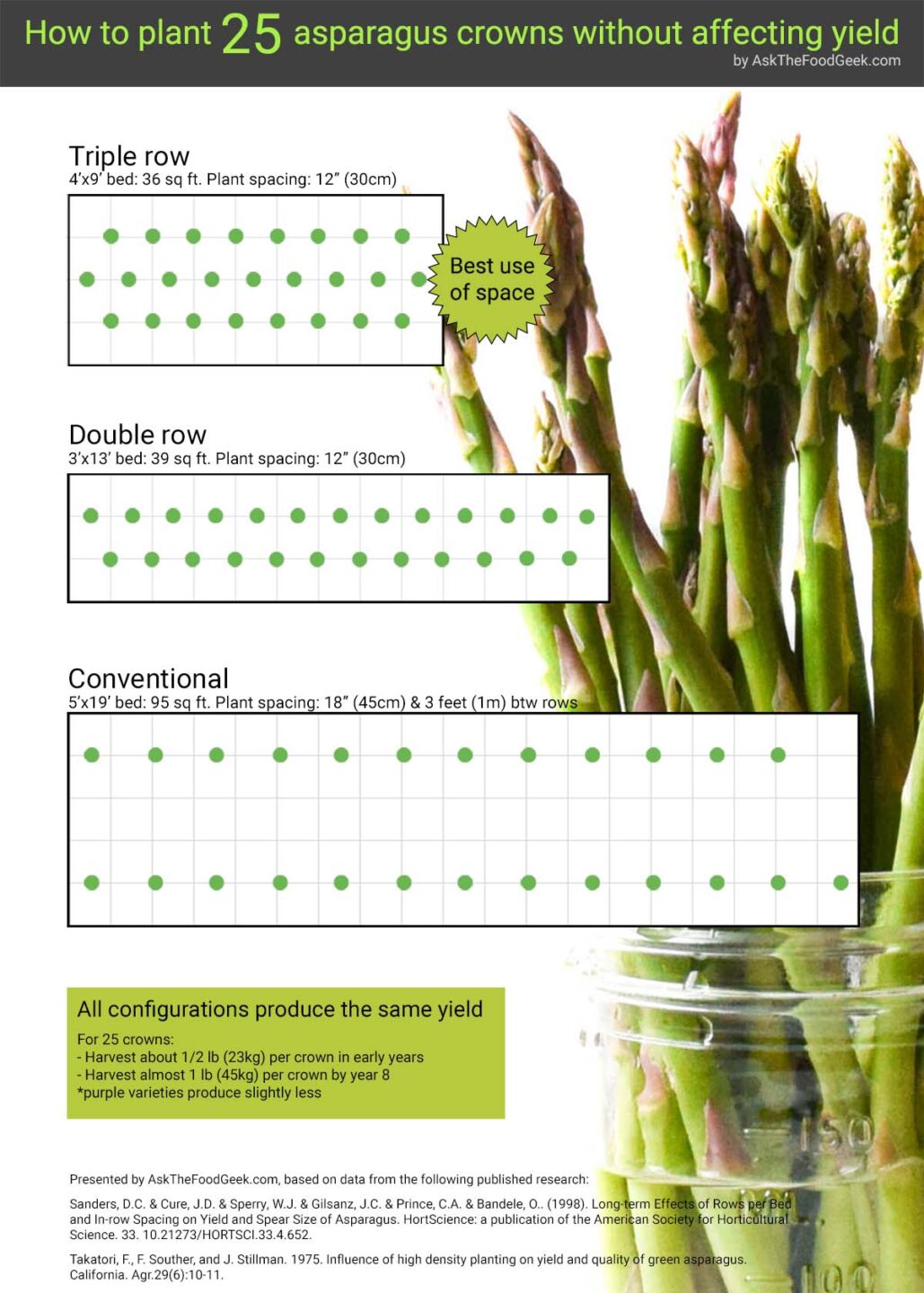 A double row plants the crowns side-by-side, 12" (30cm) apart in the same bed. A triple row uses the same idea, just adding another row. Research has not tested a quadruple row.
If you want to plant a triple row next to another triple row, space them 5 feet apart (1.5 meters), based on the center of each row. The same applies to a double row.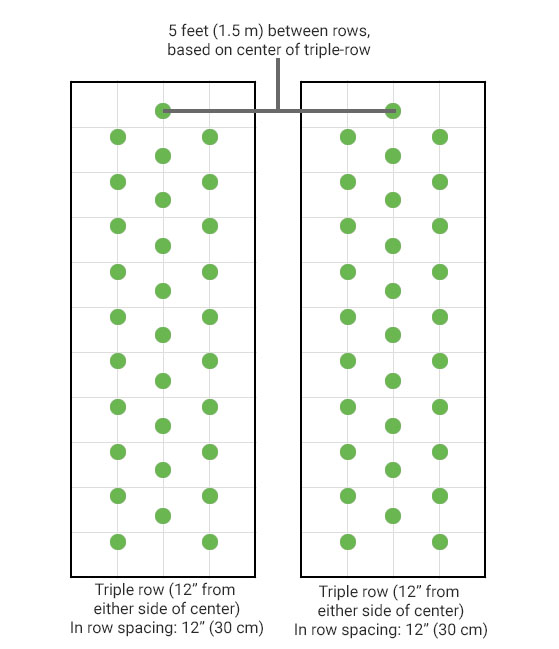 Space as close as 6"
Research also showed that a single row of asparagus crowns, planted 6" (15cm) apart, yields the same amount per plant as the previous listed configurations. This could be an interesting option if you plant this on the edge of a yard, fence, or your foundation.
When double and triple rows were tested with 6" (15cm) spacing, the yields only increased by 5-10% (despite double / tripling the number of plants). This means it isn't worth the extra cost or space to plant more than a single row at this density.
Many agricultural universities (like University of Illinois UC and Michigan State) are currently recommending spacing as close as 8 inches (in single rows). This is a much better alternative than the 12-24" spacing that's been suggested in the past (and is often still suggested).
Single-row plantings can have 3 feet (1m) between rows (as opposed to 5 feet (1.5m) for double and triple rows) without affecting the yield.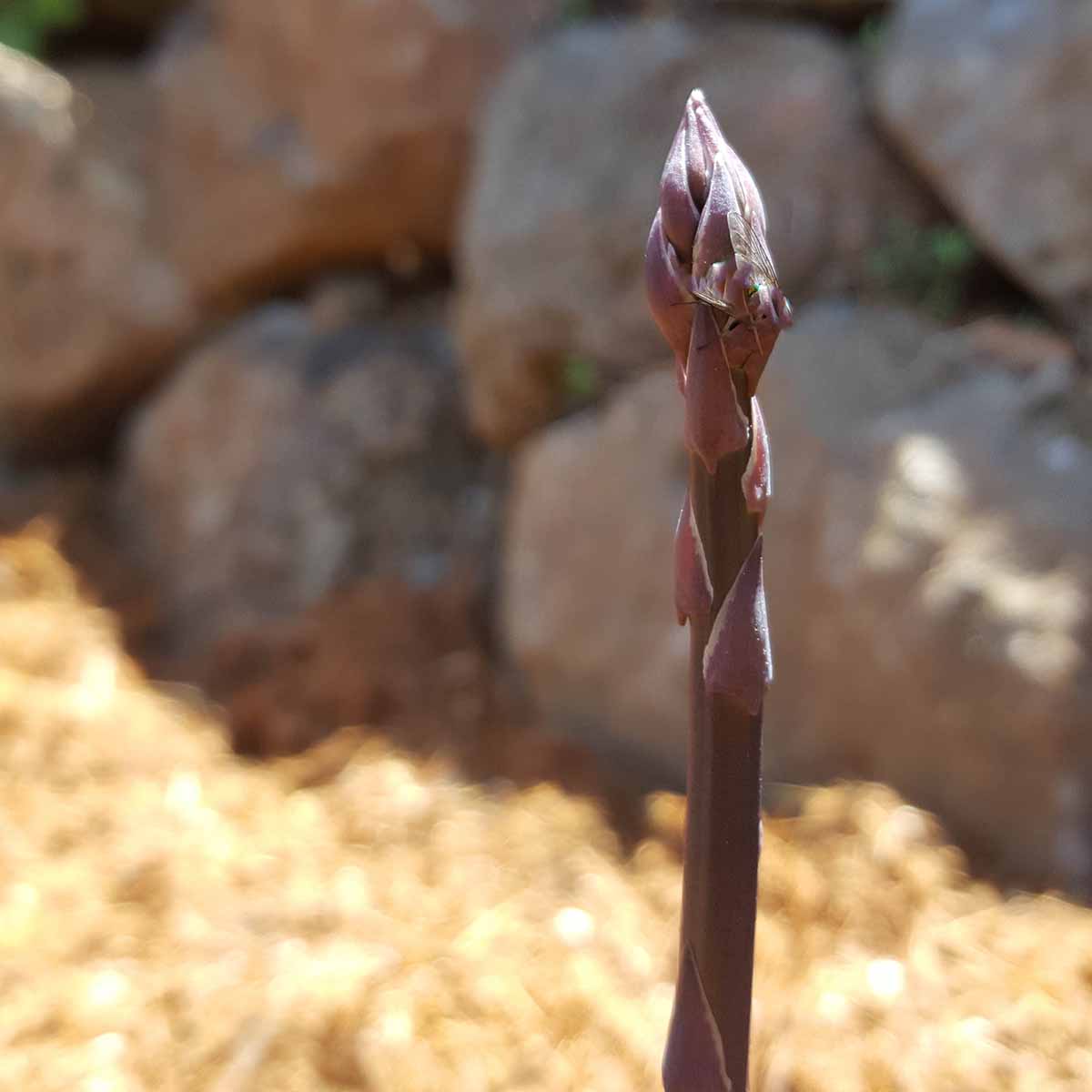 What about purple asparagus?
Purple asparagus currently produces less than the popular green varieties. Purple passion produces about 30% less than Jersey Giant (discontinued) and Millennium.
Purple varieties can also be planted closely, as described above for green asparagus. In fact, it's common to see advice called out specifically for purple asparagus to be planted 6-8" apart.
The reason that advice came about is the lower yields made it very difficult for farmers to grow purple asparagus profitably. This prompted researches to test planting purple asparagus significantly closer in order to increase yields for profitability.
Researchers in Japan found that planting asparagus closely produced the same amount as traditional green asparagus spacing (12-18" single rows). So even if you plant purple asparagus closely, green asparagus with similar spacing will still outperform.
That advice has trickled down to blogs and sites that sell asparagus crowns. To be clear, the effect is the same as with green asparagus, which will out-yield purple varieties.
More asparagus guides
Studies
Sanders, D.C. & Cure, J.D. & Sperry, W.J. & Gilsanz, J.C. & Prince, C.A. & Bandele, O.. (1998). Long-term Effects of Rows per Bed and In-row Spacing on Yield and Spear Size of Asparagus. HortScience: a publication of the American Society for Horticultural Science. 33. 10.21273/HORTSCI.33.4.652.
Takatori, F., F. Souther, and J. Stillman. 1975. Influence of high density planting on yield and quality of green asparagus. California. Agr.29(6):10-11. (PDF)
Satoru Motoki, Hiroaki Kitazawa, Tomoo Maeda, Yasushi Kyutoku, Effects of Dense Planting on Yield and Growth of the Purple Asparagus Variety 'Purple Passion', Horticultural Research (Japan), 2011, Volume 10, Issue 1, Pages 81-86, Released on J-STAGE February 02, 2011, Online ISSN 1880-3571, Print ISSN 1347-2658, https://doi.org/10.2503/hrj.10.81