January is peak citrus season, including everything from clementines to grapefruit. Kiwi are also available and in-season for North America (kiwi in summer are actually imported).
California provides a significant amount of our fruits and vegetables in winter, and fortunately the unseasonable rain earlier this month haven't affected the produce too much. Mandarin production (like Halo brand) is reportedly down 2%, and the strawberry fields are flooded but expected to recover for spring growing.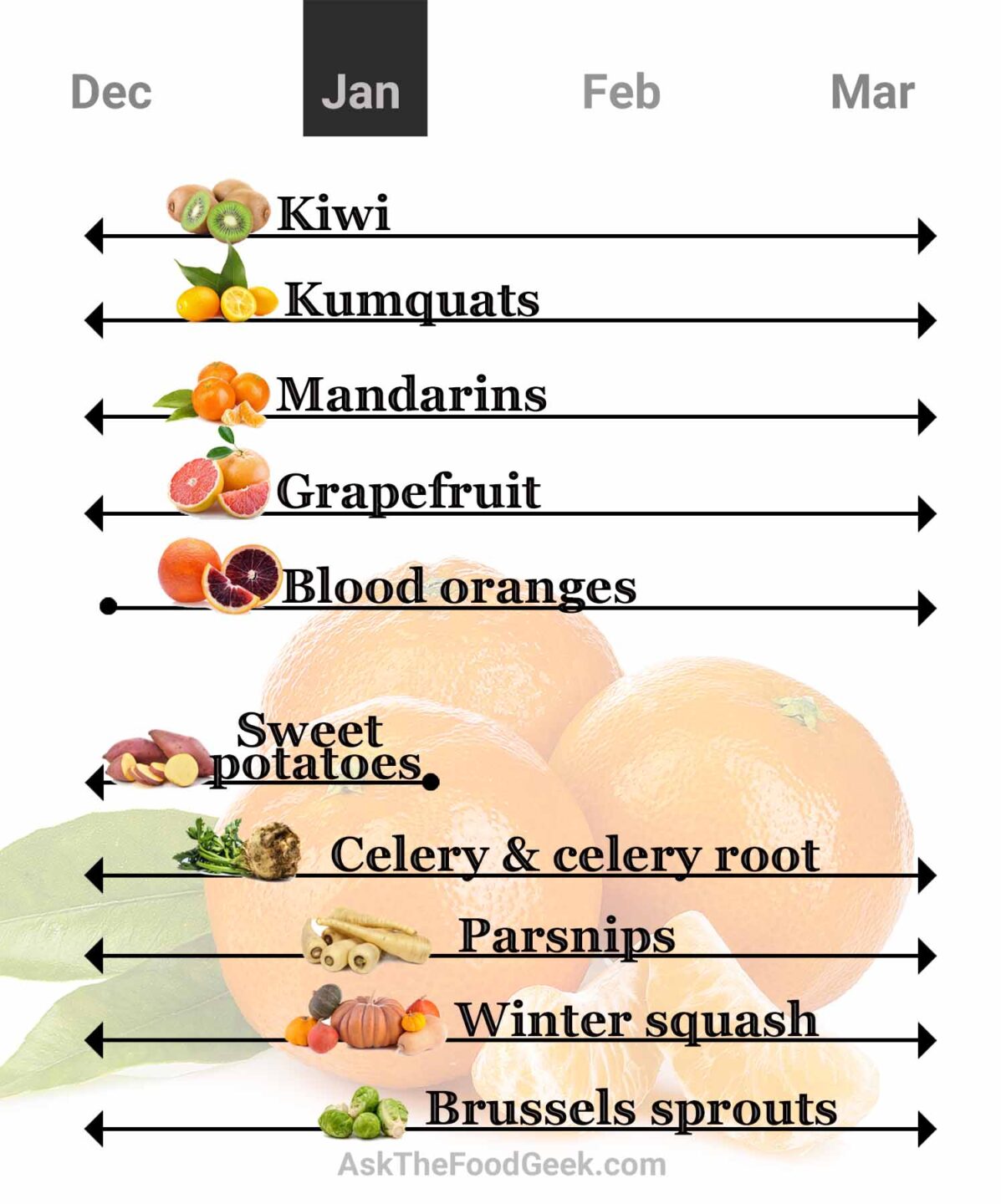 Winter fruits & vegetables
Citrus fruits don't get sweeter after they are picked from the tree, so ripening at home won't make them sweeter. If you live in a climate where you still have farmers markets open, buy citrus there.
Kiwi, however, are like bananas: they can be picked well before they are ripe and still sweeten afterwards. While the flavor of a vine-ripened kiwi is better (just like bananas), they are still pretty good after ripening on your counter.
What's available year-round?
Fruits: Avocados, lemons & Limes
Vegetables: Beets, broccoli, cabbage, carrots, cauliflower, fennel, garlic, herbs, mushrooms, onion-family, potatoes, radishes, sweet potatoes, turnips, salad greens and herbs.
For a full list of other months and all of the detailed produce guides, go to the in-season page.
Recipes for January
Yogurt orange vanilla smoothie with cinnamon - recipe by Rhubarbarians
The recipe calls for Navel oranges which are in season in winter. If you can't find them, mandarins will work just fine!
If you haven't had kumquats before, they are quite fun. They are tart and sweet and the entire rind is meant to be eaten. Start looking for them now, since their season is short.
Avocados are available all year round with great quality. This sandwich is perfect for the healthy-eating sprees of January.
Eat this soup with those smashed chickpeas sandwiches. If you can find organic butternut squash, that is ideal since the levels of pesticides can be high (based on the Environmental Protection Agency's testing).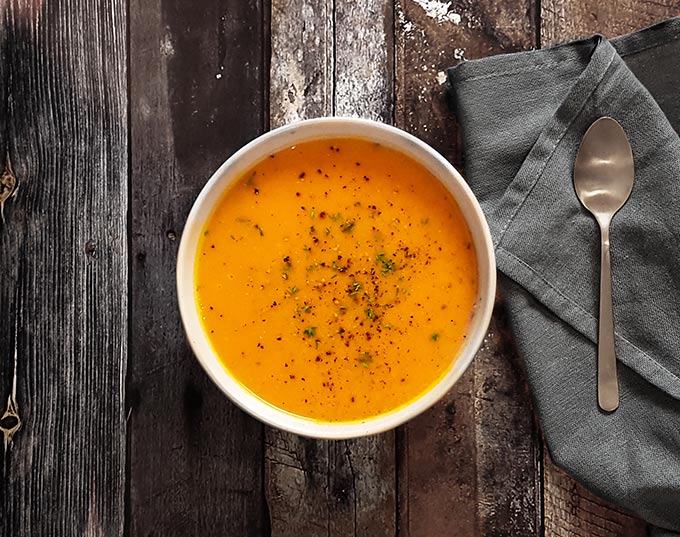 Packed with flavor and so easy to make - this is one of my favorite winter soups. If you are wondering what the difference is between the white and yellow fleshed varieties, check out the infographic on this page.
Filled with year-round staples like avocado, broccoli, cabbage, as well as some seasonal grapefruit - this salad looks delicious.
You can store blood oranges on the counter for a few days, or the fridge for a couple weeks.
When you can't take another salad in January but want to still be mostly healthy. Acorn squash make a great 'pot' for holding food, and it is completely edible. Learn more about different uses for each winter squash.
If you still haven't ordered pizza yet this month but are craving it - this could help!
Cauliflower and avocado are great year-round ingredients. They help add to the variety we need with the limited in-season fruits and veggies.
Cauliflower parsnip mash with roasted garlic - recipe by Love & Lemons
Parsnips make a great mash, and add just a slight note of nuttiness which pairs well with the cauliflower.
Supposedly, the longer brussels sprouts are stored, the stronger the flavor (but I haven't been able to do a good scientific test to verify this).
Since you'll be grilling whole slices, you'll want to try to find celeriac that isn't spongy in the center. Your best bet is to try to find the heaviest one for its size, indicating it isn't dried out.
If you do get one that has a spongy center, you can just cut around it.
Citrus ricotta tart with almond cornflour crust (gluten free) - recipe by The Bojon Gourmet
Since citrus fruits don't get sweeter after they are picked - it is best to find high quality fruits for this dessert. That way, you aren't tempted to drown it in extra sugar to make up for the loss of flavor.
If you make these the day you shop, look for kiwi that give a little when pressed, indicating they are ripe. If you are making this later in the week, you can pick out the harder ones and let them ripen at home.
All kiwi in your grocery store is shipped unripened, so you aren't getting a 'higher quality' by picking a ripe one now. It is just a matter of when you are going to use it.