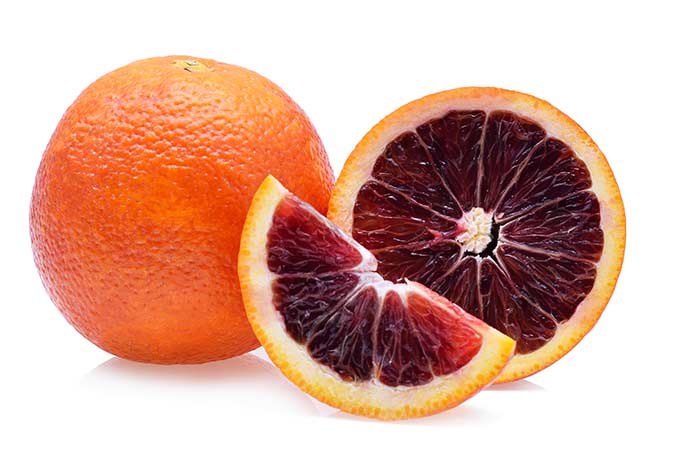 Blood oranges, or red oranges, are an interesting orange fruit variety with dark red flesh. Compared to regular oranges, they taste less acidic, slightly sweeter, and have hints of raspberry or strawberry.
Jump to:
Blood orange season
Blood oranges are in season in winter and early spring, from about December through April. They thrive in Mediterranean climates, so they are mostly grown in California, Italy, and Spain.

Blood oranges (and all citrus fruits) don't ripen after they are harvested from the tree. This means they don't get sweeter or more flavorful once picked. However, there is an upside to this: they store better since further ripening would speed up their decline.
See what else is in season at the same time: December, January, February, March, and April.
Varieties
Most stores don't label the specific blood orange variety. In case you can find the specific varieties, here are the most common ones:
Moro - The most common blood orange found in the US. The flesh is a darker-red than other varieties, sometimes almost purple. They are the earliest blood orange to ripen. When stored too long the flavor can become off-putting, so don't buy these out of season (after March).
Tarocco - The favored variety from Italy. The flesh is less red than other blood orange varieties and the peel has little-to-no red-blush. This variety has the sweetest, strongest flavor. They are in season until April (and sometimes trailing into May).
Sanguinello - The favored blood orange out of Spain. The peel is yellow-orange, often with intense red/blush spots. The flesh is orange with burgundy streaks that can sometimes look brownish. These ripen later in the season.
How to pick
A blood orange that is heavy for its size has more water content, a sign that it is juicy. Ones bought later in the season will be sweeter if they were left to ripen longer on the tree (although that isn't a guarantee, as they could have been picked and then held in cold storage before distribution).
How to store
The thick peel acts as a protective barrier from things that normally cause mold and rot. Combined with the fact that citrus fruits don't ripen after harvest, it allows us to store them for longer than most fruit.
Whole blood oranges: leave on the counter for a few days, or the fridge for 2 weeks
Cut halves: wrap the exposed flesh in plastic wrap and store in the fridge for several days
Segments: store in an airtight bag or container in the fridge for a few days
Zest: the aroma and flavor don't last long if stored on the counter or fridge. Freezing zest works quite well: spread zest out on a tray to quickly freeze it. Once frozen, transfer to a sealed container and freeze for several months.
Juice: store in a sealed jar in the fridge for a few days. It freezes well, especially if you freeze into ice cube trays then transfer to an airtight container.
Nutrition & benefits
1 blood orange
Nutrition Facts
1 blood orange
Amount per Serving
% Daily Value*
* Percent Daily Values are based on a 2000 calorie diet.
1 medium blood orange contains:

¼ to ⅓ cup of juice
2-3 Tbs of zest
10 segments

They are about 10% sugar by weight (for comparison, an apple is 10%, grapes 16%, and lemons 2%)
They have more antioxidants than other oranges, thanks to the compounds that make their flesh darker
The peel also has antioxidants, making the zest healthy as well
How to cut & zest
Remove wax before you zest: Blood oranges (and all citrus) are usually coated with a thin layer of wax to prevent moisture loss, which is currently approved by the FDA. Organic blood oranges are also coated in wax, but from an organic source like palm oil. To remove the wax, use a stiff bristle brush (like a vegetable brush) and clean it under hot running water.
Zest the outer, colored part of the peel, stopping when you get to the white part. The white part is the pith and is bitter.
Aroma & the peel
The peel contains an aromatic oil, which is why zest or thin strips of peel smell so good. These oils are volatile, which means they easily release into the air. This is both good and bad.

When the oils get into the air, we smell them, which enhances our perception of taste. There's a real reason bartenders twist an orange peel before putting it on your drink, it's not just all for show.
The downside of the volatility of the oil is that the smell and flavor don't last long after being cut or zested. That's why storing zest on the counter or in the fridge doesn't work well.
Recipes
Blood orange recipes often take advantage of their striking color - a pop of red against leafy greens or a stunning dark red cocktail. The flavor has more depth than most other oranges as well (like navel).
Each recipe below uses ingredients that are in season at the same time as blood oranges, or ingredients that have a year-round season.
Salad
Paired with meat
Dessert
Drinks & appetizers
Make it yourself