Jump to:
What fruits & vegetables are in season this month?
February and March are the long stretch of winter, offering the same fruits & vegetables from the previous winter months and nothing new. Hang in there, spring is coming!
Hopefully you are still happy to enjoy winter's citrus until spring strawberries show up in April. Kiwi are also still available, since they are a staple winter fruit (summer ones are imported).
The traditional winter vegetables are still around until the very first artichokes and asparagus of the season show up next month.
Out of season options
This is the hardest time of year to eat strictly with the seasons. While I try to do my best, I do rely on some out-of-season alternatives.
Frozen blueberries
Frozen blueberries make great muffins. They should be used frozen (not thawed), and toss them in flour before mixing into the batter to prevent them from turning the batter blue.
Apples
Fresh picked apples have an amazing flavor and crispness to them. But thanks to commercial storage, some apple varieties can be stored througout winter with only slight losses in flavor and quality.
Use apples from the grocery store in salads, muffins, or roasted along with a pork loin. I'd save pies and tarts for when they are back in season in fall.
Preserved fruit
Dried cranberries, cherries, and apricots are great on salads or paired with pork and chicken. They are also excellent in muffins.
Canned fruit, like pineapple, can liven up a stir fry or salad. It's not the same as fresh, but in winter, it can really save the day.
Bell peppers
Bell peppers are a summer vegetable in the US, and imported from the southern hemisphere in winter. They store and ship very well, giving us high quality options year-round.
If you are eating in season for flavor, bell peppers in winter will still be tasty. If you eat seasonally to reduce your carbon foot print, this might not be the best option for you.
In-season recipes
Cara Cara oranges are in season from December through April. If you can't find them, mandarins or blood oranges would also work.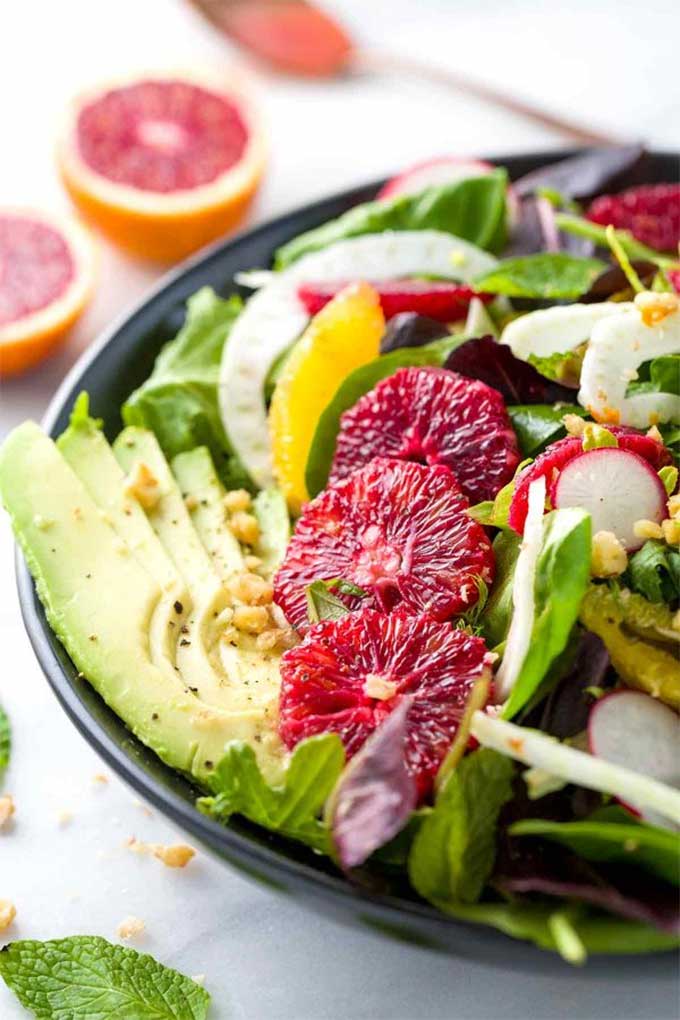 Fennel is available all year at good quality, and so are avocados.
This uses ingredients available year-round at high quality, a nice way to add variety to the limited winter fruit & vegetables that are in season.
This recipe calls for butternut squash, but most winter squash varieties will work if that's what you have available.
This recipes uses celery and celery root, which are actually harvested from different versions of the plant (one is grown for nice stalks, the other for the root).
Because why not?! It's a great excuse to use up extra celery stalks that you might have from another dinner plan.
Lamb shanks with kumquats, fennel, cardamom and mint from Eat in My Kitchen
If you haven't had kumquats before, they are quite fun (and pair really well with lamb). They are tart and sweet and the entire rind is meant to be eaten. Start looking for them now, since their season is short.
Za'atar pork tenderloin with grapefruit frisee salad - recipe by Midlife Croissant
Acorn squash make a great 'pot' for holding food, and it is completely edible. That makes it perfect for stuffing with meat and cheese. Learn more about different uses for each winter squash.
You might be surprised to learn kiwi is a winter fruit. When you see it in summer, it is imported from New Zealand.
Limes are available year-round at high quality. Not that you needed a reason to justify making this!
Have you ever gotten a bunch of clementines that are 'just okay'? You're all excited for the peak-season flavor and sweetness only to get a lackluster batch.
When life gives you a lemon, turn it into lemonade. Or... a clementine cocktail. If it isn't super sweet, it won't matter in this cocktail.
Pomegranates are no longer in season, so you might not be able to find them (or at good quality). It's just a little garnish, and this cocktail is delicious without them (or I wouldn't have shared it!)