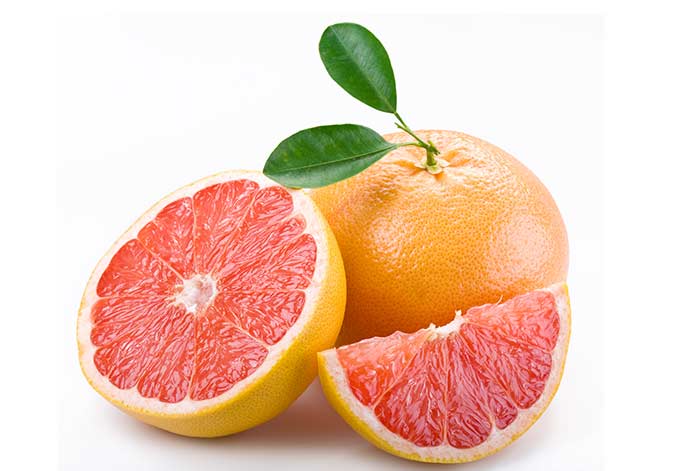 In-season, ripe grapefruit are almost as sweet as oranges. In fact, they are a cross between an orange and a pomelo. However, their bitterness can make them taste less sweet, which is why people often add sugar.
Jump to:
When are grapefruit in season?
Grapefruit are available from fall through spring, thanks to the different climates from big growers like Texas, Florida, and California. If you don't live in a state that grows grapefruit, you can still get high quality ones in your area. That's because they ship well, thanks to their thick, protective peel.
Texas and Florida are the two dominant grapefruit growers, with their season starting in November and lasting until May.
Southern California has recently become a big player in the grapefruit industry and their season covers the summer supply gap in the Florida and Texas market. California grapefruit are available from January through June.
The longer the fruit is left to ripen on the tree, the larger and sweeter they get. So you are more likely to find sweeter ones later in the season. In fact, I often don't start buying them from any source until January.
See what's in season at the same time: January, February, March, April, May, June, November, and December.
Types of grapefruit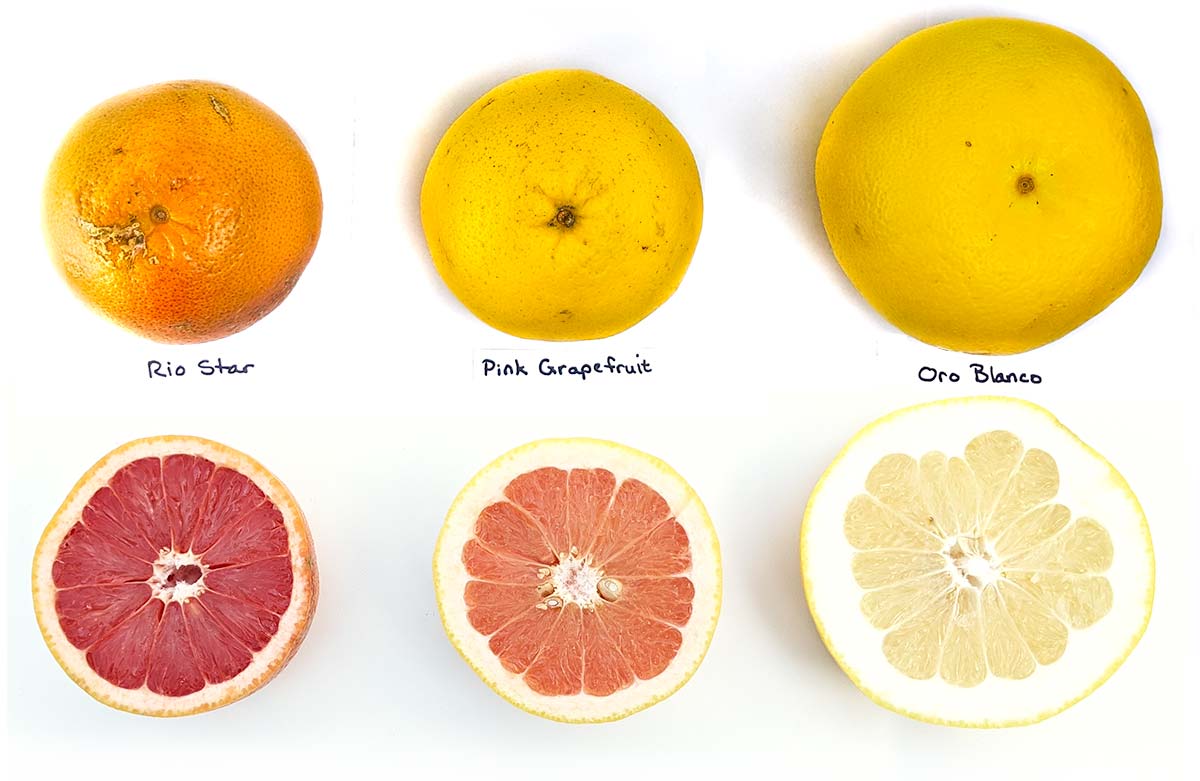 There are white, red, pink, and yellow varieties. A general rule of thumb is that the sweeter varieties have a deep red flesh.
Duncan is a white grapefruit with a lot of seeds, but has excellent flavor and is great for juicing. They are mostly sold to companies that make grapefruit juice and rarely sold to consumers.
The Marsh grapefruit is a seedless descendant from Duncan with similar flavor and slightly less juicy. Note that seedless varieties can still have a few seeds.
The Pink Marsh (also called Ruby Marsh) is a hybrid variety with pink flesh and is sweeter than the white Marsh. A darker (and slightly sweeter) version of the Pink Marsh was developed, called Ruby Red, and is mostly grown in Texas.
A mutation of Ruby Red, called Flame, was discovered in a citrus grove in Texas. Flame grapefruit are one of the sweetest varieties.
Ruby Red became an entire category of grapefruit grown in Texas as a result of breeding programs to get redder and sweeter flesh. These include several types of grapefruit that might be labeled as 'Ruby Red' or by their varietal names. Two of the main varieties are Rio Red and Star Ruby (sometimes labeled as, Rio Star). These 'ruby red' varieties are all quite similar to each other and have slightly darker flesh, are less bitter, and even sweeter than the previously listed varieties.
Oro Blanco and Melogold are grapefruit-pomelo hybrids, both have pale yellow flesh and are seedless. They are know for having almost no bitterness, low acidity, and are quite sweet. An agriculturalist at the University of California says Melogolds are better for mass-farming, but Oro Blancos have better flavor. I've had both, and I agree.
Sources: Purdue, UC Riverside, Texas Monthly
Sweetest grapefruit
Look for Flame or ruby red varieties (including Rio Red and Star Ruby). Also try the Oro Blanco grapefruit-pomelo hybrid, which also tastes quite sweet.
Getting a super sweet grapefruit isn't just about picking the right variety, a few other things go into it as well:
Fully tree-ripened: the longer they ripen on the tree, the sweeter they are and the larger they get. Look for bigger grapefruit within the same variety for a better chance at a fruit that ripened longer on the tree.
Late season: late season grapefruit are often sweeter because they were left longer on the tree. Try buying grapefruit in March, April, and May.
Less bitterness: bitterness inhibits our ability to taste sweetness, so varieties lower in bitterness make the fruit seem sweeter. Flame, ruby reds, and Oro Blanco all have lower bitterness.
How to pick
Grapefruits that are heavier for their size are juicier (because more water content makes them heavier). Larger grapefruit (compared to ones of the same variety) indicate they were left longer on the tree, so they will be sweeter.
Scarring on the fruit's outer peel is perfectly fine, but you don't want to see hard or soft spots on the peel (a sign of deterioration).
How to store
Whole grapefruit: you can leave them on the counter for about a week, or they will last 3 weeks in the fridge.
Cut grapefruit: If you've cut a grapefruit in half, wrap the exposed part with plastic wrap and store in the fruit drawer of your fridge.
Cut segments: can be stored in an airtight container in the fridge.
Zest: Tests from Cook's Illustrated show that frozen zest retains most of its flavor, unlike storing it in the fridge or on the counter. Freeze zest by spreading it out on a tray, then transferring to a freezer bag once frozen (this keeps the zest separated instead of one big clump).
Nutrition and benefits
A whole grapefruit is about 100 calories and 120% of your daily vitamin C. It also has 17g of sugar, which is about the same as an apple, and twice as much as an orange.
How to cut & zest
You can cut it in half (around the equator) and eat each segment with a spoon, or you can peel it and cut segments out (similar to an orange). The Pioneer Woman shares 3 ways to slice grapefruit, with plenty of pictures.
Remove wax before you zest: Grapefruits (and all citrus) are usually coated with a thin layer of wax to prevent moisture loss, which is currently approved by the FDA. Organic grapefruit are also coated in wax, but from an organic source like palm oil. To remove the wax, use a stiff bristle brush (like a vegetable brush), and clean it under hot running water.
Zest the outer, colored part of the peel, stopping when you get to the white part. The white part is the pith and is bitter.
Bitterness: sugar & salt
It's common practice in the US to add sugar to grapefruit, even though it is already one of the sweeter fruits we consume. But it doesn't taste as sweet as other fruits, and that's due to its bitterness. Sweetness and bitterness inhibit each other: the sweeter something is, the less bitter it tastes, and the inverse is also true.
Instead of adding sugar to your grapefruit, try salt. Salt will make it taste sweeter by blocking the bitter receptors on our tongues. Salt also makes it easier for volatile compounds to become airborne, which means you can smell more of the grapefruit, increasing the perception of sweetness.
Check out the Grapefruit & Salt article on NPR for a very interesting history of salt and sugar usage on grapefruit in the US, including some war-time propaganda.
Recipes
Each recipe below only uses ingredients that are in season at the same time as grapefruit, or ingredients that have a year-round season.
Breakfast
Appetizers
Salad
Meat & seafood
Desserts
Cocktails