The most convenient snacking citrus tastes a whole lot better when you get them in-season and when they've had more time to ripen on the tree.
Jump to:
When are mandarins in season?
Mandarins are in season during the cooler months, from roughly November through April. Fresh Satsuma can show up in October if they are grown near you, but they aren't often shipped long distances due to their fragility.
Like other citrus, mandarins don't get sweeter after they are picked. If you live in an area that grows them, it's worth seeking out at a farmers market. For the rest of us, we have to hope we buy a good batch at the store.
Jan
Feb
Mar
Apr
May
Jun
Jul
Aug
Sep
Oct
Nov
Dec
Clementines
(Halos)
x
x
x
W. Murcott
(Halos)
x
x
x
Tangelos
x
x
x
x
Satsuma
x
x
x
Kishu
x
x
See what else is in season at the same time: January, February, March, April, November, and December.
Varieties
Clementines, tangerines, satsumas, tangelos, and halos are all different types of Mandarins. While 'tangerine' originally referred to a specific variety, it is now used interchangeable with the term 'mandarin.'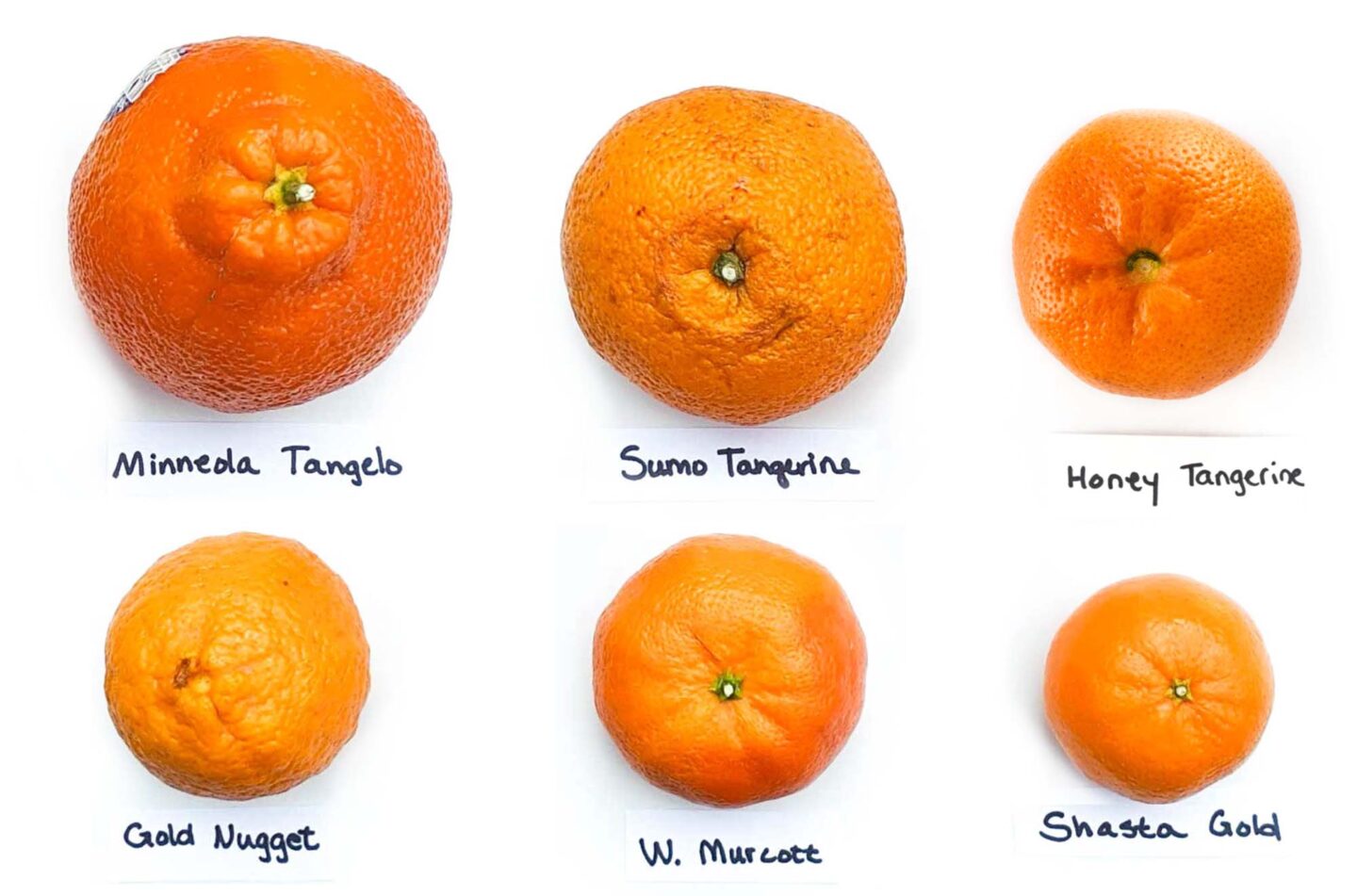 The difference between mandarins, tangerines, clementines, and satsumas
Mandarins are a type of orange that have slightly flat ends, thinner skin, and often sweeter flavor. Tangerines, clementines, and satsumas are all types of mandarins with their own characteristics.
Tangerines are technically a type of mandarin, but the two terms are used interchangeably these days.
Clementines are smaller than tangerines, and seedless. They are often sold under the Halo or Sweetie brands.
Satsumas are even smaller, also seedless, even easier to peel, and more fragile (they bruise easily).
Tangelos are a cross between a tangerine and pomelo (or grapefruit), giving them a sweet and slightly tart flavor.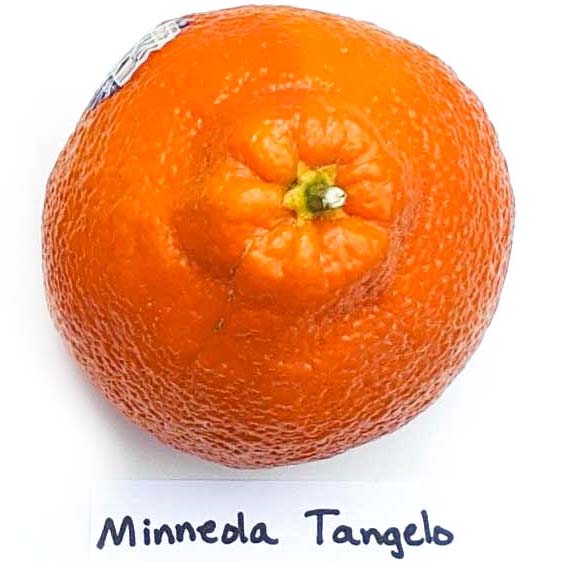 Minneola tangelo
The Minneola is a cross between the darcy tangerine and duncan grapefuit.
Also called "Honeybell"
Sweet and slightly tart
Larger than other mandarins, about the size of a small orange
Peels easily and is very juicy
Sumo
"Sumo Citrus" is the brand name of a delicate, tasty hybrid mandarin. They are quite expensive, at 2x (or more) the price of other mandarins.
Larger (almost the size of an orange)
Sweet, mildly tart, and low in acidity
Peels easily and is juicy
More reading: "Do Sumo Citrus mandarins deserve the hype?"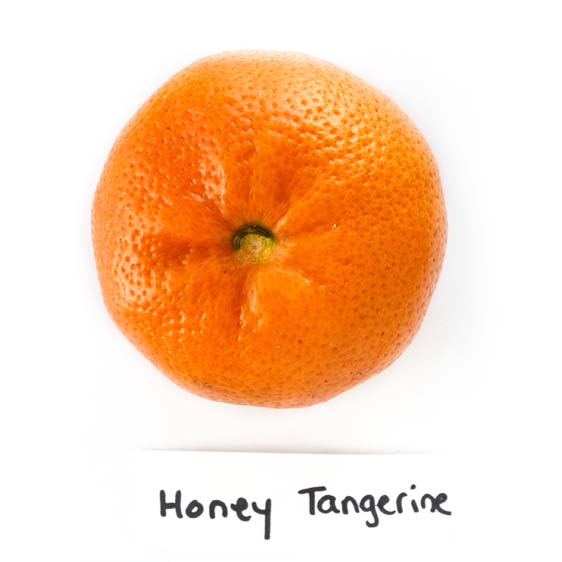 Honey / Murcott
The Murcott mandarin is often marketed as "Honey" or "Honey Tangerine" (which is different than W. Murcott).
Medium size for a mandarin
Very sweet
Not as easy to peel and has seeds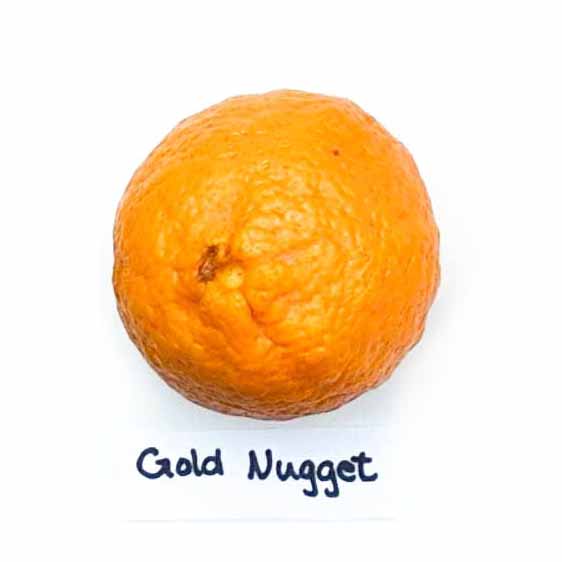 Gold Nugget
Gold nugget mandarins usually have a pretty bumpy skin, making them a bit ugly. But they are delicious and are "considered by professional taste panels to be one of the very best flavored citrus in the world." - UC Riverside
Medium in size and bumpy rind
Very sweet, no seeds
Peels fairly easily
Late season variety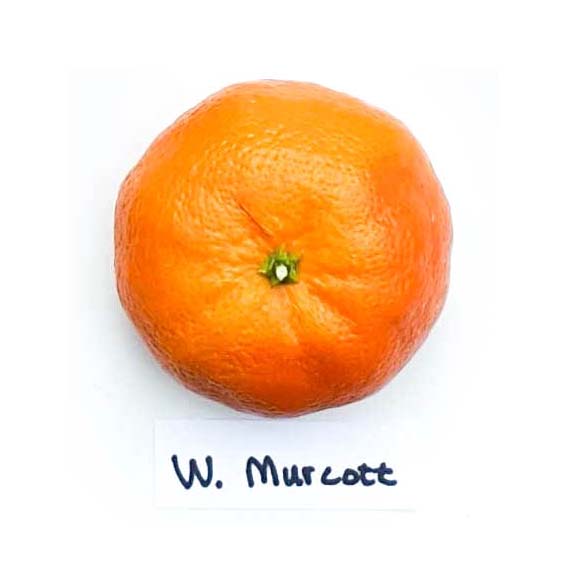 W. Murcott Afourer
Different than the Honey/Murcott variety, it will be labeled as W. Murcott or Afourer to avoid confusion. It's also been trademarked as "Delite"
Smaller in size
Sweet, good flavor, can have seeds but often doesn't
Peels easily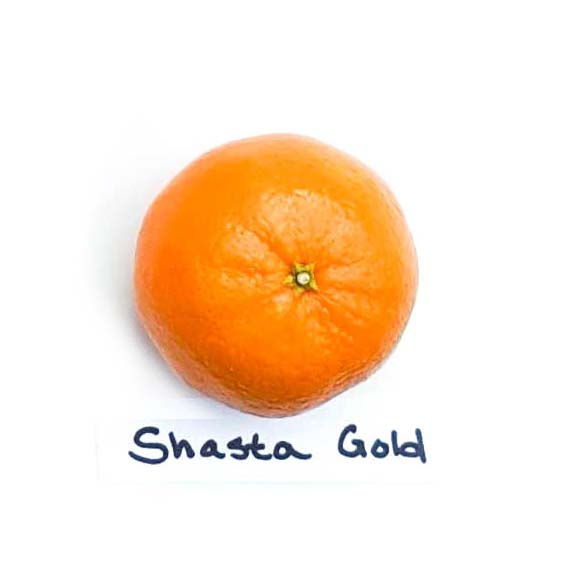 Shasta Gold
Developed as a late-season variety at UC-Riverside, along with Tahoe Gold and Yosemite Gold.
Medium size
Sweet, rich flavor
Peels easily, no seeds
Satsuma & Kishu
Satsuma are much less durable than other mandarins, making them harder to ship and thus harder to find. However, they are the most common mandarin used for the canned mandarins you buy at the grocery store.
Kishu mandarins are about the size of a walnut, and other than their size, they are similar to other mandarins.
Best tasting variety
The sweetest and best tasting mandarins rely slightly on the variety but mostly on how long they were left to ripen on the tree.
Gold Nugget is a top choice for flavor if you can find that specific variety. Sumo Citrus are consistently good, but double the price per pound compared to other mandarins.
Buying Halo, Cutie, and Sweetie brand clementines have been very hit or miss for me (mostly misses, sadly). When that happens I use their juice in salads, stews, or baked goods, where the flavor doesn't need to shine.
How to pick
It's hard to tell if mandarins are ripe or how long they were left to ripen on the tree. And in the case of Halos, which are sold bundled in bags, you can't individually pick them anyway. There are a few tips that might help you find the good ones:
Look for slightly loose skin. If the skin is too loose, it's a sign it has lost water weight and has dried out (think of clothes that fit well... not too tight, but not so baggy that it looks like you lost a ton of weight).
The spot where the stem was should be soft and white. If it is brown, it was likely picked a while ago and is no longer very fresh.
It should be very fragrant. If it is not, it was either picked too early from the tree or has been stored for too long and is drying out.
How to store
They can be left on the counter for a few days, or loose in the fridge for several weeks.
Seasonal recipes
Fresh mandarins are great for snacking and using raw in salads. But if you have a bag of clementines that just don't have a lot of flavor, you can still make good use of them in baked goods, in a marinade, or a recipe that relies on the zest for most of the flavor.
Salads
Mandarins and clementines are a great option for adding to salads because they are easy to peel and segment - unlike oranges with have to be peeled and segmented with a knife and get juice everywhere.
The zest and juice can also be used in salad dressings and vinaigrette.
Meat
If you're trying to use up a bag of clementines, try one of these recipes. You can also find orange-based recipes and almost always swap in any type of mandarin. For example, I make take-out style orange chicken quite often and use everything from valencia oranges in summer to clementines in winter.
I found recipes that call for mandarins, just to make sure they are fool proof for you.
Dessert
Many dessert recipes rely on the zest for flavor, like a tea cake, which means you can safely use up flavorless mandarins without sacrificing the flavor in the recipe. You can also rely on added sugars and flavors to enhance a lackluster fruit, like the brown sugar glazed clementine recipe below.
Other recipes, like chocolate dipped clementines, require a good tasting fruit to begin with. So save your best tasting ones for this purpose.
Drinks & cocktails
A good way to use up a lot of mandarins? Squeeze the juice into drinks.
Make it yourself
Other seasonal fruit
Look for grapefruit, blood oranges, kumquats, and kiwi throughout winter, or check out the seasonal calendar.