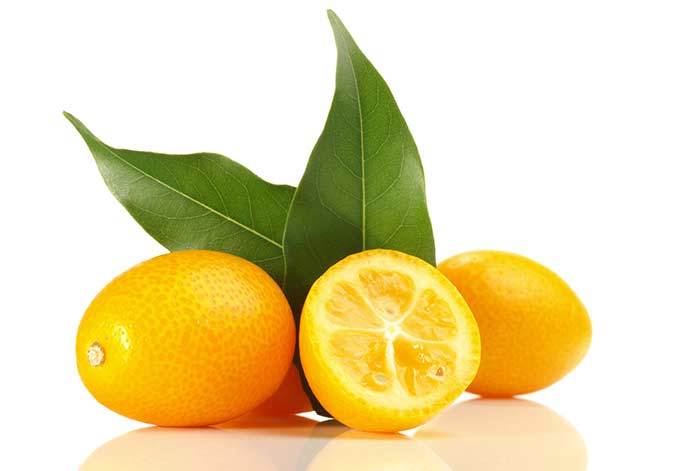 Kumquats can only be found during their short season. Eat the whole fruit (the rind is sweet)!
Jump to:
When are kumquats in season?
Most kumquats in the US are grown in Florida and California.
Florida season: November to March
California season: January to April
See what else is available at the same time: November, December, January, February, March, and April.
How to pick & store
Not all stores carry them (yet!). If you can't find them near you, check with an Asian grocer, as the fruit is more popular in Asian cooking.
Kumquats should be plump and have no shriveled skin (a sign they are old and drying out).
You can leave them on the counter if you're going to eat them within a few days. Or you can put them in the fridge for several weeks.
How to eat kumquats
The entire fruit can be eaten, including the rind (peel). The rind is sweet and the flesh is very sour or tart. The seeds are edible, but quite bitter so most people spit them out.
To eat them whole, roll it around in your hands to release the aromatic oils (our sense of smell greatly impacts our sense of taste). Then pop it in your mouth and spit out the seeds.
You can also slice them or chop into a chutney. Remove the seeds, as you would for other citrus.
Related: Limequats
Limequats are a cross between a key lime and a kumquat. Their peel is sweet, but less so than a kumquat. If you like eating sour things, this is for you. The edible peel also makes this great for marmalade and chutney.
Recipes
This collection of recipes are hand selected to make sure all ingredients are in-season at the same time as kumquats.
Salads & appetizers
Kumquats add a sweet-sour element to any salad, side, or appetizer. It's a fun way to add interest to a winter dish.
Meat
Kumquats pair well with gamey meat like lamb or venison. They also work well with most dishes that traditionally use other citrus fruit, like fish or chicken.
Desserts
Use the tartness to balance out otherwise very sweet desserts.
Have a favorite kumquat recipe to share?
Leave a comment so everyone else can check it out.