This is one of the only monthly recipe lists you will find that's totally curated for seasonality.
I don't just share any recipe that has butternut squash in it, or pears, or apples. I make sure all of the ingredients are currently in-season, or available (in good quality) all year.
When you cook with fresh ingredients, they do the work for you... making the dish taste fantastic without your intervention. Using out-of-season produce makes for a bland recipe that you'll find yourself fighting against with extra salt or seasonings.
Let's start with appetizers for November...
Fall cheese board - from Nutmeg Nanny
You might notice in the picture that she uses fresh seasonal fruit including apples, figs, grapes, and a few pomegranate arils can be found floating in there. While this might not seem like a big deal, in-season fruit tastes so much better and is really worth it - they shine against the fatty, salty cheese and meats.
This is a unique season take on the 'party-veggie-platter.' Use whatever veggies are in season by you.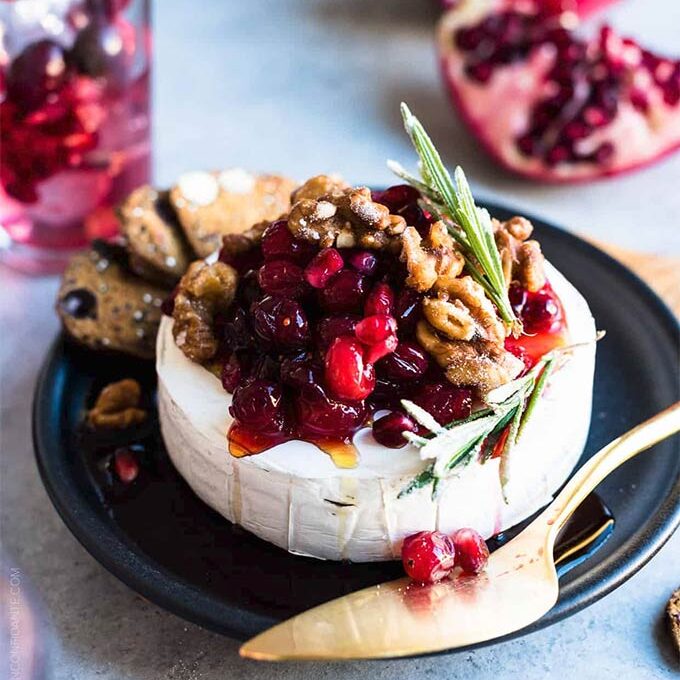 Learn how to seed a pomegranate or how to store fresh cranberries (and more recipes for both!)
Now on to some salads...
A 10 minute dinner using one of my favorite fall fruits, pomegranates.
Check out the seasonal pages for pears and brussels sprouts for tips and more recipes.
I figured out the secret to getting actual crispy chickpeas!
What is the different between a sweet potato and a yam - and which should you use?
Roasted butternut squash soup for Thanksgiving leftovers - recipe by Ask the Food Geek
Make this soup ahead of time and eat it with a side turkey sandwich, or stuffing, or make stuffing croutons! This soup would work well with kabocha squash or even pumpkin instead of (or in addition to) butternut squash.
Shaved cauliflower salad with clementines and pomegranate - recipe by Brooklyn Supper
Pomegranates come into season in September and last through December, so you can make this as soon as clementines show up.
Kale Caesar salad with celery root, hazelnuts, and cornbread croutons - recipe by Ask the Food Geek
If I want to add cornbread to my kale salad, no one can stop me #Adulting. Celeriac is one of the most underrated vegetables in my opinion - learn how to pick, store, and cut them on the celery root seasonal page.
On to hearty fall main meals!
Did you know those pre-packaged bags of grapes are almost always sold by the pound? That means you can pick out 1-2 bunches of several varieties, instead of buying a whole bag of just 1 kind. Get more tips for when grapes are in season.
You can eat this whole squash, skin and all. Acorn and delicata squash have very thin skin that perfectly softens when cooked.
Different oranges are in-season throughout the year, and mandarins show up in fall and winter, so feel free to use those in this recipe. Another tip: if you are baking or cooking cranberries, you can use frozen ones and you won't be able to tell the difference? Get more tips & recipes for when cranberries are in season.
A mix of pumpkin and sweet potatoes make the base, and this sounds amazing. Heather has such a fun personality and really great recipes. She has a cookbook out that is high on my wish list!
Slow cooker black bean, butternut squash and quinoa chili - recipe by The Full Helping
Well isn't this delicious?! Butternut squash is great for stews because it holds up when cooked (but not cooked forever, because then it will fall apart, although that can be good too!)
Whole wheat butternut squash and pesto lasagna - recipe by My Diary of Us
I know, you want to eat this right now! She's such a fun blogger and just released her first cookbook (which I had to buy right away). It's great, and it probably makes a nice gift for the Holidays. #JustSayin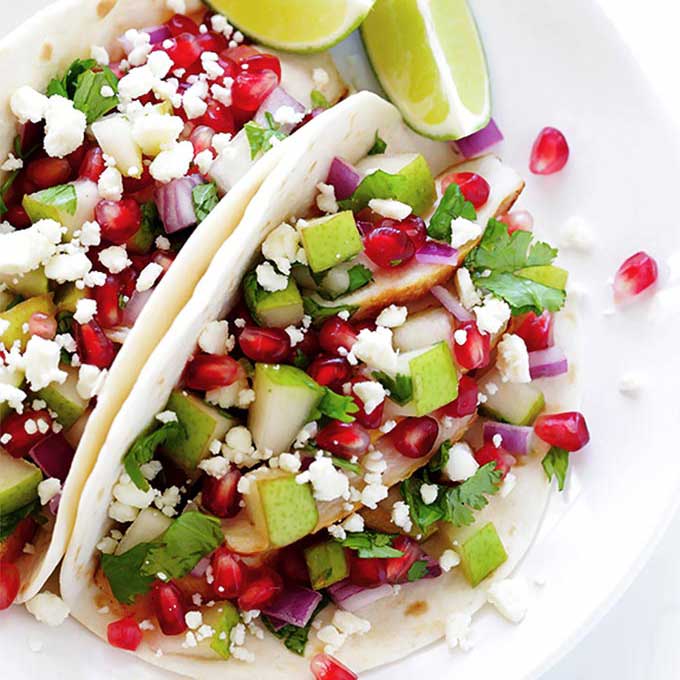 This might come as a surprise: pears don't ripen on the tree, they have to be picked first! I know, right?!
Grass-fed burgers with roasted brussels sprouts and crispy shallots - recipe by Bev Cooks
Shallots are harvested in late spring and early summer, then store well into early winter.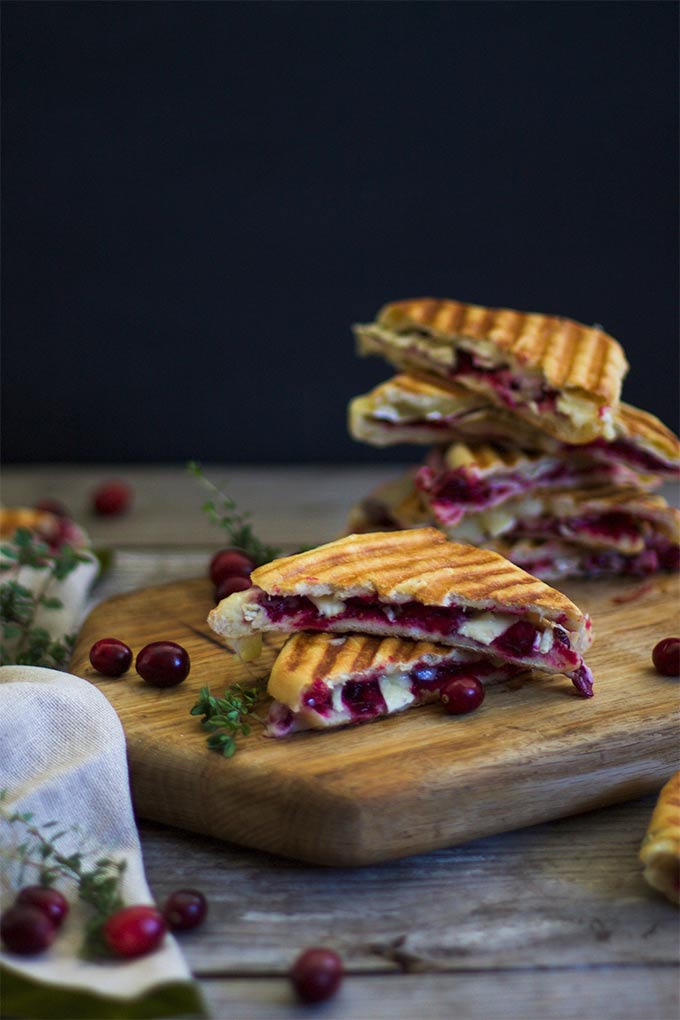 Did you know only 1% of cranberries grown in the US are organic. So if you are looking for organic cranberries, you might have to buy frozen, or buy in bulk direct from the farm.
To pick a good pear at the store or market, gently press the fruit at the stem end - if it gives a little, take it home. If it is soft all over, the interior is probably a little mealy.
Because of modern technology, apples can be stored for over a year. While they won't harm you, they will be very, very bland and probably have a suboptimal texture. You don't know how old the apple is at the store, so I suggest going to a market for this, or asking the produce manager (yeah, be that person!).
Desserts, snacks, and drinks for November...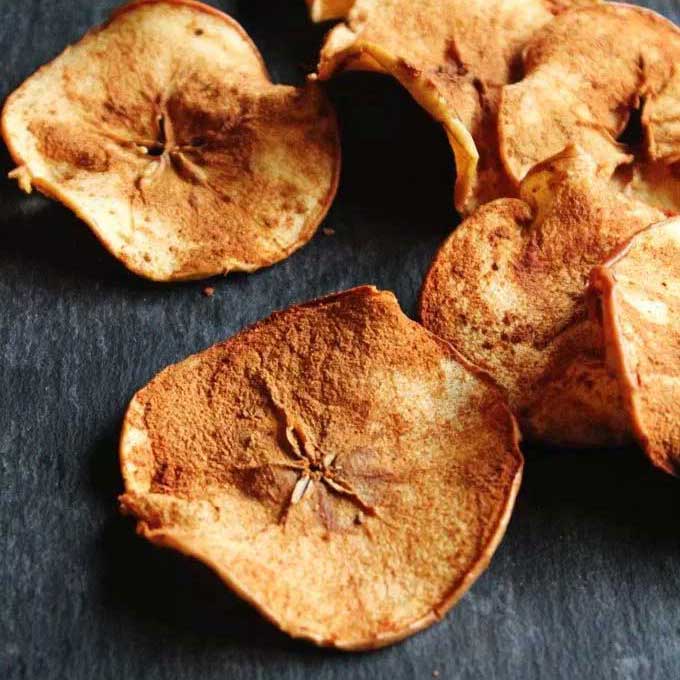 Buy organic if you can, as apples tend to have higher concentrations of bad pesticides.
There are a lot of different types of apples - get the low-down on each type you might find while apples are in season.
If you haven't tried concord grapes, they are worth seeking out. They taste exactly like grape juice - so much so that you might swear it is artificially flavored!
If you will be eating the kiwi right away, pick softer ones (they are riper), otherwise, pick harder ones and let them ripen at home. All kiwi that are shipped to your area are shipped when they are hard, so they either ripen at the store, or at home.
Store unripe pears on the counter, otherwise put them in the fridge. Smitten Kitchen also has a brand new cookbook - I have her first one and love how reliable all of her recipes are. The new book is also high on my wish list!
Move over carrot cake - the warm-spiced parsnips are perfect for fall. She also has a cookbook released this year, focused on clean eating that is gluten and grain free. I gave one to a neighbor who needs gluten-free recipes for her daughter and she loves it. The paperback is sold out, but the ebook is available.
Bourbon-apple cranberry cobbler with anise and vanilla - recipe by Vanilla and Bean
This sounds incredible, doesn't it?! Get even more apple and cranberry recipes while they are in season - you can never have enough!
Don't forget to to roast the pumpkin seeds, or seeds from any winter squash, actually!
December is right around the corner!
Get next month's recipes & tips sent to you as soon as they are ready.