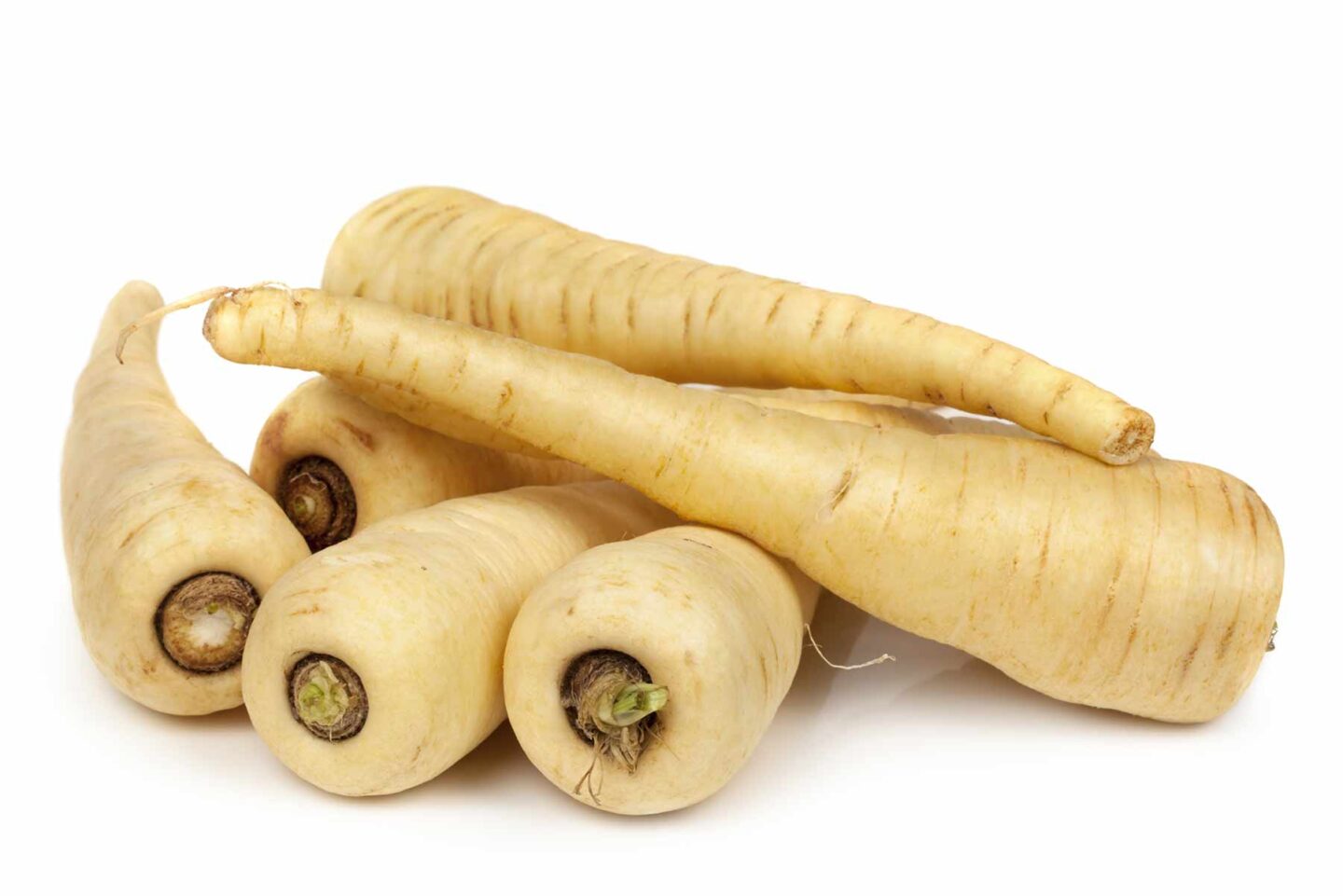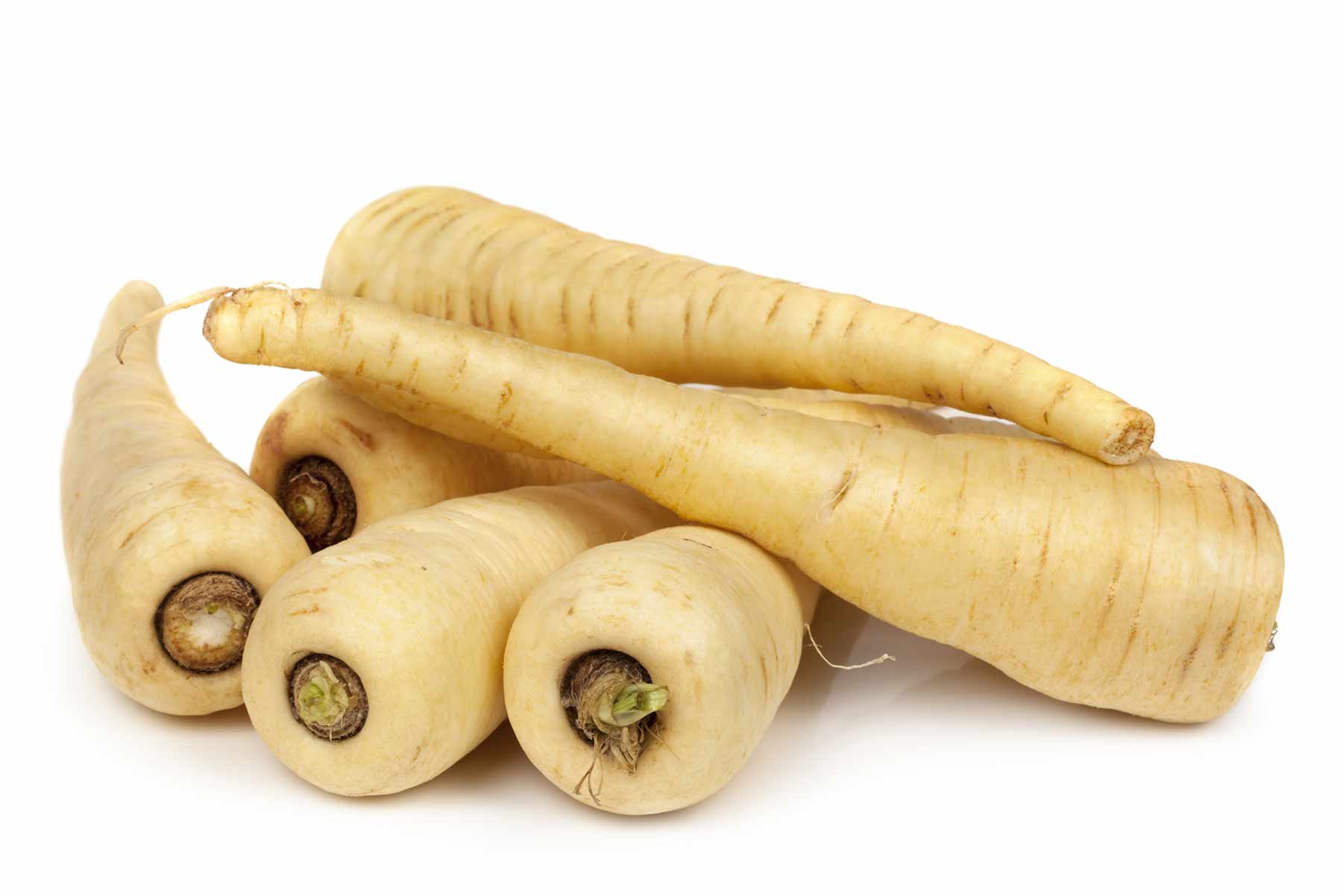 Parsnips are closely related to carrots but taste sweeter and slightly nutty. They can be used the same way as carrots from fresh eating to soups and roasting.
Jump to:
When are parsnips in season?
Parsnips are in season throughout fall, winter and spring, from September through March.
The winter harvest yields sweeter parsnips because their natural starches convert to sugar during cold temperatures.
See what else is in season at the same time: January, February, March, and September, October, November, and December.
Flavor
Parsnips have a nutty, slightly sweet taste when they are in-season, with hints of cinnamon or nutmeg. After cool weather sets in, they get even sweeter.
Their sweet, nutty flavor comes out even more when cooked. Roasting parsnips to caramelize them really brings out their sweet flavor.
Before sugar cane was brought to Europe, parsnips were used to sweeten foods.
Woody cores
The core of larger parsnips can get woody and sometimes taste slightly bitter. To determine if the core is tough and woody, trim the stem end off and make note if the flesh in the middle is much tougher.
Woody parsnips can be used if you don't mind (or notice) the tougher texture and flavor. The tough cores do soften when cooked and isn't detectable in a pureed soup (but the flavor might be). The same goes for mashed parsnips.
When roasting, you can either core them or slice them at an angle to make the core a smaller portion of each slice.
How to pick
Like carrots, you want sturdy roots that don't give when you bend them (indicating they are no longer fresh). Avoid ones with tiny hairs on the ends, it's a sign they didn't have enough water while growing, so they won't taste as good.
How to store
Store parsnips in an open container in the crisper drawer, and they will last about 3 weeks. If the tops were on the parsnips, cut them off, as they will draw moisture out from the root and make them go soft fast.
Meal prep: you can cut parsnips and store them in an airtight container in the fridge for 3-4 days without a loss of quality.
Have your parsnips gone bad?
If they are smelly, squishy, or slimy, toss em. If they're just limp, they can still be used.
Soft & bendy
If your parsnips are soft, bendy, or limp, but not slimy, they are safe to use. They are 80-90% water and it just means they've lost too much moisture. Their flavor and texture have likely suffered, but they can still be useful, especially in soups or stock.
Slightly soft parsnips can often be re-hydrated as well by letting them sit in a bowl of cold water for a couple hours. If they are really soft, this won't get them back to their full crispiness.
Slimy, moldy, or smelly
Parsnips that are slimy, moldy, or smell bad (like vinegar, etc) should be discarded. Bacteria have formed at this stage and can't be safely washed off.
Nutrition comparison
Parsnips are often compared to carrots and potatoes. While all of these vegetables are considered healthy, it can depend on your health requirements. For example, carrots are much lower on the Glycemic Index scale compared to parsnips and potatoes.
Alternatively, you can considering using parsnips or carrots to sweeten baked goods in order to reduce (or remove) added sugar.
| Per 100g | Parsnips | Carrots | Russet potatoes |
| --- | --- | --- | --- |
| Calories | 75 | 41 | 77 |
| Fiber | 4.9g | 2.8g | 2.2g |
| Sugar | 4.8g | 4.7g | 0.8g |
| Vitamin C | 28% | 9% | 32% |
| Glycemic Index | 52 | 35 | 111 (baked) |
Health & nutrition information for parsnips vs carrots and russet potatoes
Seasonal parsnip recipe collection
I've gathered dozens of recipes and organized them into 9 categories:
Roasted
In the oven
On the stove top
Mashed & pureed
Fries
Raw
Soup
A full meal
Baked goods
Each recipe uses ingredients that are in season at the same time as parsnips, or ingredients that have a year-round season. Parsnip recipes: 48 seasonal ideas for fall & winter.