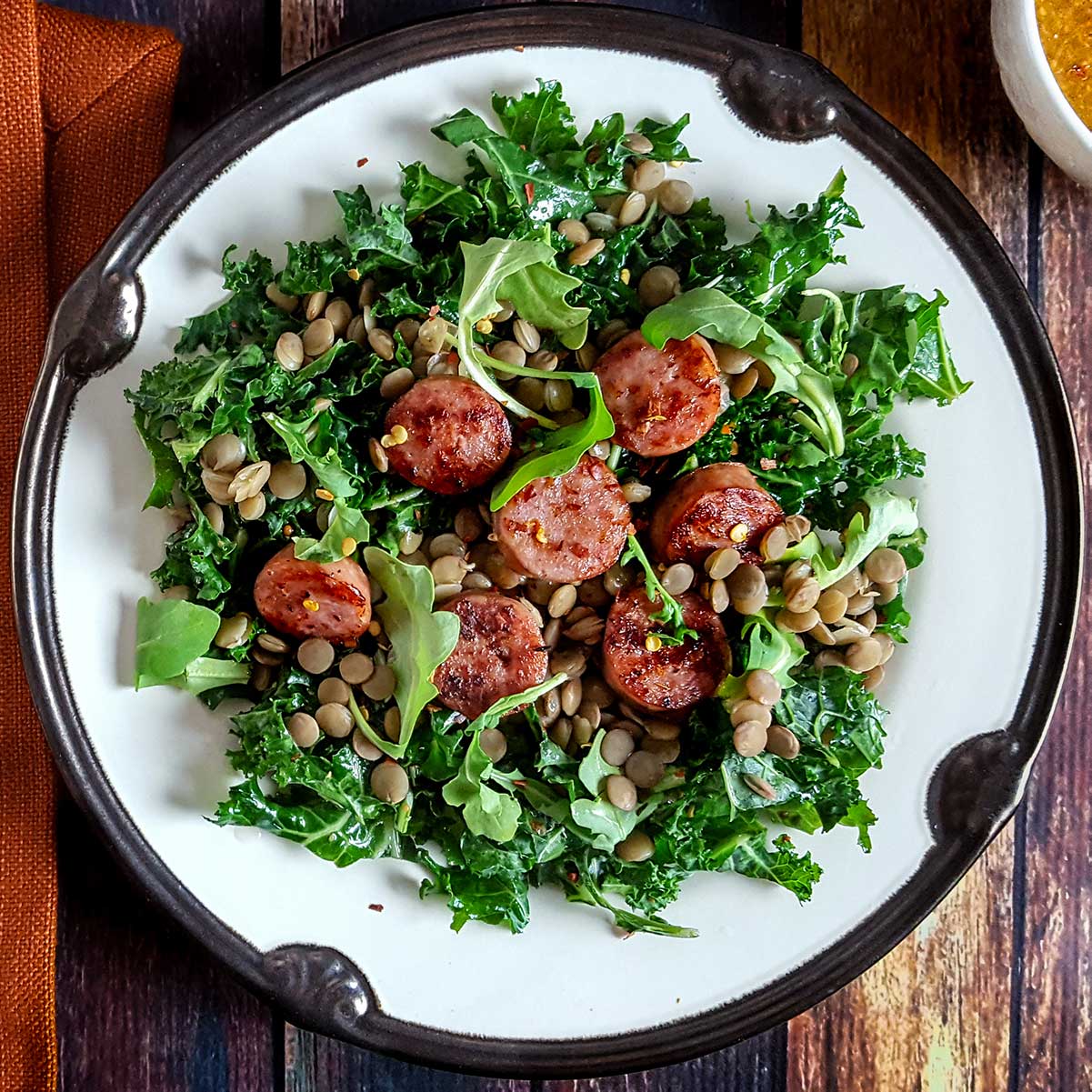 This salad is a low-guilt way to satisfy a sausage craving. Of course I love a good pub sausage, with a side of fries and a beer. I'm not here to convince you that this salad replaces the pub experience.
But if you're trying to be a little healthier or cook at home because your local pub is closed from COVID, give this recipe a try.
Tip: pick a good sausage
While any sausage will work, picking out a tasty pub-like sausage is the best option to satisfy that craving.
Best for flavor: kielbasa sausage. When cooked in a skillet, slices crisp up nicely in their own fat (200 calories)
Best for health: a spicy chicken sausage (110 calories per link)
If you have time: a good bratwurst (200 calories per link) is a classic pairing with the mustard dressing. But first you have to cook it (as opposed to the other pre-cooked type of sausages)
How to make it healthier (or not)
This salad is meant to be an entire dinner, so it's meant to be filling and weighs in at 607 calories. But that can be adjusted down if you're interested.
Chicken sausage will cut 100 calories out of the total, possibly sacrificing flavor but it will still be filling
Use half the sausage. Lentils add just as much protein as 1 sausage, so cutting down the amount of sausage won't be a problem for your daily protein goals.
A different dressing: the mustard vinegar dressing in this pub salad recipe is about 200 calories, the majority from olive oil. On the plus side, it's really fast to make. But if you have spare time, make this roasted onion & garlic dressing for 85 calories for the same serving size.
If you used half of a chicken sausage and the roasted onion dressing alternative, you'd bring the calories down to 406 and it would still be filling. (Less fat would make it less filling, but the lentils will help you feel satiated).
Recipe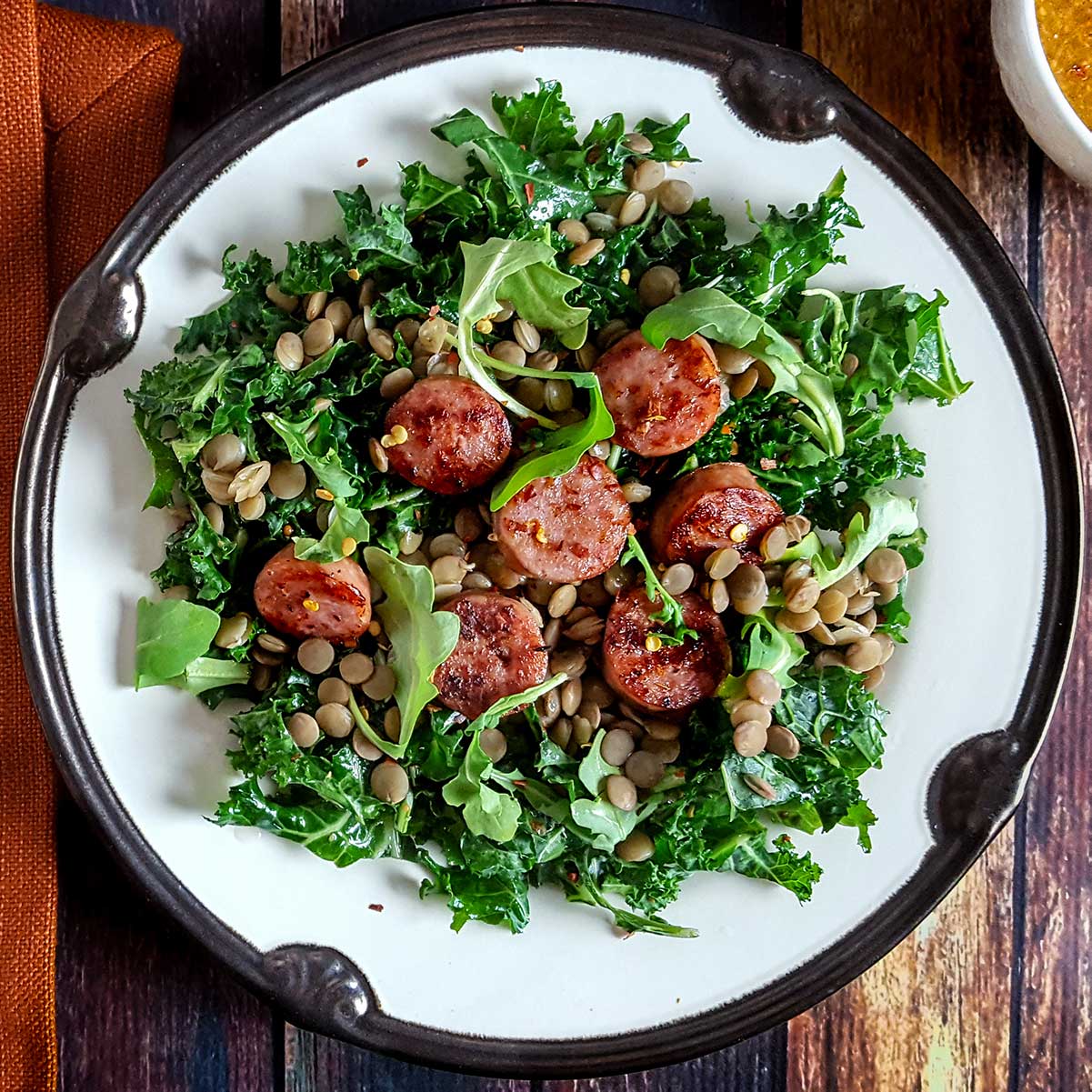 Ingredients
Salad
¾

cup

dried brown lentils*

2

bay leaves

2

sausages

6

oz

kale

chopped
Dressing
2

cloves

garlic

2

tablespoon

dijon or stone ground mustard

1.5

tablespoon

red wine vinegar

Salt to taste

3

tablespoon

olive oil

1

pinch red pepper
Instructions
Cook Lentils
Cook lentils according to the package, usually using 3x the amount of water as lentils. Add bay leaves to the water at the beginning of cooking. Typically bring to a boil then simmer (or remove from heat) for 15-20 minutes.
Make Dressing
Mince garlic (or grate over a microplane). Add to a bowl with mustard and red wine vinegar. Add a pinch or two of salt. Let sit for 5 or 10 minutes for the flavors to combine. Whisk in olive oil just before serving, thin with either more oil or water if needed.
Heat Sausage & Serve
After making the dressing, you should have about 5-10 minutes left on the lentils. Then cut sausage into slices and brown in a hot pan for 3 minutes per side.

When everything is ready, massage dressing all over kale. Divide kale onto plates, then top with lentils and sausage.
Notes
Brown lentils hold their shape when cooking and usually take about 20 minutes to cook. Green lentils also hold their shape, but can take 45 minutes to cook, although sprouted versions seem to cook in about 20 minutes.
Nutrition is calculated using kielbasa sausage. Chicken sausage will cut out 100 calories per serving.
Nutrition
Nutrition Facts
Pub sausage & kale salad with mustard dressing
Serving Size
1 sausage link + salad
Amount per Serving
% Daily Value*
* Percent Daily Values are based on a 2000 calorie diet.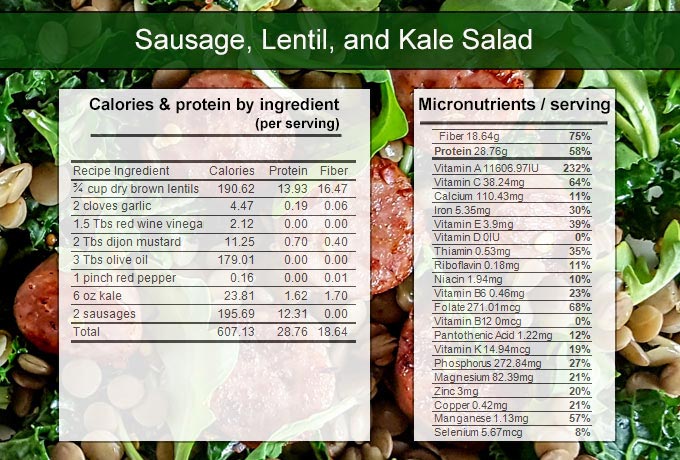 Recipe notes
Lentils: Red and yellow lentils turn to mush when cooked, making them great for thickening soups or stews. Green, brown, and puy lentils are interchangeable for this recipe, as they all hold their shape when cooked. I tend to read the cooking instructions on the back and pick ones that cook in the shorter amount of time.
Mustard: pick your favorite kind of mustard - dijon, stone ground, spicy. I think anything other than a honey mustard works well.
Sausage & Nutrition: The nutrition is calculated using bratwursts, so if you use chicken sausage, the calories and fat will decrease. But don't let the sausage fool you - this salad packs in a lot of nutritional power thanks to the kale and lentils. It provides 58% of your daily protein, 75% of your fiber, and 30% (or more) of a long list of other nutrients, including the cold-fighting vitamins A and C.
Salad for Dinner cookbook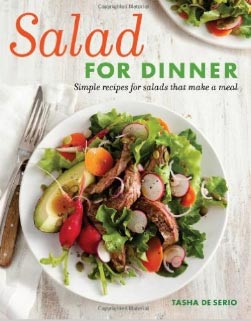 This sausage & kale salad is from a book called "Salad for Dinner," by Tasha De Serio and it is definitely a meal in itself. A lot of the recipes make good use of lentils, beans, and different types of grains to fill you up.
Most of the recipes don't have pictures - instead it seems like all of the effort went into making outstanding recipes. I say this because I've made several recipes so far and each one has impressed me. Here's another one I posted: Seared steak and farro salad with roasted grapes.