You know those restaurant sauces that make every bite addicting, but you can't quite put your finger on why? This sweet onion version is one of those 'secret sauces.'
The secret ingredient is the sweet onion. While onions add depth to nearly every recipe, they can easily dominate the flavor of a delicate salad or sandwich. To fix that, this sauce not only uses sweet onions, but roasts them to bring out their sweetness. This creates a complex, but not overpowering flavor.
Recipe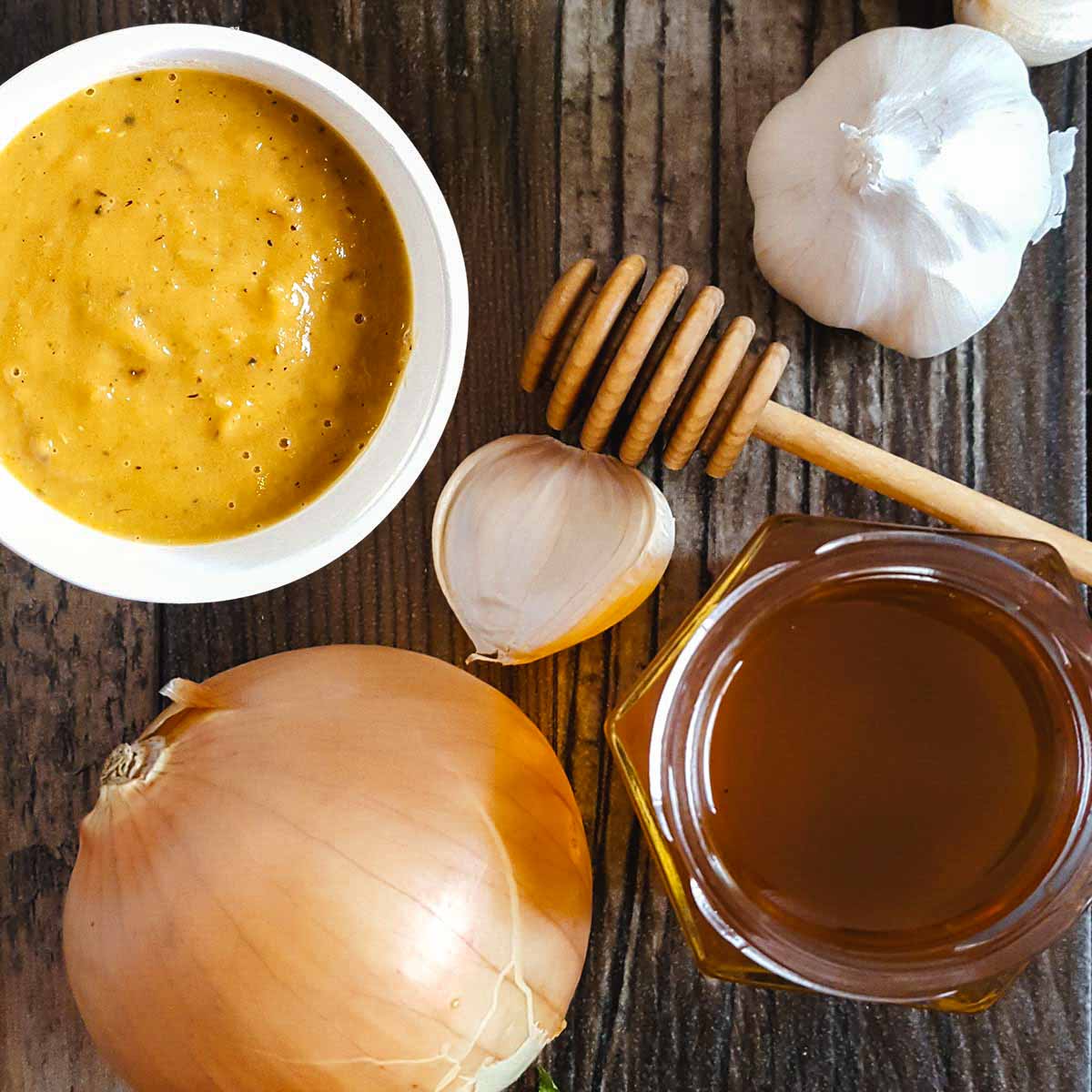 Ingredients
1

sweet onion

(like vidalia or walla walla)

4

cloves

garlic

with skin on*

¼

cup

olive oil

3

Tbs

apple cider vinegar

1

Tbs

honey

1

Tbs

mustard
Instructions
PREPARE TO ROAST
Heat oven to 425 degrees

Cut ends off onions and peel them. Cut in half across the equator. Brush liberally with olive oil and place on roasting pan.

Separate cloves of garlic and brush with oil. Leave the skin on (or they will burn). If you don't have the skin on, brush with oil then wrap in foil. Place on roasting pan.

Roast until the edges char - if some are done early, take those ones out and return the rest. It should take about 45 minutes, but check after 25 minutes to be safe.
MAKE THE SAUCE
Remove the garlic from the skins. Roughly chop the onion or pull it apart. Put the roasted onions, 1 garlic clove, and the remaining ingredients (including olive oil) in a blender. Process into a smooth sauce.

Taste, add more garlic if you want, and season with salt and pepper.
THIN FOR SALAD DRESSING (OPTIONAL)
Add a tablespoon of olive oil and/or vinegar to the blender to thin the dressing down (if you want it to be thinner). I use the 'sauce' recipe on salads without thinning it at all, but it is up to you.
Nutrition
Nutrition Facts
Roasted garlic and sweet onion sauce
Amount per Serving
% Daily Value*
* Percent Daily Values are based on a 2000 calorie diet.
It's worth knowing that "sweet" is kind of a false name for this onion, since they aren't actually sweeter than regular onions. When measured, the sugar content is no higher than regular onions. Instead, what makes them special is that they have about 3 times less of the sulfurous compound that gives other onions their bite.
Since sweet onions are milder, they are perfect for a sauce, dressing, and especially as onion rings. This particular recipe is perfect for dipping your chicken tenders.
Recipe notes & tips
85 calories for 2 Tbs: can't beat that, right?! So if you want to pour a double serving all of your salad or use as a dipping sauce, it still is quite low in calories. Enjoy!
Sweet onions might also go by the name of Vidalia, Walla Walla, or Maui. They are all very similar in flavor. Sweet onions don't store long like 'normal' onions, so they aren't usually available year-round. You should be able to find them between April and September.
Save time: Skip the roasting to save time and you'll end up with a more 'spring' flavored sauce. To do that, grate the onion and add it right into the dressing. And mince the garlic, using only 1 clove (it's more pungent when not roasted).
Roasting garlic: while you are roasting garlic, throw in a couple extra heads to save for another use.
Store: this stores well in the fridge for a week or more. It also freezes well - put it in ice cube trays to freeze, then transfer to a plastic bag.