This "recipe" takes the best flavors and ingredients from a sub sandwich and deconstructs them into a salad for a low carb dinner that fills your plate. This is intended to be more for inspiration than specific instructions, so I've also included alternate ingredient ideas and notes about nutrition.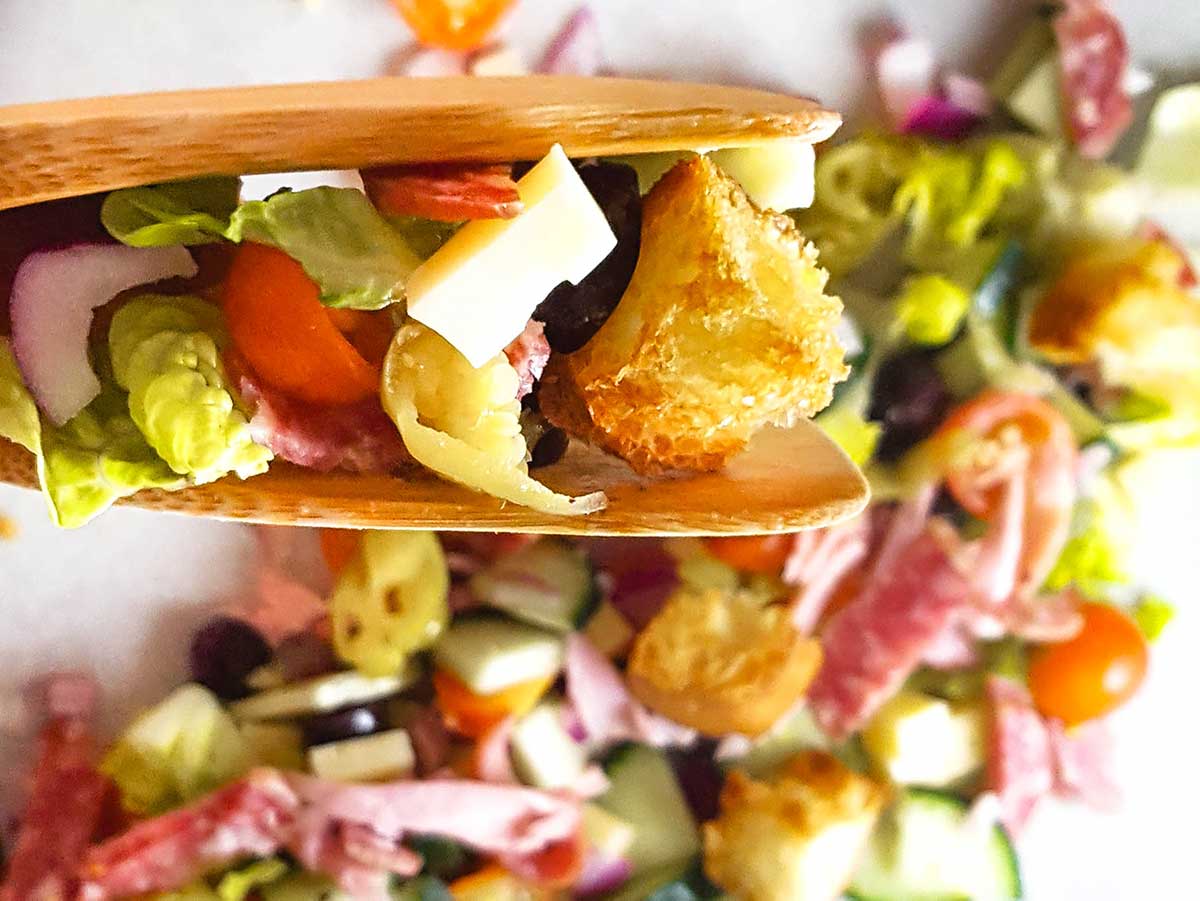 Tips for making a fast salad
Just like making a sub sandwich is fast, you can get by with almost no prep work for the sub salad version if you use the following:
Deli sliced salami, pepperoni, and ham (plan on 2-3 oz of meat per person)
Jarred condiments from your pantry, like pepperoncini, pickles, and olives
Pre-cut bags of lettuce
Store bought croutons*
Store bought italian dressing*
*I suggest making these yourself if you don't mind the extra 10 minutes of work because they are healthier and more flavorful, while still being easy.
Recipe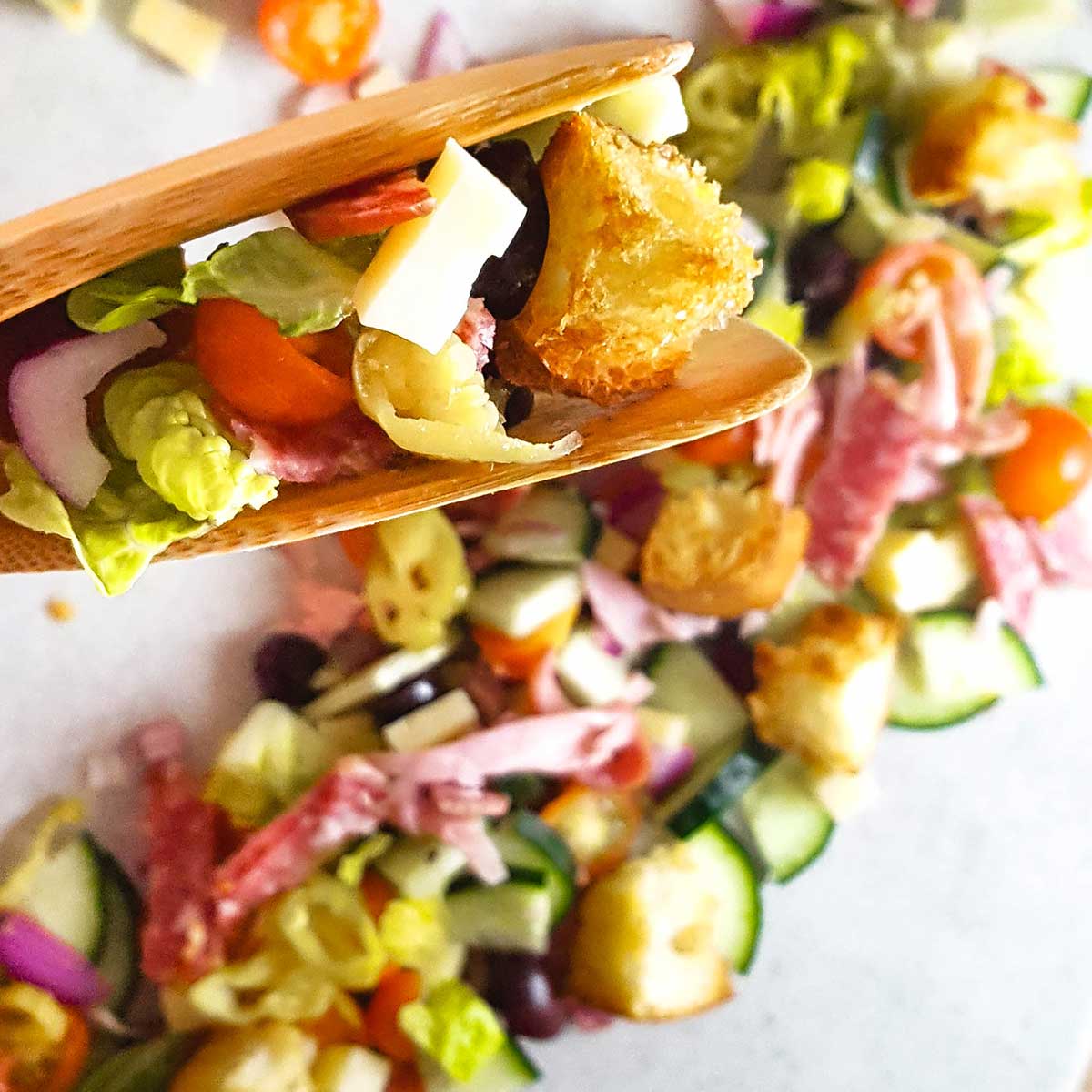 Ingredients
SUB SALAD
4

cups

lettuce

iceberg or romaine

12

cherry tomatoes

¼

cup

pitted olives

your favorite kind

¼

red onion

¼

cup

pepperoncini

2

ounces

salami

or pepperoni, etc

2

ounces

ham

2

ounces

provolone cheese
ITALIAN DRESSING
3

tablespoon

olive oil

1

clove

garlic

2

teaspoon

red wine vinegar

1

tablespoon

Italian seasoning

1

pinch

salt

fresh cracked pepper
CROUTONS
¼

baguette

or leftover bread, bagels, etc

½

tablespoon

olive oil

for toasting

salt
Instructions
Cut bread into bite-size pieces and toss with olive oil and salt. Toast.

Whisk dressing ingredients together (or use your favorite store-bought Italian dressing).

Mix all ingredient together to make the salad.
Nutrition
Nutrition Facts
Italian sub salad
Amount per Serving
% Daily Value*
* Percent Daily Values are based on a 2000 calorie diet.
Calories & nutrition
While calories are not the perfect measure of healthiness, I like to use them for their relative value. Knowing the caloric information helps keep things in check, like over using cheese, adding a ton of carbs with croutons, or using too much salad dressing.
If you are eating a salad to watch your calories, several things can start to add up:
Each ounce of cheese is roughly 100 calories. The recipe accounts for 1 ounce per serving.
Salami is about 100 calories per ounce, while deli ham is 50 per ounce.
Salad dressing can add up, so I already kept the volume low in the 'recipe' above, to 1.5 Tbs of olive oil per person.
Croutons can be cut back as well. Add couscous to the salad if you want to replace croutons with a healthier alternative.
Homemade dressing
If you haven't made dressing before, you'll be surprised at how easy it is once you give it a try.
While olive oil is high in calories, many nutrients are fat soluble, so it is a great ingredient in salad dressings. 1 tablespoon is roughly 100 calories. I already kept the volume of the dressing low in the 'recipe' above.
You could cut the olive oil down even further and get creative with replacing some of it:
Juice from that jar of pepperoncini or olives you opened
Pureed onions or shallots
Extra vinegar
Lemon juice
Mustard (works as an emulsifier too)
I have an alternative dressing that works great on this salad, which is half the calories because it gets a lot of its volume and creaminess from pureeing roasted sweet onions and garlic.
Homemade croutons
You can turn almost any bread product into croutons with minimal effort. Baguettes are great, but I often take this opportunity to use leftover bagels or bread before it goes bad.
How to make croutons
Cut bread into bite-sized cubes
Place in a bowl and drizzle olive oil (or garlic olive oil if you have it) over the top. Add salt (and other seasonings if you want). Toss to lightly coat the bread.
Toast until golden brown

In a toaster oven for 5-7 minutes
In the oven at 375 for 5-7 minutes (times will vary)
On the stovetop in a pan over medium heat, tossing as they crisp up
Sub sandwiches for inspiration
If you're looking for other ideas, or are now craving a sub sandwich, I've gathered a few recipes to help you out.
What are you favorite easy salads?
Have a favorite you want to share? Do you deconstruct any other types of meals into salad form? Leave a comment and share your creativity and ideas.