In seasonal version of the old classic, we add new flavors and a whole lot of extra nutrition (that happen to be good for fighting off colds)
Jump to:
Recipe
Ingredients
Chicken & Breading
½

lb

chicken breast

1

cup

almond milk

or low fat milk

½

cup

Panko bread crumbs

¼

cup

Parmesan cheese

¼

cup

flour
Salad
1

celeriac

1

tablespoon

white wine vinegar

1

tablespoon

honey

1

bunch kale

¼

cup

chopped hazelnuts

2

cornbread muffins
Dressing
1

clove

garlic

1

lemon

1

tablespoon

mayonnaise

1

Tbs

olive oil
Instructions
Prepare
Cut out stems of kale and slice into bite-size pieces. Peel garlic and grate it on a zester to make a paste (or mince and pound it to a paste). Peel and cut celeriac into matchstick pieces, then put them in a bowl with the vinegar and honey (to keep it from turning brown, and add a little flavor). Zest the lemon, then cut it into quarters.
Toast Hazelnuts
Toss the hazelnuts in a dry pan, and toast over medium heat, stirring occasionally. Set a timer for 3 minutes to check on them (they can burn fast). If they aren't done, set the timer for 1 more minute at a time, until they are done.
Toast the cornbread
Cut the cornbread into crouton-sized pieces (or roughly break it apart). Put them under the broiler for a few minutes, until crispy (a toaster oven works great too).
Prepare the chicken
Measure the flour into 1 bowl, and the breadcrumbs and HALF of the Parmesan into a second bowl. Pour the milk into a 3rd bowl. Get a clean plate set aside as well.

Cut the chicken into bite-size pieces. Toss several of them in the flour mixture and shake off excess. Next dip it into the milk (shake off extra), and then into the breadcrumb-parmesan mixture. Coat well - then place on the plate you previously set aside. Repeat with remaining chicken.
Cook the chicken and make the dressing
Place 2 tablespoon of olive oil in a pan (for cooking the chicken) and heat it on medium-high.

While that heats up, make the dressing: combine the garlic paste, mayo, lemon zest, juice from the lemons, and the rest of the Parmesan cheese in a bowl (or mason jar). Whisk in 1 tablespoon of olive oil (or shake the jar). Season with salt and pepper to taste.

Add the chicken to the hot oil (if it isn't very hot, the breading will soak it up instead of frying). Cook until browned and no longer pink, turning occasionally.
Combine & Serve
Massage the dressing into the kale with your hands. Add in the celeriac and hazlenuts, then place on your plates. Top with chicken and croutons.
Nutrition
Nutrition Facts
Kale Caesar salad with celeriac, hazelnuts, and cornbread croutons
Amount per Serving
% Daily Value*
* Percent Daily Values are based on a 2000 calorie diet.
Nutrition Notes:
Do I want half a cup of Parmesan cheese on my salad - of course I do, but I probably shouldn't. And how big of a dent are these cornbread muffins making? Can I use a whole muffin, rather than half (yes)? While calories are not the perfect measure, I find it helpful to put each ingredient into perspective.
Below is a breakdown of calories by ingredient, per serving, so you can adjust to meet your personal goals.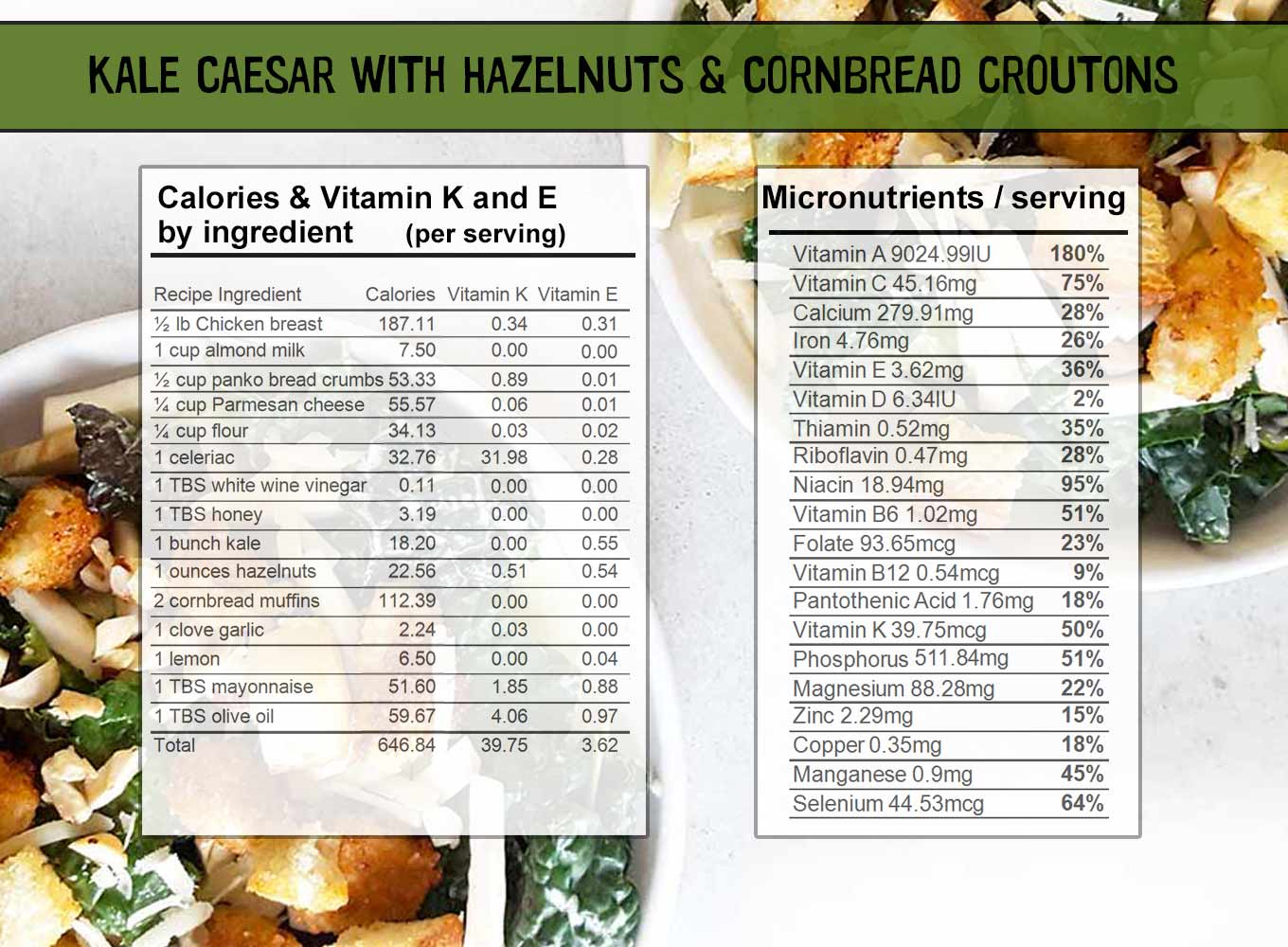 Some extra nutrition for cold-fighting power
Kale's benefits are probably no surprise, holding top spots on 'superfood' lists through the past decade. The benefits of celeriac and hazelnuts might be more newsworthy though.
A serving of celeriac provides ⅓ of your daily vitamin K (good for bones) and a whole cocktail of micro-nutrients. Hazelnuts are loaded with vitamin E, which helps keep your immune system strong. They also provide a good portion of your micro-nutrients, including 90% of your daily value of manganese, good for bones (again!) and absorbing other vitamins.
Adding in some indulgence
If this salad was just kale, celeriac and hazelnuts, it would be fine. But it would be something you made out of obligation to your health more than making it because it sounded good for dinner tonight.
That's why I added cornbread croutons and breaded chicken - it makes it resemble a restaurant-style caesar salad.
Cornbread croutons might not contribute much in the way of doctor-recommended nutrition, but they sure do make a pretty darn health salad a whole lot more fun. That's worth a lot in my book.
Of course if you really want to cut out those extra calories, you can easily leave out the croutons and skip breading the chicken.
Recipe Notes
Serving size: this serves 2 as a main course, or 4 as a starter.
Hazelnuts: I suggest buying the chopped ones and toasting them. It saves the hassle of rubbing the skins off and then chopping them, but if you're not pressed for time, go for it!
Breading: you can also bread the entire chicken breast and cook it, then slice it up. That looks nicer if guests are coming over, but I like the fast cook-times on the nuggets (and more surface area is coated in the breading).
Kale: Any kind works well here. I've used both lacinato (dinosaur kale, pictured), and the curly kind.