Farmer's market tomatoes are a crowd favorite, but the types and varieties can be overwhelming. I'm here to answer your tomato questions.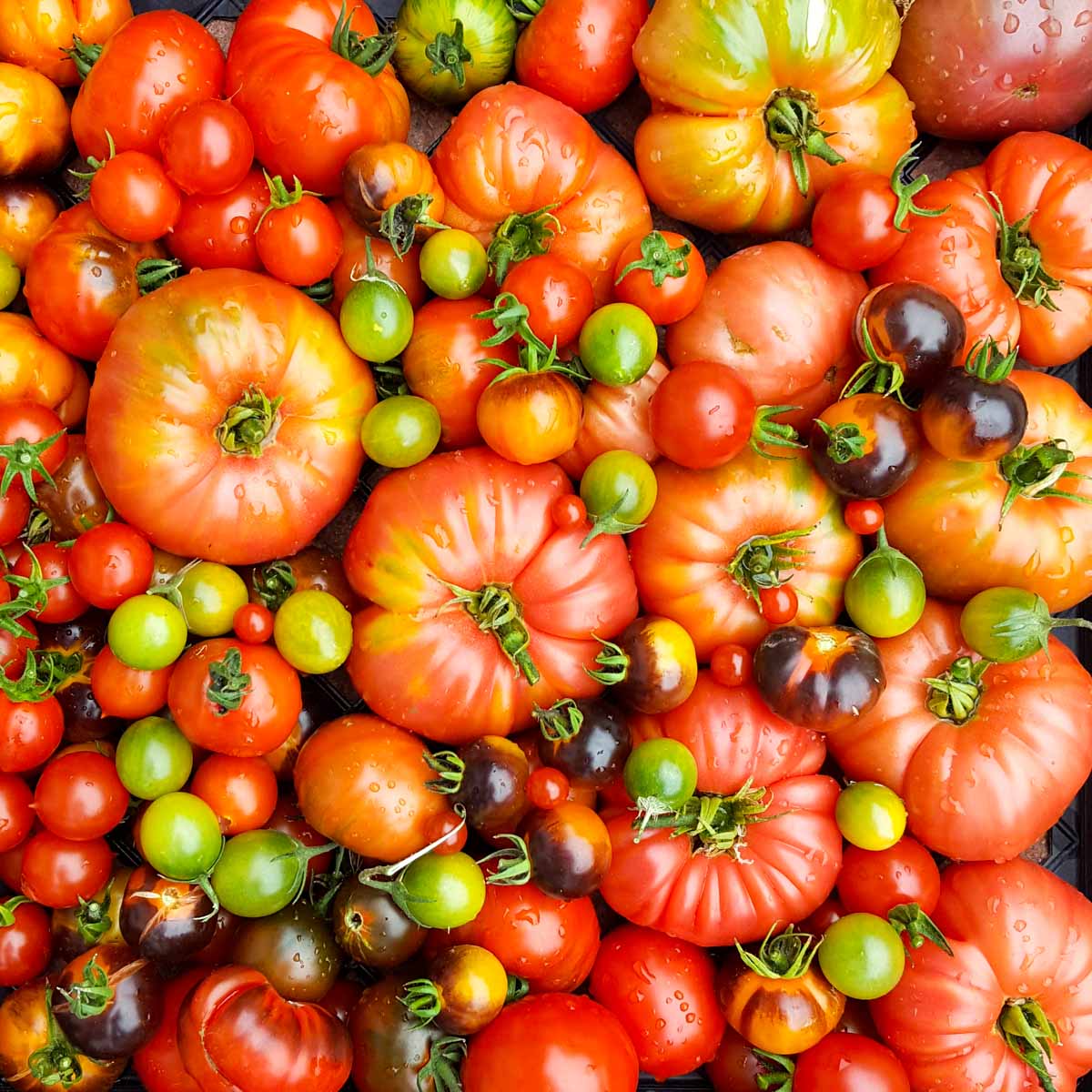 Jump to:
When are tomatoes in season?
Cherry tomatoes show up first, usually around June, and can be found throughout the entire season.
Medium sized tomatoes are ready starting in July and Beefsteak (large tomatoes) toward the end of July (or August if you live in a cooler climate).
The season lasts into September in most climates and can extend to November in the cooler coastal climates on the west.
See what else is in season at the same time: June, July, August, September, and October.
Why are some tomatoes full of flavor, while others are bland?
A lot of factors contribute to a tomato's flavor. Some things are out of a farmers control, like the weather. Others are very much in their control, like when they are harvested (in which case it's a matter of priorities - harvest early for shipping, or wait for full flavor).
Weather and soil impact flavor in such a way that the same farmer, growing the same tomatoes, can produce tomatoes that taste excellent one year, and bland the next.
Harvest time: tomatoes left to ripen on the vine to the point where they develop their full color, will have a much better flavor.
Overripe: While extended ripening will make a tomato sweeter, that isn't always better. The sugar makes the acidic characteristics of tomatoes less noticeable. Some people prefer this, others perceive it as bland (think of how adding a splash of vinegar to a dish can make it come alive). This is usually only encountered with home growers, since tomatoes this ripe can barely withstand the journey to the house without bruising.
Color: the color of a tomato can give you some indicators of what it might taste like, but these are general rules and there is a lot of variance within each color. (See section about tomato colors).
Variety: flavor varies wildly from one variety to another, but it is worth noting that some varieties are grown for their 'marketable' characteristics including: disease resistance, perfect shape, uniform red color, plants with high yield, firm flesh for shipping, etc. In those cases, flavor is low on the priority list.
Anatomy: most of the aroma is contained in the skin and the flesh. The majority of the sugar resides in the flesh. And the highest concentration of acid is in the jelly & juice. This comes more into play with how you use a tomato than why you'd buy it.
How to choose a good tasting tomato
The perfectly smooth, round, and blemish-free tomatoes at the grocery store probably have very little flavor. They have been bred for traits other than taste, such as a plant that has high yield, has thick skin that doesn't crack, or a tomato that stores better.
The best way to ensure you get a flavorful tomato is to go to a farmers market instead of a grocery store. There are several things that differentiate the two sources, making a big impact on quality.
Tomatoes at grocery stores are picked while still green (as shown here), barely developing any flavor. This is also the case with grocery store tomatoes labeled 'heirloom.' They also prioritize good-looking over good-tasting tomatoes since they are easier to sell.
Sellers at farmers markets, on the other hand, cater to consumers that prioritize flavor over anything else. This allows them to grow varieties for flavor and let them ripen longer on the vine (no need to endure shipping and days of storage in a produce display case the the grocery store).
At the farmers market, buy a tomato (or two) of each variety you can find, taste them, and take notes so you know what to buy on your next trip. Because nature can impact their flavor, repeat this each year.
Lastly, if you are up for it and have the space, I strongly urge you to grow a tomato plant yourself. They will taste even better than from the farmers market as you can let them ripen even longer. A good starter guide with very practical and detailed advice is the book, "Epic Tomatoes." Most gardening books give general advice, whereas this one not only focuses on tomatoes, but covers things like specific requirements if growing in a container.
What a tomato's color tells you about flavor
As I mentioned earlier, the color of a tomato gives you a general sense of its character. However, there is still a lot of variance in the flavor, even among varieties of the same color.
Red tomatoes will have your typical tomato flavor: a little sweet, a little acidic, and a little umami.
Orange and yellow tomatoes tend to have more sugar than red tomatoes. This makes them taste milder since the extra sugar counters the acidity. Often a slight 'citrus' note can be picked up in these colors as well.
Green tomatoes - we aren't talking about unripe tomatoes, but ones that are green when ripe. They are more tart, and sometimes described as spicy (but be assured they are not 'hot' spicy). The "Green Zebra" variety is a favorite of mine.
Blue - I'm not sure you will find these at a farmers market but they are cute (and often looking more purple than blue). I've tried several varieties and some of them have been acid bombs, so be ready! (In picture above, look for the 3 cherry tomatoes grouped on the right, just above center - the purple & orange ones are the variety called "blue berries")
Purple / Brown / Black: These tomatoes are dark colored and often have complex or earthy flavors. Some people liken these to the complexity of wine. The flavor varies quite a bit between different varieties.
The best uses for each type of tomato
As a general rule, each type of tomatoes is best suited for particular tasks. But don't let that limit you too much - just because one type is best at something, doesn't mean another type is bad for it.
Cherry & grape tomatoes are perfect for salads, appetizers and snacking. They have a higher sugar concentration than larger tomatoes (across all colors too). Since cherry tomatoes have a higher skin-to-flesh ratio, they are less ideal for sauces and soups unless you are willing to strain them out.
Roma / paste tomatoes are good for sauces because they have denser flesh, less seeds, and less liquid around the seed cavities. (The popular San Marzano variety is a paste tomato)
Medium 'slicing' tomatoes & large 'beefsteak' tomatoes are great for slicing on a sandwich, adding to a stew, or making into a soup. They are great on salads too.
What is the best way to store tomatoes?
Should they be in the fridge or on the counter? The old wisdom is to never store tomatoes in the fridge, but that's a little too black & white for real-world applications.
That wisdom is a result of studies focused on the commercial supply chain to help growers, distributors, and grocery store owners. The studies clearly demonstrate that (unripe) tomatoes are best stored at 55 - 60F degrees, and up to 70F is still pretty ok. Storage below 50F caused the flesh to turn mealy and lose flavor.
This led experts to recommend leaving tomatoes on the counter, assuming most households used air conditioning set to around 68 - 72F in summer. Grocery stores also don't refrigerate tomatoes, but the produce isles are kept around 65F (or lower).
This quickly morphed into the strict rule of "never refrigerate a tomato," without any additional information about the ideal temperatures.
What about those of us who keep the house warmer in summer or don't have air conditioning (I'm in the latter category, living in the Bay Area). If your house is warm, those tomatoes will spoil quickly if left on the counter.
There's an ever bigger problem with applying these studies to at-home use: they tested unripe tomatoes - the stages are which they're harvested for shipping and distribution. Tomatoes are picked at the "mature-green" stage so they can withstand shipping and longer storage. You know, the tomatoes you get at the store with zero flavor - yeah, those tomatoes.
Ripe tomatoes, however, are barely affected by refrigerator temperatures. Their flesh is more resistant to the cold-storage damage. Experiments conducted by Serious Eats focused specifically on ripe tomatoes, concluding that storing ripe tomatoes in the fridge is not only acceptable, but often advisable.
So how should you store tomatoes?
Counter: store unripe tomatoes on the counter to let them ripen
Fridge: If the room's temperature is above 72F, tomatoes will ripen fast and can deteriorate even faster. In this case, it would be worthwhile to store them in the fridge.
Fridge: If a tomato is fully ripe, put it in the fridge or it will spoil and be useless.
Fridge: The flesh of fully ripe tomatoes are less susceptible to damage from the cold temperatures and will have little-to-no noticeable effect on quality when stored for up to 3 days in the fridge.
No matter where you store them, store medium and large tomatoes upside down - stem side down, resting on their 'shoulders.' This slows down evaporation through the stem end and distributes the weight across a larger area.
Bring refrigerated tomatoes back to room temperature for fresh eating. The warmer temperature allows the flavors to come through better than when they are cold.
How does heat affect a tomato's flavor?
If you want the fresh tomato flavor to shine through in a cooked dish, add the tomatoes at the end and cook for no more than 15 minutes, but less is even better. They lose their distinct flavor when cooked for too long in a sauce, soup, or stew.
You can also add the bulk of tomatoes to a sauce, soup or stew if that is essential to the recipe. And then hold back some of the best tasting ones, chop them up, and add them right at the end. That way, you get pops of that fresh tomato flavor.
When you dehydrate tomatoes you have the opposite effect - you intensify the flavor. If you bought tomatoes that didn't have much flavor, it's a good way to use them up! Add a drizzle of olive oil and a whole lot of herbs and garlic and they'll be super tasty.
How do I counter the acidity of tomatoes in a recipe?
While some of the 'fresh' flavors dissipate when cooked, the acidity does not. But you can remove some of the acidity beforehand.
The jelly surrounding the seeds and the juicy parts between the flesh contain twice the amount of acid as the flesh. You can remove this before adding your tomato to a recipe to reduce the acidity. But it's worth noting they contain a good portion of antioxidants as well as flavor.
That being said, tomatoes range in acidity and it can be hard to determine their effect on a finished dish. If your recipe turns out too acidic, there are some things you can do.
If you are trying to adjust just the flavor, you can add sugar (or some other sweetener) to balance it out. A little salt can help as well. This makes it taste less acidic, but doesn't change the actual acidity.
To adjust it for stomach problems, add a tiny bit of baking soda, a little at a time (in intervals of ½ a teaspoon for a big batch of sauce or soup). It will bubble up - keep stirring until the bubbling subsides, and taste again. Repeat until it has reached your desired lower level of acidity.
Get more tips from SF Gate's article.
Tomato Recipes
Each recipe has been reviewed to make sure all ingredients are in season at the same times as tomatoes, or that the ingredients are in-season all year.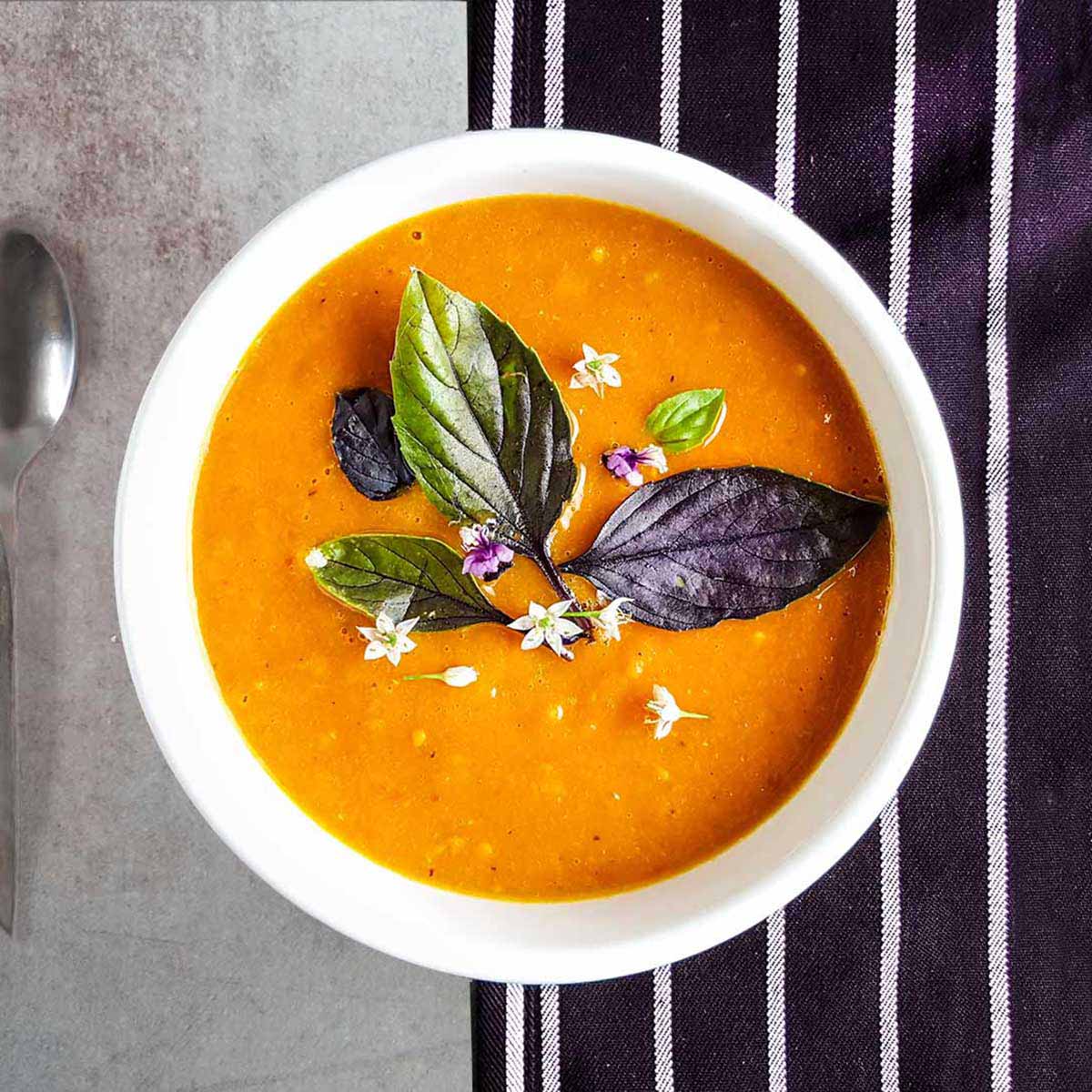 Roasted tomato soup with basil - a soup recipe that uses every trick to maximize flavor while reducing acidity.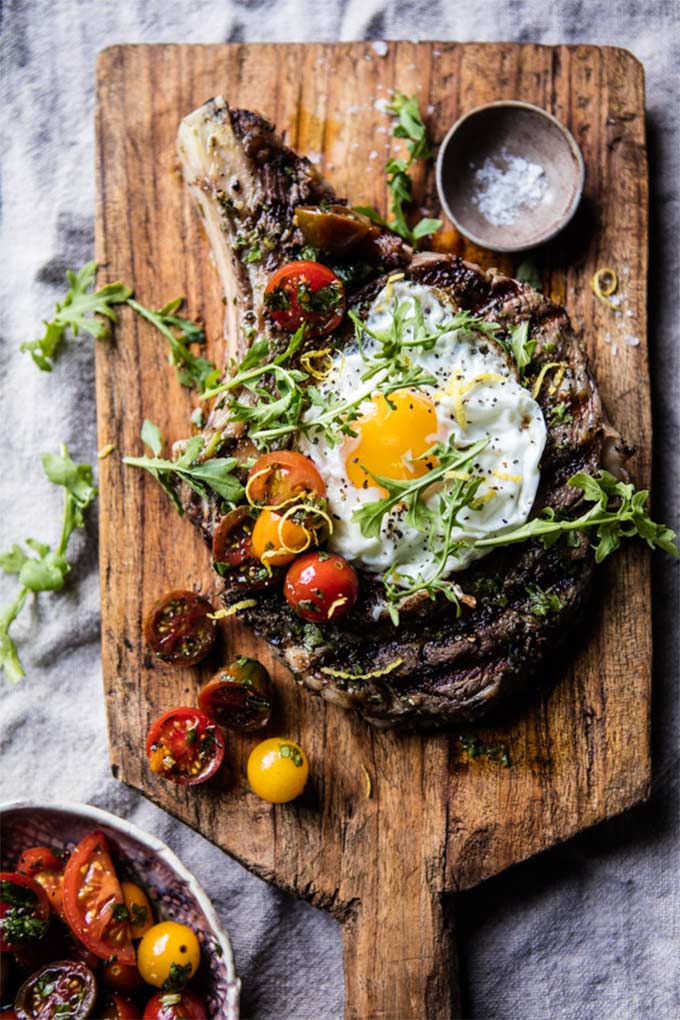 Tuscan steak with marinated cherry tomatoes - recipe by Half Baked Harvest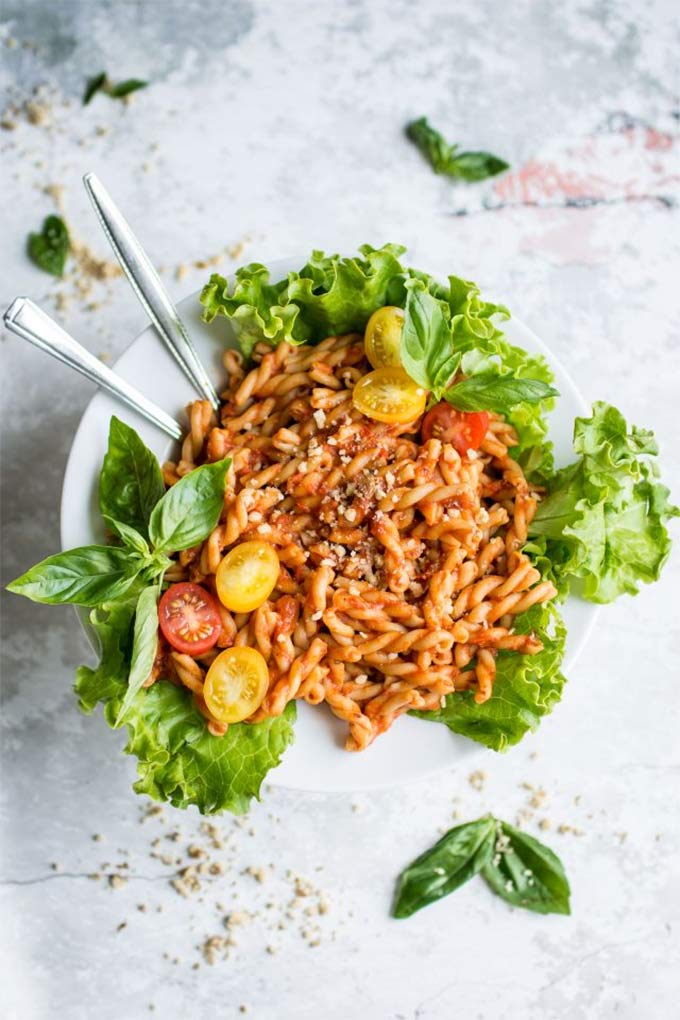 Roasted red pepper and tomato pasta - recipe by Lauren Caris Cooks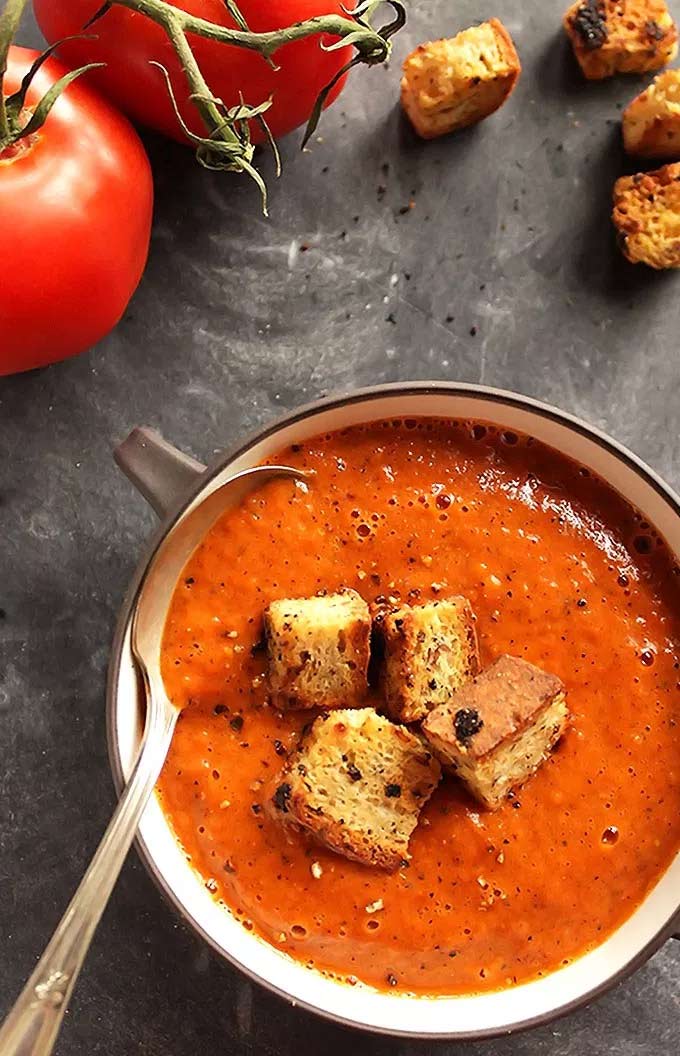 Roasted tomato and red pepper soup - recipe by Robust Recipes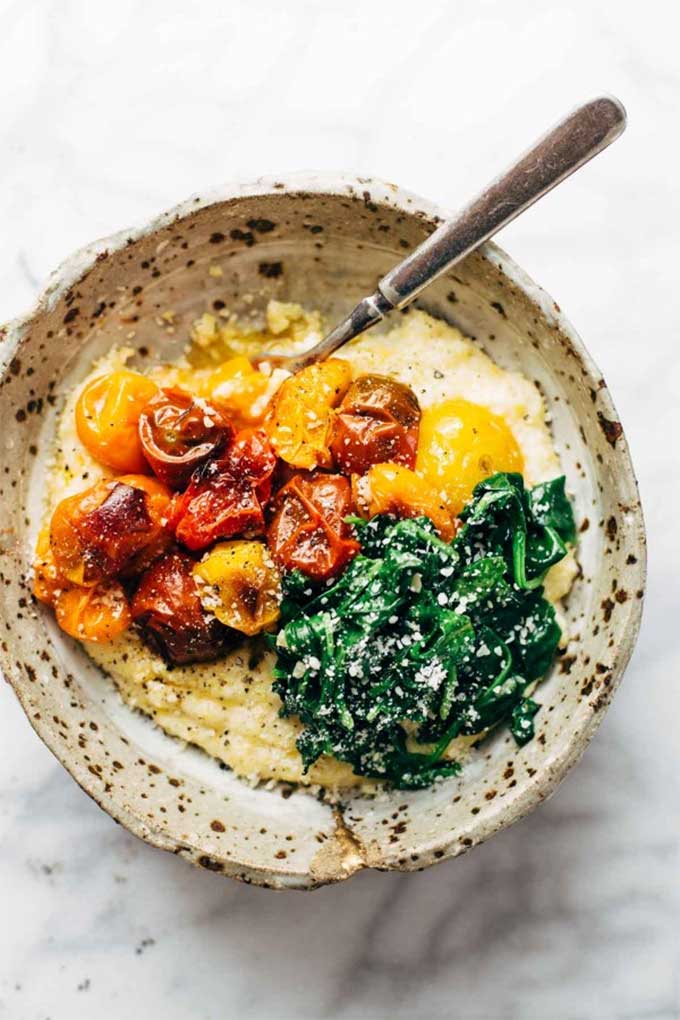 Roasted tomatoes with goat cheese polenta - recipe by Pinch of Yum
Pico de gallo - recipe by The Girl who Ate Everything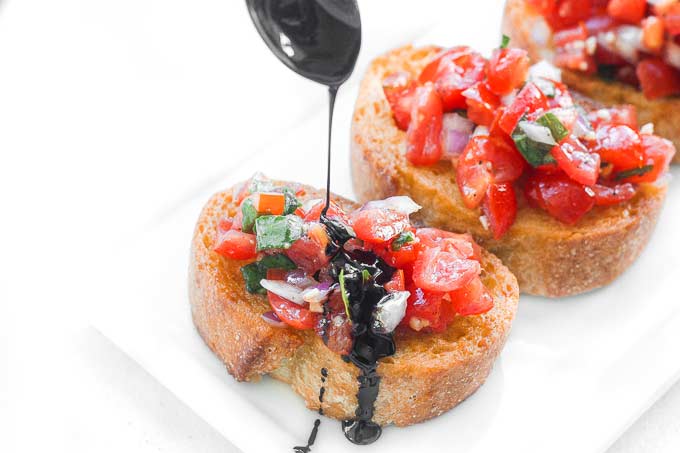 Easy tomato bruschetta with balsamic glaze - recipe by Ahead of Thyme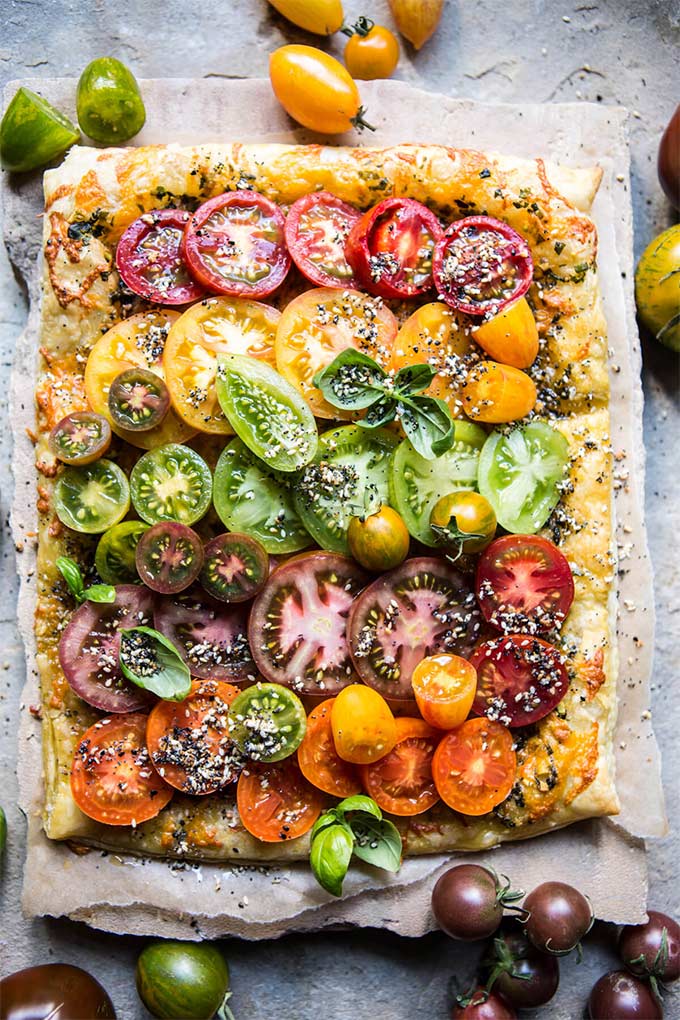 Heirloom tomato cheddar tart with everything spice - recipe by Half Baked Harvest
Quinoa and spinach stuffed tomatoes - recipe by Diethood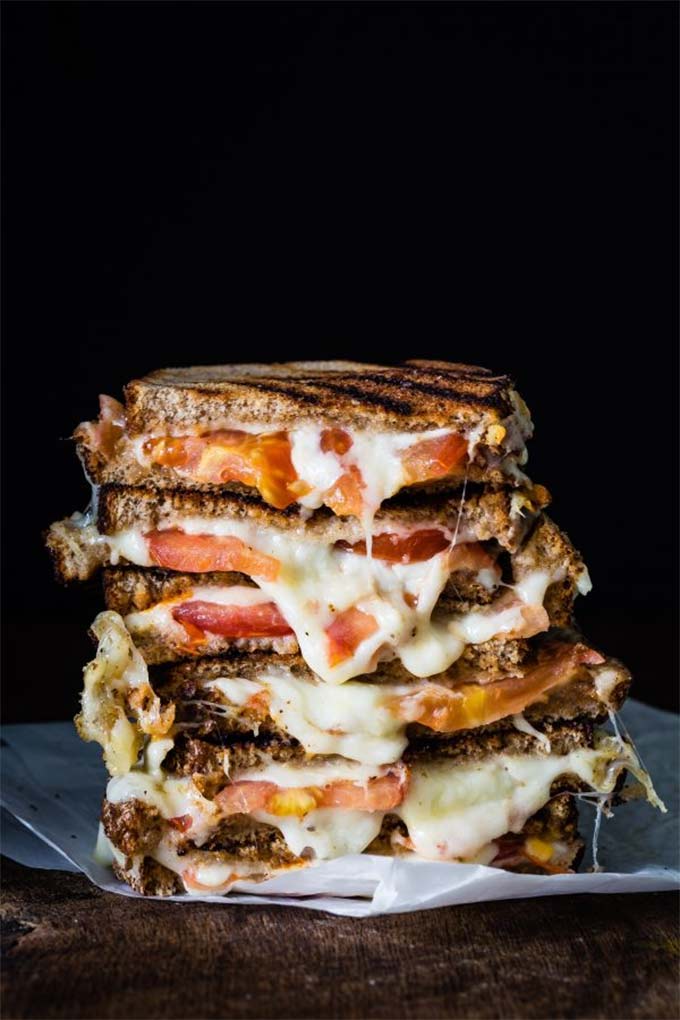 Grilled cheese tomato sandwich - recipe by Eat Good 4 Life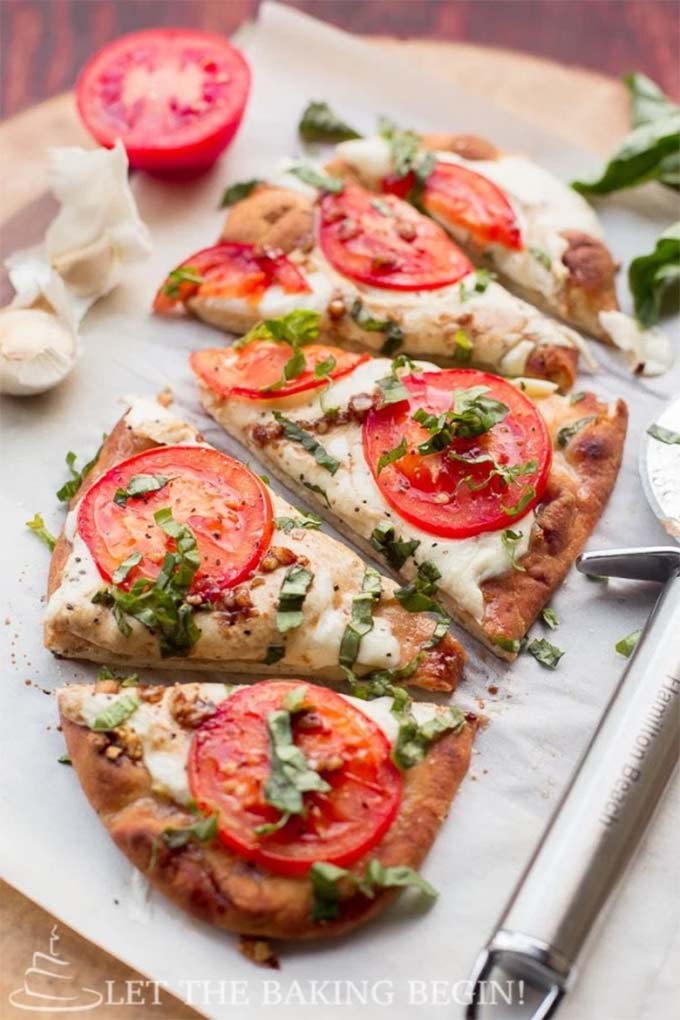 Margherita flatbread pizza - recipe by Let the Baking Begin