Farmer's market tomatoes are a crowd favorite, but the types and varieties can be overwhelming. I'm here to answer your tomato questions.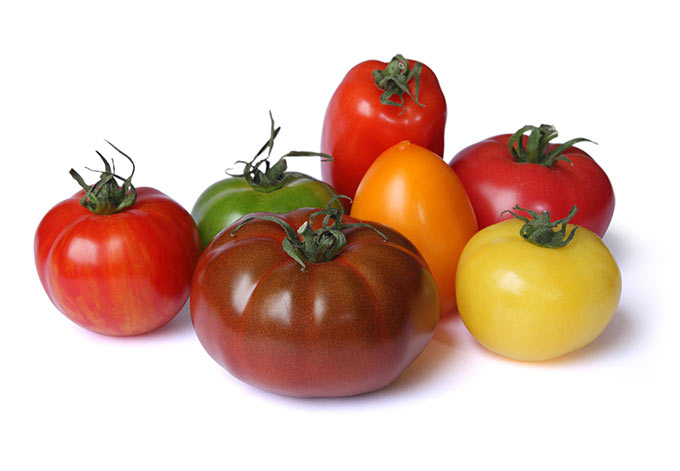 When will tomatoes be in season at the farmer's market?
Cherry tomatoes show up first, usually around June, and can be found throughout the entire season.
Medium sized tomatoes are ready starting in July and Beefsteak (large tomatoes) toward the end of July (or August if you live in a cooler climate).
The season lasts into September in most climates and can extend to November in the cooler coastal climates on the west.
See what else is in season at the same time: June, July, August, September, and October.
What is the best way to store tomatoes?
Should they be in the fridge or on the counter? Definitely store them on the counter. The temperature in your fridge is too cold and affects the tomato's flavor and turns the flesh mealy. When you store them on the counter, place them upside down on so the weight is on the 'shoulders' of the fruit.
How do I pick tomatoes with the best flavor?
The perfectly smooth, round, and blemish-free tomatoes probably have very little flavor. They have been bred for traits other than taste, such as a plant that has high yield, has thick skin that doesn't crack, or a tomato that stores better.
You might be thinking heirloom tomatoes have more flavor then, and usually that is true. But heirloom is a fuzzy term that isn't regulated, and those can be chosen for similar non-flavor characteristics.
Go to a farmers market and ask the variety of the different tomatoes they sell. Pick up a few different varieties and taste them, then remember what you like and buy those again.
Do the different colors have unique flavors?
Here is a general guidelines on how the color affects the flavor, but of course there are exceptions to the rule.
Red tomatoes will have your typical tomato flavor
Orange and yellow tomatoes tend to have a higher sugar to acid ration compared to red tomatoes (they have more sugar). This makes them a bit more 'mild' tasting. Often a slight 'citrus' note can be picked up in these types.
Green tomatoes – we aren't talking about unripe tomatoes, but ones that are green when ripe. They are more tart, which some people describe as spicy. The "Green Zebra" variety is a favorite of mien.
Blue – I'm not sure you will find these at a farmers market but they are cute, often looking more purple than blue. I've tried several varieties and all of them have been acid bombs, so be ready!
Purple / Brown / Black: These tomatoes are dark colored and often have complex or earthy flavors. Some people liken these to the complexity of wine. The flavor varies quite a bit between different varieties.
Does it matter what type of tomato I use?
Each type of tomatoes is better suited for different tasks. But don't let that limit you too much – you can use any type of tomato in any dish and it won't be bad!
Cherry tomatoes are perfect for salads, appetizers and snacking. They have a higher sugar concentration than larger tomatoes (across all colors too). Since cherry tomatoes have a higher skin-to-flesh ratio, they are less ideal for sauces and soups.
Roma / Paste tomatoes are good for sauces because they have denser flesh, less seeds and liquid around the seed cavities. I've found most of these varieties to be milder in flavor, which is good or bad depending on who you are.
Medium & large tomatoes are great for slicing on a sandwich, adding to a stew, or making into a soup. They are great on salads too.
How does heat affect a tomato's flavor?
If you want the fresh tomato flavor to shine through in a cooked dish, add the tomatoes at the end and cook for no more than 15 minutes, but less is even better. They lose their distinct flavor when cooked for too long in a sauce, soup, or stew.
You can also add the bulk of tomatoes to a sauce, soup or stew if that is essential to the recipe. And then hold back some of the best tasting ones, chop them up, and add them right at the end. That way, you get pops of that fresh tomato flavor.
When you dehydrate tomatoes you have the opposite effect – you intensify the flavor. If you bought tomatoes that didn't have much flavor, it's a good way to use them up! Add a drizzle of olive oil and a whole lot of herbs and garlic and they'll be super tasty.
How do I counter the acidity of tomatoes in a recipe?
Tomatoes range in acidity, and it's hard to tell until you taste them, or the finished dish.
If you are trying to adjust just the flavor, you can add sugar (or some other sweetener) to balance it out. A little salt can help as well.
To adjust it for stomach problems, add a tiny bit of baking soda, a little at a time (in intervals of 1/2 a tsp for a big batch of sauce or soup). It will bubble up – keep stirring until the bubbling subsides, and taste again. Repeat until it has reached your desired lower level of acidity.
Get more tips from SF Gate's article.
Should I buy organic tomatoes?
If you can afford it, it's a good idea. Consumer reports reviews pesticide testing data from the Environmental Protection Agencay (EPA) and they put tomatoes in the 'medium' risk category. That means the amount and toxicity levels of different pesticides found in tomatoes exceeds the levels 'known to be safe' after 5-10 servings in a day, by a child.
For fruits and vegetables in the low, or very low category, pesticide levels are near the same levels of organic produce, making them very safe. When produce falls in the higher or very high categories, they exceed the levels known to be safe after 1-5 servings.
Now what should I make?
That's a good question! I scour the internet to find recipes that use fresh, seasonal ingredients, often with a fun twist. Follow Ask The Food Geek on Pinterest or Facebook to get access to the recipes I find every day.
[pin_profile username="askthefoodgeek" size="custom" image_width="115″ board_width="660″ board_height="200″]
Tomato Recipes
Each recipe has been reviewed to make sure all ingredients are in season at the same times as tomatoes, or that the ingredients are in-season all year.
Roasted red pepper and tomato pasta – recipe by Lauren Caris Cooks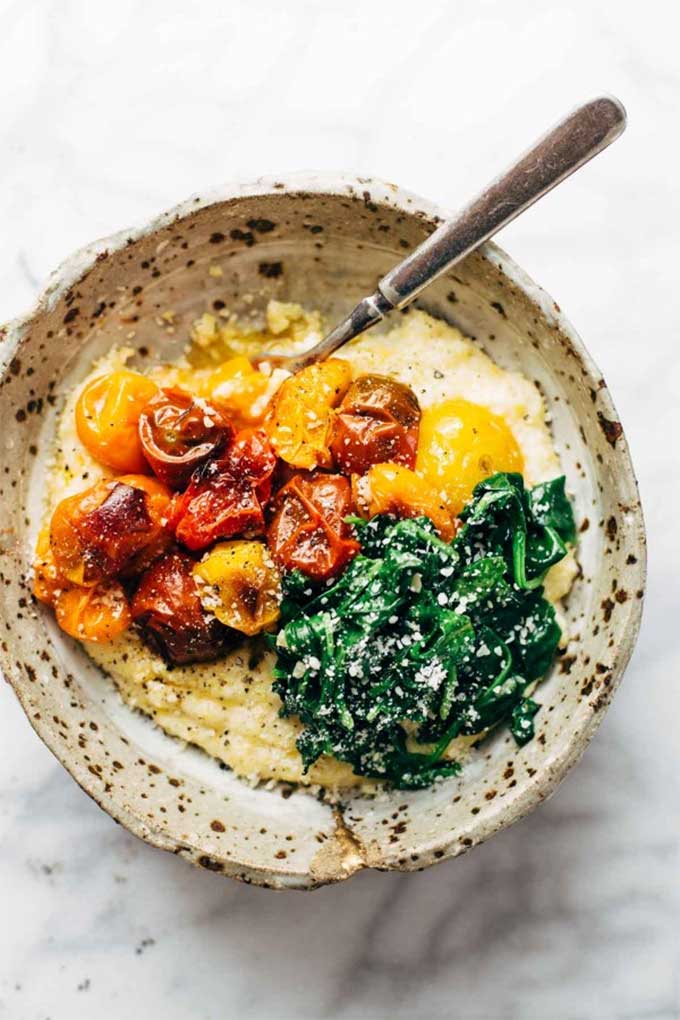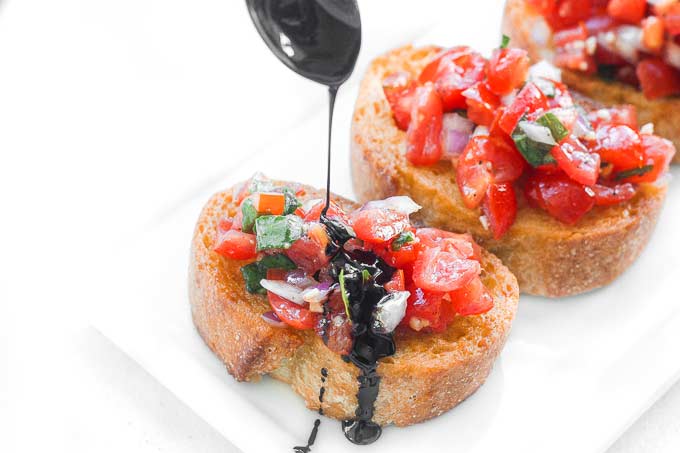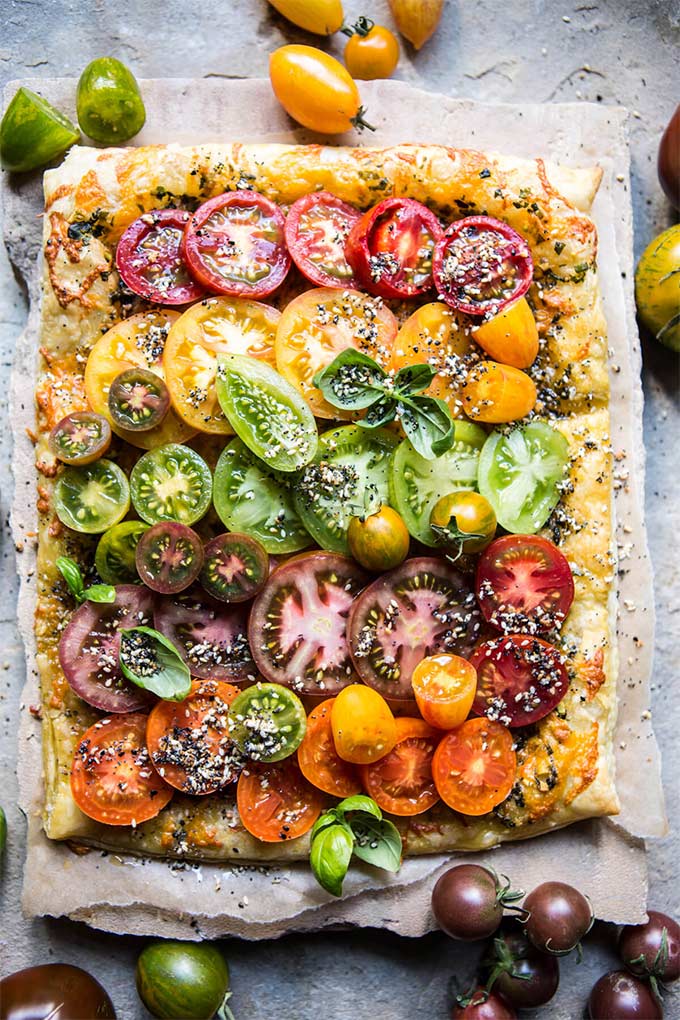 Quinoa and spinach stuffed tomatoes – recipe by Diethood