Pears are unique. They ripen differently than most fruit, from the inside out, and off the tree.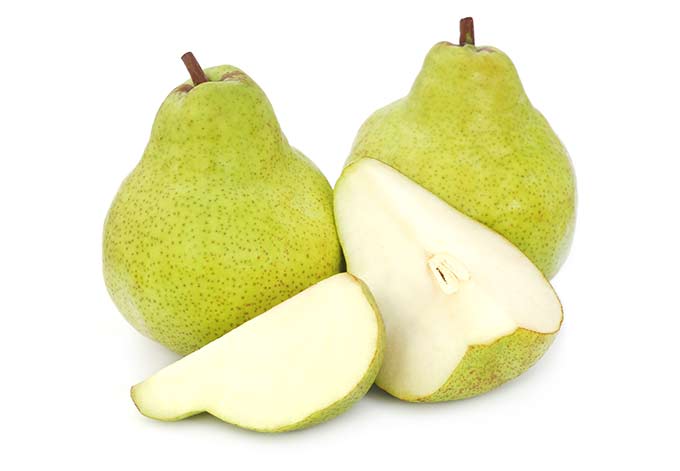 When are pears in-season at the farmers market?
They start to show up around the same time as apples, sometime in August and last though December (thanks to their unique requirement to ripen off the tree and require cold-storage). You can find pears from the fall season into January or February in grocery stores (but not the farmers market). See what else is in season at the same time: August, September, October, and November, and December.
How to pick the best pears:
Pears that are left to ripen on the tree get mealy and woody. This is unlike all of the other fruits (except avocados). They are picked when mature, but not ripe, and then left to ripen off the tree.
They ripen from the inside first. To determine if a pear is ready for eating, gently squeeze the fruit at the stem end. If it gives a little, it is ripe. If the pear is soft all over, the interior texture is likely mealy.
If you aren't going to eat the pears right away, buy some that are not yet ripe.
Winter pears, such as Anjou, Bosc, and Comice actually require cold-storage to ripen, usually 2-6 weeks. If you get these at the grocery store, they will have undergone the cold-storage process. If you get them at the farmers market, ask the farmer if they have gone through cold storage and what they recommend when you take them home.
To store pears, leave unripe ones on the counter to ripen. To speed up ripening, place them in a bag with an apple or banana, which gives off ethylene gas (ripening the fruit). To slow ripening, place them in the fridge.
Pears can last anywhere from several days to a couple of weeks on the counter, depending on their ripeness (or lack thereof) when purchased.
Types of pears & their best uses
Anjou - medium soft and medium juiciness when ripe. They hold up well through cooking and baking, making them well suited to pies and grilling.
Bartlett - the classic pear you probably find most often at stores. Very soft and very juicy when ripe. Fairly sweet too. A favorite for fresh-eating.
Bosc - More crisp like an apple than a typical soft bartlett pear that you might be used to. Less sweet than other pears as well. Holds up well to baking and grilling, and don't get overwhelmed by strong spices.
Comice - Very soft an juicy, like a Bartlett and very sweet (even sweeter than Bartlett pears). Great when paired with cheese!
For pear, cheese and wine pairing, check out this guide by USA Pears.
Should I buy organic?
It's not necessary if you are worried about pesticides. The Environmental Protection Agency's pesticide tests show that pears are near-organic levels. Unlike apples which should be purchased organically when possible.
Pear recipe collection
Each recipe below only uses ingredients that are in season at the same time as pears, or ingredients that have a year-round season.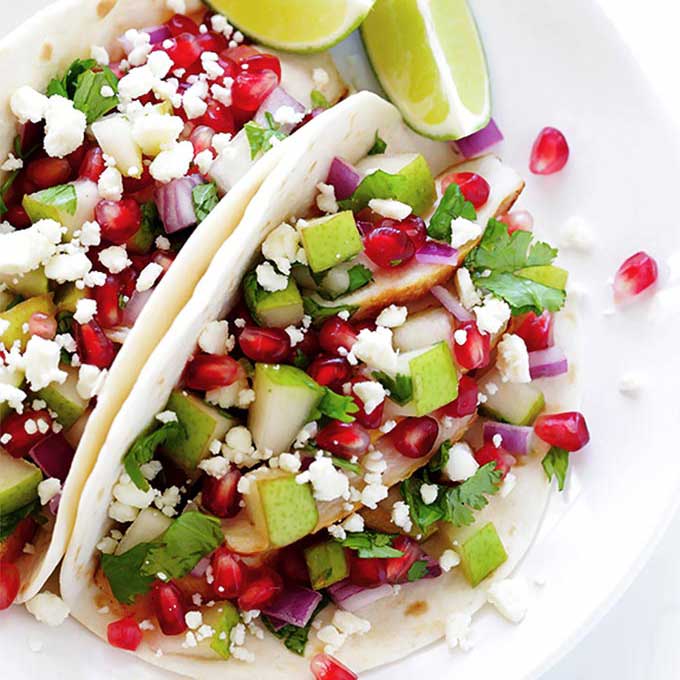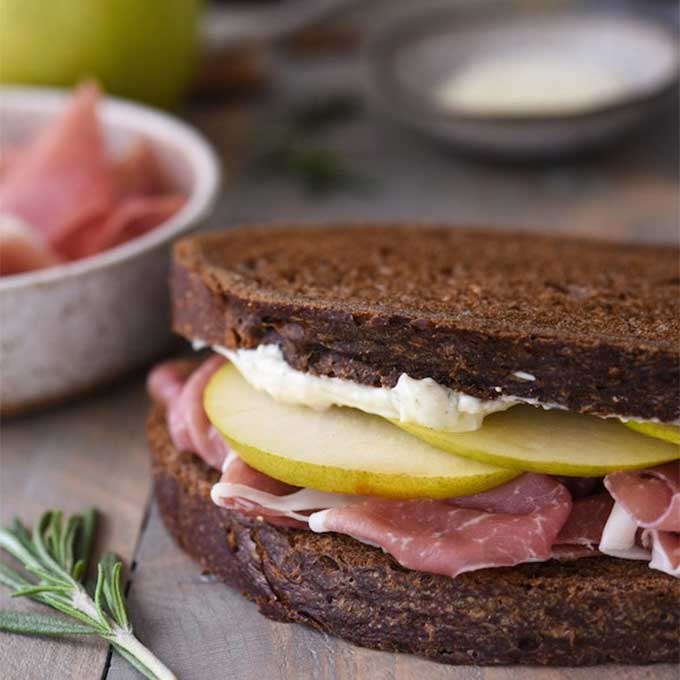 Prosciutto & Pear Sandwich with Herbed Parmesan Mayo - recipe by Foxes Love Lemons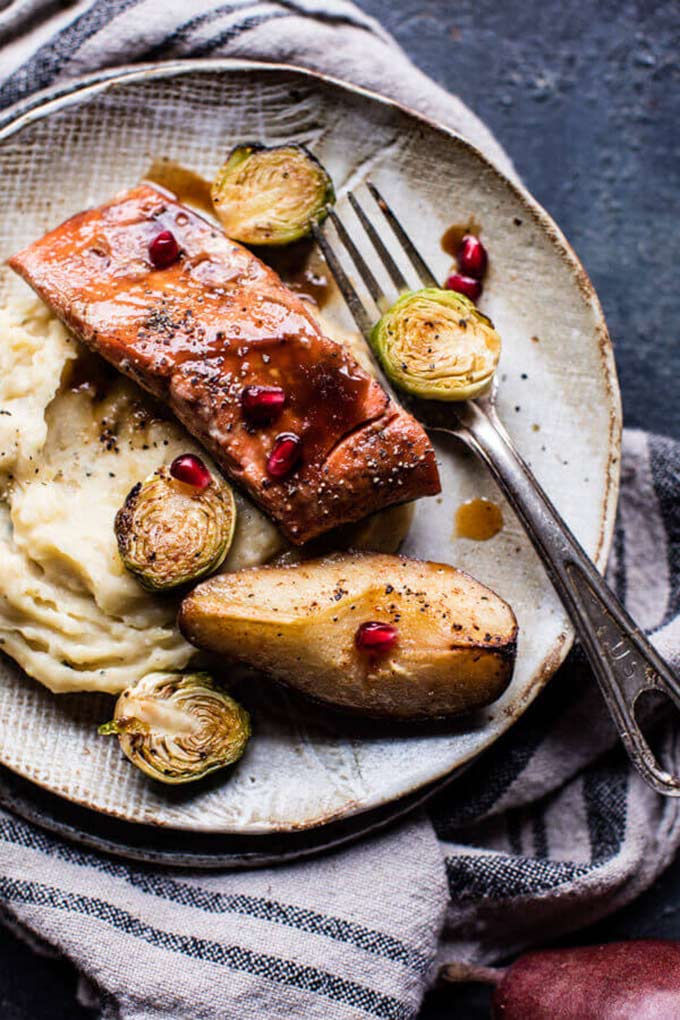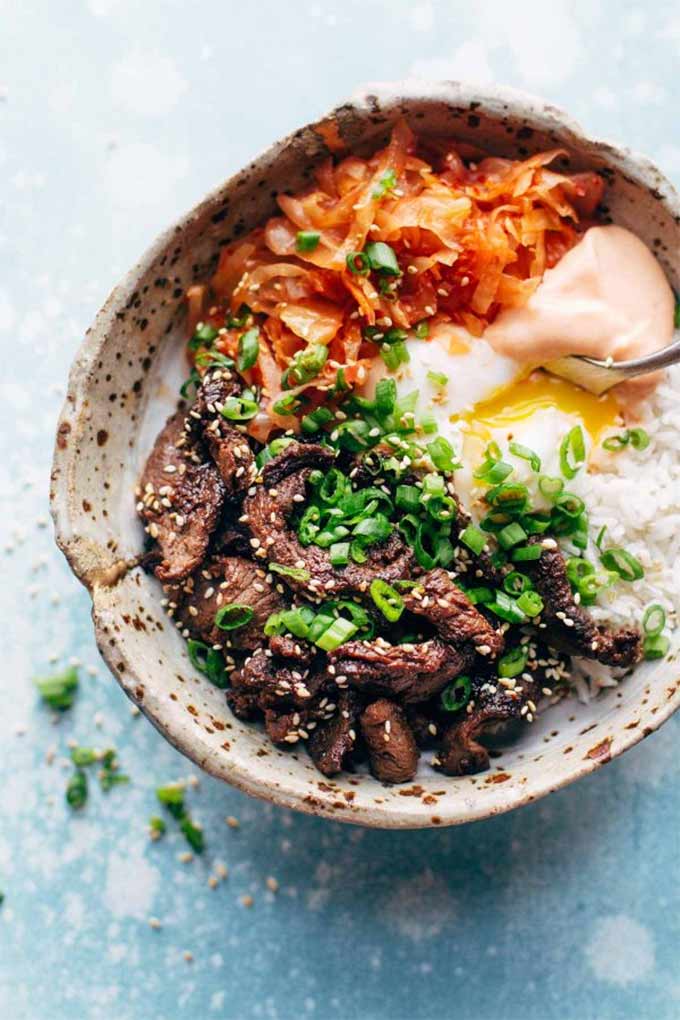 Pears are used in the marinade for the steak, along with ginger and other seasonings.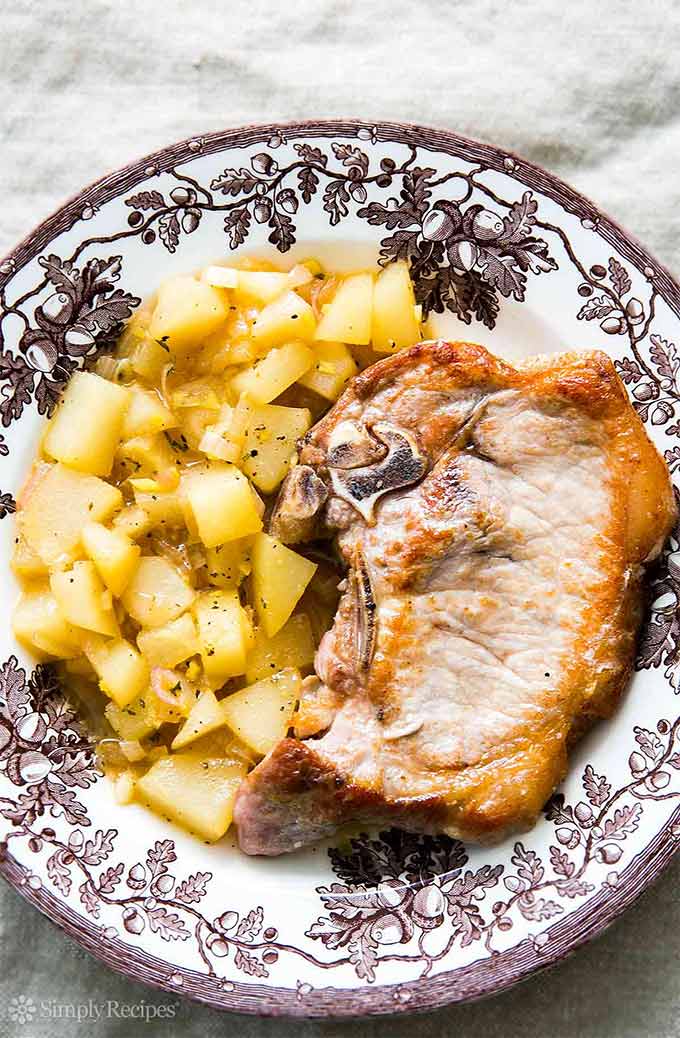 Pork chops with ginger pear sauce - by Simply Recipes