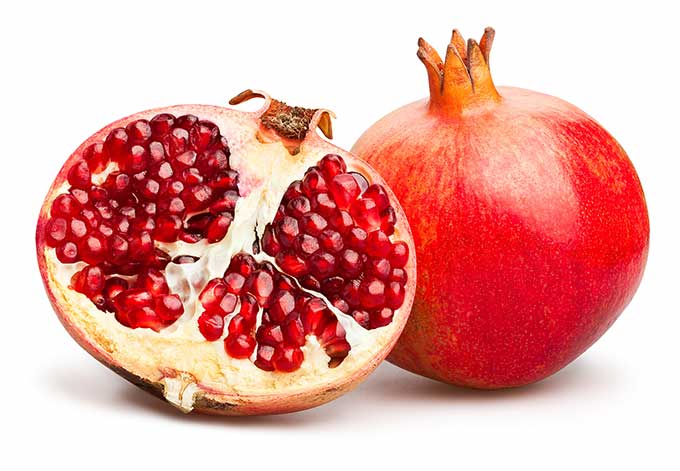 Jump to:
When are pomegranates in season?
Pomegranates start to show up in October and last through December (and sometimes January). This is also the same time you'll likely see pomegranate arils ("seeds") sold separately in stores.
The majority of pomegranates in the US come from California and they ship pretty well. Their thick, leathery shell help them during transport, so even if you can't find them at your local farmers market, you should get a decent quality fruit at your grocery store.
The most common pomegranate variety is Wonderful, accounting for 90-95% of the US market.
See what else is in season at the same time: September, October, and November, and December.
How to select & store
Pick pomegranates that looks plump and the skin is not dried out (that indicates they are old and on the decline).
Store them on the counter for a week, or in the fridge for several weeks. Arils (the seeds) will store for up to 1 week in the fridge.
Pomegranate seeds
Pomegranate seeds are surrounded by a juicy membrane and eaten whole. A single pomegranate will have about ¾ cup of seeds.
How to seed a pomegranate
Getting the seeds out is messy and a bit time consuming. The best way is to cut them apart in segments (like apple wedges). Then bend the wedge back and pop the seeds out, or hit it with the back of a spoon (video).
Fresh seeds can be stored in the fridge for a few days. They can be frozen, but might be a little mushy when thawed.
Have the seeds gone bad or spoiled?
Pomegranate seeds are bad if they've started to decay - they'll turn brown and mushy. They are also bad if they smell like nail polish remover (acetone), or alcohol, a result from yeasts breaking down sugars from the fruit.
Pom Wonderful says it's not normal for the seeds to smell like acetone, but it does happen (twitter). Throw them away and get a refund.
Fresh vs store-bought seeds
Store bought seeds tend to cost about twice as much as removing seeds from a whole pomegranate. Store-bought seeds usually come in 4 oz containers and cost $4-5, whereas a whole pomegranate usually costs $2-3 (and yields 6-8oz of seeds).
While fresh pomegranates tends to only be available through December, pre-packaged seeds can often be found until the end of February (thanks to commercial storage & processing facilities).
How to use the seeds
Pomegranate seeds (also called arils) add a bright tartness to food, making them a perfect way to cut through the heavy, richer foods we often cook in winter. Add them as a garnish to all sorts of dishes:
Top an enchilada bake
Add a pop of flavor to a steak salad (or any salad!)
Add tartness to a stew (seems odd but is delicious)
If you haven't used these before,you can find them in stores in the refrigerated section, often by precut fresh fruits. You can also seed them yourself. 1 pomegranate yields ½ to ¾ cup of arils.
Pomegranate juice
To 'juice' a pomegranate, you break the juicy membranes that surround the seeds. A single pomegranate produces about ½ a cup of juice.
How to juice
There are 2 main methods:
Place the seeds in a food processor (or blender), then strain through a cheese cloth (video)
Place the seeds in a ziploc bag, then crush lightly with a rolling pin. Cut a tiny hole in the bag to get the juice out, or strain through a fine mesh sieve. (video)
Fresh squeezed juice can be stored for 3 days in the fridge or frozen.
Fresh vs bottled juice
Bottled juice is available year round, and ends up being cheaper than juicing whole pomegranates. A 16 oz bottle costs about $5, but it would take about 4 pomegranates to get the same amount of juice (for a total of $8-12).
Store-bought juice can be more concentrated and higher in sugar. This can add more of a punch to recipes (as well as calories). POM Wonderful brand's 100% pomegranate juice is a decent option, without any added sugar.
"POM Wonderful 100 percent pomegranate juice is made by pressing the entire pomegranate so that each 8-ounce bottle contains the juice from two whole-pressed pomegranates—and nothing else." - Eat This interview with Amy Gorin, a registered dietitian (who is a partner with POM)
Health benefits
Only about 6% of people in the US bought a pomegranate in the last year, but they are gaining popularity. One of those reasons is their nutritional benefits.
The fruit is full of vitamins and fiber (especially when you eat the seeds whole). 1 pomegranate yields about ¾ cups of seeds and ½ cup of juice, giving the following benefits:
6 grams fiber from the seeds (about 25% daily recommended value)
30% of your daily vitamin C and K
Very strong antioxidants (3x more powerful than green tea)
Reduce inflammation
And potentially fight against some cancers, arthritis, and high blood pressure
Pomegranate powders and supplements are usually made from the rind, which has an incredibly high concentration of antioxidants.
Recipes
Use pomegranates to add acidity and a sweet-tart flavor to recipes. The pomegranate recipe collection has over 30 recipes for fall and winter.
Top a creamy cheese with seeds
Make a pomegranate syrup to pour over cheesecake
Use juice to make a sauce or glaze for meat
Add seeds to any salad
Top yogurt with juice, syrup, or seeds