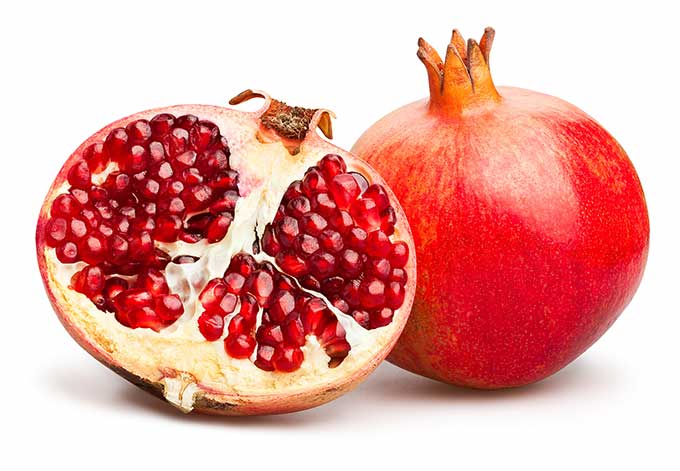 When are pomegranates in season?
They start to show up in October and last through December and sometimes January. This is also the same time you'll likely see pomegranate arils sold separately in stores. The majority of pomegranates in the US come from California.
See what else is in season at the same time: September, October, and November, and December.
They ship well, so even if you can't find them at your local farmers market, you should get a decent quality fruit at your grocery store. They don't ripen after harvest and they have a thick, leathery skin, making them transport well.
Pick pomegranates that looks plump and the skin is not dried out (that indicates they are old and on the decline).
Store them on the counter for a week, or in the fridge for several weeks. Arils will store for up to 1 week in the fridge.
Pomegranate seeds (aka arils) are delicious!
If you haven't used these before, seek them out. You can find them in stores in the refrigerated section, or you can seed them yourself. 1 pomegranate yields 1/2 to 3/4 cup of arils.
Should I buy organic?
The Environmental Protection Agency hasn't tested pomegranates in their latest public data, so I am not able to advise you in one direction or the other. Check out this organic vs conventional produce article for an in-depth look at the topic.
Pomegranate recipe collection
Each recipe below only uses ingredients that are in season at the same time as pomegranates, or ingredients that have a year-round season.
Early in the season…
Eat this when pomegranates first show up in October, before fig season ends in the same month
Spiced pumpkin turmeric oatmeal bowl with figs and pomegranates – recipe by Heather Christo
Cheesy sweet & sour pomegranate Thai chicken enchiladas – recipe by Half Baked Harvest
Bell peppers are out of season (from the US) in October or November depending on where you live.
Anytime pomegranates are in season…
Brussels sprouts salad with pomegranates and pan-fried goat cheese – recipe by Love & Olive Oil
Pomegranate and cranberry season both end in December.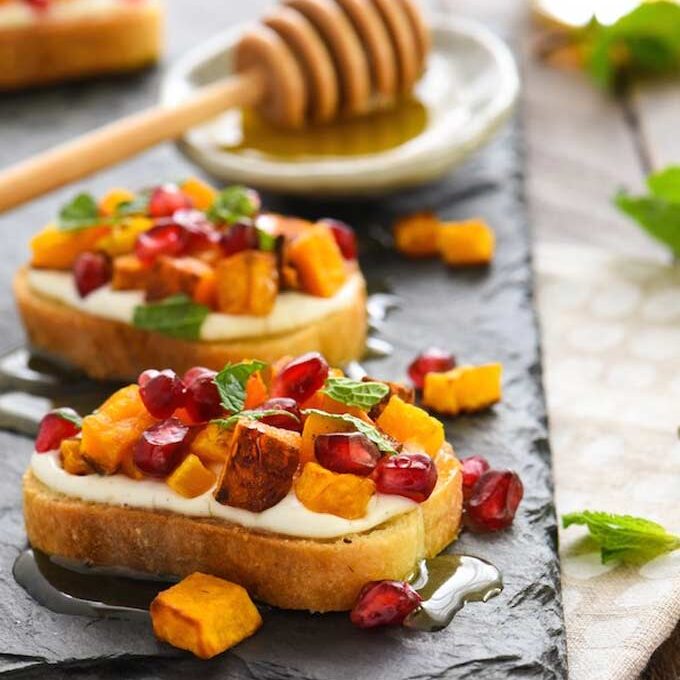 Butternut squash and pomegranate crostini with whipped feta and honey – recipe by Foxes Love Lemons