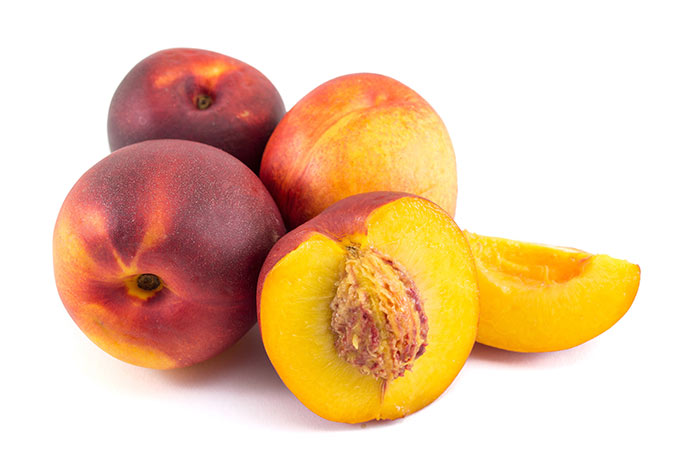 Jump to:
When are peaches in season?
Peaches can be found in late-may in some areas, and last through October, but most parts of the country see peak season in July and August. See what else is in season at the same time: May, June, July, August, September, and October.
Like other stone fruits, they get all of their flavor and sweetness while on the tree, but they happen to bruise easier and store very poorly even in climate-controlled facilities. So it's best to seek them out at a farmers market. If you look around and call ahead, most places in the country can grow peaches, you just might have to drive a little further to find them (but it's totally worth it!)
Jump to:
Varieties
Peaches have either white or yellow flesh, and that flesh either clings to the pit or easily separates it.
Yellow: firmer texture and high acidity (can be clingstone or freestone)
White: softer texture and low acidity, with a more floral aroma and flavor (can be clingstone or freestone)
Clingstone: flesh clings to the pit and is hard to remove. The flesh usually a little softer and juicier than freestone peaches. Clingstone peaches are mostly used for commercial purposes like canning and other types of preserving.
Freestone: the flesh easily separates from the pit, making them a favorite to eat fresh as a snack. These varieties tend to be a little firmer and slightly less juicy. Nearly all peaches sold at grocery stores for fresh eating are freestone.
Semi-cling: these are meant to be a cross between the two, but the flesh is still hard to separate, so they might as well just be called clingstone.
Nectarines are actually fuzzless peaches. So you will find the same characteristics as peaches, and they can be interchanged in any recipe (except canning).
It's hard to describe the flavor of a peach without just eating it yourself. However, if you are looking for a specific color or type of peach, the table below should be helpful. If I am missing a peach that you've seen in markets near you, leave a comment so I can add it to this list.
| Variety | Color | Pit | Notes |
| --- | --- | --- | --- |
| Elberta | yellow | freestone | |
| O'Henry | yellow | freestone | |
| Eva's pride | yellow | freestone | |
| Flavorcrest | yellow | freestone | |
| Galaxy (donut) | yellow | freestone | |
| Gold dust | yellow | semi | lower acid for a yellow peach |
| Red haven | yellow | semi | resists browning when cut (great for canning) |
| Reliance | yellow | | |
| Sweet scarlet | yellow | | |
| Suncrest | yellow | freestone | |
| Babcock | white | semi | |
| Snow beauty | white | freestone | a fan favorite for flavor |
Selection
The most reliable indicator is their aroma - they should have a strong floral or sweet smell. The peel's background color (underneath the red) should be a deep gold, not pale or green (unless it's a white peach, which will have a pale color). The stem end will also have a yellow stripe across the stop where it ripened against the branch.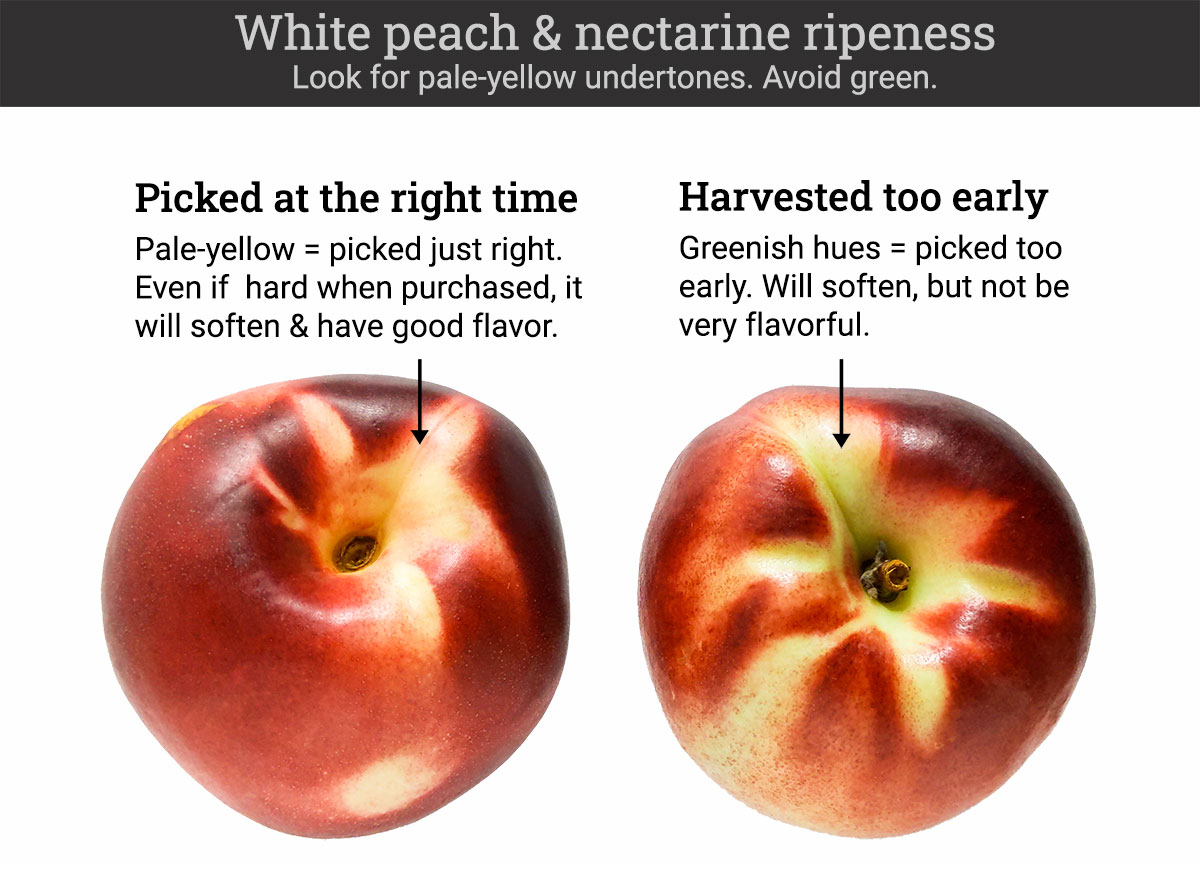 Storage
If they aren't soft, store them on the counter (out of direct light). They will soften in 1-3 days. If they are already soft or you want them to last longer, store them in the fridge.
What causes mealy peaches?
Mealy flesh is dry, fibrous, and odd textured. In peaches, it is caused by extended cold storage, specifically between 36-45 F (2.2-7.6 C), according to UC Davis (pdf). This happens at commercial storage facilities where they are storage peaches for weeks at a time. In case you are wondering, your fridge likely sits around 40 F. Storage in your fridge for a few days won't affect the texture.
Some peach varieties turn mealy more easily. In general, mid and late-season varieties are more susceptible to damage than earlier season varieties. Unfortunately, it's near impossible to tell if the flesh is mealy by just looking at it, or even squeezing it.
Buying peaches from the farmers market will rarely have mealy flesh, since they haven't been kept in cold storage (or stored at all!). But if you do end up with mealy fruit, and it has a good flavor, use it in recipes that break down the flesh: peach butter, jam, smoothies, ice cream, cobbler, or fruit leather.
Seasonal recipes
Peaches pair well with so many different flavors, like basil, ginger, hot peppers, and fatty meats and cheese. Below are a sample of the 75+ recipes in the peach flavor pairing guide.
See all of the recipes in the peach flavor pairing guide.
Questions?
See what's in season at the same time as peaches: May, June, July, August, September, and October. Or visit the seasonal calendar for all of the months.
If you have any questions, leave a comment and I'll get you an answer.