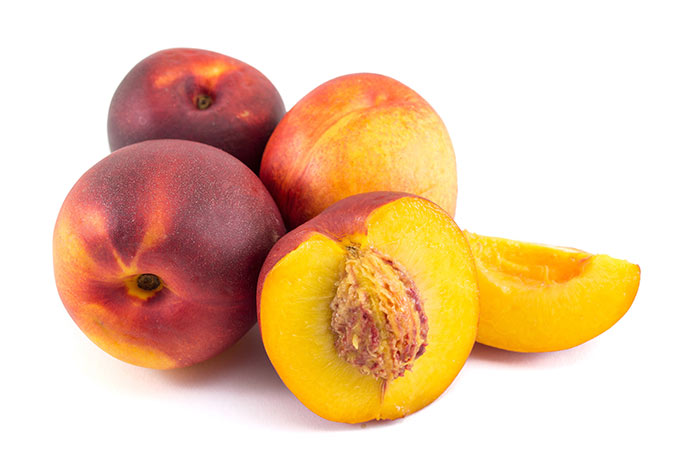 Nothing beats a perfectly sweet, juicy, ripe peach in summer. Of all the stone fruits, they are the hardest to ship and store for the shortest time.
Peach varieties
Peaches have either white or yellow flesh, and that flesh either clings to the pit or easily separates it.
Yellow: firmer texture and high acidity (can be clingstone or freestone)
White: softer texture and low acidity, with a more floral aroma and flavor (can be clingstone or freestone)
Clingstone: flesh clings to the pit and is hard to remove. The flesh usually a little softer and juicier than freestone peaches. Clingstone peaches are mostly used for commercial purposes like canning and other types of preserving.
Freestone: the flesh easily separates from the pit, making them a favorite to eat fresh as a snack. These varieties tend to be a little firmer and slightly less juicy. Nearly all peaches sold at grocery stores for fresh eating are freestone.
Semi-cling: these are meant to be a cross between the two, but the flesh is still hard to separate, so they might as well just be called clingstone.
Nectarines are actually fuzzless peaches. So you will find the same characteristics as peaches, and they can be interchanged in any recipe (except canning).
Specific peach varieties
It's hard to describe the flavor of a peach without just eating it yourself. However, if you are looking for a specific color or type of peach, the table below should be helpful. If I am missing a peach that you've seen in markets near you, leave a comment so I can add it to this list.
| Variety | Color | Pit | Notes |
| --- | --- | --- | --- |
| Elberta | yellow | freestone | |
| O'Henry | yellow | freestone | |
| Eva's pride | yellow | freestone | |
| Flavorcrest | yellow | freestone | |
| Galaxy (donut) | yellow | freestone | |
| Gold dust | yellow | semi | lower acid for a yellow peach |
| Red haven | yellow | semi | resists browning when cut (great for canning) |
| Reliance | yellow | | |
| Sweet scarlet | yellow | | |
| Suncrest | yellow | freestone | |
| Babcock | white | semi | |
| Snow beauty | white | freestone | a fan favorite for flavor |
Are white or yellow peaches sweeter?
Both white and yellow peaches have similar sugar levels. However, the lower acid of white varieties make them seem sweeter. The color isn't actually the biggest factor in determining their sweetness, however.
The biggest impact is when the peach was picked. The longer it was left to ripen on the tree, the sweeter it will be. Once harvested, they will soften and get more aromatic, but they won't get sweeter.
Hot and dry weather also make peaches sweeter, which is why the variety from the same grower can taste different from week to week, or from one year to the next.
What are the best kind of peaches for...
Not all peaches are created equally for each task. Let's take a look at the most common uses.
Yellow peaches are best for pie & cobbler
Yellow peaches are better for two reasons: firmer flesh and higher acidity.
Firmer flesh of yellow peaches will soften when baked, but still hold their shape in a pie. White varieties will soften and turn to mush. The acidity of yellow peaches is also preferred because it balances out the sweetness, keeping the pie from being overly sweet.
Any peach you choose will have a high water content, which can lead to a common problem: a watery pie. As the peaches cook, they release juices. The best way to prevent those juices from making a watery pie: remove some juice before you bake the pie.
After cutting peaches, place them in bowl and stir in some sugar and a pinch of salt. As this sits for about 20 minutes, juices will start to release.
Strain the juice into a saucepan and reduce it to a syrup so you can add all of that wonderful flavor back into the pie, but without it being watery.
Food Wishes has a clear and concise video on making a peach pie, including the steps outlined above to prevent it from being watery, and detailed steps to make a perfect lattice crust.
Best for tarts
A good tart, in my opinion, is meant to let a fruit's natural flavor take center stage. While both yellow and white peaches work well in a tart, I like to take this opportunity to really let the delicate, floral flavor of white peaches shine. Try pairing them with a hint of cardamom, vanilla, thyme, or ginger.
Tarts also cook for a less time than pies, allowing white peaches to hold their shape.
Best types for canning & preserving
While not necessary, it's nice to find a peach that resists browning so your preserved fruit looks as appetizing when you go to eat it, as the day you canned it. The following varieties are all very resistant to browning:
Harken
Red Haven (a fan favorite for canning)
Crest Haven
Fairhaven
Sun Haven
You also have the choice between clingstone and freestone:
Clingstone peaches tend to be juicier and sweeter, making them a favorite for canning and jam. They can be hard to buy at a grocery store, but you can have luck finding them at a farmers market.
Freestone peaches are also great for canning. In fact, many people prefer them as it saves a lot of time not having to separate the flesh from the pits of dozens of peaches.
Whether you use freestone or clingstone, make sure they are yellow for their higher acid value. Acidity is key to safe preservation and the lower acidity in white types have low enough acid levels they are unsafe to can.
Best for grilling
Any type of freestone peach works, as long as it is firm. A soft peach that drips juice all over the grill will burn and will likely fall apart.
Grilling is actually a great way to improve a mediocre peach. The high heat caramelizes the sugars (making it sweeter), and adds that unique grilled flavor. Top it with some honey or ice cream.
How to peel peaches
You'll usually peel peaches when using them in pies, cobblers, jams, ice creams, smoothies, etc. The fuzzy skin can add an unexpected (and not always pleasant) texture.
Nectarines don't always have to be peeled and can be substituted for peaches any recipe. The peel's red color also adds a nice rosy hue to ice cream if you leave some of the peels in (too much of the peel and the texture might not be very smooth).
When you do find yourself needing to peel peaches, you have two options:
For really soft peaches, blanch them in boiling water for 30 seconds, and transfer to an ice bath. Once cooled, you can remove all (or some of the) peel with your fingers. This gets messy, and some stubborn skin might still cling to the peach.
For harder peaches, you might be able to gently use a vegetable peeler. Try it out and if it works, great! If the peach is too soft, use the blanching method.
Southern Living has a short 1-minute video that demonstrates these two methods.
When are peaches in season?
Peaches can be found in late-may in some areas, and last through October, but most parts of the country see peak season in July and August. See what else is in season at the same time: May, June, July, August, September, and October.
Like other stone fruits, they get all of their flavor and sweetness while on the tree, but they happen to bruise easier and store very poorly even in climate-controlled facilities. So it's best to seek them out at a farmers market. If you look around and call ahead, most places in the country can grow peaches, you just might have to drive a little further to find them (but it's totally worth it!)
FAQ
How to pick a ripe peach?
The most reliable indicator is their aroma - they should have a strong floral or sweet smell. The peel's background color (underneath the red) should be a deep gold, not pale or green (unless it's a white peach, which will have a pale color). The stem end will also have a yellow stripe across the stop where it ripened against the branch.

What is the best way to store peaches?
If they aren't soft, store them on the counter (out of direct light). They will soften in 1-3+ days. If they are already soft or you want them to last longer, store them in the fridge.
Why are some peaches mealy?
Toward the end of their season, there's a higher chance that grocery store peaches have mealy flesh. That's because when held in cold storage for too long (usually over a week), it damages the flesh. However, there isn't any way to know by just looking at the fruit - so by the time you get them home, it is too late.
What can I do with mealy peaches?
Mealy peaches still taste good, it's their texture that is unappetizing. So they still work well in recipes where their texture breaks down. Use them in peach butter, jam, smoothies, ice cream, cobbler, or fruit leather.

Should I buy organic peaches?
If you can afford it, probably. Consumer Reports reviewed the EPA pesticide testing data and found the levels and toxicity of pesticides in peaches to be in the 'high' category. That means if you eat 1-5 servings in a day, you would exceed the "known to be safe" levels set by the government.

The data collected by the EPA looks at the toxicity and amount of each pesticide found in the edible portions of the fruit. The full details can be found over on the Consumer Reports website.
What's the difference between peaches and nectarines?
They are actually the same species. Nectarines are just fuzzless peaches. Nectarines also tend to be a little smaller and have firmer flesh. Because of their similarities, they can be easily interchanged in recipes (except for canning).
Recipes
Each recipe has been reviewed to make sure all ingredients are in season at the same times as peaches, or that the ingredients are in-season all year. They are grouped into sections for early peach season, late, or anytime peaches are available.
...For mid-summer and later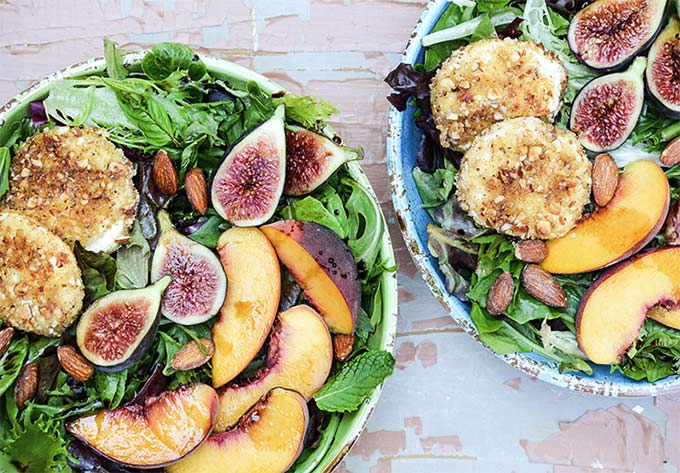 Figs are in season in early summer, and again in early fall, so make this anytime figs are in season.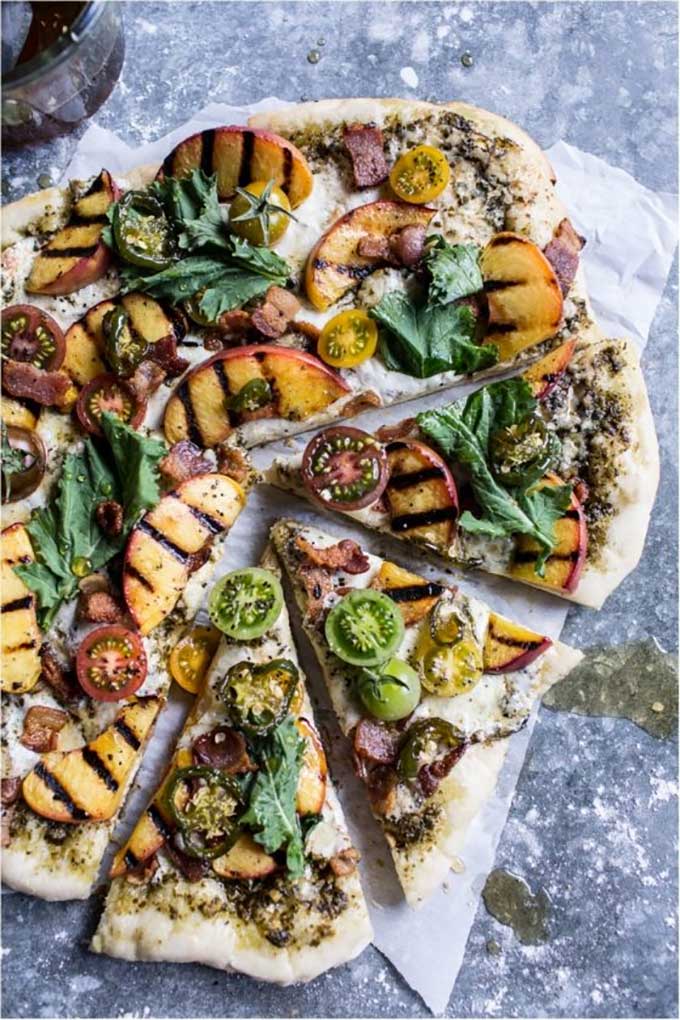 BLT & grilled peach pizza with jalapeno honey and gorgonzola - recipe by The Inspired Home
Jalapenos are in season starting in mid-summer, usually sometime in July. So make this when jalapenos show up in the market.
...For anytime peaches are in season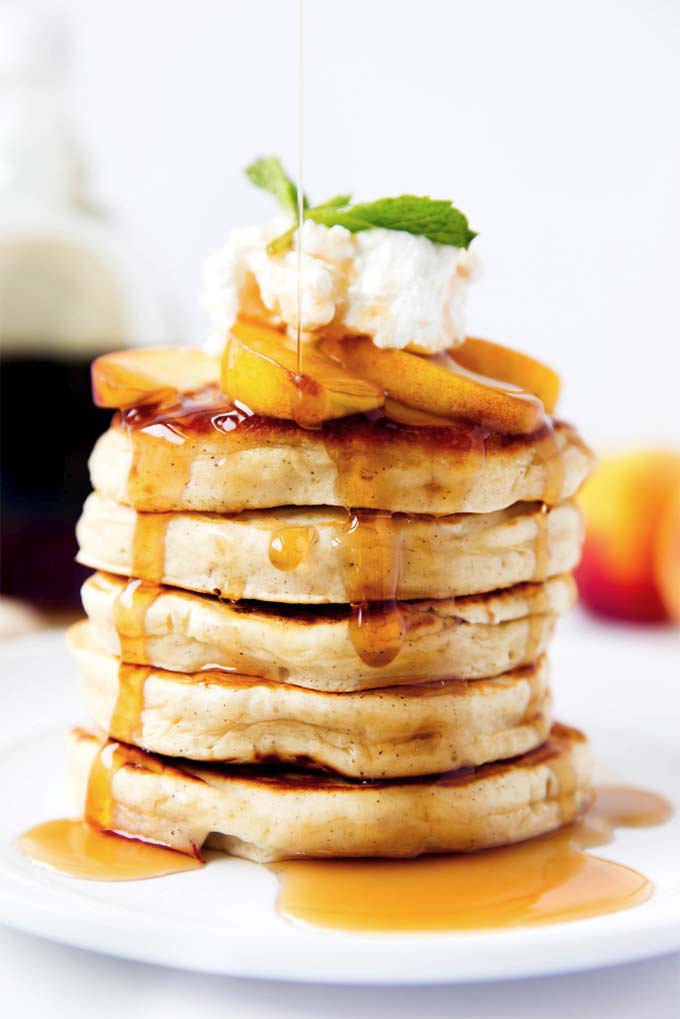 Grilled peaches with vanilla bean mascarpone, honey and granola - recipe by Cooking Classy
Peach strawberry fizz - recipe by Use Your Noodles
What else is in season?
At the same time as peaches: May, June, July, August, September, and October.
Fruit & vegetables guides for produce currently in-season