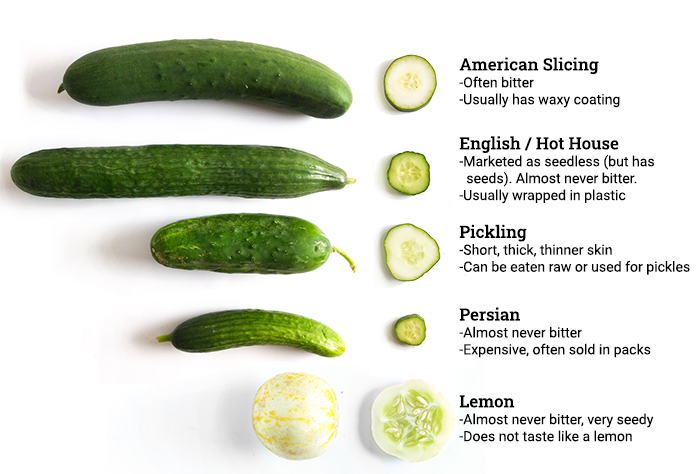 Jump to:
Varieties
There are several varieties you'll encounter at the store or farmers market:
Slicing: the most common variety in stores that can be bitter, have thicker skin, bigger seeds, and are coated in a food-grade wax to prevent moisture loss. These varieties are grown for shipping durability (for example, thicker skin).
English: these come wrapped in plastic to prevent moisture loss. They have a tinner skin and smaller seeds. They are usually grown in greenhouses (and often called 'hothouse cucumbers), and have almost no bitterness. They are more expensive than slicing varieties.
Pickling cucumbers have a thinner skin to allow for better brining. While rare to find a grocery store, farmers markets have them from time to time if you want to make your own pickles.
Persian: gaining popularity for their concentrated cucumber flavor with no bitterness and few seeds. They are less watery and more crunchy than other varieties. They are smaller and usually come in a pack of 5 or 6.
Lemon cucumbers are round and yellow. They have a mild flavor that doesn't taste like a lemon, despite the name.
When are cucumbers in season?
They start showing up in farmers markets around May and last into late September, or into early November if you live in a mild climate. See what else is in season at the same time: May, June, July, August, September, and in some places: October and November.
How to buy & store
Selection: To find the best cucumbers, look for bright, shiny skin, and firmness.
To store: people are split on whether you should store them in the fridge or on the counter (similar to the tomato debate). That's because cucumbers are sensitive to temperatures below 50F degrees (a fridge is around 38F), causing soft spots, pitted areas, and further decay. Tests show that leaving them on the counter is better, but those tests are in rooms at about 68F (colder than many homes). If your house is hot, you are better off putting them in the fridge.
Cucumbers will last 2-4 days in the fridge and a few days longer on the counter.
FAQ
Why are cucumbers bitter?
Not all cucumbers are created equally - some varieties are naturally more bitter (American slicing cukes) while others are almost always bitter-free (Persian and English). Environmental stress also causes bitterness. See "Why cucumbers are bitter & what to do about it."
What to do with bitter cucumbers?
Bitterness is concentrated on the stem-end, the skin and layer just below. So you can start by cutting off the end and peeling the skin + 1 extra layer.

Next, use salt and sugar to your advantage. Salt inhibits our ability to taste bitterness. Adding cucumbers to a salty recipe like a gyro works wonders. Bitterness is also masked by sweet things, so using cucumbers in a yogurt-based tzatziki dip (which has sugar) can turn out great. Get more ideas in, "How to reduce cucumber's bitterness."
Why do cucumbers taste 'cold' ?
Chemical compounds in cucumbers simulate a cooling effect on your taste buds, according to a book meant for food geeks, Taste Buds & Molecules. The author continues, explaining how this cooling effect enhances acidity, bitterness and saltines, reduces the perception of sweetness, and calms hot spices.
Recipes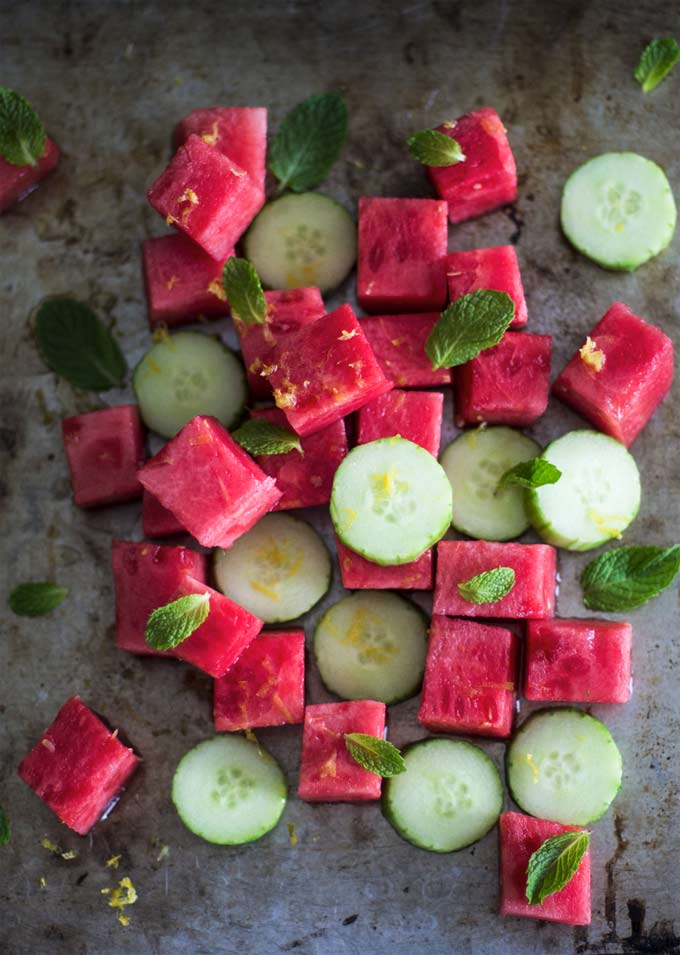 Watermelon season starts in June and lasts through summer.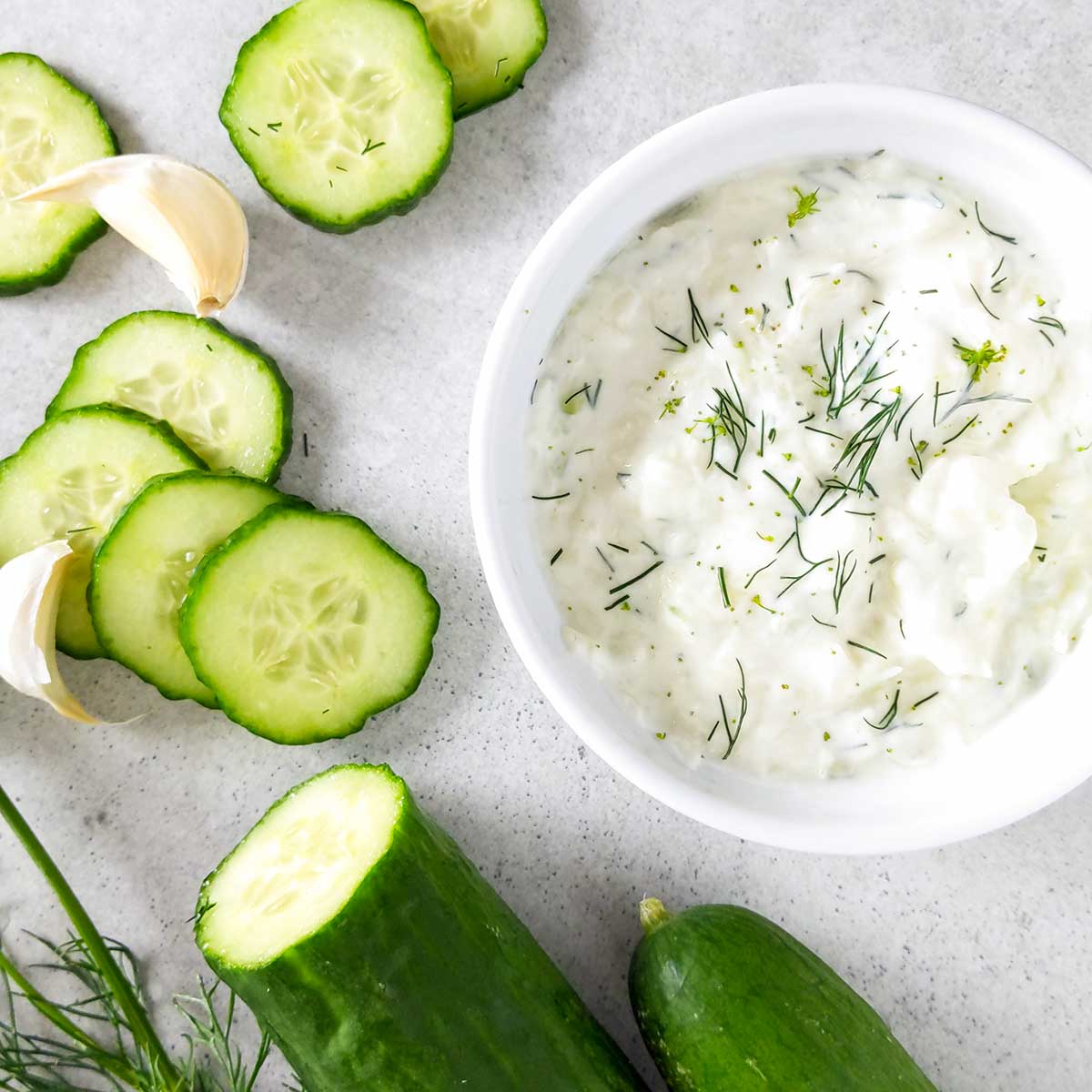 Tzatziki is a refreshing, light cucumber-yogurt sauce. Once you get the basic recipe down, the variations are endless. Try a super-lemony version or one with sun-dried tomatoes.
Tomato and cucumber season conveniently overlap. All of the other ingredients are available year-round, so you can really make this anytime cucumbers and tomatoes are both in-season.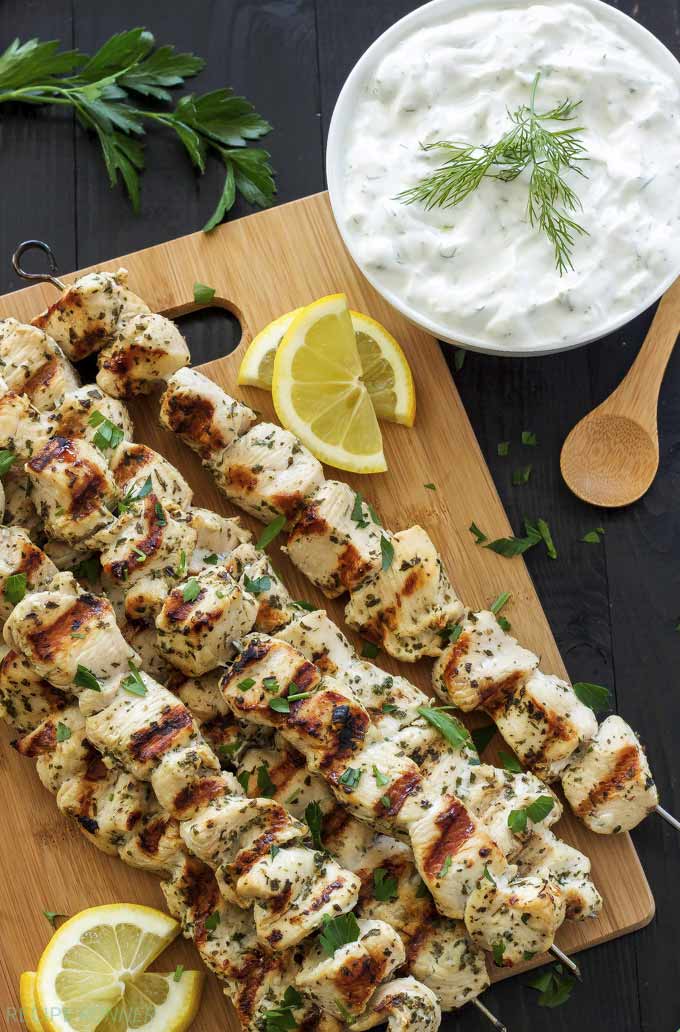 Greek lemon chicken skewers with tzatziki sauce - recipe by Recipe Runner
All of the other ingredients are in-season all year, so make this any time cucumbers are available.