When are cucumbers in season?
They start showing up in farmers markets around June and last into late September, or into early November if you live in a mild climate. See what else is in season at the same time: June, July, August, September, and in some places: October and November.
Selection: To find the best cucumbers, look for bright, shiny skin, and firmness.
To store: leave them on the counter. Anything less than 50F degrees makes them spoil faster. But be sure to keep them away from bananas that you might have on the counter, as the ethylene gas they emit will make the cucumbers spoil sooner.
Should I buy organic cucumbers?
Yes, when possible. The health risk of the pesticides found in (and on) cucumbers is high. Based on the information that Consumer Reports published, that means you would need 1-5 servings in a day to exceed the level of safety set by the EPA (Environmental Protection Agency).
Check out this article, "Should I buy organic?" I look into the known health risks, but also try to be realistic and put the whole thing into perspective.
Why are some cucumbers bitter?
Most University researchers agree cucumbers can become bitter from environmental stress (big swings in temperature, uneven watering, etc). However, they do not agree on what to do about a bitter cucumber. One university claims the bitterness is mostly in skin and the layer directly under the skin, so peeling it would help. Another university says the bitterness is not concentrated in just the skin, indicating that peeling wouldn't matter.
With cucumbers I grow, I notice the bitterness is in the skin, but that isn't a very large scientific sample to draw conclusions from.
Cucumber's "cold-taste" effect, explained:
Chemical compounds in cucumbers simulate a cooling effect on your taste buds, according to a book meant for food geeks, Taste Buds & Molecules. The author continues, explaining how this cooling effect enhances acidity, bitterness and saltines, reduces the perception of sweetness, and calms hot spices.
What are some good cucumber recipes?
That's a good question! I scour the internet to find recipes that use fresh, seasonal ingredients, often with a fun twist. Follow Ask The Food Geek on Pinterest or Facebook to get access to the recipes I find every day.
[pin_profile username="askthefoodgeek" size="custom" image_width="115″ board_width="660″ board_height="200″]
I also have a few to share from my favorite bloggers. Each recipe below only uses ingredients that are in season at the same time as cucumbers, or ingredients that have a year-round season. Since their season overlaps with the beginning or end of other fruits and vegetables, the recipes are grouped into early season, late season, or anytime they are available.
Summer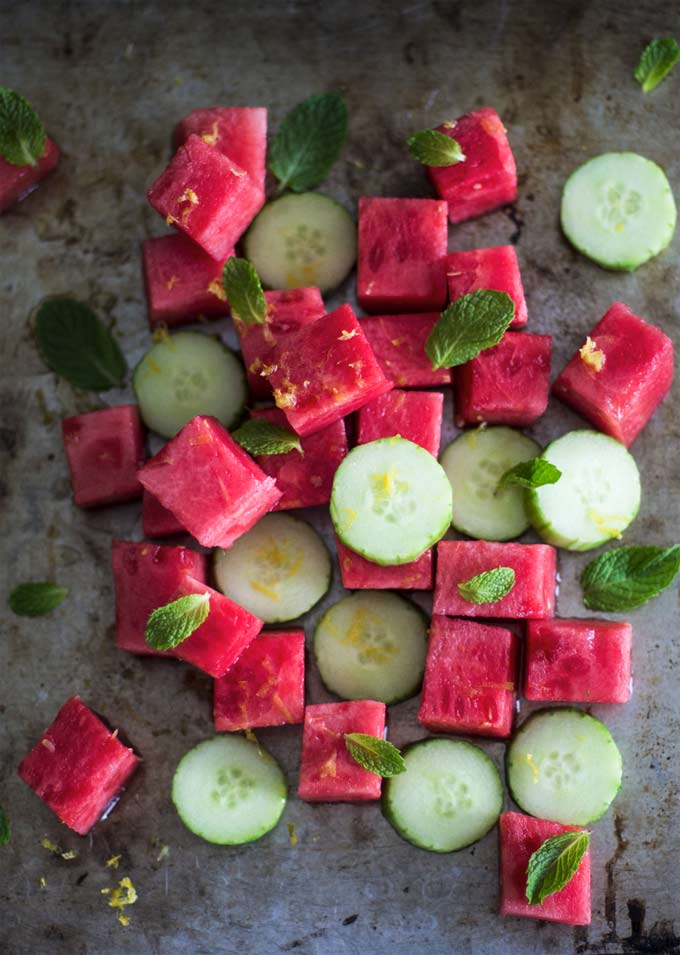 Watermelon season starts in June and lasts through summer.
Anytime cucumbers are in season
Tomato and cucumber season conveniently overlap. All of the other ingredients are available year-round, so you can really make this anytime cucumbers and tomatoes are both in-season.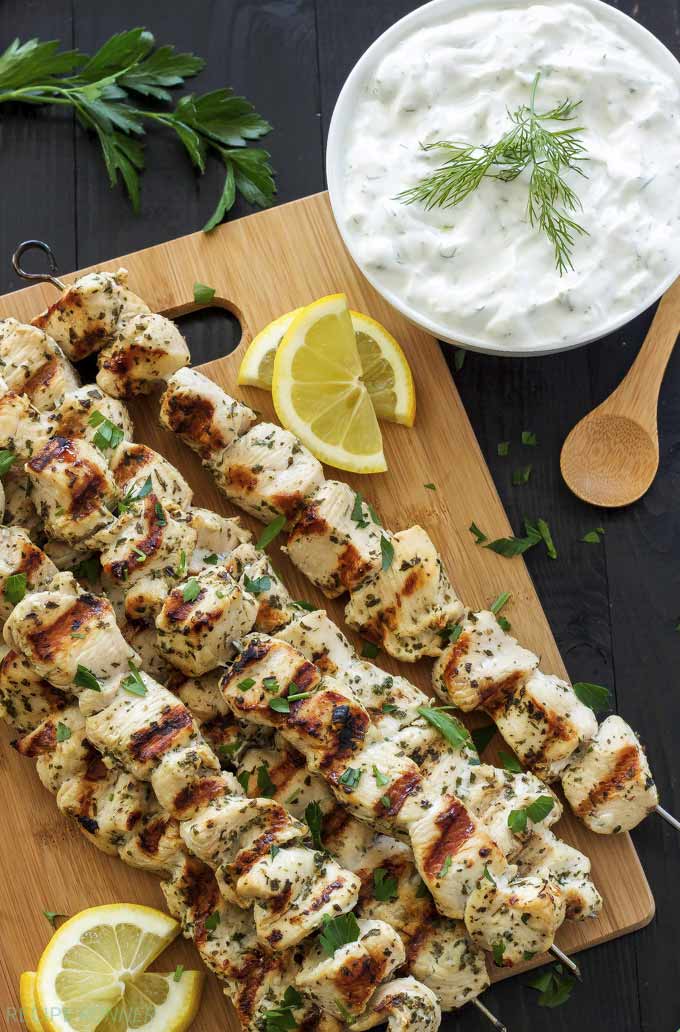 Greek lemon chicken skewers with tzatziki sauce – recipe by Recipe Runner
All of the other ingredients are in-season all year, so make this any time cucumbers are available.