Tzatziki is a cucumber-yogurt sauce that uses only a handful of ingredients. But the quality of those ingredients can really impact the flavor and consistency. The basic sauce is also a great candidate for endless customization (like an avocado version or one with sun-dried tomatoes).
How to make a good tzatziki sauce:
Pick the right type of cucumber (and squeeze out the water)
Use a good-tasting, thick yogurt (like greek yogurt)
Add in other flavors a little at a time, tasting as you go, until it's perfect
In this post...
Tzatziki sauce recipe (below)
Recipe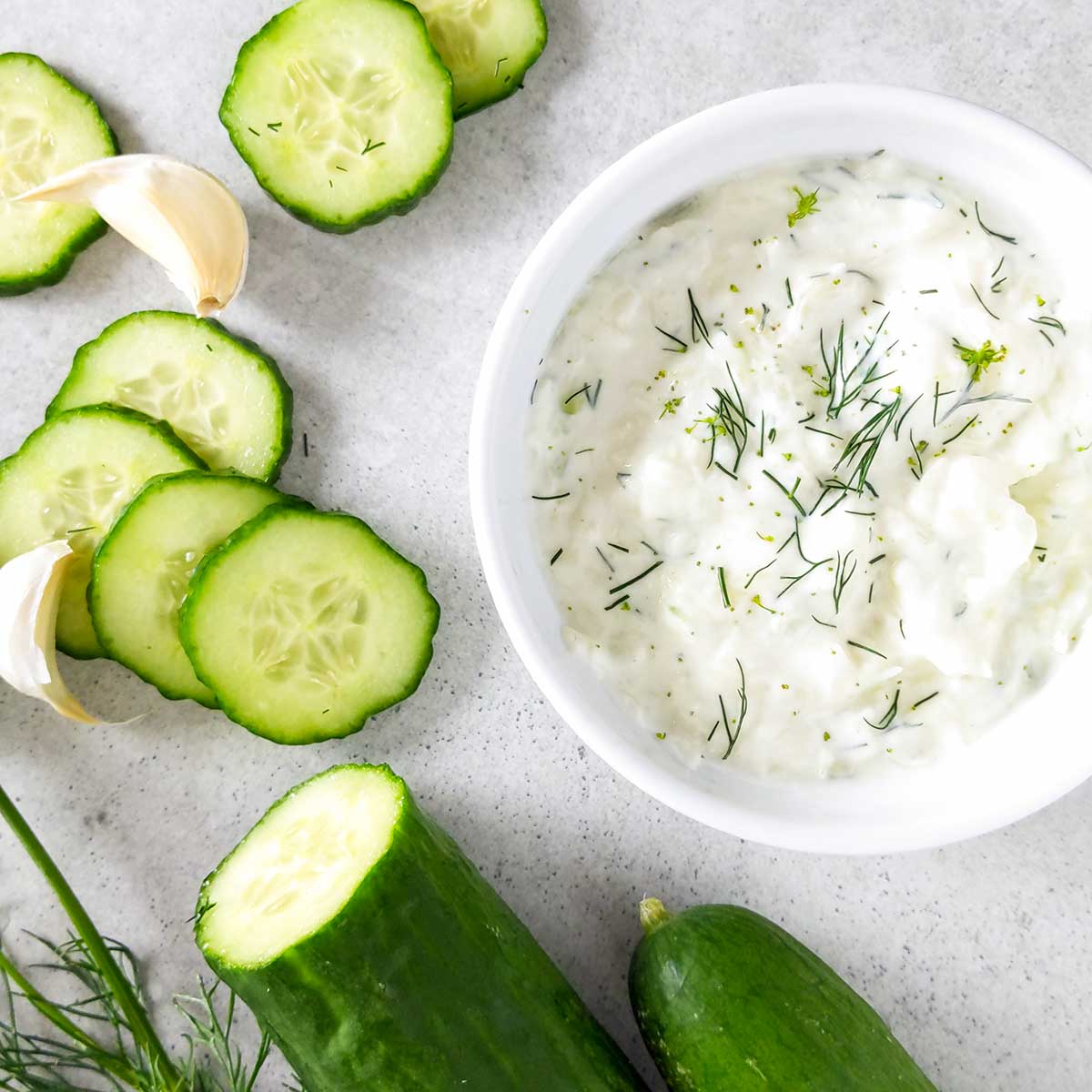 Ingredients
1

cucumber

see note

1¼

cups

plain greek yogurt

two standard 5.3-oz containers, see note

1-2

tablespoon

fresh lemon juice or wine vinegar

see note

1-2

tablespoon

chopped fresh dill

¼

teaspoon

each: salt & pepper

more to taste

2

tablespoon

olive oil

2

cloves

garlic, grated
Instructions
Prep vegetables
If the cucumber has a waxy coating, peel it off. Otherwise you can leave the skin on. Grate cucumber over a tea towel or bamboo paper towel. Wrap up the towel and squeeze out as much liquid as you can (this prevents the tzatziki from being too watery).

Grate garlic with a microplane if possible. Otherwise, mince it with a knife. Place the garlic in a bowl with the

2

tbps of olive oil. (This melows the garlic bite out a little and flavors the oil at the same time).
Make the tzatziki, gradually adding flavor
Note: The cucumber-yogurt base allows for flavors to quickly take over. Because of this, add each of the flavors in gradually until you like how it tastes.

Open the

2

containers of greek yogurt and pour off any liquid sitting on top. Scoop yogurt into a bowl. Fold in the shredded cucumber.

Add in half (

1

tbsp) of the lemon juice (or red/white wine vinegear),

1

tablespoon dill, and

¼

teaspoon each of salt and pepper. Stir and taste. Add more to taste.

Add in half of the garlic oil (

1

tbsp). Stir and taste. Add more to taste.
Make-ahead and storage
This will last 5-7 days in the fridge. The water and oils might seperate, that's natural. Stir to combine before serving. Note that the garlic flavor will get stronger as it sits in the fridge, so consider lowering the amount if making ahead.
Notes
Cucumbers: hot house (also known as english) cucumbers are the one of the best choices as they have fewers seeds and are rarely bitter. They usually come wrapped in plastic, so you don't have a waxy coating like you do with regular slicing cucumbers. Persian cucumbers often have a stronger cucumber flavor (no bitterness), but are more expensive. For more information on varieties, see the Cucumber guide.
Greek yogurt is thicker than other yogurts, removing the need to strain some liquid out of it. Any thicker style greek yogurt works well.
Lemon juice vs wine vinegar: both work well and the flavor difference is minimal. Choose what you like best or have on hand. If using vinegar, you can use red wine vinegar (which is traditional for an authentic Greek version), white wine vinegar, or even champagne vinegar.
Nutrition
Nutrition Facts
Tzatziki sauce
Amount per Serving
% Daily Value*
* Percent Daily Values are based on a 2000 calorie diet.
What's the best cucumber for tzatziki sauce?
English cucumbers are the best choice, although pretty much any cucumber will work. But if you don't like bitter cucumbers, avoid the American slicing variety. If that's all you have, check out "Bitter cucumbers & how to fix them."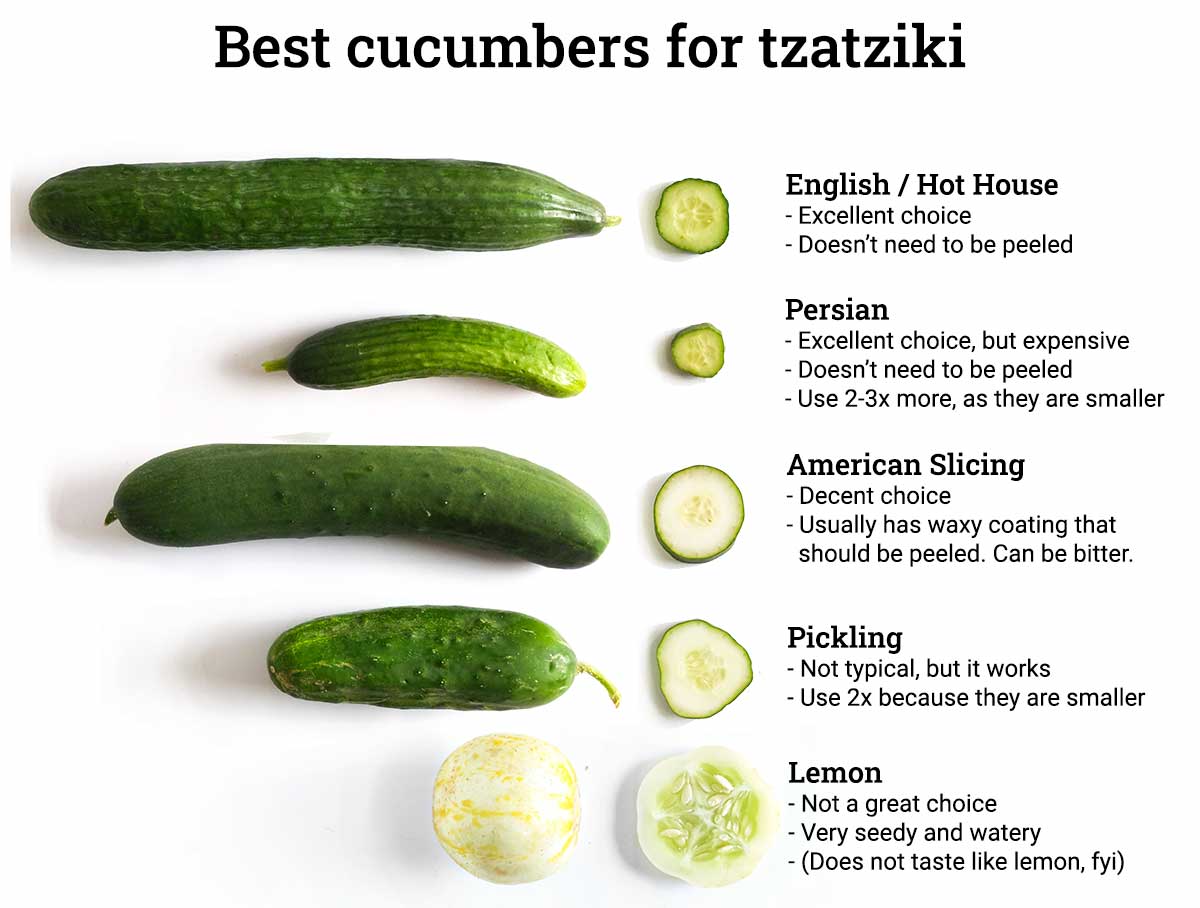 Hot house cucumbers are the best option for several reasons:
Almost never bitter
Sold wrapped in plastic, avoiding the waxy coating from regular slicing cucumbers
Very few seeds
Decent price
Persian cucumbers have a slightly stronger cucumber flavor and are delicious in tzatziki. However, they tend to be much more expensive so it is best saved for fresh uses (like salads or in gin & tonics). If price is of no concern, or you have a bunch to use up, I encourage you to do so.
The seasonal cucumber guide covers even more varietal information.
The secret to squeezing water out from veggies: bamboo paper towels
I don't like squeezing watery vegetables out in a tea towel, and find regular paper towels just fall apart. Bamboo paper towels are perfect. They are very sturdy and I use them exclusively for removing water from vegetables (like cucumbers and zucchini).
They also work well for drying lettuce and herbs. Especially if you find yourself going through a ton of paper towels just to dry these things. Get a roll, you won't be disappointed. This is the most popular brand on Amazon and the one I use.
You can also let it set over a colander or try to squeeze it with a cheesecloth or through a coffee filter.
Other tzatziki recipe ideas
As with any recipe, I encourage you to customize it to your liking. Some variations are subtle, while others push the definition of tzatziki.
Extra lemon dill: add even more lemon flavor with the zest of 1 lemon and be sure to use lemon juice (not vinegar in the recipe). You could also use lemon-flavored yogurt (which will be strong, but wonderful if that is what you are looking for)/ Adding ¼ teaspoon of sumac if you have it in your pantry (a lemony flavored spice) would be interesting too.
Minty fresh: replace the dill with equal amounts of mint. Great for use with lamb or spicy dishes. For example, dip your bread of choice in a minty tzatziki (or raita) with a spicy Indian curry.
Mexican: replace the dill with equal amounts of cilantro, and lemon with equal amounts of lime. Great with tacos, taco salad, or burritos. Also try adding avocado (see avocado version below).
Italian: add ¼ cup of oil-packed sun-dried tomatoes, chopped. Add 1 tablespoon chopped fresh oregano along with the dill, OR 2 tablespoon oregano and no dill. Use on burgers or with focaccia.
Sour cream & onion: replace ¼ cup of yogurt with sour cream and add chopped green onions or chives (along with the dill).
Ranch: replace ¼ cup of the yogurt with ranch dressing. The ranch dressing with make it thinner.
Avocado: add 1 avocado to the recipe for an incredible flavor and texture. See Half Baked Harvest's avocado tzatziki recipe.
Smoky: add ½ teaspoon paprika for a smoky, slightly spicy flavor. Note this won't have a smoked bbq flavor, just some added paprika characteristics. Try it with grilled veggies and meat.
Spicy: add up to 1 tablespoon harissa (chile paste) or a pinch (or more) of cayenne. Spicy pairs with the cooling cucumber for a fun take on tzatziki. Great for dipping veggies into.
Herb flavors come through really well in tzatziki sauce. If you're growing your own herbs, definitely use those. You can also try growing interesting varieties like Citrus Kitchen Mint from Richters (read my review).
Even more recipes
Substitutions
Can I use dried dill?
Yes, but use about ⅓ less than the recipe calls for. This is because dried herbs' flavor is more concentrated, so you need to use less. Start small, taste the tzatziki, then add more until it gets the flavor you want.
Can I use regular yogurt?
Yes, but it will be thinner than a thicker greek yogurt. If you want a thicker tzatziki, strain the yogurt in a mesh strainer over a bowl. Leave it in the fridge for a few hours to drain some of the liquid out. Also be sure to really squeeze the water out of the cucumbers so as not to add more liquid to the sauce.
Can I use sour cream?
You could substitute half of the yogurt with sour cream. It would have a different flavor of course, and would be slightly thinner. But it would still make a good sauce.
Make gyro meat at home
A classic use for tzatziki sauce: gryos. It's hard to replicate the restaurant style meat, since most of us don't have a rotisserie running all day to slowly shave meat from. Instead, forming it into a flat, dense loaf works better at home.
Get the gyro meat recipe and the best grocery store alternative (hint: look no further than Trader Joes).