Restaurant style gyros can't be beat. The homemade version of gyro meat captures the general flavor and texture as best as possible without a rotisserie.
If it seems like a lot of work (it does take some effort), grab the Trader Joe's gryo slices for a close second to this homemade version.
Recipe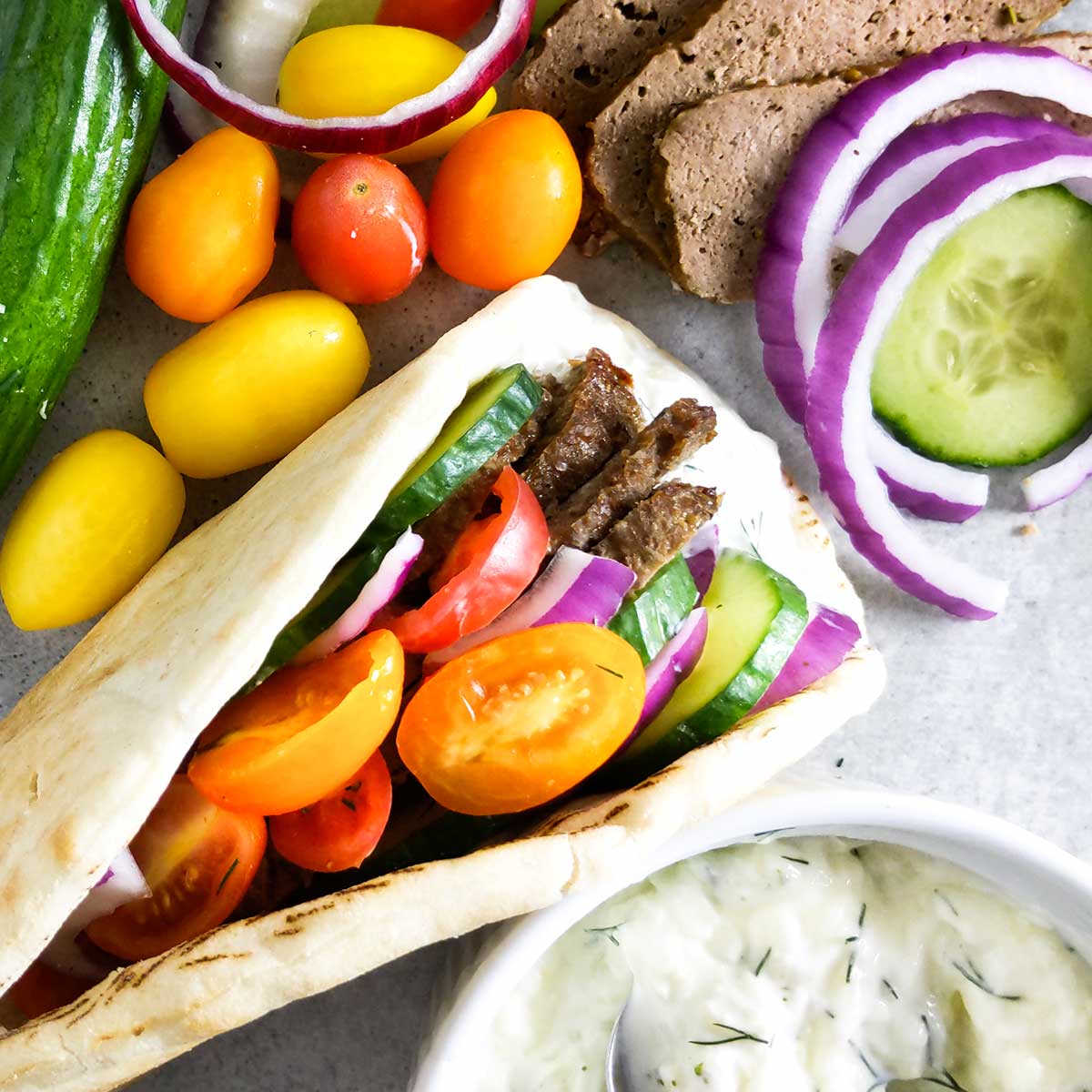 Ingredients
1

lb

ground beef

see note

½

lb

ground lamb

see note

1

small

red onion

(or half of a large one)

3

cloves

garlic

1

teaspoon

dried rosemary

1

teaspoon

dried oregano

1

teaspoon

ground marjoram

1

teaspoon

salt

1

teaspoon

black pepper
Instructions
AT LEAST 1 HOUR AHEAD: MIX MEAT + HERBS
Mix meat and

1

teaspoon each of salt, pepper, rosemary, oregano, and marjoram together in a bowl. Let rest in the fridge for at least an hour (overnight is also ok). The point here is to let the salt penetrate the meat to retain its juices while cooking. Skipping this step will affect final meat texture.
PROCESS GYRO MEAT
Preheat oven to 325°F. Line a rimmed baking sheet with aluminum foil.

Cut the onion into medium-large pieces. Peel garlic cloves and cut into quarters. Add onions and garlic to a food processor. Process until it's a liquidy paste. (You want onion flavor in the meat, not pieces of onions).

Scoop onion-garlic mixture onto a tea towel (etc) to squeeze out extra juices. Add to meat mixture.

Place meat mixture in the food processor and process until it looks like a pate. This will take several minutes, and you will likely need to scoop down the sides a few times.
COOK
Shape meat into a loaf that's about 8x5 inches, and about 1½ inches tall. Place on a lined baking sheet and cook for 30-35 minutes. The internal temperature at the center should reach 155° - 160°.

Remove from oven, cover with foil, and let rest for 10 minutes before serving. Resting helps the juices stay in, as well as making it easier to cut.
BETTER THE NEXT DAY
This meat is probably even better the next day for two reasons. 1 - when cold, it's easy to slice it really thin. 2 - toasting the slices under a broiler or in a toaster oven make for nice crispy slices. It can keep in the fridge for up to 5 days.
Notes
Lamb & beef: you can use any combination of lamb and beef, depending on how much you like lamb. Just make sure it totals up to 1.5 lbs.
Nutrition
Nutrition Facts
Homemade gyro meat
Amount per Serving
% Daily Value*
* Percent Daily Values are based on a 2000 calorie diet.
How does homemade gyro meat compare to restaurants?
It's good, but definitely not the same. It's one of those few foods that is really hard to replicate at home without a rotisserie running all day. Still, I wanted to make it myself, so I set out and tested several different recipes:
Cook's illustrated makes gyro-style patties and doesn't try to replicate the gyro meat texture. This is a good option, but not what I was looking for in this case.
Alton Brown's recipe bakes the gyro meat in a water bath. After removing it from the oven, he weighs it down with a brick (or a heavy cast iron pan) to condense that texture even more.
Serious Eats has a very good recipe. They found that salting the meat ahead of time retains the moisture so it doesn't cook in a pool of released fat and juices. They use 100% ground lamb and add in some bacon, not what I was looking for but easy to adjust.
My final recipe combines the cooking techniques from Serious Eats along with the spices from Alton Brown. I placed a heavy cast iron pan on half a loaf and it didn't seem to affect the texture, so I left it out of the instructions. Feel free to do it though, it definitely won't hurt.
Getting the right texture
When made at home, gyro meat is essentially a meatloaf. However, the texture of gyro meat is much denser. This is achieved by using a food processor to mix the life out of it. This will create that dense, gyro-like texture.
Whereas meatloaf is mixed very minimally, even by hand. That lets the meat retain a more tender texture.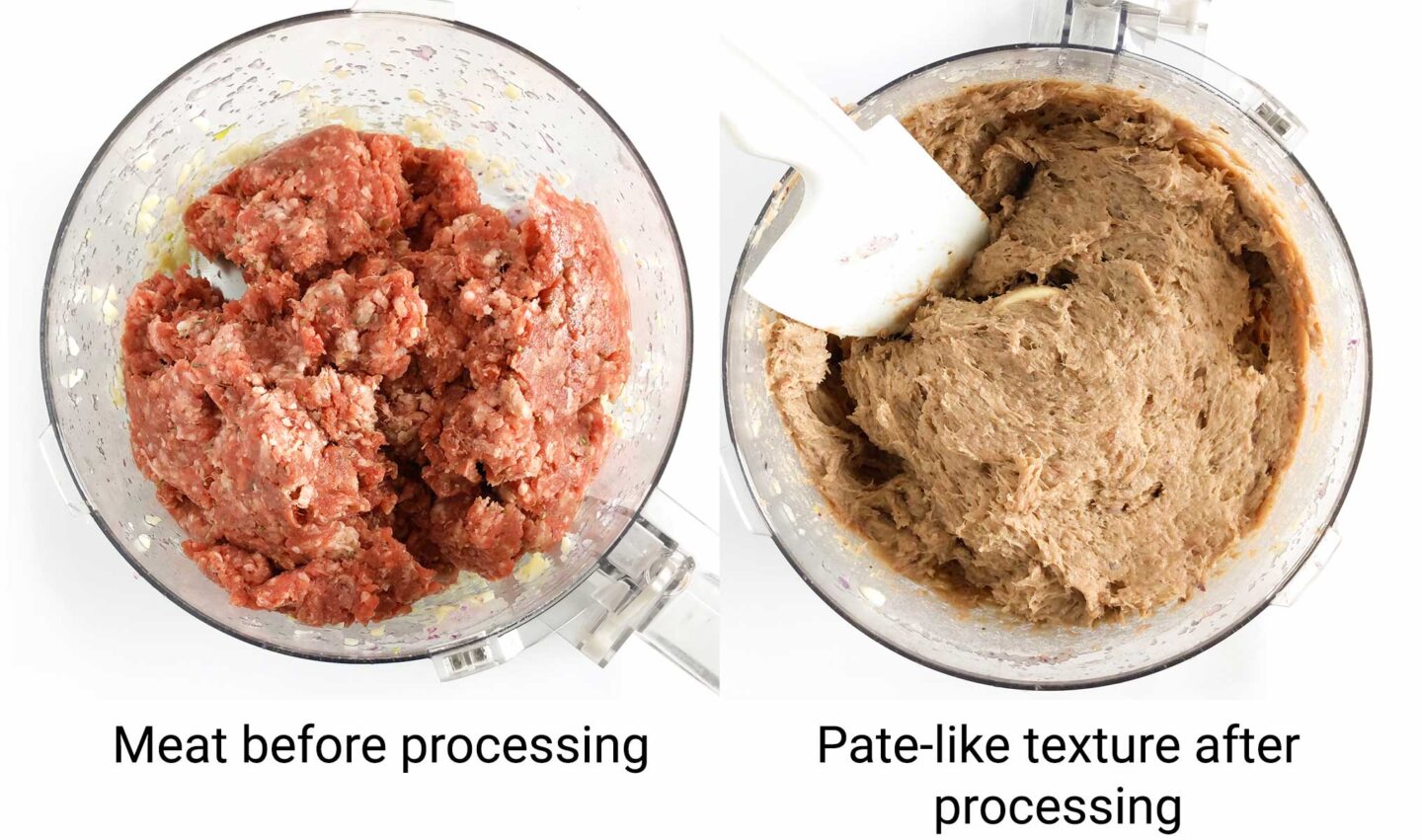 Too much work? Buy Trader Joe's gyro slices.
Of all of the homemade gyro recipes I tried, they all tasted similar to the Trader Joes gyro slices that I've bought in the past. They won't amaze you and definitely won't replace a restaurant gyro. But they are reasonably priced, last forever in the fridge, and are a nice alternative to eat at home.
I often use the Trader Joes version (or my own) for a greek salad at home. It's less fussy than making a pita sandwich not fall apart.
Looking to go all out? Try rotisserie gyros on the grill
International Cuisines demonstrates a different style of gyro meat, not in loaf form. The recipe can be found in the video description.
Up next: easy homemade tzatziki sauce
Tzatziki sauce is a classic gyro pairing. It seems pretty simple: cucumbers, yogurt, garlic, and dill. Using the right cucumber and squeezing out the water is key. But once you get the basics down, it's a great sauce for endless variations (from a super lemony version to an Italian one with sun-dried tomatoes).
Get the basic recipe for tzatziki sauce & 9 variations.