When are green beans in season?
You can start to find them at farmers markets usually sometime in June and until September. See what else is in season at the same time: June, July, August, and September.
While green beans might not seem like a specialty item worth seeking out at a farmers market, I encourage you to give it a try. Green beans actually lose their quality quickly after harvest as they convert sugars into starches, go limp as they lose moisture, and lose flavor as well.
A really fresh green bean has a nice 'snap' to it and a nice vegetal flavor. Most green beans destined for the supermarket were bred to be more fibrous to help maintain their shape even with moisture loss. If you're lucky, you might find varieties bred more for flavor at a farmers market.
See what's currently in season:
How to buy & store
Green beans should feel firm enough that they would snap easily in half. Look for ones that don't have soft spots or brown spots.
Store them in a perforated plastic bag or open container in the fridge, ideally the crisper drawer which controls humidity levels. They should last up to a week in the fridge.
Should I buy organic?
Yes! Green beans have some of the highest concentrations and toxicity of pesticides. Consumer Reports' analysis of the Environmental Protection Agency (EPA) pesticide testing data puts them in the highest health risk category. That means just 1 serving exceeds the known-to-be-safe limits of pesticide ingestion.
If you're interested more about this topic, I researched the organic vs conventional pesticides issue as unbiased as possible. I prefer organic, but to put it in perspective, alcohol is also toxic and I still enjoy wine.
Recipes
Each recipe has been reviewed to make sure all ingredients are in season at the same times as green beans, or that the ingredients are in-season all year.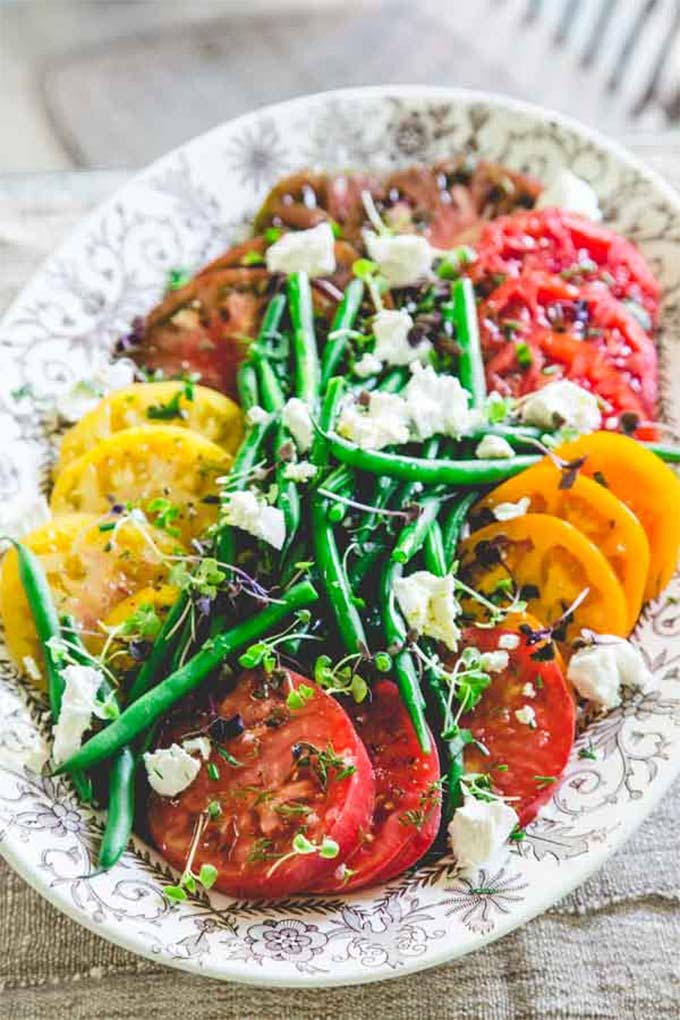 Green bean and egg salad with garlic parmesan vinaigrette - recipe by Diethood