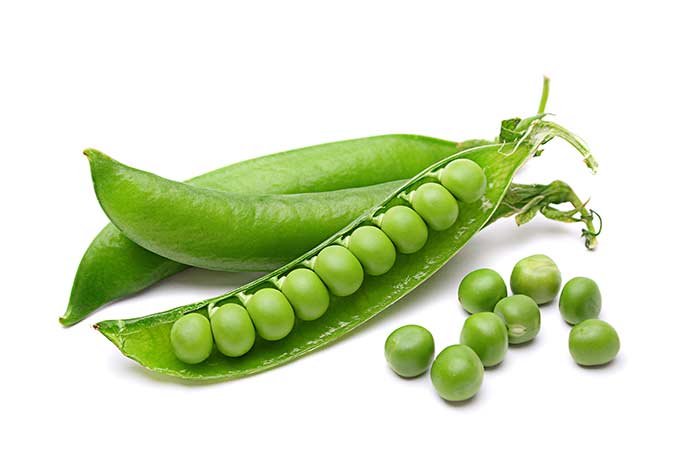 Jump to:
When are peas in season?
Peas grow best in a cooler climate, before the summer heat takes over. Look for them at the farmers market in spring and early summer, and again in fall.
Most varieties are in season starting in April and ending in November on the west coast. Other areas have a season that typically starts a month later and ends a month earlier (from May through October).
After harvest, all peas convert their sugar to starch, and starchy peas aren't very tasty. This sugar conversion happens quite quickly in garden peas, and a little slower for snap peas (which make them store better for longer).
See what else is in season at the same time: April, May, June, July, August, September, October, and November.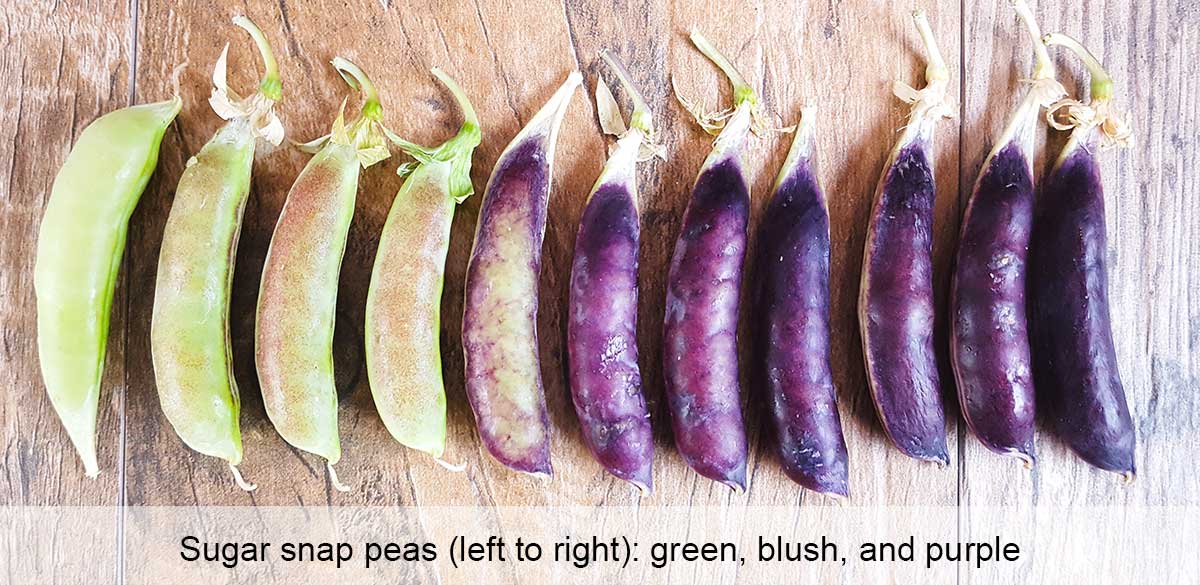 Types of peas: garden, snap, and snow peas
They are all part of the legume family, but a few differences set each one apart. One of the main differences is whether the pod is edible (snap peas & snow peas) or not (garden peas). Inedible pods contain an inedible fiber that doesn't chew well or break down.
Garden peas
Garden peas are also called English peas, shelling peas, or sweet peas. The outer pod is tough and inedible, filled with full sized, sweet peas.
The peas need to be 'shelled' (removed from the pod) before being eaten. This is a labor intensive job to do at home, so most stores only sell peas after they have been shelled (Trader Joe's always has them in the produce section when in season). Some farmers markets might sell them in the pods, so be sure not to confuse them with snap peas.
Frozen and canned peas use these types of peas.
Snap peas
Snap peas were actually lost in cultivation by 1950 until someone found a natural garden pea mutation and crossed it with a snow pea. This resulted in the first reintroduction of snap peas in 1979, called the "Sugar Snap."
Snap peas are eaten whole since the pod is edible - it's plump, crisp, and sweet. Sometimes a string along the edge of the pod has to be removed, but many varieties grown today are stringless as long as the weather cooperates.
There are a few fun varieties within the snap pea family that you might find at the farmers market (or grow at home). The "Spring Blush" variety has pink blushing on the pods and the "Sugar Magnolia" pods are purple. The color on the pods holds well when cooked. The peas inside both varieties are green.
Snow peas
Snow peas have a flat, thin, edible pod and are picked while the peas inside are still small. They have a tough, fibrous string that usually needs to be removed before cooking.
Snow peas are meant to be eaten whole, and their flat, thin pods make them great options for quick cooking methods, like stir fries and quick sautes.
Pea shoots
Pea shoots are immature shoots that eventually would grow peas. They can be used raw in salads, on sandwiches (like you would use sprouts), or in a stir fry.
Frozen peas
Frozen peas are processed within hours of harvest, which stops the conversion of sugar to starch. This maintains the sweet flavor you find in frozen peas. But not all frozen varieties are equal:
Regular frozen peas: excellent when frozen.
Petite or baby peas: even better when frozen, as they are slightly more tender and sweeter than regular frozen peas.
Snow peas: due to their higher water content, they don't freeze as well. They aren't bad, but they are better fresh.
The best way to use frozen peas is by simply thawing them, rather than cooking them. That's because they are already blanched before being flash frozen by the manufacturer.
How to pick & store fresh peas
To pick the best ones, look for plump pods that have no wrinkles. A shriveled pod indicates that it has dried out or is over ripe, in which case the sugars turn to starch. White scarring on the pea pods is ok, it's not an indication of quality.
To store peas, place them in a plastic bag, in the crisper drawer of your fridge (which helps keep from drying out). Fresh garden peas will last a few days or up to 1 week, losing flavor and texture qualities quickly over time. Snap peas and snow peas store better, lasting up to two weeks (though both are still better when used while still very fresh).
Seasonal recipes
Each recipe in below only uses ingredients that are in season at the same time as peas, or ingredients that have a year-round season.
Classic flavor combinations
Peas are often paired with other early spring vegetables: asparagus and radishes. They also work well with a salty prosciutto and eggs.
Garden peas & pasta
Peas are great in a pasta with a lemon or cream sauce. They're also an excellent source of protein for vegetarian pasta dinners.
Garden peas & soup
Deviate from the winter split pea soup staple and try a fresh spring pea soup instead.
Garden peas & appetizers
Use the freshest shelled garden peas you can find for a stand-out appetizer. They will be sweeter and less starchy the fresher they are.
Snap peas: appetizers
Since snap peas can be eaten whole, they are a great finger food. They can be eaten raw, dipped, or stuffed. (And even used in cocktails).
Snap peas for dinner
Since snap peas are best raw or with a very quick saute, they are great candidates for quick dinners & sides.
Snow peas for dinner
Snow peas also cook very quickly, which makes them very popular in stir fries, curries, and even salads.
Seasonal guides
Asparagus, artichokes, and strawberries are other spring produce in season at the same time. For a full list of what's currently in-season, check out the monthly seasonal guide.
Have any unanswered questions about peas? Leave a comment so I can help.