This simple lentil arugla salad really delivers. It's one of those recipes where each ingredient really works together to create a perfect balance. It can be made ahead and travels well to the office or even dinner parties.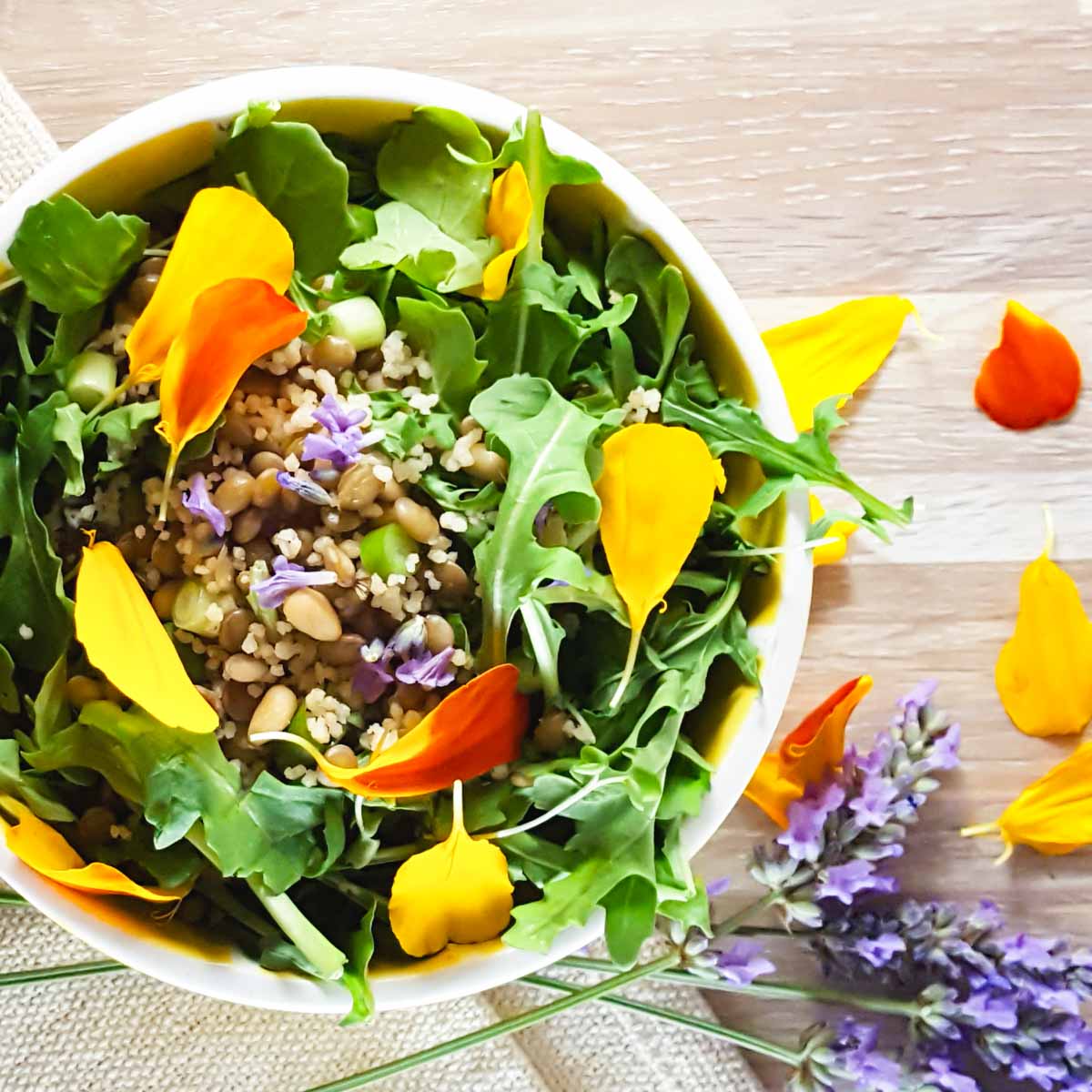 The lentils and couscous are cooked in broth (adding a slight saltiness). Then they are mixed in with arugula, green onions, feta cheese, toasted pine nuts, and a light lemon dressing. You can stop there for a really great salad. Or add a little more depth with some lavender and edible flowers (or herbes de provence in the off-season).
It's really healthy too, containing 1/3 of the recommended daily protein, 40% of the recommended fiber, and 360 calories.
More about nutrition
While calories are the best measure of 'healthiness,' they are helpful for meal planning. A salad with 350 calories is a lot different than one with 700. In order to let you more easily customize this salad to meet your nutritional goals, I've provided a breakdown of calories per ingredient, per serving.
Notes
Make ahead & leftovers – make the lentils and couscous ahead of time, as well as toasting the pine nuts. Combine all ingredients when you are ready to serve. The salad holds up well for 2 days in the fridge, so feel free to make a larger batch (it doubles well).
Flowers & flavor – You can find edible flowers with freshly packed herbs in grocery stores sometimes. You can also go to a farmers market to try and find marigolds (also known as calendula). Remove the petals and toss them in the salad (often the other parts of the flower are quite bitter). Here are some flavor profiles:

Nasturtiums are peppery, similar to the 'bite' you get from a radish. The leaves of the nasturtium plant can be added as salad greens and the stems work as a great replacement for chives. Learn more about using nasturtium.
Marigolds range in flavor from mild to tangy to bitter. I often find they taste buttery.
Pansies taste slightly grassy.
Chive blossoms have a light onion flavor.
For a good list of edible flowers (and how to use them), check out West Coast's Seeds article.

Different colored lentils – green lentils hold up well when cooked (they don't get mushy). So they are preferred for salads. Brown lentils could also work, but red ones will be mushy. For more information on different lentils, read The Kitchn's article.
Additional nutrition information – 1 serving provides 34% of your daily protein (thanks to the lentils and feta cheese), 40% of your fiber, and 20-30% of a long list of vitamins and other nutrients.
Round out the meal
The lentil salad pairs well with simple grilled meat, like fish topped with some lemon butter, a simple grilled grass-fed steak topped with butter and chives, or grilled chicken with lemon and herbs. It also works well with a light soup.
Dinner party & pot luck salad
I want to let you in on a little secret: this is a perfect salad for dinner parties. What makes something a good candidate for bringing to (or hosting) a dinner party? In my opinion…
Tastes good, obviously!
Has a good presentation (a nice bonus)
Can be made ahead and travels well
Holds for an extra day or two as leftovers
This salad meets each of those criteria, which isn't easy when it comes to a pre-dressed salad. In fact, I discovered this salad when someone else brought this to a little dinner party years ago and we all kept going back for more.
More recipes
Like to eat with the seasons?
If you do, check out my produce guides and recipes for fruits & vegetables that are currently in season.
Each month highlights recipes that use produce exclusively in-season (or available year-round at high quality). Each fruit & vegetable also has an in-depth guide that shares tips on how to pick the best ones up from the market, how to store them, and interesting tidbits on prepping or nutrition.