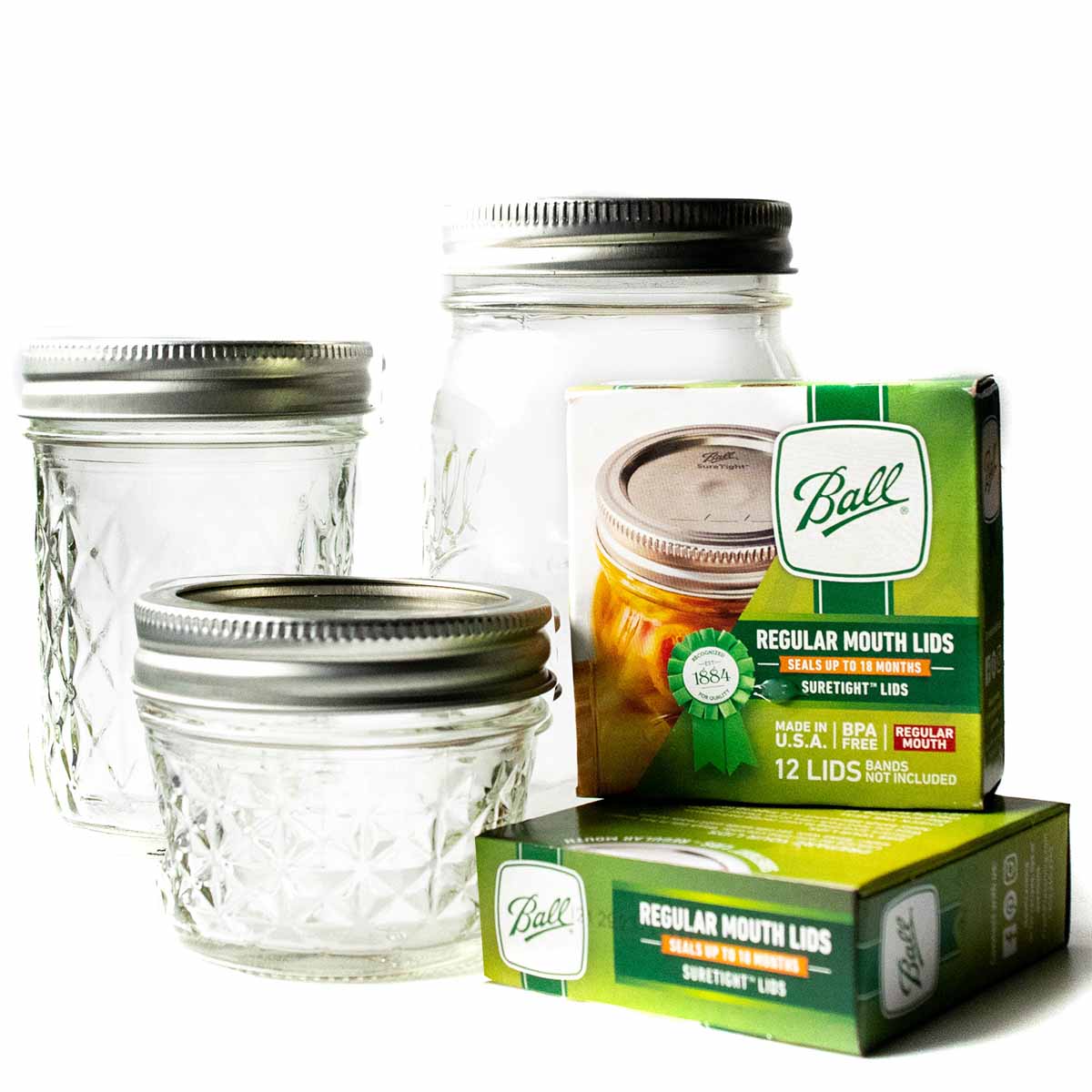 Availability and pricing updated: April, 2022
Canning supplies are quite a bit more expensive than they were a couple years ago. The prices spiked during the pandemic and haven't come back down. In fact, some retailers are still increasing prices.
Unless you're familiar with typical prices, it's hard to know if a retailer is overcharging. Below is how much canning jars, lids, and pectin normally cost, before the pandemic.
Jump to:
What's the price of canning jars?
The current cost of an 8 oz jar in 2022 averages around $1.00 each. In 2019 they were between $0.50 - $0.75 per jar, depending on the source.
Menards, a midwest hardware store, has the cheapest prices (and they ship), at $0.79 per 8 oz jar. Target reduced their price slightly in 2022 and is now also at $0.92 per jar. All other sources are well over $1.00 per jar and sellers on amazon are double that at $2.00.
Price of lids, bands and pectin
Lids cannot be reused, so they are also a hot item. In 2019 they cost about 2.00 per dozen but now most retailers price them at $3.50. Many retailers are no longer selling just lids - instead they are bundling them with the bands (which only need to be replaced if they rusted).
Pectin is also more expensive. It used to be less than $1.00 per ounce, but now hovers around $1.50 per ounce or higher.
Where to buy the cheapest canning jars & lids
Canning jars, lids, and pectin are all hard to find now. Big retailers (Walmart and Target) are either sold out, or allow 3rd parties to sell at ridiculous markups (like Amazon).
The best place to find canning jars is Target and Menards (both ship if there isn't one near you). That said, the prices are all still higher than before the pandemic, and some are even raised prices last summer (2021) and again in early 2022.
If you have a local garden supply store, or a thrift shop, you can check in person for even better pricing.
Last updated: April 2022
Target currently has decent prices & some cute specialty jars
Target did raise some prices after the fall 2021 season. The strike-through prices were from fall 2021, and the listed price is currently as of April, 2022. Their jars are currently low priced, but the lids are quite high ($0.54 each)
Menards has jars at the best price (and they ship!)
Menards didn't raise prices during the pandemic (but then they sold out). They did raise prices after the fall 2021 season, however. Strike-through prices are from fall, 2021. Mendards ships nationwide.
Amazon is overpriced
Canning jars on Amazon are incredibly overpriced - double what other retailers are charging. A dozen 8 oz jars are selling for $24 or more, compared to $12 (and sometimes less) at other retailers.
Webstaurant Store has raised prices even since the pandemic shortage
They target restaurant owners, but canning supplies are sold in bulk amounts that a home canner would use as well. Currently, their prices are higher than usual and not a great value, even when buying in bulk.
Uline has jars, but not great prices
Uline is a shipping supply store, but they happen to have Ball canning jars. Their prices aren't great, even with bulk purchasing.
Tractor Supply Co has pint jars
There doesn't seem to be many options, but they currently have 16 oz regular mouth jars for $9.99 $13.99 per dozen (same as during pandemic)
Don't buy 'storage jars'
There are cute, usually small jars by Mason and Ball labeled Storage Jars. These are not meant for canning.
Can't find jars? Try freezing instead
Jams & other food go through the canning process to make them safe for storage at room temperature. But if you're storing something in the freezer, it doesn't have to go through the same sterilization process.
Freezing your jam (etc) doesn't require the glass jars and special lids, either. You can use a plastic container.
For more freezer jam information, visit The Cafe Sucre Farine for resources.
More resources
Do you have a good source for canning supplies not listed here? Leave a comment to help other people.
Looking for other canning-related ideas or help? Check out these resources.