A sophisticated jam that deserves a place next to meat & cheese on a charcuterie board. Peaches and prosciutto are a classic pairing and this jam tastes great with nearly any cheese from a hard manchego to a soft triple creme.
This recipe is low sugar but after tasting it, no one will believe you - it's still quite sweet. It uses ¼ cup of sugar per 4 oz jar, whereas most recipes use double that.
I use 4oz jars because it's the perfect amount for a cheese board. This recipe uses just 8 peaches, which fills 8 of these small jars. (Alternatively, four 8 oz jars can also be used).
Recipe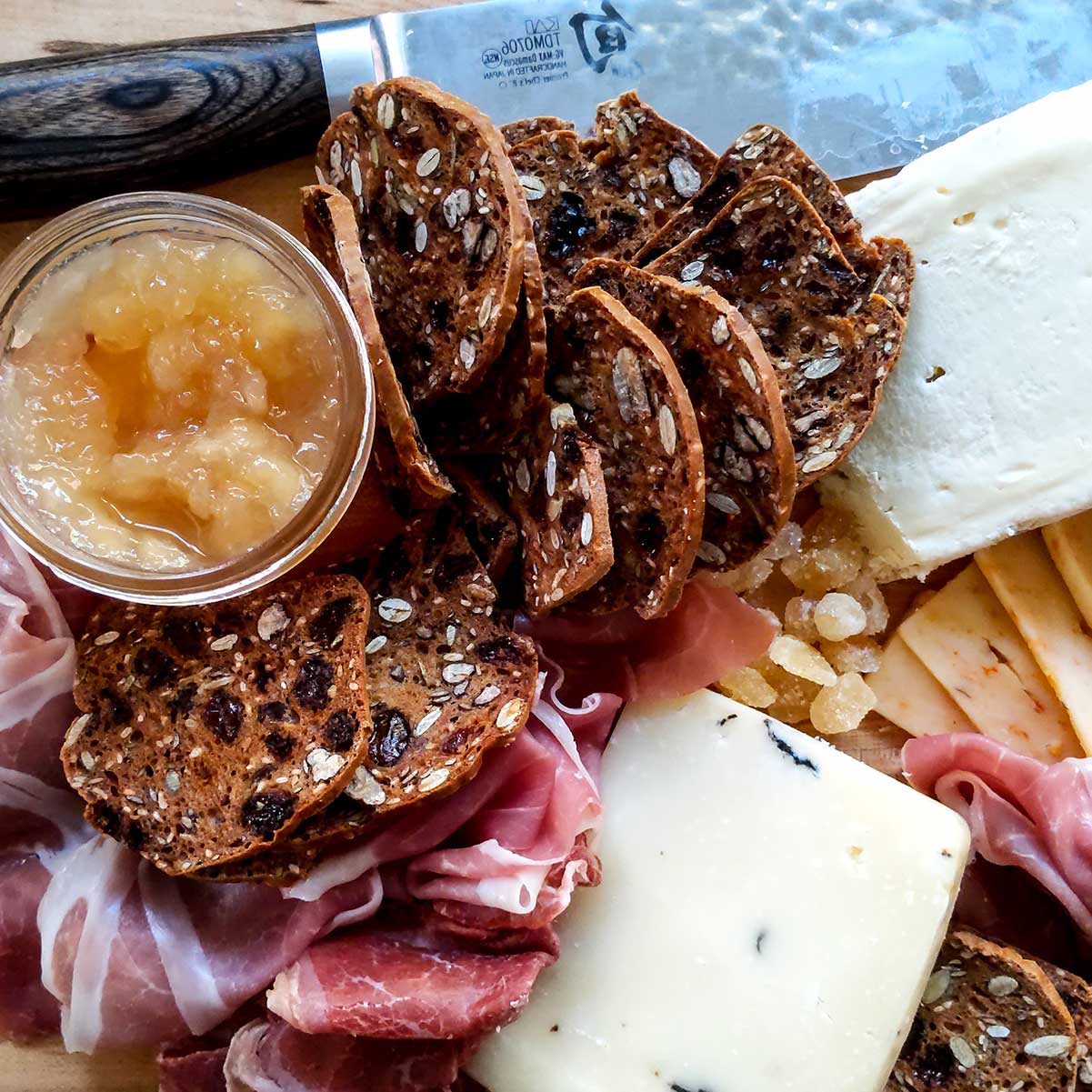 Equipment
Canning jars, lids, and rings
Ingredients
2

lbs

peaches

(about 8 peaches)

3

tablespoon

Ball Classic Pectin

2

tablespoon

bottled lemon juice

(do not use fresh squeezed)

2

tablespoon

bourbon

1

tablespoon

chopped crystallized ginger

(optional)

2

cups

sugar
Instructions
Prep work
Prepare peaches: peel and cut into medium chunks (you will mash them later). Measure

2

-

2 ⅔

cups and place in a medium pot. (Don't use more peaches, because the acid ratio could be too low and make canning unsafe).

Grab your largest pot or dutch oven and put it on the stove. Place a rack on the bottom (to keep the jars off the bottom of the pot). Fill jars with water and place in the pot, a single layer only (do not stack the jars). Then add more water to the pot until it covers the jars.

Heat the pot of water until it is almost simmering. Keep it at this temperature until you are ready to use the jars.

Place a kitchen towel or hot pads next to the large pot. You will need it when removing hot jars.
Make the jam
Mash peaches in their medium pan, then add

3

tablespoon pectin,

2

tablespoon lemon juice, and

2

tablespoon bourbon.

Heat mixture until it's a full rolling boil over high heat, stirring constantly. Continue until the rolling boil can no longer be stirred down.

Add

2

cups sugar and stir to dissolve. Return to a full rolling boil, then cook for 1 minute more, stirring contstantly again.

Remove from heat and skim foam if needed.
Can the jam
Using a tongs or jar lifter, remove the jars from the warm water and empty the hot water from them.

Fill the jars with jam mixture, leaving ¼ inch of headspace from the top. Run a butter knife (or similar tool) around the inside of the jar to release air bubbles.

Wipe down the jars, specifically the top rim (any jam on the rim can compromise the seal).

Place the lid on the jar and add the band until it is fingertip tight.

Using tongs or a jar lifter, place the jars back into the large pot of water. Add or remove water from the pot if necessary. The main rule is the jars need to be covered by at least 1-2 inches of water.

Bring the pot of water to a rolling boil. Cover and continue to boil for 10 minutes (start the timer once the water has reached a rolling boil, not before.

After 10 minutes, turn off heat, remove lid, and let the jars sit in the hot water for 5 more minutes.

Remove jars from the hot water with tongs or a jar lifter and place on a towel to cool. Leave jars for 12-24 hours. You might hear the lid popping sound within minutes of the jars cooling, or it could take much longer.

Bands should not be loosened or tightened for the 12-24 hours while they rest, as that could compromise the seal.

Check for proper seals. Push on the center of the lids - there should be no flex in them. If they pop up and down while you push on them, they did not seal.

Remove the bands and check the seals one more time: gently lift the edges of the lids with your fingertips. If the lid can be lifted, it was not properly sealed.
Notes
This makes eight 4-oz jars (or four 8-oz jars). A serving is 1 ounce of jam, which measures as 2 Tbsp.
Nutrition
Nutrition Facts
Peach bourbon jam
Amount per Serving
% Daily Value*
* Percent Daily Values are based on a 2000 calorie diet.
Best types of peaches for jam
The riper a peach, the better it is for jam. It also doesn't matter if the peaches are overripe or mealy since they will be broken down in the cooking process.
There is one rule worth following: make sure you use yellow peaches for their higher acid content. Nearly every resource specifically advises people to can only yellow peaches.
White peaches - more research needed before canning
White peaches are specifically called out as not to be canned, due to their low acidity. It's not that they are impossible to can, rather research hasn't been published that tests the exact amount of added acid required for safety.
Other low-acid fruits are turned into jam, like Ball's banana & orange jam. Low-acid fruits, like bananas, are mixed with high acid fruits (like oranges), along with extra lemon juice, to ensure safe acid levels.
So it is possible that white peaches can be turned into jam, the problem is there are no specific lab-tested levels of added acid or other fruit combinations to be sure it is safe.
Some recipes can be found on the internet for white peaches, but every University and government website has the disclaimer, "At this time there are no low-acid or acidification procedures for white-flesh peaches."
Since white peaches have been gaining popularity over the years, I expect some official canning guidelines to show up within the next few years.
Ripe peaches
Any type of yellow peach will work, and the riper the better for a few reasons.
You'll be mashing the flesh into a jam-like consistency, which is easier with very soft fruit
Skin can be easily peeled off with your fingers if the fruit is really soft and ripe
Under-ripe fruits tend to have more pectin, which you want for jam. However, peaches are low in natural pectin (unlike apples, which are high in pectin). Since added pectin is a requirement for peach jam, using really ripe fruit is perfectly fine.
Use up overripe peaches
If you have peaches that are mealy, too soft, or bruised, they will still make a wonderful jam.
Mealy: the texture is undetectable when mashed and broken down into a jam.
Too soft: overripe peaches might not be best for a tart or pie as they won't hold their shape. But they are perfect for jam.
Bruised: bruised parts of the fruit are safe to eat as long as there are no signs of mold or damage to the skin where bacteria may have started to grow. You can add the bruised parts to the jam, or cut them away and discard. It's up to you.
Peeling peaches
Peeling peaches can be time consuming and frustrating if you are trying to keep pretty slices intact for a tart or a salad. But when making jam, you can mangle them and no one will know.
Tips for peeling peaches, specifically for jam
Try slicing the peaches into wedges (like an apple slice), then see if you can remove the peel with your fingers. It's usually pretty easy if the fruit is super ripe.
If that doesn't work, you have two options. You can cut the peel away with a small pairing knife, although this can be quite difficult (or at least, messy) if the fruit is really soft. Be sure to do this on a plate or tray to catch any juices (and add them into the jam).
Another option is to bring a pot of water to a boil. Add whole peaches (with an X sliced into the bottom) for 30-60 seconds. Transfer them to a bowl of ice water. After that, the skins should be easier to remove.
How to can jam
Making and canning your own jam is incredibly rewarding. It is easy, doesn't require a lot of time, and you can make interesting flavors not available in stores.
But like anyone new to canning, you're probably wondering how to do it safely. There are three simple things that are required for a safe homemade jam:
Enough acid (from the fruit + added lemon juice, etc) to prevent bacteria and mold growth. Always use the amount directed, never less.
Canning jars
Processing the jam-filled jars in a hot water bath, which just means you boil them for a specific amount of time (usually around 10 minutes).
Sugar is not needed to safely can jam, which means you can adjust those amounts without worrying about safety. However, sugar does play an important role in preserving the color & texture of the fruit, as well as a necessary component to help pectin turn gelatinous.
Speaking of how pectin works, it's really helpful to understand how each of the ingredients interact to make the final jammy product.
Ingredients
Jam only needs 3 ingredients (besides the fruit):
Pectin - helps it gel
Sugar - flavor, preserves color and texture, helps pectin gel (is not needed to prevent spoilage)
Acid - one of the two components needed to prevent spoilage (heat is the other one).
Let's start with the least familiar ingredient, pectin.
Pectin
If you're new to canning, you might not have worked with pectin before.
Pectin is what makes a jam (or jelly) gel. It's similar in concept to gelatin (in Jello). Most jam and jelly recipes call for store-bought pectin because it's fairly foolproof.
Pectin also naturally occurs in fruits. Apples, cranberries, quince, orange & lemon peels are naturally high in pectin while blueberries, peaches, strawberries, and figs are naturally low. Just-ripe fruit has more pectin than soft-ripe or overripe fruit.
Some trusted sources (like America's Test Kitchen) publish recipes that don't use added pectin, relying on the fruits' natural pectin.
Natural or store-bought pectin
Store-bought pectin is easy to work with. You add it to the fruit mixture, boil for a specific amount of time (usually a couple minutes), and then it's ready.
Making jam without added pectin requires longer boiling and testing the consistency for proper 'set' before canning it.
Which one you choose is up to you. If you're interested in no-added option, America's Test Kitchen "Foolproof Preserving" book has a lot of recipes relying solely on natural pectin.
Pectin needs help to gel
Whether you add store-bought pectin or rely on the naturally occurring pectin from fruit, it still needs help to gel. Pectin needs three things to help it gel: acid, sugar, and heat.
The amount of acid added to jam to ensure safe canning is also enough to help the pectin gel. So nothing extra to worry about here.
Sugar is also a requirement, so altering the amount of sugar in a recipe might affect the gelling properties. However, Ball and Sure-Jell have reliable low / no-sugar pectin product available (they contain sugar in them, but much less than you'd normally have to add yourself).
Jams also need to be boiled before they are canned, not just for safety, but to also help the pectin set.
Types of pectin products
There are powdered and liquid pectin products which act slightly differently. Don't swap one for the other. Either buy the type specifically mentioned in the recipe or find a recipe for the type you already have at home.
If you want a low sugar jam, look for a low / no-sugar added pectin product like this one from Ball. These types of pectin are formulated differently to make sure they gel without sugar.
Each brand of pectin can behave a little differently so I like to follow recipes that specifically call for the brand I use. Or the other way around, I like to use brands where I know I can find reliable recipes. Ball is the winner in this category, as their website has a ton of recipes and resources (and a great canning book).
What happens if I mess up the pectin process?
After reading this far, using pectin probably sounds complicated and intimidating. It isn't, I promise! Even when I first started canning, I only had one instance that didn't set right.
Pectin has no effect on the safety of your product, just the consistency. If the pectin is too low, it might not fully 'gel' into a jam.
However, it is perfectly safe to eat.
Sugar
Back to sugar again! It's one of the biggest questions I had as a beginning canner and it's one of the most common questions I see today. I want to cover a few more things in detail.
Is sugar a preservative in jams and jellies?
Sugar helps preserve the color and texture of the fruit, but is not necessary to prevent food spoilage for canning jams and jellies.
What does 'acts as a preservative' mean?
This topic can be pretty confusing for a couple reasons. First, many resources use the term 'preservative' without further definition. For example, it's common to read canning guides that say "sugar acts as a preservative."
As a home canner, I read "preservative" and think "necessary to prevent spoilage." My assumption here would be wrong (at least for jams and jellies).
Sugar is a preservative. It's a preservative for color and texture, but isn't necessary to prevent spoilage when canning jams and jellies.
But sugar can be used to stop mold and bacteria growth, right?
The second thing that causes confusion is that sugar can be used in various applications as a preservative to prevent mold and bacteria growth. It works by essentially dehydrating the food to a point where mold and bacteria can't grow.
That amount of sugar necessary to do this is quite large. (If you've ever used salt to make preserved lemons, the concept is similar). But the amount of sugar in jams isn't enough to act as a food-spoilage preservative when canning (even when most recipes use 1 cup of sugar per 8oz jar).
Ball's Book of Canning and Preserving clarifies this even further, saying, "Sugar has preserving properties as it replaces some of the water in fruit, but the amount used in canning is just enough to help delay spoiling once jars are opened." (my emphasis)
Acid is required for safety
This is the one ingredient you never want to mess with: the ratio of acid is calculated to make sure your jam is safe.
When a recipe calls for lemon juice, always use bottled. This is necessary because bottled lemon juice has a specific acid value, whereas fresh-squeezed lemons have varying degrees of acid, and can fall too low to ensure safe canning.
How to ensure safety when canning
This can be an intimidating topic, but once you understand the basics and have some trusted recipes to follow, you'll find yourself canning with confidence.
Read "How to safely can jams, jellies, and preserves" for more information on acid and heat's role in safe canning, steps to create a vacuum seal, how to properly store jars, and more.
Ball's All New Book of Canning and Preserving is also a great resource - check out this in-depth review to see if the book is for you.
Ball's pectin, sugar, and recipe calculator
Ball's canning website has a great resource to customize your own jam recipes. Their pectin calculator is meant to help you figure out how much pectin you need for any of their pectin products (like Classic, liquid, or low / no-sugar).
Once you click on the fruit version you want, it downloads a PDF (ugh, I know). However, that PDF is a hidden gem of information.
It lists the amount of each ingredient needed based on the number of half-pint (8oz) jars you want to can, ranging from 1 jar, up to 10. It also provides instructions for safely canning that jam.
Here's an example for the no / low-sugar peach jam: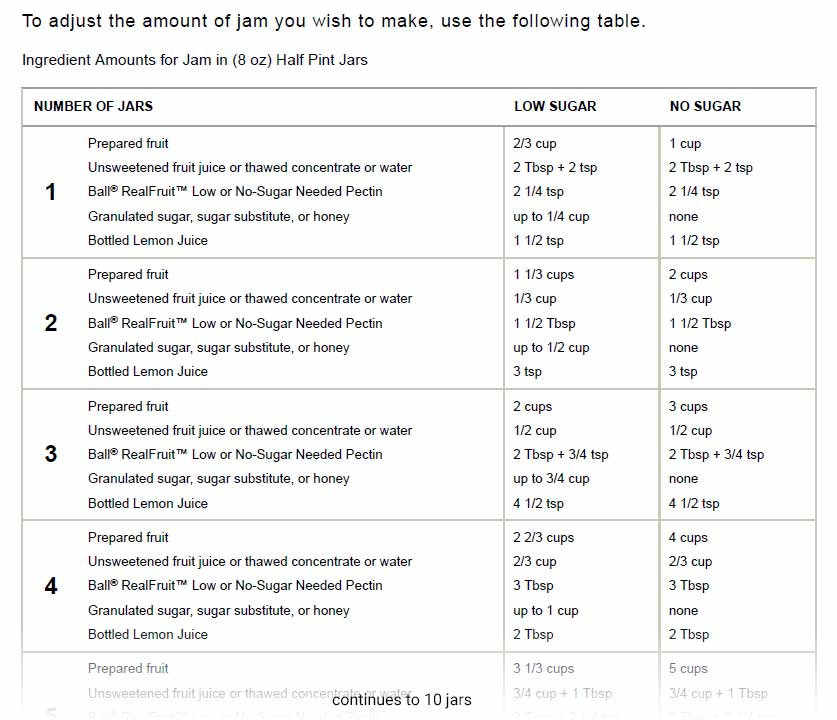 More resources
The cookbook links are affiliate (I earn a small commission at no extra cost to you). I own both of those books and refer to them often. I've also gifted both books to family and friends who also found them quite useful.