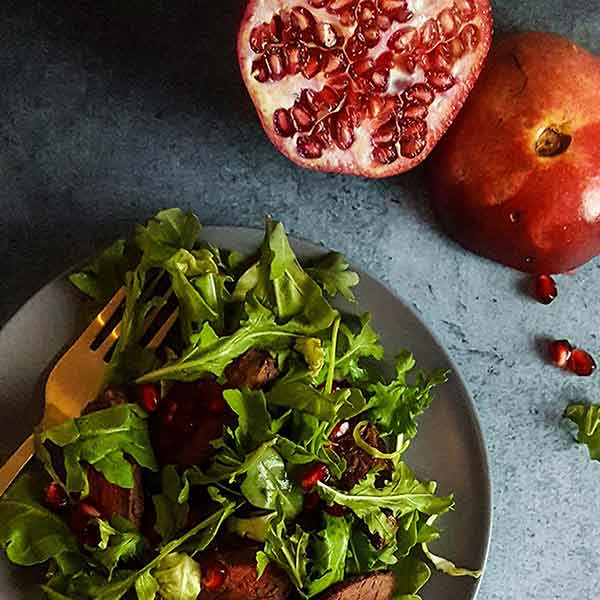 "This is, hands-down, one of the most popular dishes in my entire repertoire," Sabrina Ghayour says when describing her "Pomegranate Beef" recipe in her cookbook, Persiana.
I have to agree. It's probably from the combination of bold flavors: meaty steak, peppery arugula, and a sweet-tart dressing.
This salad is ready to eat in 15 minutes (thanks to a quick-sear on thin-cut strips of steak), and comes in under 600 calories.
If you like it, you'll probably enjoy the rest of the Persiana cookbook.
Jump to:
Recipe
Ingredients
Salad
¾

lb

steak

flank, sirloin or hanger steak

1

Tbs

oil

sea salt

pepper

10

ounces

arugula

½

cup

pomegranate seeds
Dressing
½

cup

pomegranate molasses

2

Tbs

balsamic vinegar

1

Tbs

olive oil

2

teaspoon

dijon mustard

Salt & pepper to taste
Instructions
PREP
This comes together fast, so it's actually important to get everything out on your counter and ready:

A cast iron skillet or heavy bottom pan, tongs, a cutting board to slice up the meat after it cooks, a mixing bowl for the dressing, a whisk, measuring cups & spoons, and all ingredients.
PREP & SEAR STEAK
Heat a cast iron or heavy bottom pan on high heat. Rub steak with sea salt (or kosher salt) and pepper.

Add oil to the hot pan, then add steak to the hot oil. Sear for about 3 minutes per side (or more for a thick steak). When it's done, set aside on cutting board and let rest for a few minutes.
MAKE DRESSING WHILE STEAK COOKS
Whisk the pomegranate molasses, balsamic vinegar, olive oil and mustard together in a mixing bowl (or shake together in a jar). Add salt and pepper to taste.
SLICE & SERVE
Slice the steak. Place on a bed of arugula. Drizzle with dressing and top with pomegranate seeds.
Nutrition
Nutrition Facts
Pomegranate steak salad
Amount per Serving
% Daily Value*
* Percent Daily Values are based on a 2000 calorie diet.
Nutrition: an in-depth look
This steak salad is quick and easy, but a little high in sugar. While I love this salad with all of the dressing, reducing the pomegranate molasses by half cuts out 5g of sugar and 61 calories.
Below is a table of calories and sugar per serving, broken down by ingredient.
| | | |
| --- | --- | --- |
| INGREDIENT | CALORIES | SUGAR (g) |
| steak | 281 | 0 |
| oil | 30 | 0 |
| arugula | 35 | 3g |
| pomegranate seeds | 36 | 6g |
| DRESSING | | |
| pomegranate molasses | 122 | 11g |
| balsamic vinegar | 14 | 2g |
| olive oil | 60 | 0 |
| dijon mustard | 4 | |
| TOTAL: | 584 | 22g (13 added) |
Recipe Notes
Seeding a pomegranate. When I want this to be a very fast dinner, I buy a package of pomegranate arils (seeds). But when you have fresh pomegranates, there are a few tricks to seed them. This video shows 2 methods: hitting a cut pomegranate with a wooden spoon, and another method to submerge it in water. I like the submersion method.
The pomegranate produce guide explains how to pick out fresh pomegranates as well as buying just the seeds from the store.
Choosing the right steak. For this recipe you want a steak that is thin, cooks fast, and is tender with minimal cooking time. Here's a list of cuts that are good for grilling, which is similar to the high-heat cast iron method we use for this recipe.
Sugar. This recipe has more added sugar than a normal dinner - 13 grams. The recommended daily value of added sugar is about 20-26g, and for comparison a regular soft drink is about 39g.
Round out the meal
This steak salad can be a meal in itself, however you can make it a side salad to pair with a good bowl of soup, like a celeriac (celery root) soup or roasted cauliflower soup. You could also cut back on the amount of steak per serving and add farro or bulgur wheat to the salad.