Cherry season is very short - they ripen on trees all at once over two weeks. If you're lucky enough to buy them fresh from the farmers market or have your own tree, you might be looking for some creative recipes.
My own backyard tree produced 50 pounds of cherries several years in a row, so I feel like an expert in ways to use them up.
Recipes that use a lot of cherries will be time consuming, since you have to pit them (and sometimes chop them up).
Jump to:
Breakfast
I really enjoy adding cherries to breakfasts, especially ones I can make ahead. Otherwise, I am pitting and chopping in the morning (which takes time and makes a mess with red juice everywhere, potentially splattered onto your clothes).
Appetizers
Adding cherries to appetizers provides a fresh take on old classics (brie, bruschetta, and even quesadillas). It's fun to share these with guests during the elusive & short cherry season.
Salads
I love saving the best tasting cherries for two purposes: fresh snacking and salads. Bland cherries are too disappointing for either of those uses. I need to publish my favorite recipe: warm farro tossed with honey, arugula, goat cheese, and cherries.
Lunch & dinner
Cherries pair well with meat, although it's not common to come across (which is also why I enjoy it - it's something new!). If you love a good chicken salad, check out the one below. While good tasting cherries are always preferred, bland ones can benefit from recipes with extra seasoning, like the ancho-cherry steaks or pulled pork with cherry bbq sauce.
Black forest inspired
Black forest - a classic cherry & chocolate combination perfect for summer cherry season. Explore variations with these recipes below.
Frozen desserts
If you have too many cherries, they can be frozen (fresh or pitted). Once thawed, they will be softer and release juices (like frozen strawberries). They won't be great for salads or recipes that rely on a firm cherry.
However, frozen cherries are excellent for sauces, frozen desserts, smoothies, and anything that gets blended.
Pies & crisps
Cherry pies are the heart of summer! If you haven't made your own filling and only used canned cherries, you are in for a treat. Sour cherries are the best option for pies, if you can find them locally.
If you use sweet cherries, it's worth noting that light or medium-red cherries might turn slightly red-brown instead of a bold or dark red color. That's because the juices haven't turned dark red yet.
Below, you can see the very ripe sweet cherries on the right, which will result in a perfect red-colored filling.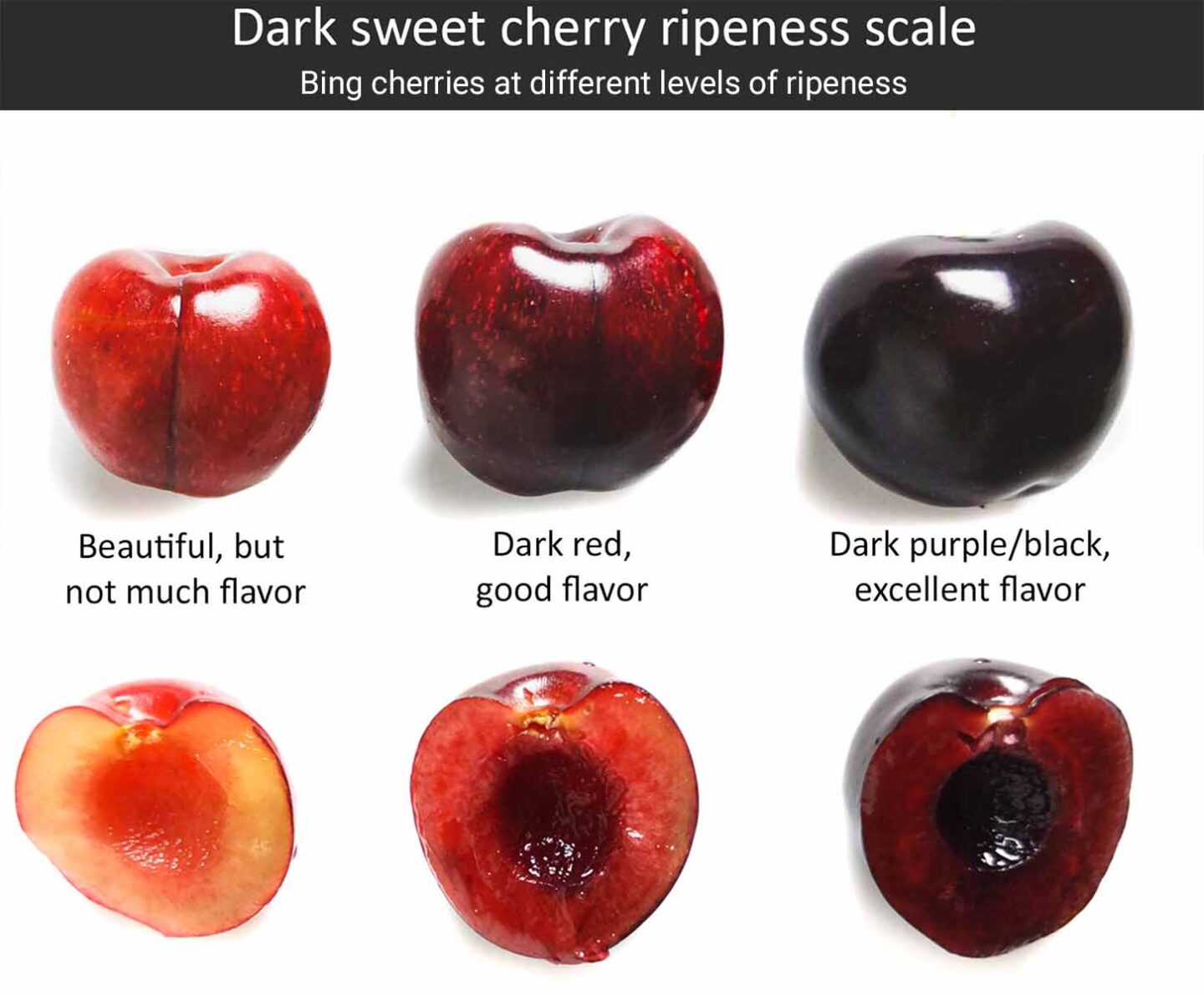 If the cherries aren't red enough, you can fix this by adding in ½ of a peeled plum - it contains a ton of dye and won't affect the flavor. Or add food coloring.
Other desserts
Do it yourself
I made a lot of cocktail cherries, and canned them. While they need to be pitted, there isn't much else in the ways of prep work and you can use a lot at once. I used tiny 4 ounce jars, which would hold 10-12 whole cherries - it was just the right amount for a cocktail night (or for gift giving). Then I didn't have a half-used jar sitting in my fridge for months.
Cherry jam, sauces, and syrups are also excellent ways to use up a lot of cherries at once, so check out some of those recipes as well.
Drinks & cocktails
Most of these recipes use a handful of fresh cherries at most. While you won't use up a giant harvest, they are a fun way to brighten up a classic drink.
Sour cherry recipes
Sour cherries are very tart - some people enjoy eating them fresh, others really, really don't. But nearly everyone agrees they make the best desserts. Their tart flavor really shines in sweet desserts, especially pies.
However, they are almost never sold in stores since they don't ship well. You have to find them locally (or grow your own). They can be found throughout much of the west coast, midwest, and east coast.
Your favorite uses
What have been your favorite ways to use cherries? Leave a comment for everyone else to get even more good ideas!