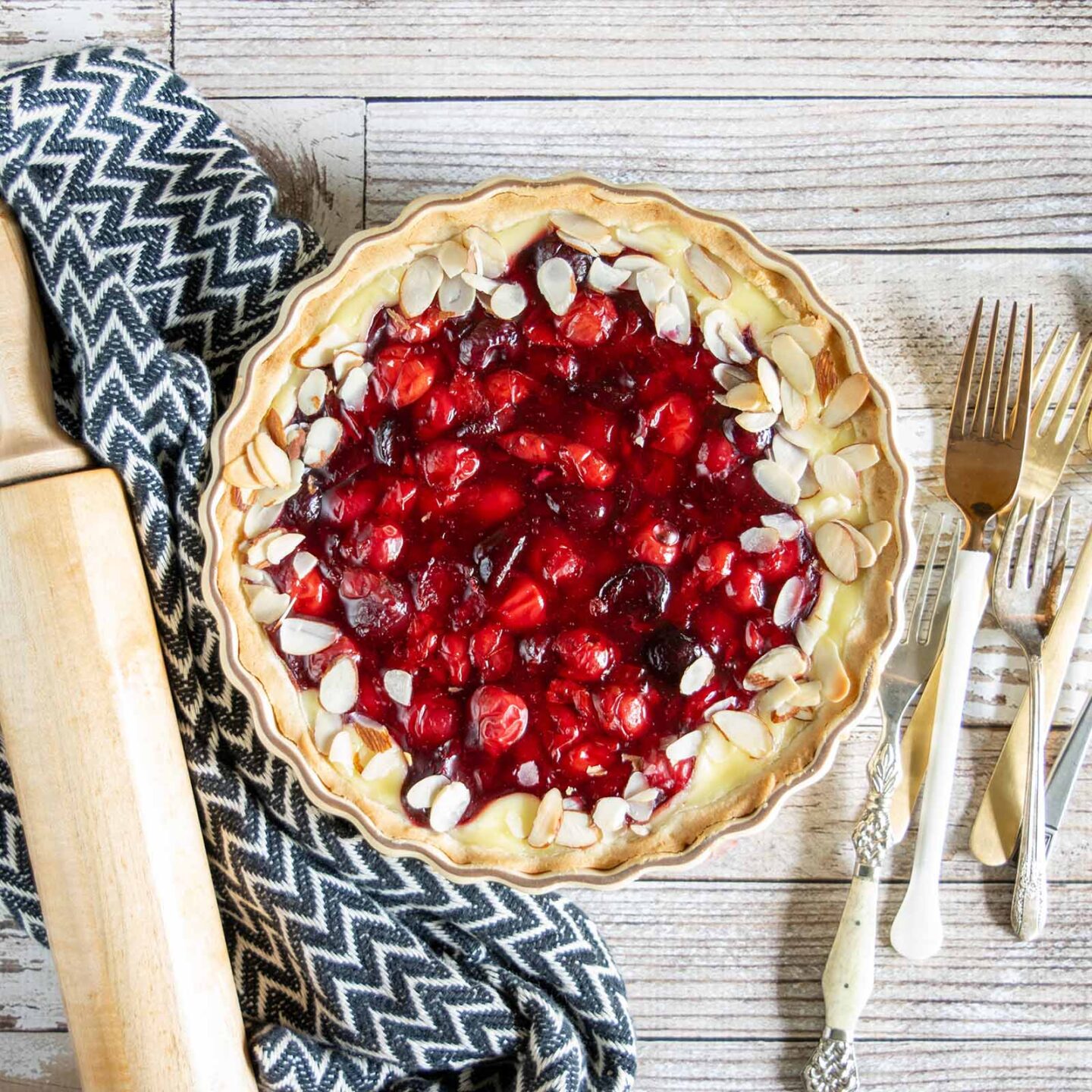 This sour cherry tart recipe highlights the flavors of fresh, in-season sour cherries. It uses just enough sugar to balance out the bright acidity without masking their natural cherry flavor. A layer of almond cream adds a touch of decadence (while being easy to make!)
I baked through 40 pounds of sour cherries over the summer and this was my favorite recipe. Taste testers also preferred this tart over the various pie options, noting prominent cherry flavor.
While it can be made with sweet cherries, sour cherries produce a superior flavor when it comes to pies, tarts, and baking in general.
Jump to:
What makes this recipe so good?
First of all, when I offered guests "A slice of cherry pie with a brown sugar crumble topping or a cherry tart with almond cream and a french cookie crust," it was no contest. Ears perked and eyes lit up at the description of this tart.
However, in the name of science, I encouraged everyone to try both and provide feedback. The tart was the biggest crowd pleaser, no contest!
People enjoyed each element, from the cookie crust and almond filling. But the overwhelming feedback was that the cherry flavor really stood out (even though the filling was the exact same in each dessert).
Sour cherry filling
Less sugar is used in this filling that most pie recipes. Typically, a pie calls for 6 cups of cherries and 1 cup of sugar, but I used ½ a cup instead. It's just enough to balance out the tartness without muddying the cherry flavor.
There is just enough liquid to gel the cherries together - this way you are eating cherries, not a gelled sugar syrup.
This filling is the same one I use for sour cherry pies and crisps as well. I pre-cook it on the stovetop, which as several benefits.
Adjust the sugar levels as needed, since you can taste it while it cooks
Adjust the consistency of the filling (the consistency it is when you place it in the oven will be the same after it bakes)
The pre-thickened filling keeps from making a soggy mess of the almond cream and crust
French tart cookie crust (pâte sucrée)
The crust is sweeter than a shortbread or pie crust, which adds a layer of a light, sweet flavor without masking the cherry filling.
It also bakes up better than a pie crust for a couple of reasons. First, it is sturdier, holding up the heavy filling when served. Second, prebaking this thicker crust helps prevent it from getting soggy.
Almond cream
The layer of almond cream brings the whole recipe to together. It is slightly sweetened and bakes to a consistency similar to a custard.
While custards can be fussy, this creamy layer is quite easy to make, thanks to a simplified version from Butter & Bliss that uses cornstarch for thickening instead of tempering an egg-custard base.
Almonds and cherries are a classic pairing, which makes sense considering they are botanically related. In addition, they both share some flavor compounds that give almonds their flavor.
Recipe
Make the tart crust first, following by the sour cherry filling.
Recipe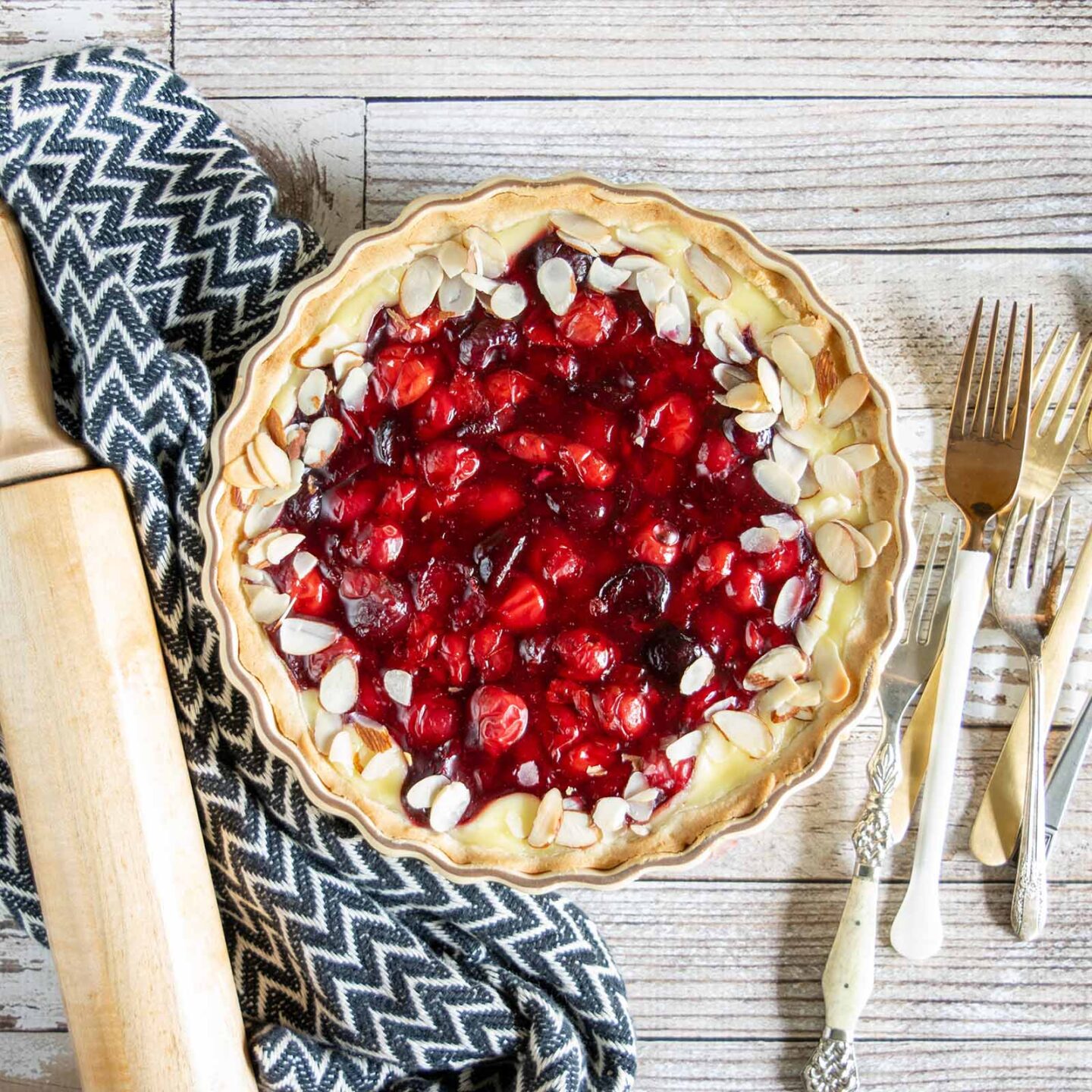 Ingredients
Tart crust
8

tablespoon

butter

slightly softened

½

cup

powdered sugar

1

teaspoon

vanilla extract

1

egg yolk

large

5

oz

all-purpose flour

(1 full cup)
Cherry filling
6

cups

tart sour cherries

about 2 lbs

½

cup

water

½

cup

granulated sugar

or more to taste

2-4

tablespoon

cornstarch

¼

teaspoon

almond extract
Almond cream
¾

cup

heavy cream

2

teaspoon

cornstarch

1

tablespoon

granulated sugar

1

tablespoon

butter

½

teaspoon

almond extract
Garnish - optional
2

tablespoon

sliced almonds

optional
Instructions
Tart crust
Start the crust ahead of time, as it needs 30 minutes to chill. (Can easily be doubled for two crusts).

Beat butter and sugar together in a stand mixer with a paddle attachment (or use a hand mixer). Beat on low so the powdered sugar doesn't spray everywhere. Once combined, increase speed to medium and beat until light and fluffy (about 3 minutes). The consistency will be like a light whipped frosting, rather than a heavy butter base.

8 tablespoon butter,

½ cup powdered sugar

Add extract & egg: add the vanilla extract and egg yolk, beat until incorporated. (If doubling recipe, add yolks one at a time, beating between each one).

1 teaspoon vanilla extract,

1 egg yolk

Add flour: scrape down sides of the bowl, then add flour and mix on low until fully incorporated.

Form into disc & refrigerate: scrape the dough onto a light floured surface, and form it into a smooth ball. Squish it down into a disc and wrap in plastic wrap. Chill for about 30 minutes. It can also be made ahead and left in the fridge for a couple days, but it will need to warm up on your counter for a bit to become pliable enough to roll.

Roll & prepare to bake: preheat oven to 350℉. Remove the dough from the fridge and place on a lightly floured surface. Roll it out to be 1 inch larger than your pie or tart pan. If the dough is too stiff and cracks when you roll it out, work it with your hands for a minute until it is just pliable enough. Place in the tart pan, going up the sides. Poke holes in the bottom with a fork. Place in fridge until ready to bake.

Bake: bake for 15-20 minutes, until the crust starts to turn golden. We are looking to partially bake it, not fully baked. If it puffs up, you can push it down. It will still be pliable enough to take a little bit of reshaping! Note: there is NO filling in at this point.
Cherry filling
Pit cherries: pitting the cherries will probably take 15 minutes. You can place them in a saucepan as they are pitted.

6 cups tart sour cherries

Combine cornstarch and water: mix half of the water with just

2 Tbsp

cornstarch and mix into a slurry. This helps create a non-clumping mixture.

2-4 tablespoon cornstarch,

½ cup water

Cook filling: add cherries, cornstarch mixture, remaining water, and sugar into a saucepan. Bring to a boil, the reduce heat to low, stirring frequently. Cook for about 5-10 minutes until it is clear (not opaque from the cornstarch), and the consistency you want. It won't get much thicker, if at all, once baked.

TIP!! Too thin? Add more cornstarch after premixing it with a little water. Too thick? Add water.

Cool & add almond extract: allow to cool until it is warm (we just don't want it piping hot here). Add almond extract after it has cooled a little (heat will evaporate the alcohol and its almond flavoring).

TIP!! Can be made ahead of time and refrigerated.

¼ teaspoon almond extract
Almond cream
Combine cornstarch & cream: mix the cornstarch with about 1 tablespoon of the heavy cream. This creates a slurry to prevent clumping.

Cook in saucepan: combine the heavy cream, cornstarch mixture, and sugar in a small saucepan. Cook over medium heat, stirring frequently. Cook until it thickens (it will be bubbling a little). It should be the consistency of a runny pudding or watery yogurt.

¾ cup heavy cream,

1 tablespoon granulated sugar

Remove from heat and stir in butter. Allow to slightly cool then add in the almond extract. Can be refrigerated if made ahead of time - just press plastic wrap to the surface to prevent a film from forming.

1 tablespoon butter,

½ teaspoon almond extract
Assemble & bake!
Preheat the over to 350℉.

Assemble - add almond cream: once the oven is preheated, pour the almond cream into the par-baked tart crust, which is still in the tart pan. Spread around evenly. The crust can be warm from the oven or cooled, both work (it just might cook a little longer if it has cooled).

Add cherry filling: add the pie filling by the large spoonful, dotting around the tart until it is full. Avoid pouring the filling into the center all at once - this will push the almond cream away from the middle and up the sides (not what we are going for!).

Optional: add sliced almonds to the edge of the tart to make it pretty.

2 tablespoon sliced almonds

Bake for 20-30 minutes, until the tart crust is golden. The optional almond garnish should brown up nicely without burning (don't raise the temperature or the nuts might burn). The almond cream will set nicely and the filling won't change consistency.
Notes
Make ahead: everything can be made a couple days in advance and refrigerated. Allow the tart dough to warm up on the counter until it is pliable enough to roll out. The almond cream and cherry filling can be added when cold.
Nutrition
Nutrition Facts
Sour cherry tart with almond cream & a french cookie crust
Amount per Serving
% Daily Value*
* Percent Daily Values are based on a 2000 calorie diet.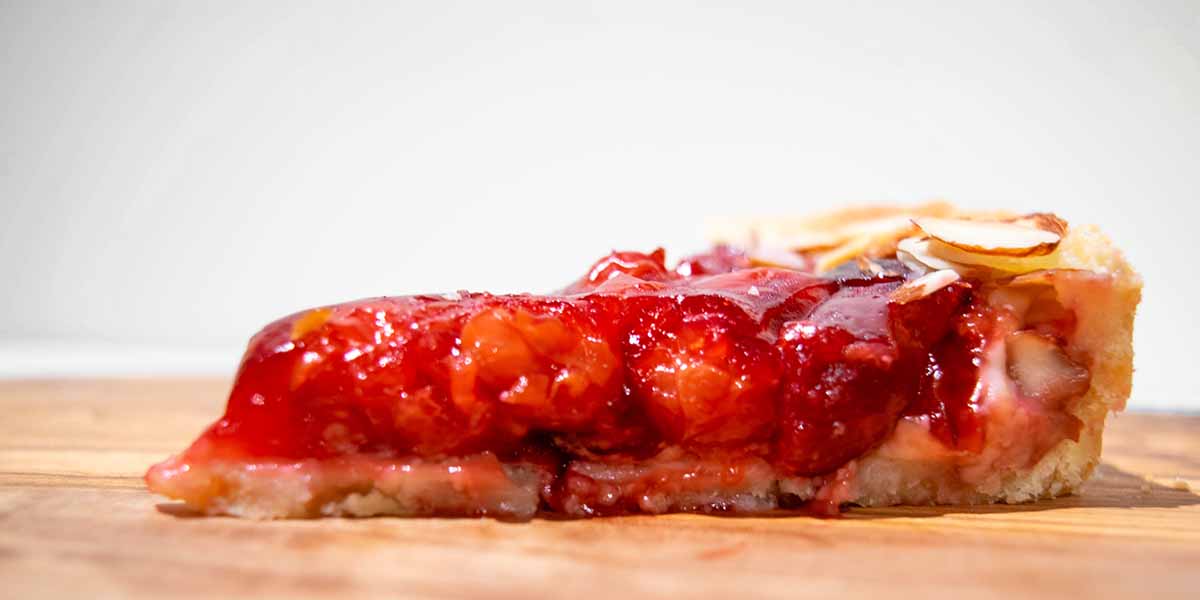 Tart crust tips
I've baked with a lot of pie crusts (homemade and store-bought), galette doughs, and shortbread crusts. This french style cookie crust is my current favorite for several reasons:
Easy to work with
Bakes up thicker & sturdier than a regular pie crust
Isn't as thick as a galette crust
Is just slightly sweet, often complementing a lower-sugar fruit filling
That said, you can use the almond cream and filling recipe with any other crust you might prefer.
When baking, the tart crust might rise up, which is why you poke it with a fork. However, if it happens, by the time you take the crust out it is still a bit soft and pliable and you can push it down, reshaping if necessary. You can also add pie weights if that's something you're used to.
Adjusting the cherry filling
The recipe starts you off with a lower amount of sugar, allowing you to add more to suit your preferences. Feel free to add more at any point while you are cooking the filling.
The amount of corn starch is also on the low end, allowing you to thicken it if needed. I usually don't need to, but depending on the juiciness of the cherries I sometimes do. If you add it, be sure to mix it with a little water first so it doesn't clump when incorporated into the filling.
I like adding just a tiny hint of almond flavor with the extract. The idea is to subtly add more complexity to the flavor, without the almond being identifiable. But feel free to add more if that's what you prefer!
Working with the almond cream
As the recipe is written, the almond cream adds a subtle almond flavor. I wanted to highlight the cherries, but can easily see a case for a more intense, creamy almond layer.
After you add the almond extract (once it cools slightly), give it a taste. If you want more almond flavor, add additional extract and taste again.
As for consistency, cook it on the stovetop until it is a runny pudding. If you drag a spoon across the bottom of you pan, it should part briefly and then fill in. The photo below shows it filling in about 2 seconds.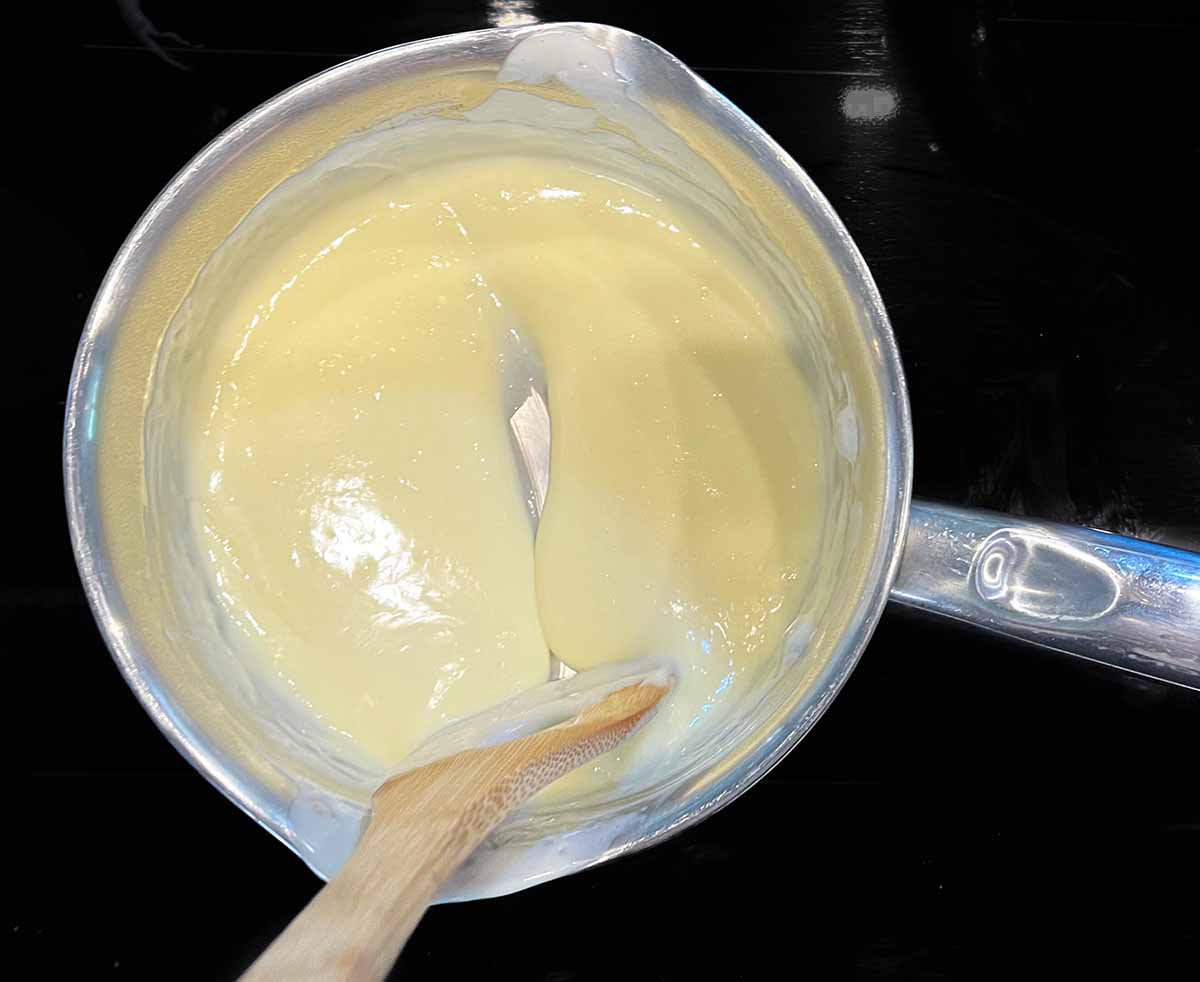 The next trick is to make sure the layer of almond cream stays spread out in the tart. If the filling is poured into the middle, it pushes all of the cream out of center up the sides.
I found the best way to keep it spread out is to drop spoonfuls of filling throughout the tart. While it will move a little under the weight of the cherries, it will still be distributed throughout the entire tart, rather than just the edges.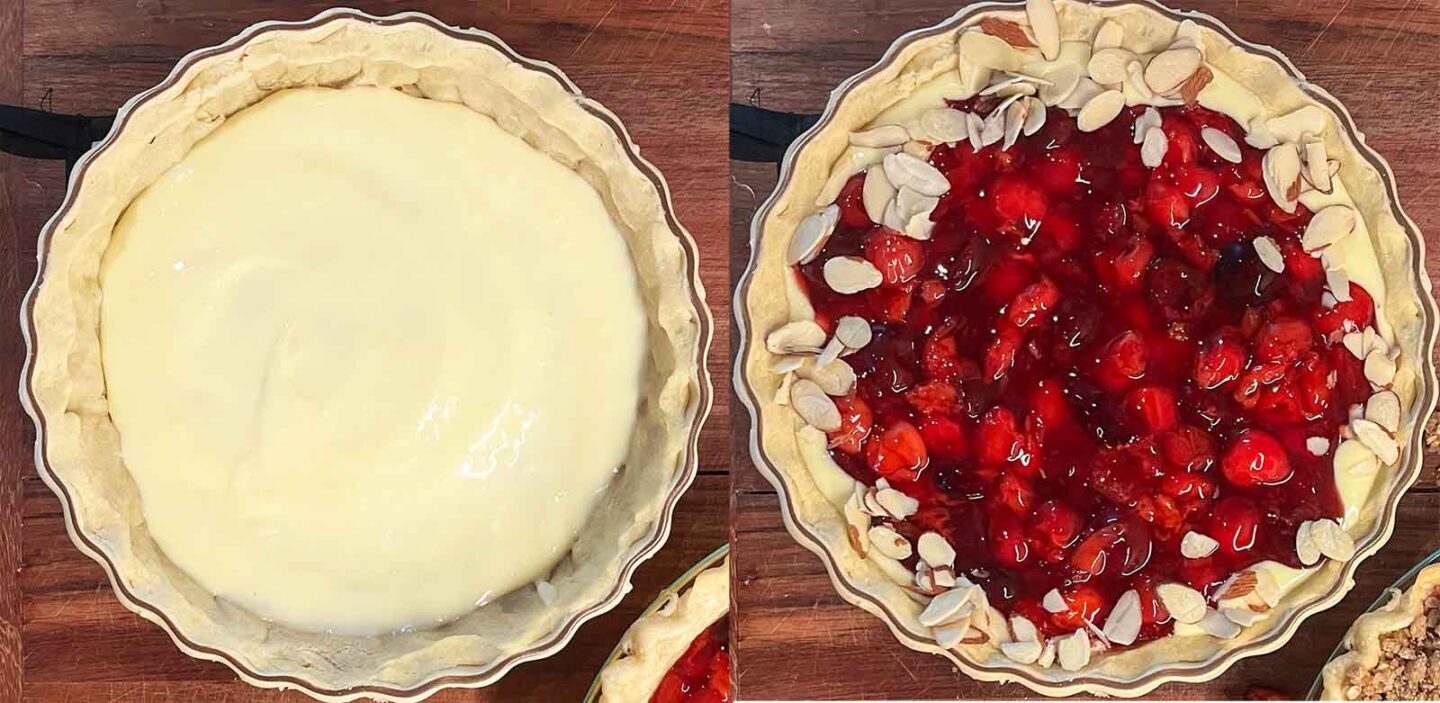 Sour vs sweet cherries
I tested pie fillings with sweet cherries, sour cherries, and a combination of the two. Sour cherries are the best option for pies, although adding in a portion of sweet cherries creates a more interesting filling.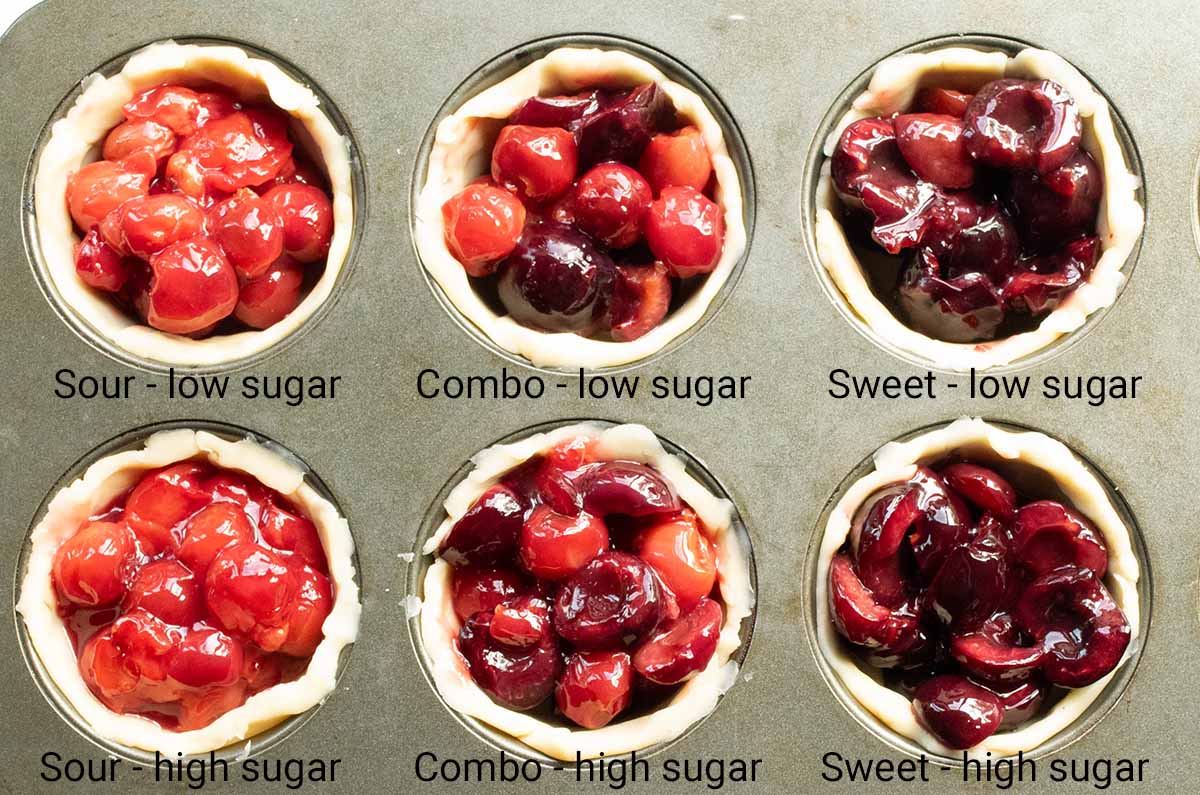 That said, this tart has enough things going on, that I actually prefer a filling that uses sour cherries exclusively.
If you really want to use sweet cherries (or that's all you can find), you can still follow the recipe as directed. Although if you haven't used sour cherries yet, I urge you to try it at least once!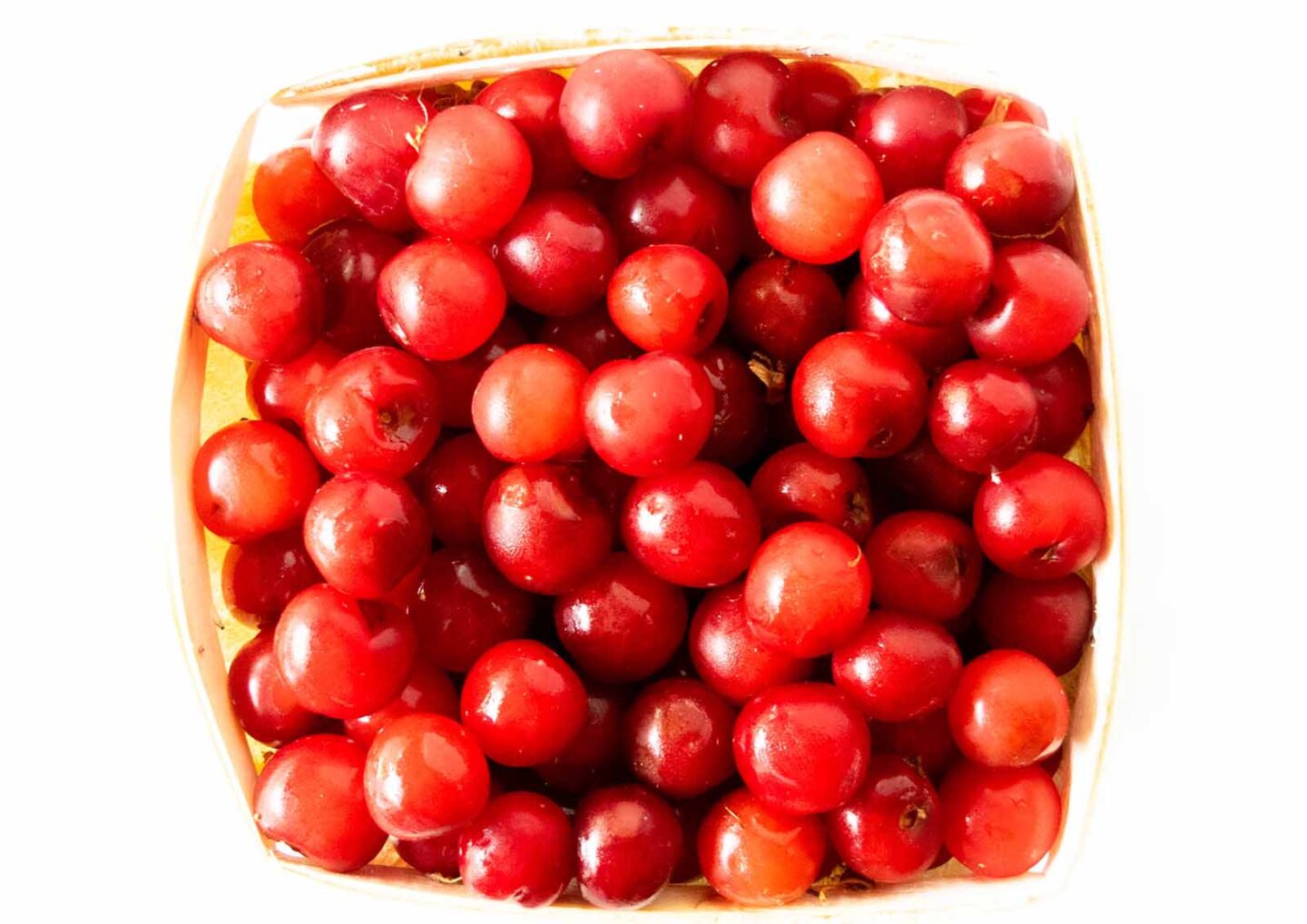 Where to find sour cherries
Fresh sour cherries have a very short season that lasts only a few weeks in June, July, or August, depending on where you live. You can find them at farmers markets in the northern part of the US, but not in the South.
If you can't find them fresh, look for them in the frozen isle of your grocery store. If using frozen, cook the filling as directed. You might need to add more corn starch, but everything else should work as expected.
More cherry recipes
Double the crust and filling for this recipe and make the sour cherry tart with a ganache layer along side this one. Or try one of these other recipes or resources.