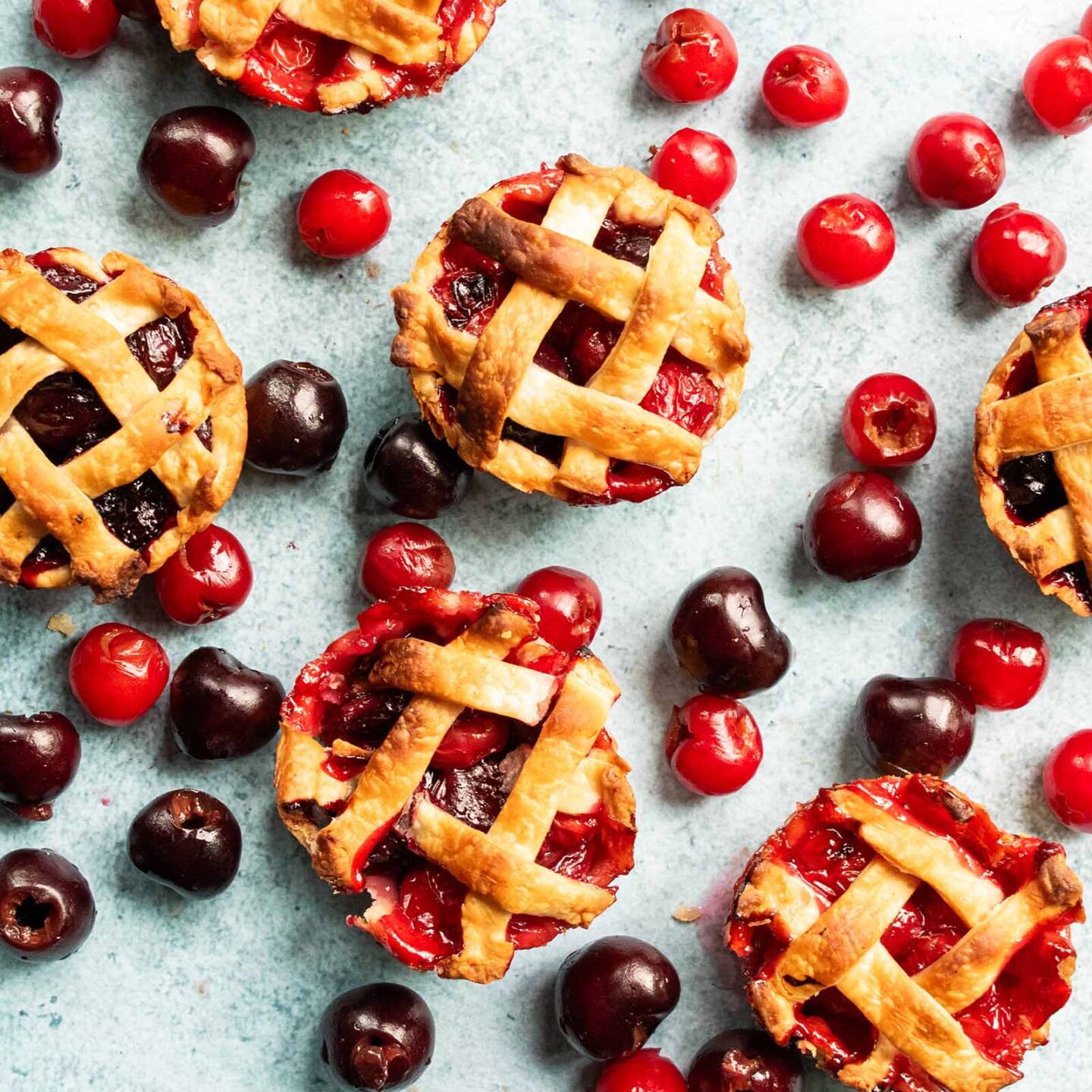 I've been wondering what type of cherries make the best pie: sweet or sour? I used to make all of my pies with dark, sweet cherries from the stella cherry tree in my backyard, which is similar to bing cherries.
The pies were pretty tasty, but the century-old recipes that use sour (tart) cherries intrigued me. I had never used sour cherries to make a pie, and it was time to remedy that.
I setup a side-by-side taste test with six different combinations of sweet and sour cherries, along with varying levels of sugar and lemon juice.
Jump to: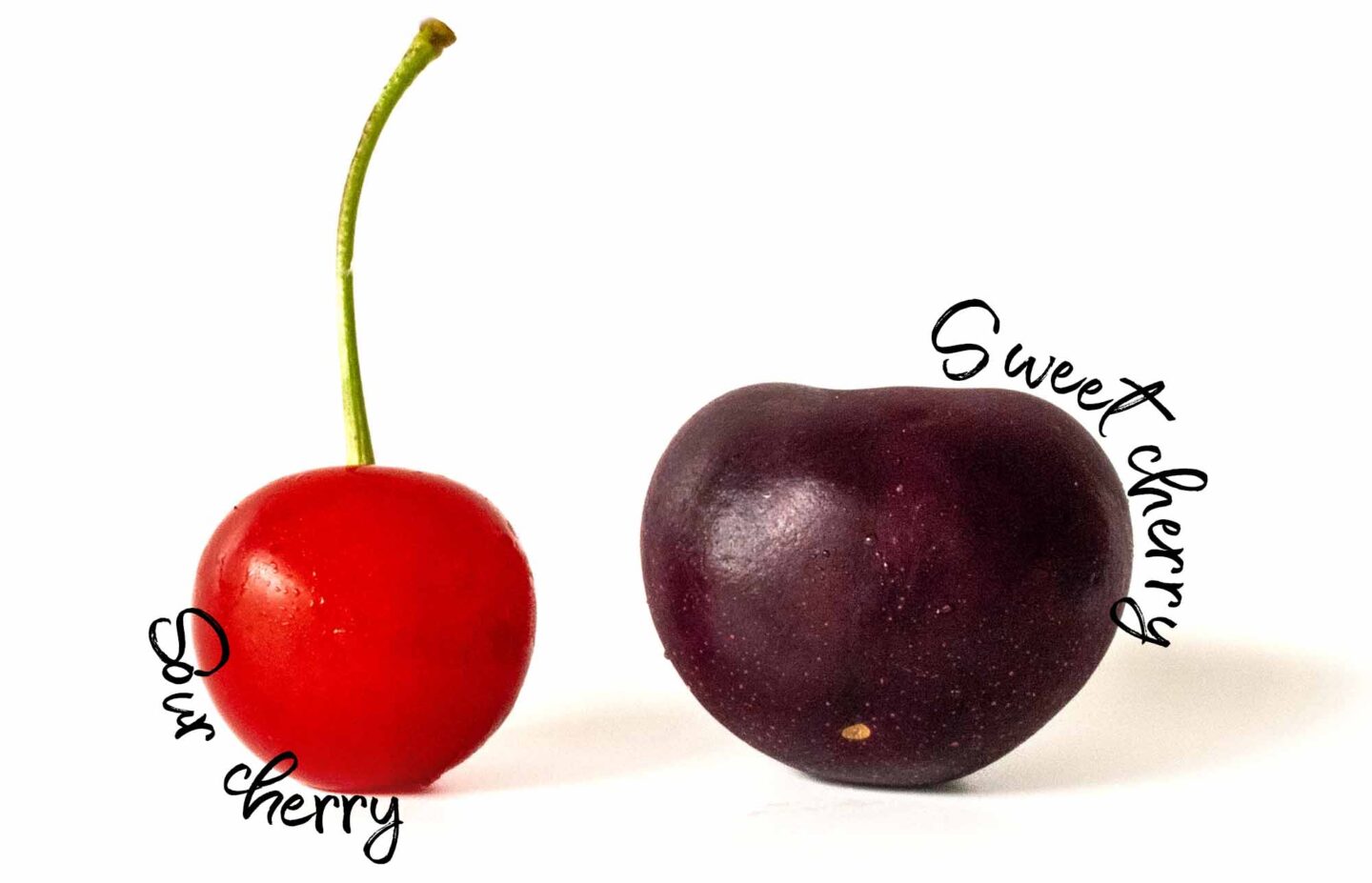 The quick answer
It turns out that the tartness of sour cherries offer that classic cherry pie flavor that you just can't get with sweet varieties like stella or bing, no matter how much lemon juice you add.
The experiment also revealed that a combination of the two cherries makes the best possible pie. The sweet cherries mellow out the super-tart flavor of the sour cherries without needing as much sugar (which can dilute the flavor). Two varieties also add a depth of flavor in every bite, instead of the more one-note option for pies with only one type.
To understand what each type of cherry has to offer, let's take a look at their flavor profiles.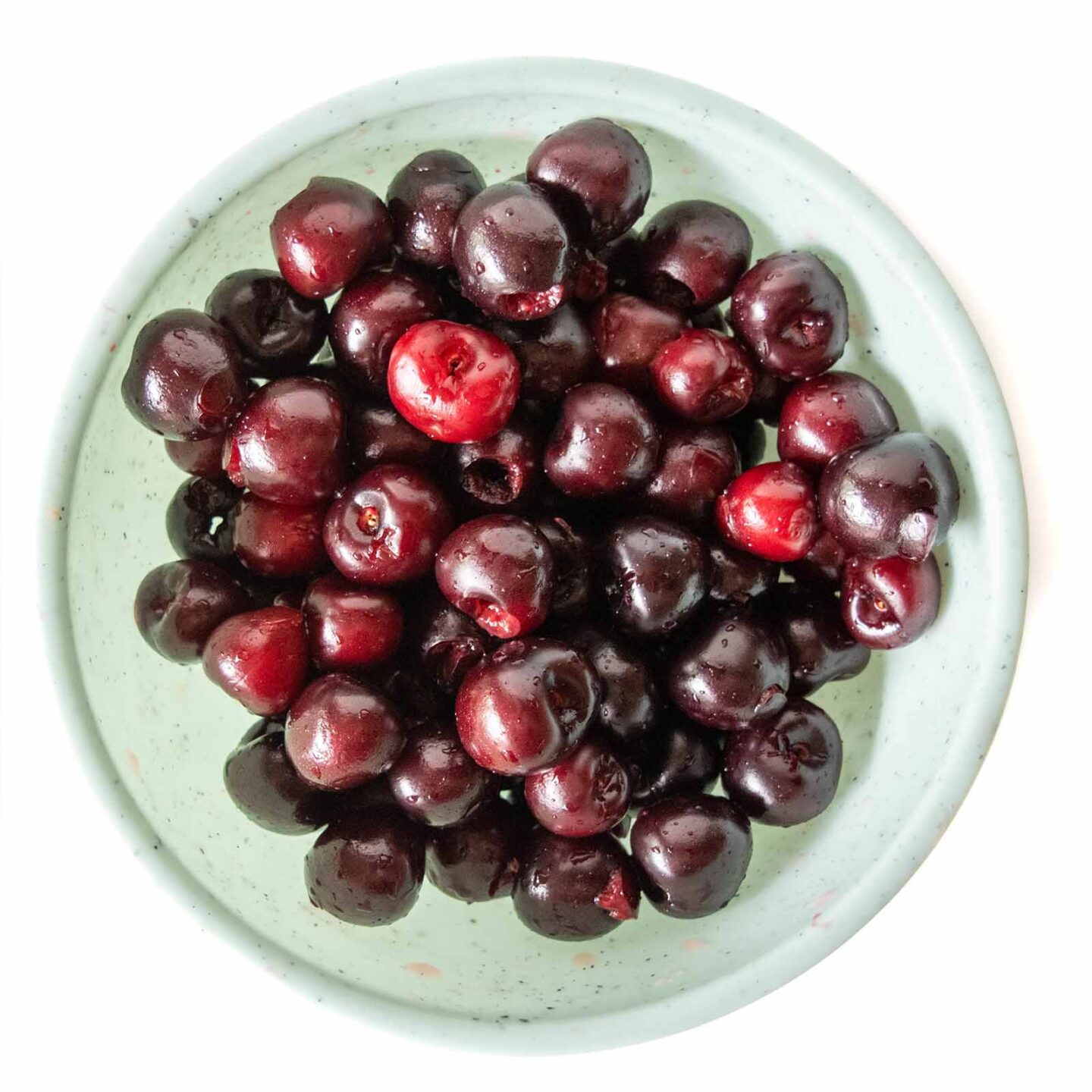 Flavor: sweet cherries
Those dark red, almost black sweet cherries burst with flavor at peak season. When you eat one fresh, out of hand, you know that nothing beats a Bing or Rainier.
Depending on the specific variety, they have about 10-25% sugar and 0.5-3.5% acidity.
When baked, they can taste a little flat. That's because some of the acidity starts to break down under high heat and prolonged cooking times, leaving you with a sugary one-note dessert.
Texture: sweet cherries have a meaty texture that is perfect for fresh eating, but can be a bit chewy when baked.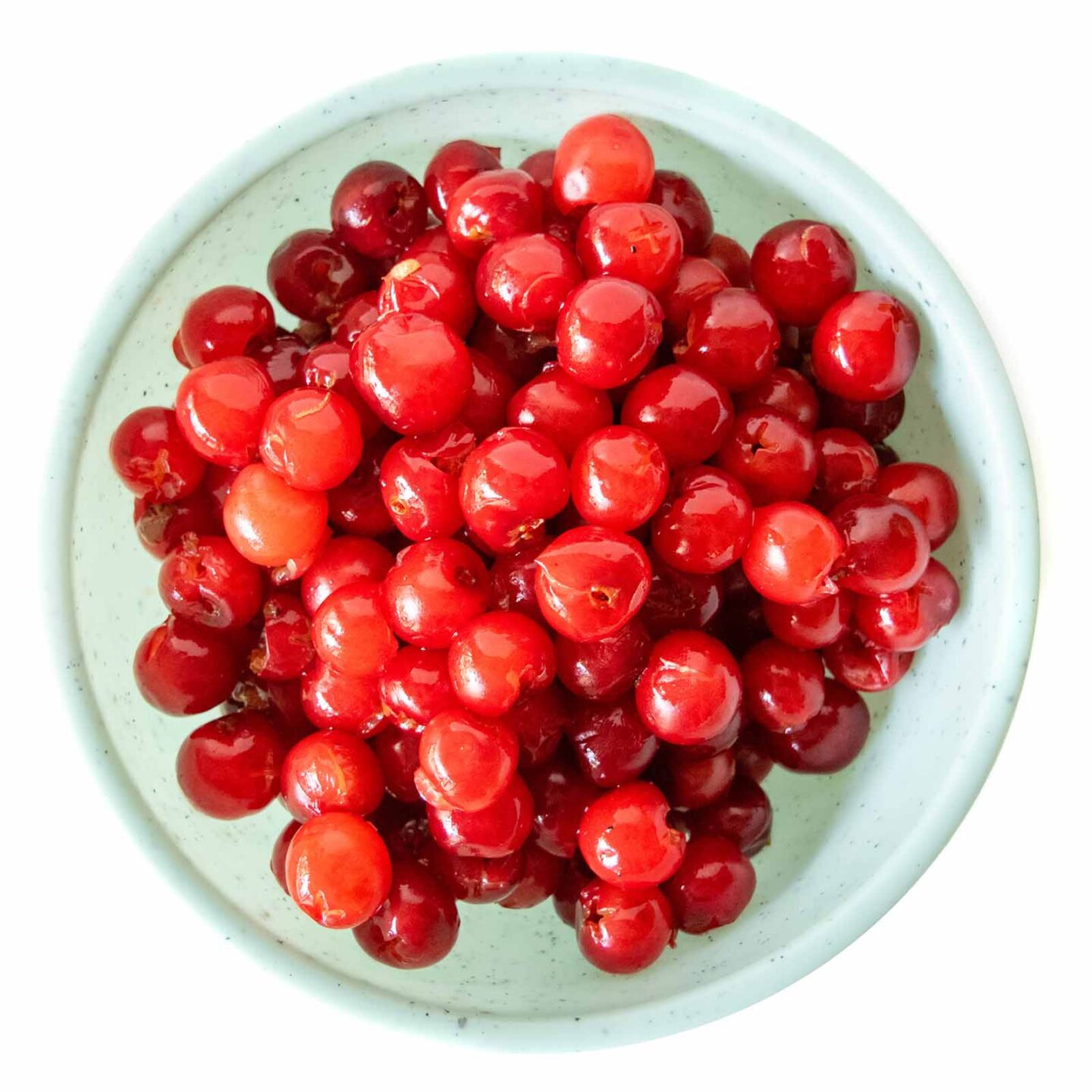 Flavor: sour cherries
Sour cherries are about half as sweet and twice as sour, averaging 10% sugar and 2-5% acid.
When you eat a fresh sour cherry like montmorency, it is very tart and astringent. The majority of their sour flavor comes from malic acid, which is considered one of the best tasting acids.
Malic acid is known for it's smooth, lingering tartness (compared to the puckering, short burst of acidity from the citric acid found in lemons). Research has also shown that malic acid enhances fruit's natural flavors.
When baked, the tart flavor of sour cherries mellows out, but enough remains that it's noticeably pleasant. Sugar balances out the acidic flavor, which can be tinkered with to your liking.
Texture: sour cherries are a bit soft for fresh eating, not nearly as pleasant as sweet cherry textures. However, when baked into a pie, they are wonderfully soft, similar to baked blueberries.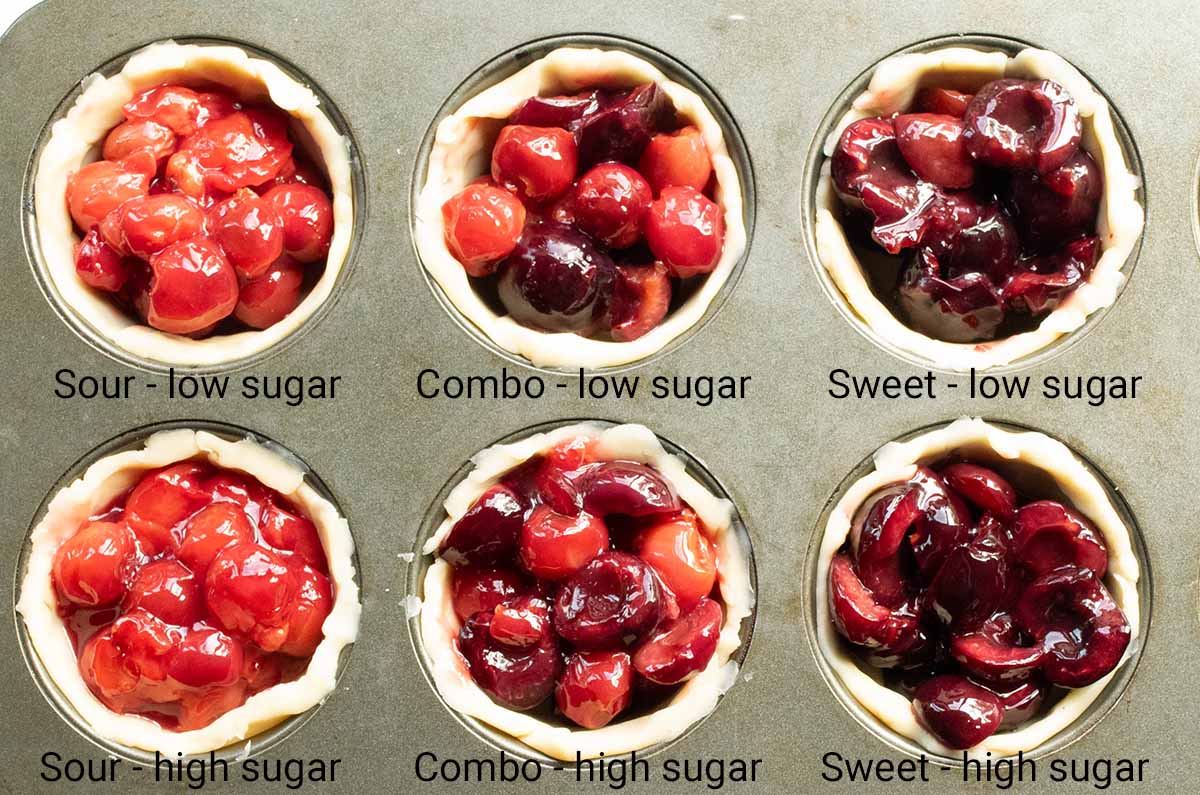 Taste tests: 6 pie combinations
I tested 3 types of pies: only sour cherries, only sweet cherries, and another with an even mix of sweet and sour cherries. The sour cherries were left whole (after pitting), while the sweet cherries were cut in half due to their larger size.
The tests also needed different levels of sugars, since sour cherry pie recipes call for more sugar to balance out the sour flavor. So I made separate low and high sugar versions of each of the 3 types of pie.
Low sugar pies: 2 tablespoons of sugar per pound of cherries (most pies call for 2 lbs, which would equal ¼ cup of sugar).
High sugar pies: 6 tablespoons of sugar per pound of cherries (for 2 lbs of cherries, that would be ¾ cup of sugar).
I also used lemon juice in the sweet cherry filling, since most recipes call for it to increase the acidity. It seemed like the fairest way to compare them.
Lastly, I didn't add any spices like cinnamon, almond, or vanilla extract. The point of these test-pies was to determine the best type of cherry, not the best recipe or complementary flavors.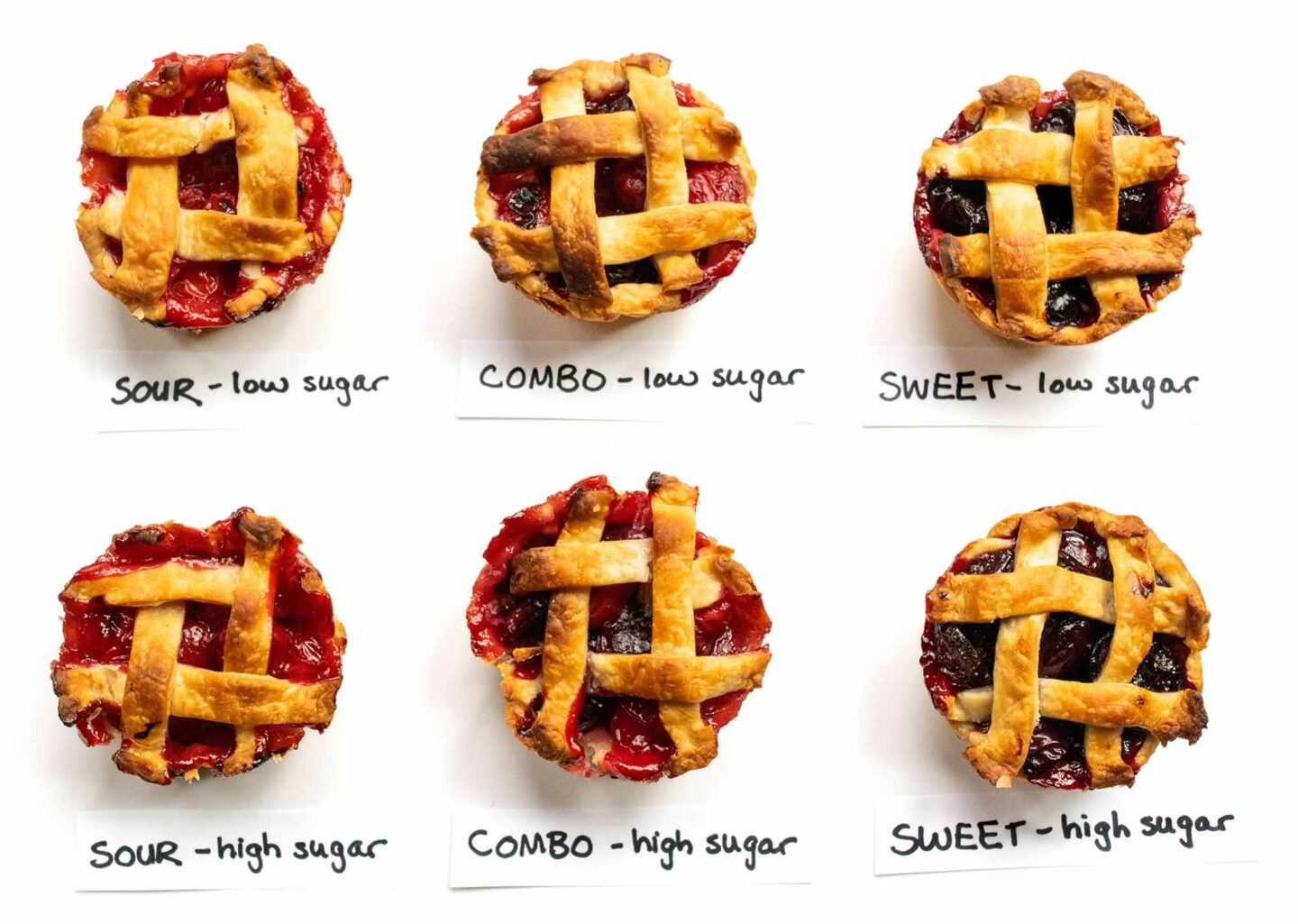 Tasting notes
Sour cherries
Both the low and high sugar versions hit you with a bright flavor at first bite, with a lingering tart flavor. Even with minimal ingredients and simple preparation, these have an unmistakable classic cherry pie flavor.
The texture is pleasantly soft from the cherries breaking down slightly. The color is also bright red with no additives or dye.
The one with more sugar was preferred by almost everyone when using a pie crust. However, the low-sugar one is preferred when using a crumble topping, as the tartness balanced out the sugary topping.
Sweet cherries
These pies were tasty, but the credit goes to the fact that they were home-made rather than to the cherries themselves. While the cherries were at peak season and very tasty raw, they fell a bit flat in the pies. If you really paid attention, you could catch hints of their deep, rich flavor, but it didn't carry through very well.
The low sugar option was decent, but the high sugar one was cloyingly sweet. The texture was a bit chewy, but acceptable.
It's worth noting that most children taste testers preferred the sweet cherry pies, but adults rarely did.
Combination
The pies with half sweet cherries and half sour cherries were the best of both worlds.
The higher acidity of the sour cherries created a classic cherry pie base, while also helping bring out the rich flavor of the sweet cherries (malic acid doing it's work?!). The sweet cherries added a sweeter element, allowing for less use of added sugar.
The low sugar one wasn't too tart, and the high sugar one wasn't too sweet. You could easily use any amount you wanted between those ratios to suit your preferences and have an excellent, crowd-pleasing pie. That said, I suggest using less sugar if adding a crumble topping to preserve the sweet-tart balance.
The combination also created more textural interest, with both soft and slightly meatier pieces in each bite. It's a similar idea behind using several different types of apples in pie.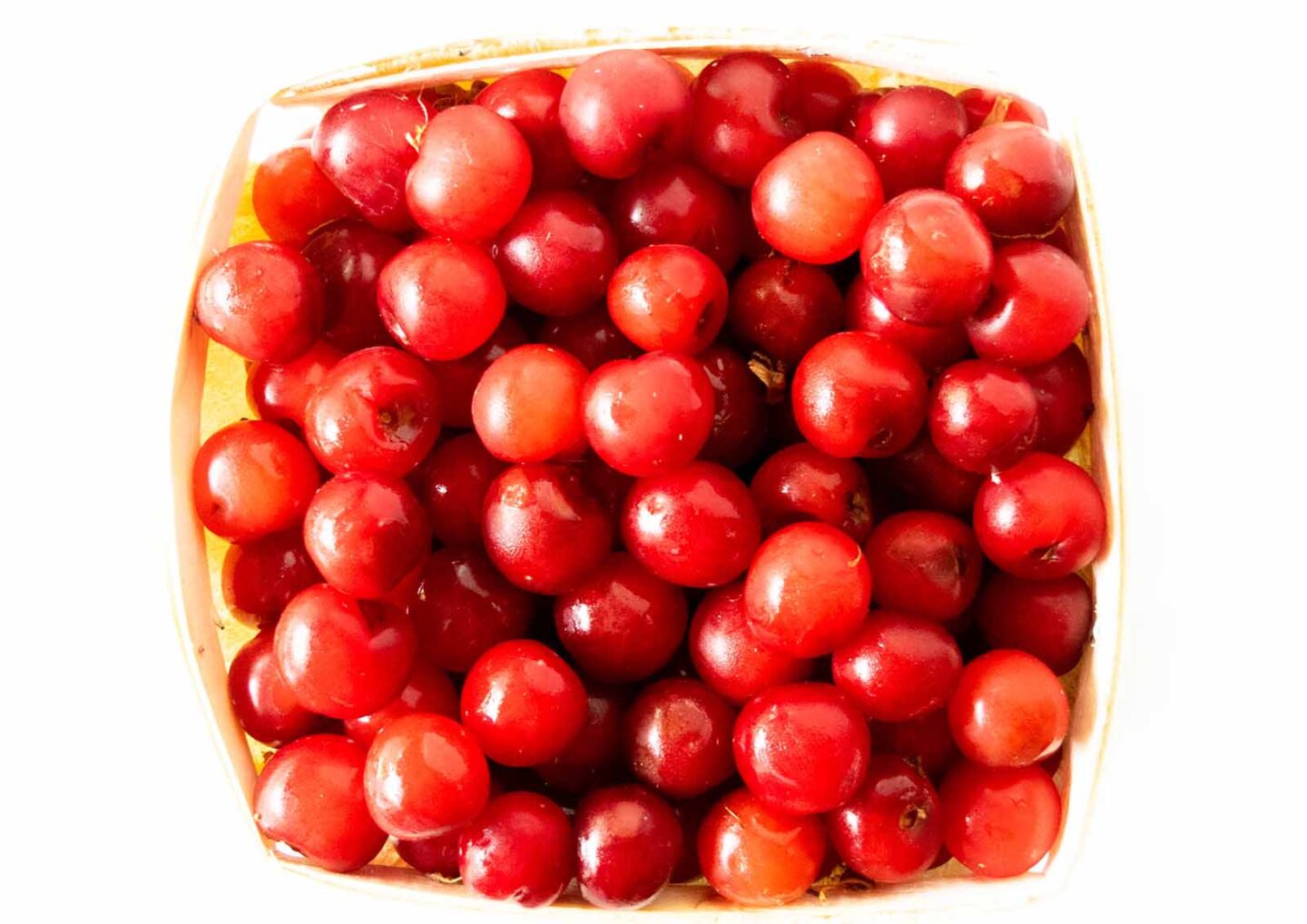 When & where to buy tart sour cherries
Sour cherries are not sold fresh in grocery stores. They are too soft and perishable to transport and sell. You can find frozen ones in grocery stores, and many recipes assume you bought this type due to their availability.
Farmers markets often have them for a very short window, 2-3 weeks or 4 of you are lucky. Sour cherries grow well in most climates (USDA zones 3-8), but they are still a specialty item, even at farmers markets.
Sour cherry season depends on where you live. In warmers climates, they are available starting in early June. In cooler climates, they show up in early July. And in very cold climates, look for them starting at the end of July and into August.
Recipes
A combination of sour and sweet cherries is the winner, but I've adjusted the ratio to be 75% sour and 25% sweet for my pies now. It can be low or high sugar. You could use this ratio in nearly any cherry pie recipe you find, while being aware you might need to adjust the amount of sugar.
Most sour cherry pie recipes use 4-6 cups of cherries (1.5-2 lbs), and ½ to 1 cup of sugar.
Even as someone with a huge sweet tooth, I prefer the pies with slightly less sugar. That usually requires pre-cooking the filling in a pan (which I prefer because I also get more reliable results with the consistency of the filling).
For pie filling that is poured directly into the crust and baked (no pre-cooking), more sugar is usually required for the filling to properly gel.
Other recipes that use sweet cherries, like tarts, cobblers, or jams, can also use sour cherries.
More cherry pie recipes