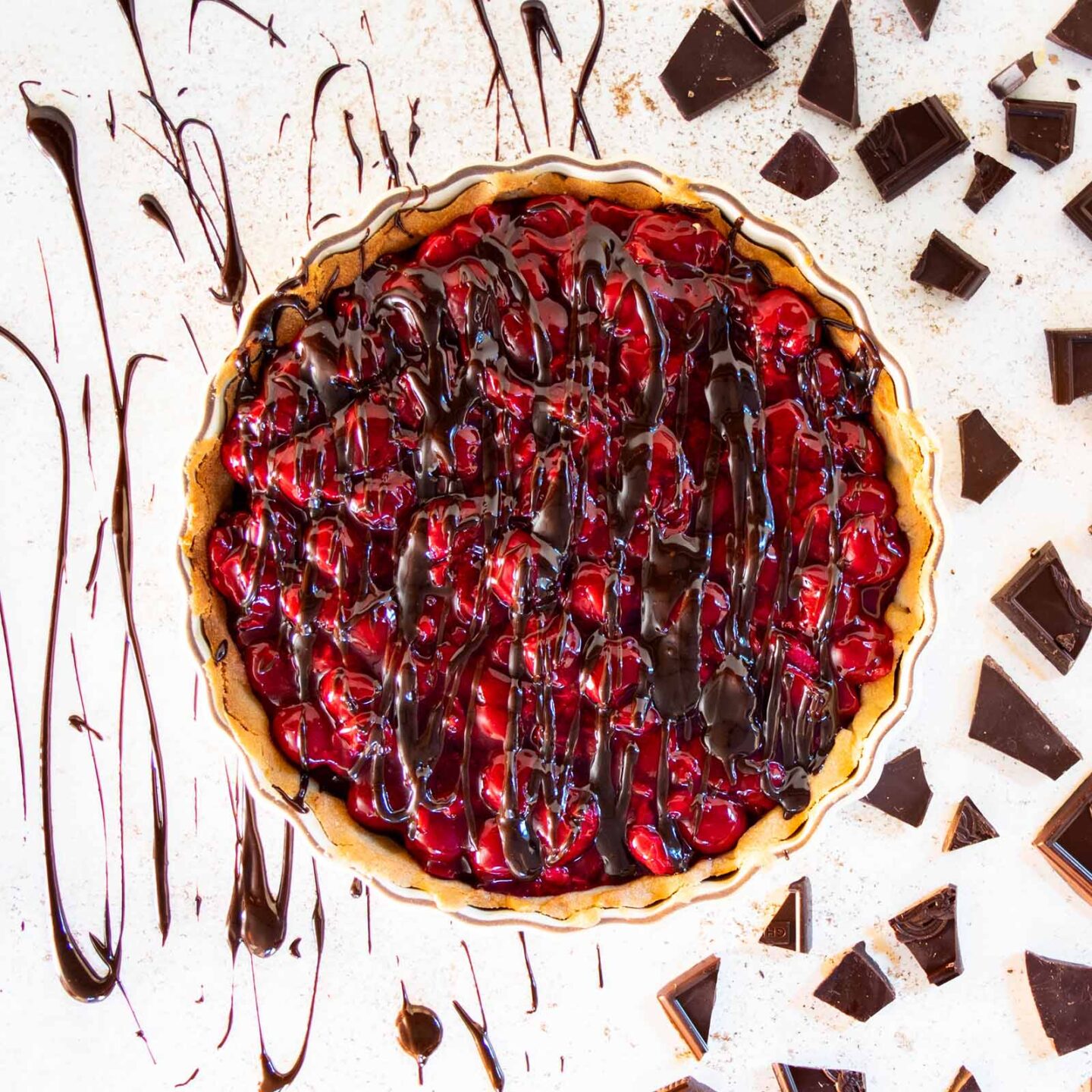 This chocolate cherry tart is equal parts cherries and chocolate. The chocolate layer comes in the form of a rich ganache, similar to the filling of a truffle, by simply mixing heavy cream with chocolate - that's it!
The ganache then gets topped with a cherry pie filling that's pre-cooked on the stove for the perfect consistency.
The tart crust is a french style that is fairly easy to make and gets baked by itself. The ganache and cherry layers are added on top without going back into the oven.
Jump to:
Recipe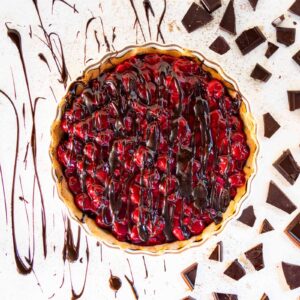 Ingredients
Tart crust
8

tablespoon

butter

slightly softened

½

cup

powdered sugar

1

teaspoon

vanilla extract

1

egg yolk

large

5

oz

all-purpose flour

(1 full cup)
Cherry filling
4

cups

tart sour cherries

about 2 lbs

⅓

cup

water

⅓

cup

granulated sugar

or more to taste

2-4

tablespoon

cornstarch

¼

teaspoon

vanilla extract
Chocolate ganache
¾

cup

heavy cream

(6 ounces)

12

ounces

60% baking chocolate bars, chopped

see note
Instructions
Plan ahead - chill time
The tart dough needs to chill for 30 minutes in the fridge, it also needs to cool down to room temperature after it is baked (allow for another 30 minutes).

The ganache is poured into the crust after it cools from baking, and needs to chill to set. This takes about 30 minutes in the freezer or a couple hours in the fridge.
Tart crust
Start the crust ahead of time, as it needs 30 minutes to chill. (Can easily be doubled for two crusts).

Beat butter and sugar together in a stand mixer with a paddle attachment (or use a hand mixer). Beat on low so the powdered sugar doesn't spray everywhere. Once combined, increase speed to medium and beat until light and fluffy (about 3 minutes). The consistency will be like a light whipped frosting, rather than a heavy butter base.

8 tablespoon butter,

½ cup powdered sugar

Add extract & egg: add the vanilla extract and egg yolk, beat until incorporated. (If doubling recipe, add yolks one at a time, beating between each one).

1 teaspoon vanilla extract,

1 egg yolk

Add flour: scrape down sides of the bowl, then add flour and mix on low until fully incorporated.

Form into disc & refrigerate: scrape the dough onto a light floured surface, and form it into a smooth ball. Squish it down into a disc and wrap in plastic wrap. Chill for about 30 minutes. It can also be made ahead and left in the fridge for a couple days, but it will need to warm up on your counter for a bit to become pliable enough to roll.

Roll & prepare to bake: preheat oven to 350℉. Remove the dough from the fridge and place on a lightly floured surface. Roll it out to be 1 inch larger than your pie or tart pan. If the dough is too stiff and cracks when you roll it out, work it with your hands for a minute until it is just pliable enough. Place in the tart pan, going up the sides. Poke holes in the bottom with a fork. Place in fridge until ready to bake.

Bake: bake for 20-30 minutes, until the crust is golden brown. It needs to be fully baked, as nothing else is baked from this point on.

Cool: let cool to room temperature - it should be cool when the ganache is added so it can set up nicely in the fridge.
Chocolate ganache
Warm cream: add cream to a small saucepan and heat until it just starts boiling, then remove from heat. (It needs to be warm enough that it melts the chocolate once added)

Add chocolate: Add chopped chocolate, stirring to melt. (Cooking it over higher heat can change the structure and cause graininess). Do NOT skimp on the chocolate or it won't be thick enough to set. It will be like a thick syrup at this point (it sets when it chills).

12 ounces 60% baking chocolate bars, chopped

Pour over cooled tart crust: Pour the ganache into the tart crust, reserving a little to drizzle on top later if interested. Chill in the freezer for 30 minutes until it is set or in the fridge for a couple of hours (or over night if making ahead).
Cherry filling
Pit cherries: pitting the cherries will probably take 15 minutes. You can place them in a saucepan as they are pitted.

4 cups tart sour cherries

Combine cornstarch and water: mix the water with just

2 Tbsp

cornstarch and mix into a slurry. This helps create a non-clumping mixture.

2-4 tablespoon cornstarch,

⅓ cup water

Cook filling: add cherries, cornstarch mixture and sugar into a saucepan. Bring to a boil, the reduce heat to low, stirring frequently. Cook for about 5-10 minutes until it is clear (not opaque from the cornstarch), and the consistency you want. It won't get much thicker, if at all, once baked and it needs to be thick enough to hold up on top of the ganache layer.

TIP!! Too thin? Add more cornstarch after premixing it with a little water. Too thick? Add water.

Cool & add vanilla extract: allow to cool until it is warm (we just don't want it piping hot here). Add vanilla extract after it has cooled a little (heat will evaporate the alcohol and its almond flavoring).

¼ teaspoon vanilla extract

Let chill in fridge: the filling needs to cool down so it doesn't warm up and melt the ganache layer. Chill until room temperature or colder - can also chill overnight.
Assemble & eat!
Scoop cherry filling into tart, gently setting it on top of the ganache layer. If decorating with leftover ganache, reheat it on low and thin with heavy cream or milk if needed. Drizzle over the top.
Notes
Make ahead:
Tart dough can be made ahead. Wrap in plastic and put in fridge for several days. Allow to warm slightly on the counter to roll it out.
Ganache can be added to the cooked tart crust and refrigerated for several days.
The cherry topping can also be made in advance and stored in a covered container.
The entire tart holds up well in the fridge - the crust does not get soggy. It's best within a couple of days.
Chocolate:
Recipe is designed for 60% baking chocolate. For the ganache to set, you need twice as much chocolate by weight as heavy cream.
If using milk chocolate, reduce cream by 2 Tbsp
If using 70% dark chocolate, increase cream by 1 Tbsp
If using 80-85% dark chocolate, increase cream by 2 Tbsp
Nutrition
Nutrition Facts
Cherry tart with chocolate ganache & cookie-based crust
Amount per Serving
% Daily Value*
* Percent Daily Values are based on a 2000 calorie diet.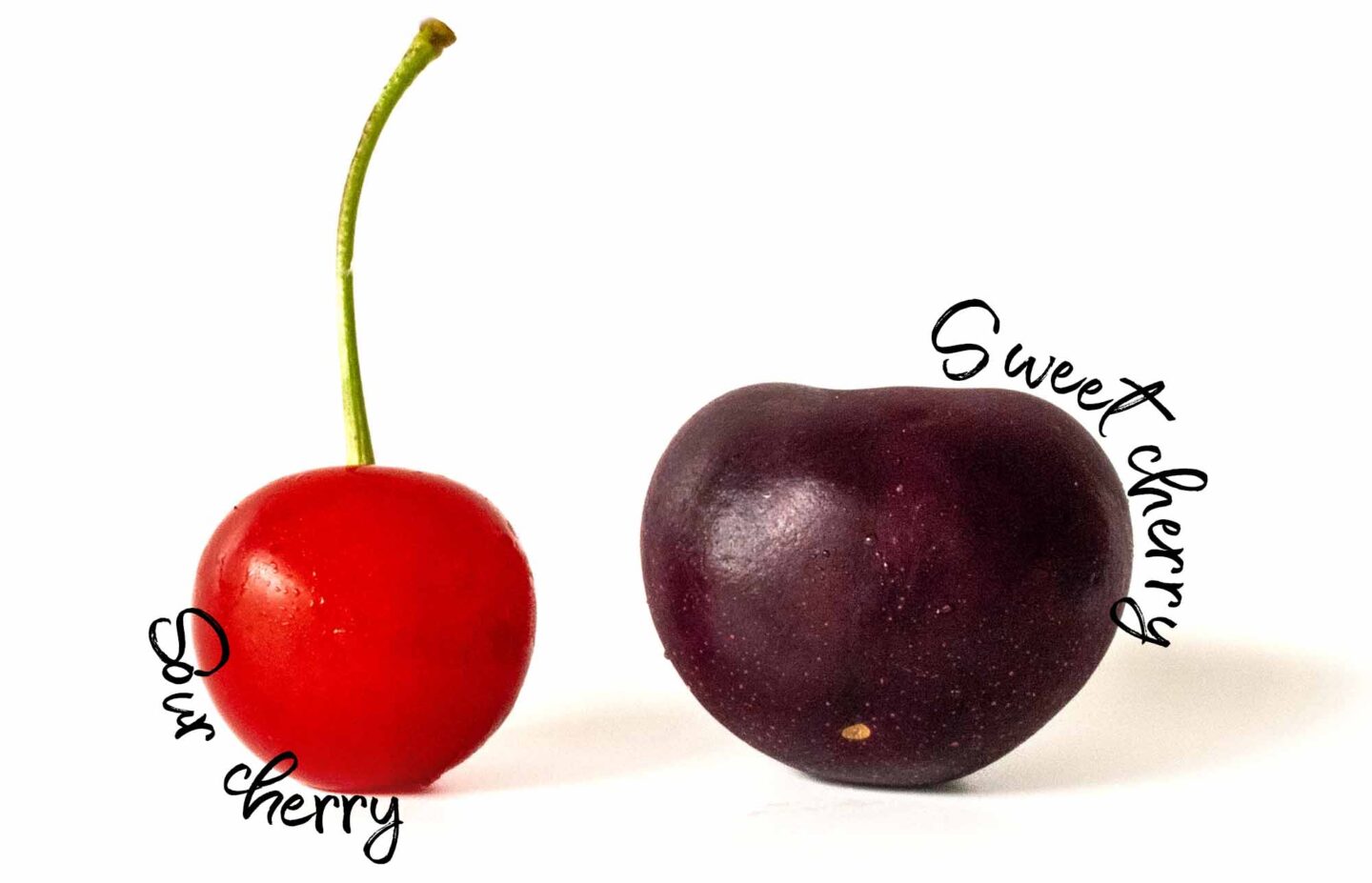 Sweet or sour cherries?
After baking through 40 pounds of cherries, I'm a believer that sour cherries are best for desserts. Their tart flavor stands out without being overpowering.
But tart sour cherries are hard to find fresh. You can use frozen sour cherries or sweet cherries (which can pair well with the bitter notes of a dark chocolate). If you want to make either of those substitutions, see the notes about that below.
Substitutions
While this site is all about using seasonal produce, tart (sour) cherries are hard to find fresh. I have a couple alternatives that will work out great.
Frozen sour cherries
You can often find sour cherries in the freezer isle of your grocery store.
If using frozen, add the frozen cherries and their juice to the pan. Omit the water from the recipe. Instead, remove a couple tablespoons of the melted juice to mix with the cornstarch. Return that to the pan and cook until you get the consistency you want.
After cooking, if it's still too thin, add more cornstarch. If it's too thick, add water to thin it down. The great thing about this recipe is you can keep adjusting the consistency on the stovetop until it's thick enough.
Sweet cherries
Alternatively, you can use sweet cherries of any type - the almost-black Bings or even the yellow-red Rainiers. The only change is to only use half of the sugar since these types of cherries taste sweeter to begin with.
As it cooks, taste the filling. If you want a sweeter taste you can add more sugar.
Also consider using a darker chocolate, as the bitter notes can pair well with the sweeter cherries.
Chocolate
Different types of chocolate can be used, as discussed in the next section.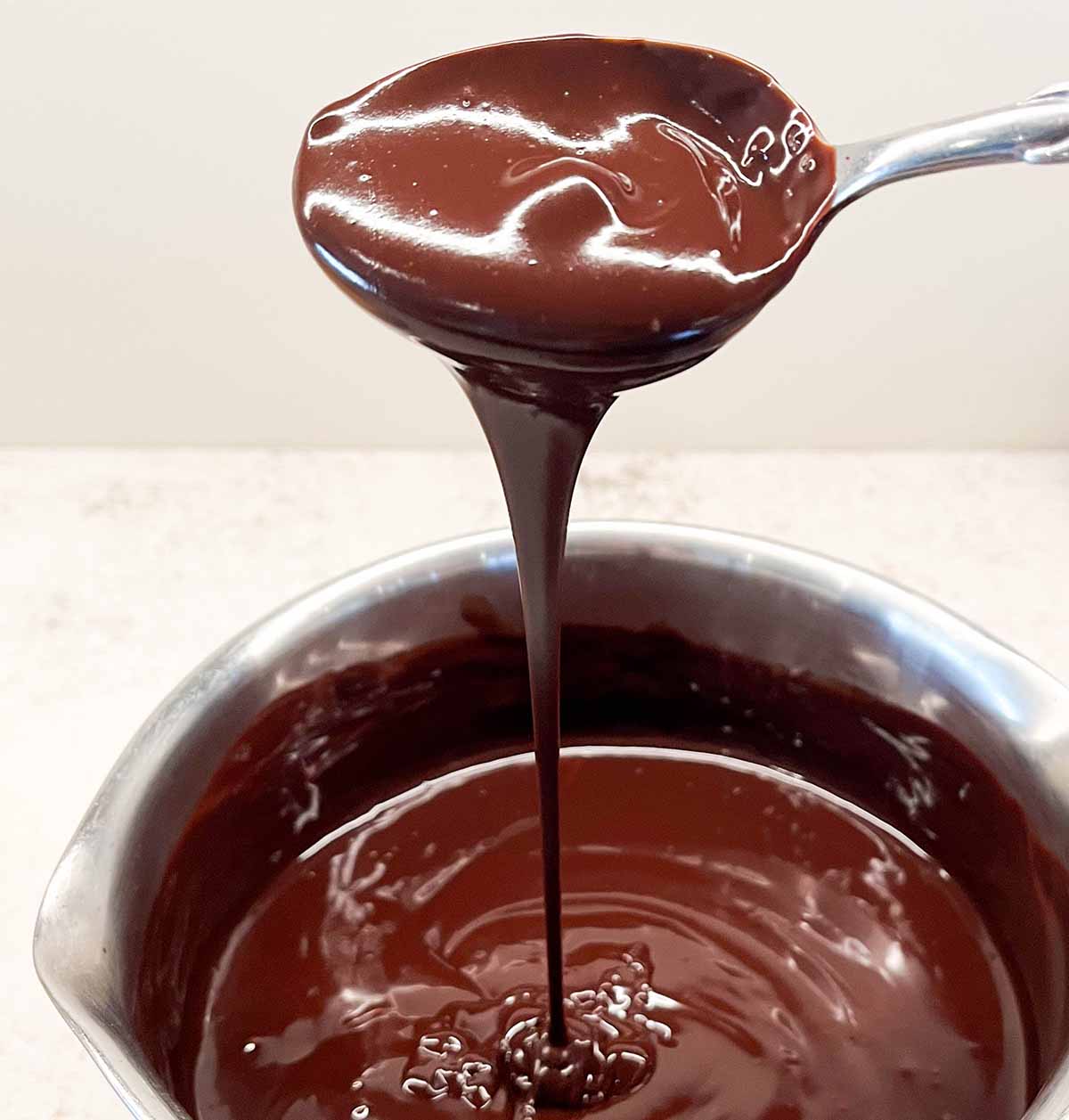 Tips for the chocolate ganache
This is the simplest ganache recipe - you just warm some heavy cream and add in baking chocolate, stirring until it melts. It's the same recipe you would use if making filling for chocolate truffles.
There are two simple rules to make sure you get the right consistency. First you need to use the right ratio of the two ingredients - you want twice as much chocolate as heavy cream.
Second, pay attention to the cocoa percentage. This recipe is designed for 60% cocoa (like ghirardelli's 60% baking chocolate or Belcolade Bittersweet Chocolate Wafers from King Arthur Baking). If you use a different type of chocolate, adjust the levels of heavy cream:
For milk chocolate, reduce the heavy cream by 2 Tbsp
For 70% dark chocolate, add 1 tablespoon of heavy cream
For 80-85% dark chocolate, ad 2 tablespoon of heavy cream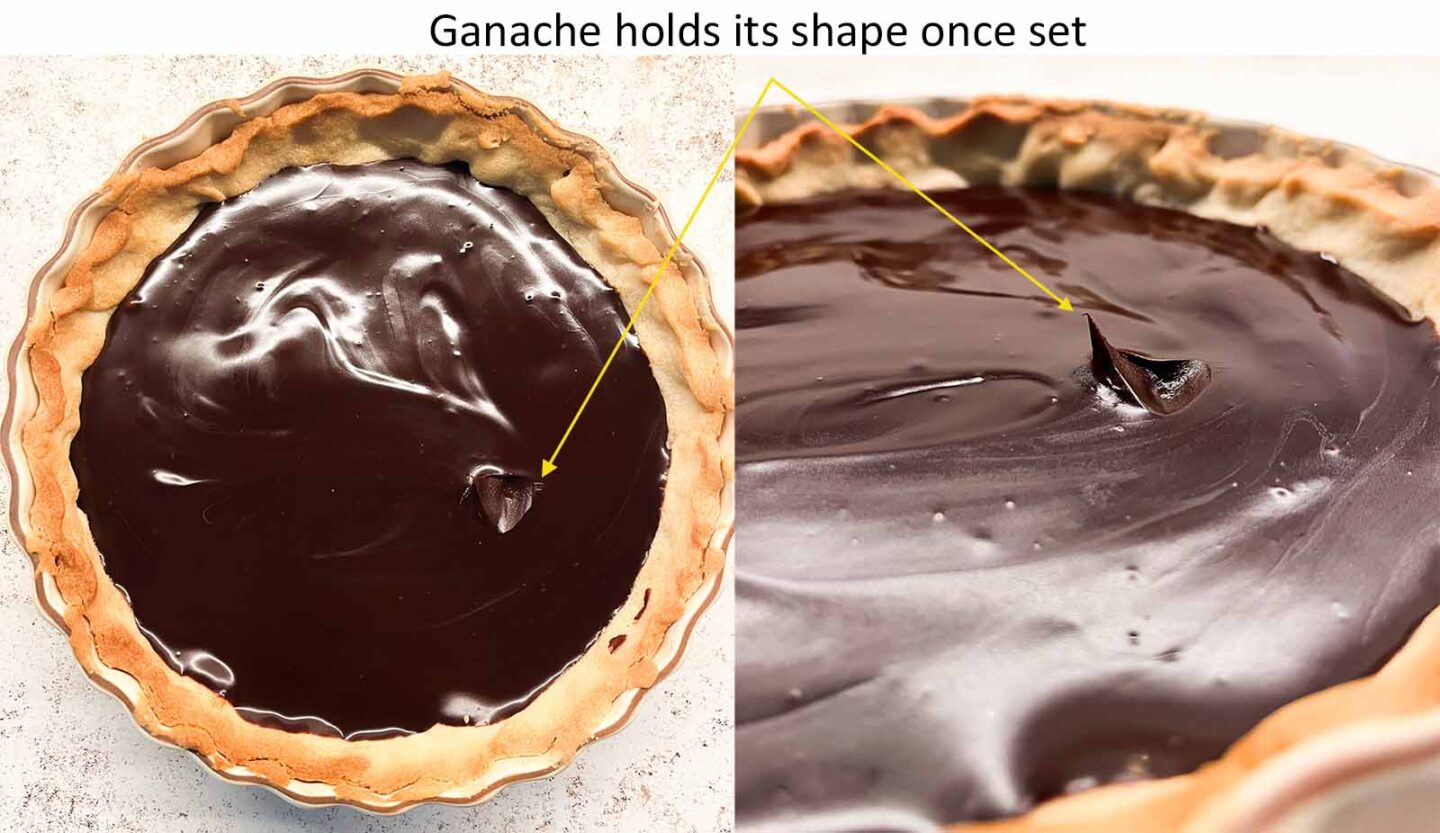 It sets after it chills in the fridge. Once set it is similar to a truffle filling, whipped frosting, or a sturdy pudding. (It's hard to describe!)
Make ahead & storage
The entire chocolate cherry tart can be assembled and kept in the fridge for days. The crust holds up incredibly well without getting soggy.
Alternatively, you can make it in parts and assemble the day you plan to serve it.
The dough for the crust can be made ahead of time, wrapped in plastic to prevent it from drying out. Store in the fridge for up to a week. To roll it out, let it warm up on the counter until it is pliable, or work it into a ball a few times with your hands (which warms it up immediately).
The ganache can be made ahead of time if you pour it into the baked tart crust. Cover with plastic and store in the fridge.
The cherry filling also stores well in the fridge in a covered bowl for up to a week.
Nutrition
This is a decadent dessert that isn't shy on calories. I based the calorie calculation on 10 slices, which is what I tend to get out of this tart. It's so rich, a full ⅛th pie slice is a bit too much.
The bulk of the calories are from the dairy and chocolate in the ganache layer. It's light-ish on added sugar compared to most desserts, with less than 1 cup in the whole recipe.
I like the thick chocolate layer because its flavor is equal to the cherries. If you want just a hint of chocolate instead, you could cut the ganache recipe in half (which would reduce the calories per slice by 130).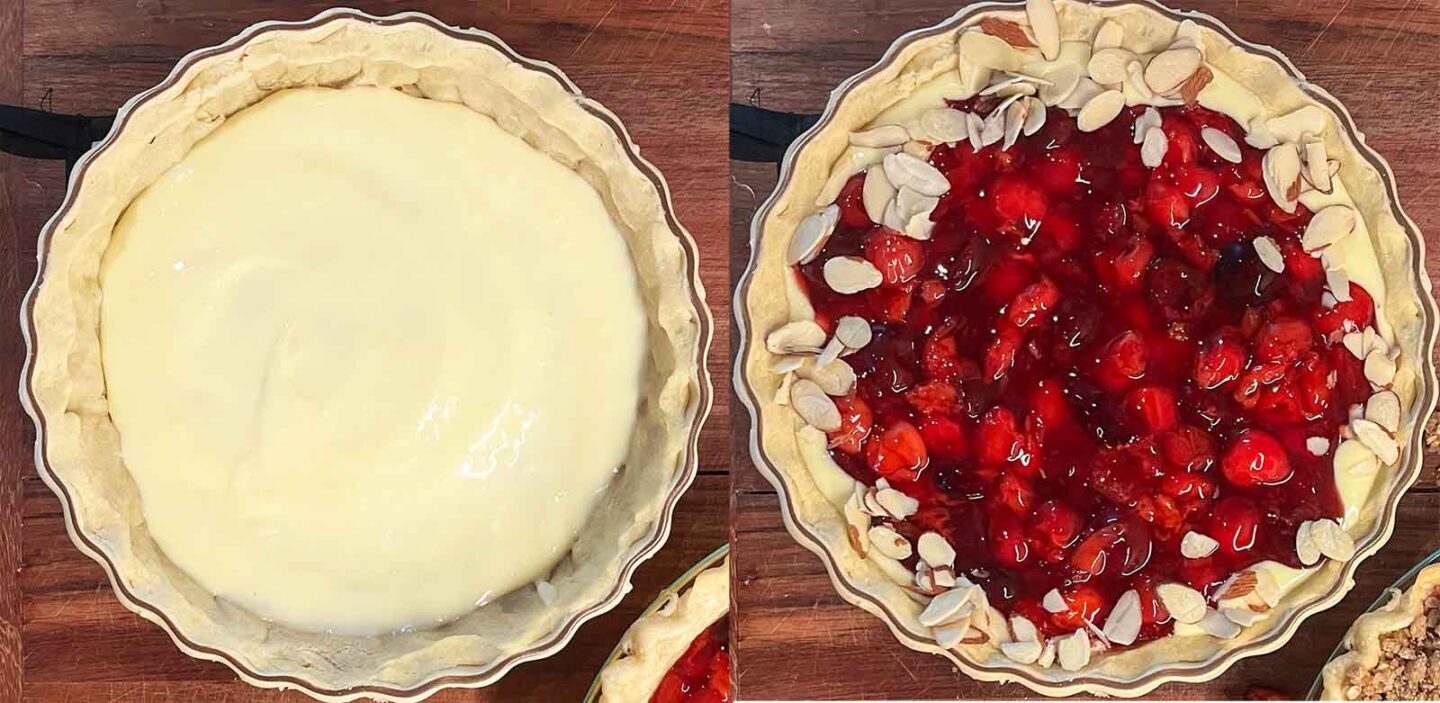 2-for-1 tarts
If you're feeding a crowd, make this chocolate cherry tart alongside my other sour cherry tart with a layer of almond cream. Double the recipe for the crust and double the filling.
The tart with almond cream has a few procedural difference though, so make note of those:
The crust is par-baked - so take it out of the oven just a little bit before the one for this tart.
Once assembled, the tart goes back into the oven to bake, which firms up the almond cream layer. (The filling is the same and baking it won't actually change the consistency).
More cherry recipes
Both sweet and tart sour cherries are in season in summer, with a short window of peak ripeness. Enjoy them while you can with these recipe ideas.