Sour and tart cherries refer to the same fruit - farmers and gardeners usually call them sour cherries, whereas the food and health industries call them tart cherries (probably because it sounds more appealing), and sell bottles of tart cherry juice or dried tart cherries.
Jump to:
Flavor: sweet vs tart cherries
Sweet cherries are the ones you find fresh at farmers markets and grocery stores, like the dark red Bing cherry or the yellow & red Rainier. They are large, meaty, and deliciously sweet.
While sweet cherries are undoubtedly supreme for fresh eating, nothing beats sour cherries in baking. Sour cherries are very tart and slightly astringent. Tart sour cherries have twice as much acidity as sweet cherries, and half of the sugar.
If you haven't had the chance to try them, you're in for a treat. They aren't great when eaten fresh but they are unsurpassed when baked into a pie. This is why they are often referred to as "pie cherries."
Season
Sour cherries have a notoriously short season, which is dependent on where you live. They ripen during June in slightly warmer climates, lasting several weeks. In cooler northern climates, they start to ripen in early July and last most of the month. Wisconsin's Door County is also famous for sour cherries, which are ready to pick from mid-July to mid-August.
Sour cherries are very perishable, and their soft texture make them inadequate for shipping. You won't find these at grocery stores (unless you look in the frozen isle).
Farmers markets carry them if you are lucky and live near a farmer growing them. You'll have pretty good luck in the Midwest from Michigan farms that often travel to nearby states for farmers markets.
Michigan grows about 75% of the commercial tart cherry crop in the US. New York, Oregon, Pennsylvania, Utah, Washington, and Wisconsin are also sell them commercially, so you might have luck at farmers markets.
Where to find sour cherries?
Most fruit and vegetables can be found in your grocery store, but not fresh sour cherries - they are too perishable. Frozen sour cherries are in the freezer isle, but for the fresh version, you'll have to do some work to find them.
If you're in a region that grows them (USDA growing zones 4-8), you can plant some yourself, or keep an eye out at farmers markets. They grow well in cooler regions like the Pacific Northwest, Midwest, and Northeast. Unfortunately, you are unlikely to find them in the hotter Southern climates.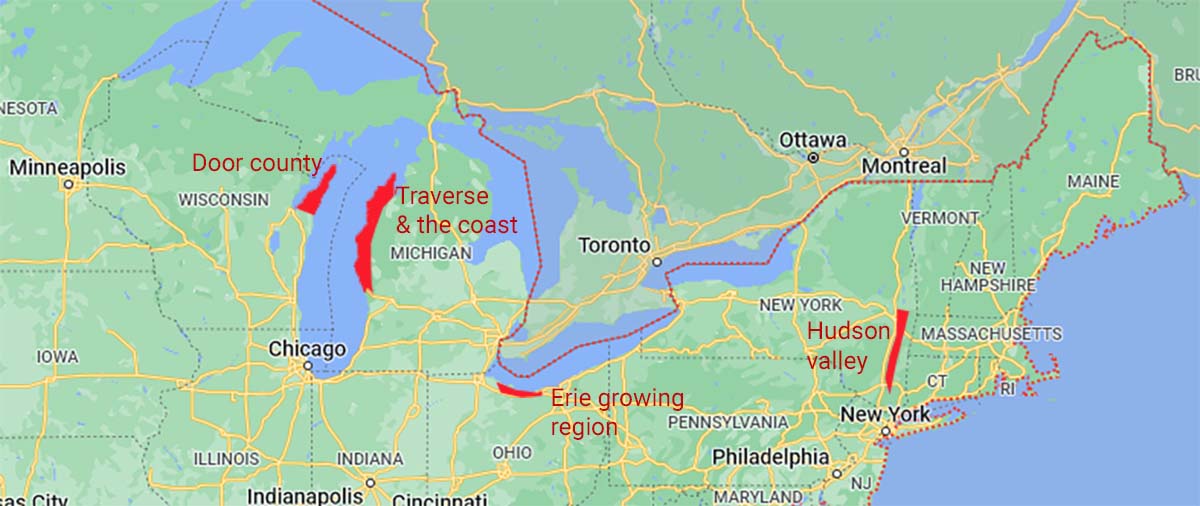 You'll have luck finding sour cherries in the following regions:
Traverse region of Michigan (and all along the lake): this famous sour cherry region has the fruit available from mid-July into early August. Farmers throughout the rest of the state also grow sour cherries (just not as famously!) If you're looking for a destination weekend, you can visit during the cherry festival in late June / early July.
Chicago: you will find Michigan's sour cherries at local farmers markets from mid-July to early August.
Wisconsin: Door County on the peninsula is another famous sour cherry region. They are ready a little later, from mid-to-late July into mid-August. The farmers make their way to Milwaukee's summer farmers markets. Madison farmers markets also have locally sources sour cherries.
Ohio: farms on Lake Erie are also known for growing sour cherries, which definitely make their way to Cleveland farmers markets.
Washington: sweet cherries are dominant in the Pacific Northwest, but some farmers do grow sour cherries. They are available starting in early June and end at the end of the month or the first week in July. You can find them in Seattle farmers markets, as well as other towns.
Oregon: another sweet cherry region, but you can still find sour cherries. Portland farmers markets have them from local growers (even located within the city itself!). They are available starting in early June and into early July.
California: it's very difficult to find sour cherries in this state, even in the Bay Area and Los Angeles. There are a handful of U-pick farms in Brentwood, but those can be picked over quickly.
Utah: most are grown in the Utah County foothills near Payson, south of Salt Lake City. They are available from mid-July into early August.
New York: Most of the sour cherries from this region are grown in the Hudson Valley. They make their way into New York City's farmers markets in early July and last only a few weeks.
New England: sour cherries are grown in most of the Northeastern US, including Massachusetts, Connecticut, New Hampshire, New York, and Vermont. Depending on the climate, they are available at the end of June or early July, into the end of July at the latest.
Selection & storage
Look for plump cherries, ideally with the stems attached (but that's rare). The top where the stem was quickly turns brown once picked. They are fine to eat that way, however.
Store in a single layer in the fridge, or in a wide, shallow dish. Since their flesh is softer, you want to treat them carefully so they don't bruise or squish each other under their own weight.
Varieties
There are two common types of sour cherries: Amarelle and Morello.
Amarelle cherries have bright red skin, translucent yellow flesh, and clear juice. They are on the smaller side and often more tart. The most widely available variety are Montmorency. Other varieties include Meteor and Early Richmond.
Morello cherries have darker red skin, red flesh, and red juice. They are larger than Amarelle, but smaller than sweet cherries. English Morello (often referred to as simply 'Morello') are the most common. Other varieties include Amarena, Marasca, North Star, and Balaton.
How to use sour cherries
Sour cherries are revered in the baking world because their tart flavor balances the sweetness of desserts and the fattiness of dairy. Recipes can be hard to find due to the fruit's challenging availability, so I've gathered a few recipes for you to try.
Cherries (both sweet and sour varieties) pair well with almonds and almond extract. The two are actually related (cousins).
Chocolate is another common pairing with cherries. Sour cherries provide sweet and tart flavors, and chocolate adds bitterness. It's a lovely combination.
Pies & tarts
Sour cherries are also called 'pie cherries' for a good reason: they make the best pies and tarts. After baking through 50 pounds of sour cherries this summer, I've learned a few things:
Cherries: Most pie recipes call for 6 cups of cherries, which is equivalent to about 2 pounds
Sugar: use about ⅓ to 1 cup of sugar per pie (which calls for about 6 cups of cherries).
Filling: I like recipes where the filling is pre-cooked to control the sugar and texture. I start with less sugar and add more as needed. I also can add more corn starch if the filling needs to be thicker (it won't thicken much more, if at all, when baked).
Pie top: if you use a crumble or any other sugary topping, use less sugar in the filling so the tartness still comes out.
Ice cream: if you plan to serve the pie with ice cream, I also suggest using the lower end of the sugar range in the filling (½ cup).
Cakes & muffins
Sweet cakes and muffins come alive when paired with tart cherries - giving that pop of bright acidity in the middle of all the sugar.
You can replace fresh cranberries with sour cherries in most baking recipes - they have a similar tartness while only being slightly larger.
Try this chocolate cherry muffin, or homemade black forest chocolate cake.
Jams
Sour cherries make an excellent jam as their tartness balances out the sweet flavor. It's especially great on a cheese & charcuterie board.
This sour cherry jam recipe from Practical Self Reliance provides thorough instructions and uses less sugar than most.
Maraschino cherries
Maraschino cherries made in Italy use the Marasca cherry, a dark red Morello variety known for it's tart, but also bitter flavor. But in the US, manufacturers use Queen Anne cherries (a sweet cherry that happens to be fairly tart).
You can make your own maraschino cherries with any sour cherry and get excellent results.
Cocktail cherries
Any sweet or sour cherry can make a great cocktail garnish, but one stands above the rest. Amarena cherries preserved in a simple syrup have a rich, sweet, and tart flavor. Their red color is so dark it's almost black.
Unfortunately, you won't be likely to find these cherries for sale fresh. You can grow your own, or use another variety with good results.
Try this brandied cocktail cherry recipe, which are tart, sweet, and just a little boozy.
More recipes
Sweet cherries are more widely available (and also delicious). I've put together a collection of 50 cherry recipes, from cheese plates & pies, to salads & steak.
You might also like: