Goodbye root vegetables, hello early spring fruits & vegetables! The very first of spring's produce shows up in April, like cherries, rhubarb, asparagus, and spring peas. Citrus season is coming to an end, so stock up on those last clementines while you can.
This seasonal guide is different than most you might come across. It shares the most important information for each fruit & vegetable that is currently in season:
How to pick & store each type of produce
Expected shelf life
Practical tips
Recipes that exclusively use seasonal ingredients from April
Cherries: first of the season
Cherry season starts in April and gets into full swing in May and June.
How to buy & store
Buy: Look for fruits with plump, shiny skins. If stems are attached, look for green ones, indicating freshness. Avoid shriveled skins, a sign they drying out.
Store: in a plastic bag in the fridge, unwashed
Shelf life: 1 week in the fridge
Difference between sweet and tart / sour cherries
Sweet cherries are great for eating fresh and include Bing and Ranier varieties. Sour (aka tart) cherries are more tart and actually don't ship very well. They are harder to find outside of farmers markets. A lot of recipes call for tart cherries in pies, but also require extra sugar to balance out the tartness. I make pies with sweet cherries all the time and they are wonderful.
Recipes
---
Strawberries: first of the season
Strawberries are available year round, but have so much more flavor when they are in season. Now that it is April, you can start keeping an eye out for them, and all throughout spring and summer.
How to buy & store
Buy bright red fruit with no white or green shoulders. Smell them, they should have a noticeable strawberry smell. (more on this later).
Store: place in a single-layer on a paper-towel lined plate or tray in the fridge.
Shelf life: 2-4 days
How farmers pick & ship strawberries
Strawberries are susceptible to rot since they sit on the dirt, as well as pests. To make sure they don't lose large portions of their crop from a rain, farmers might pick berries before they are fully ripe. When picked early, they are firmer and ship better too.
While strawberries don't get sweeter or more flavorful after they are picked, they do turn more red. This makes it hard to pick out good strawberries at the store (smelling them can help).
The best way to buy strawberries is from a u-pick, and the next best is from a local farmers market where you can taste a sample. Lucky for us, they grow well in most climates so you should be able to find a u-pick or farmers market with strawberries near you.
Recipes
---
Kiwi
How to buy & store
Buy ripe fruits if eating right away, which are slightly soft. Buy firmer ones to hold throughout the week – they will soften over time.
Store: in fridge when ripe or to keep longer. Leave on the counter to ripen.
Shelf life: 2-4 weeks in the fridge, several days on the counter.
Kiwi ripen after harvest
Unlike most fruit, kiwi continue to ripen after they are harvested (similar to bananas). Kiwi will get softer, sweeter, and more aromatic as they continue to ripen off the vine.
Kiwi are firmer when picked before fully ripening, which means they are durable enough to stand up to shipping long distances. This means when the US kiwi season is over in a few months, we can still get kiwi from New Zealand at a similar quality (their season is opposite of the US).
Recipes
---
Citrus fruit
Lemons and limes are available year-round at high quality, but other citrus come and go with the seasons. April is the last chance for several citrus, including kumquats, mandarins (clementines), and blood oranges. Grapefruit are also available this month and into summer.
How to buy & store
Buy citrus heavy for its size, a sign of high water content. The spot where the stem was should be soft and white (a sign it was recently picked)
Store on the counter if eating soon, otherwise the fridge.
Shelf-life: a few days on the counter, a few weeks in the fridge
Citrus varieties can get unique
Citrus fruit cross breed really easily, making a lot of interesting varieties. Sometimes they are a random surprise from nature, other times planned breeding from farmers.
Some new varieties are a simple improvement on an everyday fruit, like a variety of grapefruit that is sweeter than its predecessor. Other varieties are crosses between two different types of citrus, like a limequat which is a cross between a kumquat and a lime.
Want to know more about citrus varieties currently in season? Click on the fruit below for an in-depth guide.
Recipes
Rhubarb: first of the season
Rhubarb, a vegetable masquerading as a fruit with its tart-sweet flavor, is a spring seasonal favorite.
How to buy & store
Buy crisp stalks with ends that aren't dried out.
Store stalks in a plastic bag in the fridge, and cut off any leaves (which will draw moisture from the stalk).
Shelf life: 1-2 weeks in the fridge
Is red rhubarb sweeter?
Nope. The color is dependent on the variety and doesn't indicate sweetness or ripeness. While some red varieties are sweeter than green, not all of them are. Think of it like apples, with the vast amounts of green, blush, and red, they all have their own traits.
Recipes
---
Asparagus
How to buy & store
Buy asparagus with tightly closed buds. Thin spears are great for steaming and sauteeing, thick spears stand up to the high heat from roasting and grilling.
Store in the fridge in a glass of water, or in a plastic bag.
Shelf life: eat as soon as you can, as their flavor quickly deteriorates in storage.
Should you snap or cut the ends off?
A commonly shared 'trick' for removing the woody end of asparagus spears is to bend them until the end snaps off. The idea is it will naturally break where the spear starts to get fibrous.
Numerous organizations have tested this trick and sadly found it to be false. It is better to just cut the ends off and waste less. Oregon Live has a full article about not snapping the ends off.
Recipes
---
Artichokes
Artichokes are a labor intensive vegetable but are worth it when in-season.
How to buy & store
Buy artichokes with tight, compact leaves that squeek when squeezed (a sign of high water content).
Store wrapped in a paper towel to absorb any moisture (which will quickly cause them to deteriorate), then place in an airtight container in the fridge.
Shelf life: up to a week in the fridge
The problem with the choke
The choke is at the center of the artichoke and eventually opens up into a giant flower if left on the plant. It isn't poisonous, but it isn't pleasant to eat either. It's stringy and feels like you are chewing on horse hair. It can also tickle or get caught in your throat.
---
Spring peas: first of the season
Peas love the cool spring weather before it gets too hot in summer, making April the start of their season. This includes snap peas, snow peas, and shelling peas.
How to buy & store
Buy peas with plump pods, wrinkling is a sign of them drying out. White scars are ok and not an indication of quality.
Store in plastic bag in your fridge.
Shelf life: a few days to a week in the fridge
What are the types of peas, and how to they differ?
There are three main types of peas: shelling peas, snap peas, and snow peas.
Shelling peas have to be removed from their pod, as the pod is not edible. You can sometimes find them pre-shelled and labeled as english peas.
Snap peas and snow peas have edible pods. Snap peas are harvested when the peas are fully formed and the pod has a lovely sweet flavor. In contrast, snow peas are picked when the peas have barely formed, when the pod is still tender and edible.
---
Celery root (celeriac)
A flavor profile that's part potato and part celery, try using this root vegetable raw in a salad this month, for something new.
How to buy & store
Buy celeriac that's heavy for its size, a sign it hasn't dried out. Smaller ones often have more flavor.
Store in the crisper draw of your fridge
Shelf life: 1+ weeks
What's healthier: celery root or potatoes?
It depends on what is most important to you. While celery roots contain half the carbs as potatoes (14 vs 26g per serving), they are high in sodium (160mg vs 5mg). The American Heart Association suggests an ideal sodium limit of 1,500mg per day.
Recipes
---
Sweet onions
While regular onions can be found all year, sweet onions are only in season in spring and summer.
How to buy & store
Buy onions with no soft spots or mildew under the top outer skin.
Store on counter in a dark place
Shelf life: 2 weeks (they don't last as long as regular onions)
Sweet onion varieties
All sweet onions are pretty similar in flavor and the most widely available varieties are Vidalia (from Georgia), Maui (from Hawaii), and Walla Walla (from Washington).
Vidalia and Maui onion seasons start in April, although Maui onions can sometimes be found all year if they are imported into your area. Walla Walla onions won't start showing up until June.
---
Edible spring flowers
Pansies, chives, and nasturtium all start to flower in April, or possibly in May, depending on your growing climate.
How to use
The whole flower can be eaten for pansies, chives, and nasturtium (compared to some flowers which only have edible petals).
Wash in a colander or salad spinner and be gentle.
What do the flowers taste like?
The pansy petals have a mild 'grassy' taste, and eating the whole flower will make that flavor stronger. Nasturtium flowers and leaves are edible and both are peppery (like arugula). Chive blossoms taste like the rest of the plant: oniony.
Recipes
---
April produce chart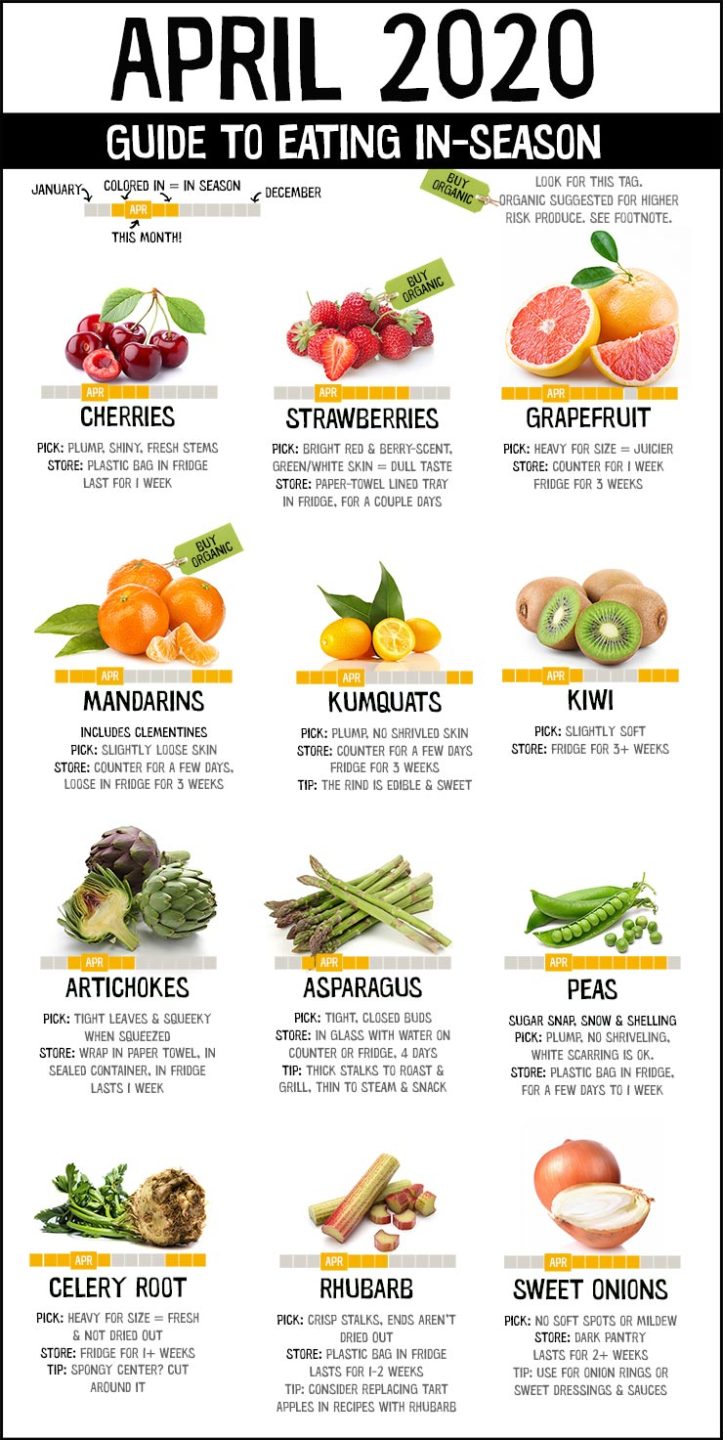 What's available year-round?
Fruits: Avocados, lemons & Limes
Vegetables: Beets, broccoli, cabbage, carrots, cauliflower, fennel, garlic, herbs, mushrooms, onion-family, potatoes, radishes, sweet potatoes, turnips, salad greens and herbs.
What's in season for May?
Check out the seasonal produce guide for May to see what's coming up soon.
Let's hear from you
What fruits and veggies are you most excited to use this month? Do you have any questions about the produce currently in season? Leave a comment or question below.