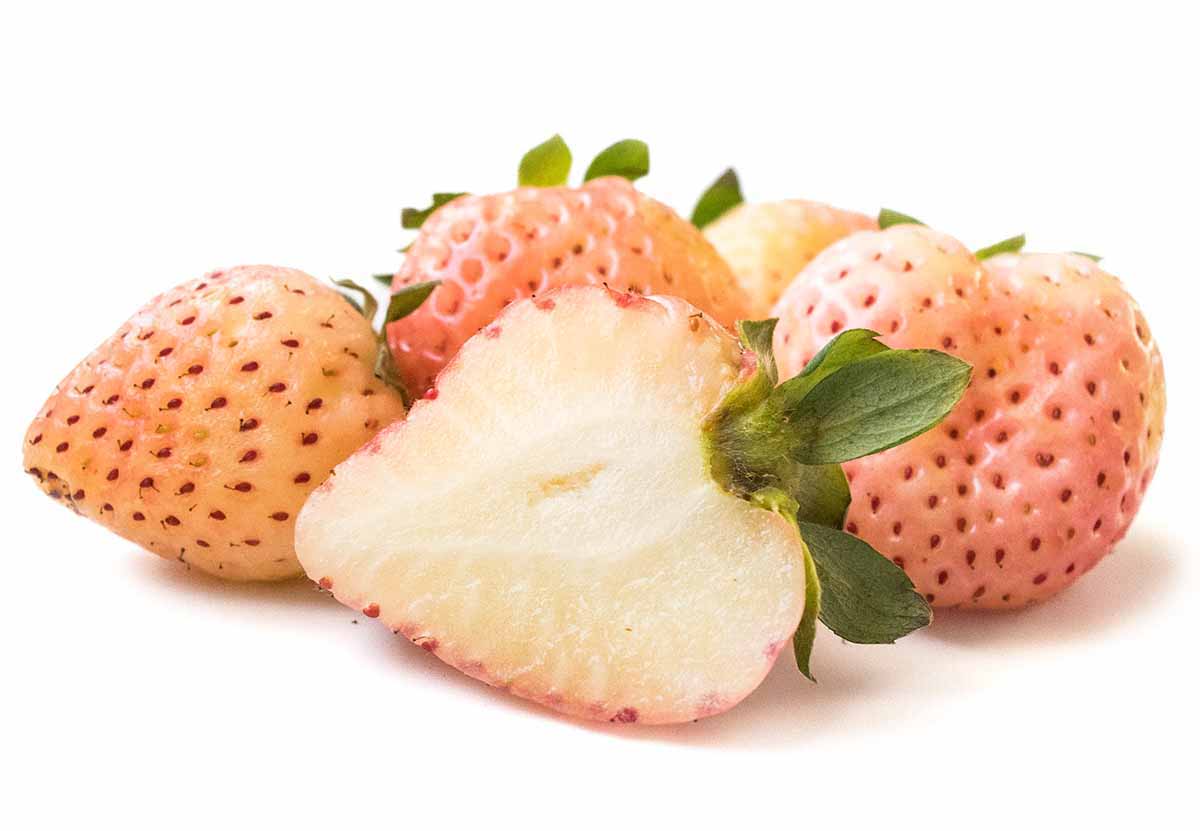 Jump to:
What are pineberries?
Pineberries are a type of strawberry. They are a cross between Fragaria chiloensis (a variety from Chile, also known as coastal strawberry) and Fragaria virginiana (from North America, also known as wild strawberry). They were developed through natural breeding techniques and are not GMO (genetically modified).
In fact, the common garden strawberries we buy from the store or plant at home are also a cross between those same two strawberries. The pineberry was bred for the white and blush coloring, while our standard strawberries were bred for size and deep red color.
Pineberries are white on the outside (sometimes with blush coloring), with red seeds and white interiors. They are larger than wild strawberries, but smaller than the giant ones found at grocery stories.
Pineberries are named for their flavor, which can have hints of pineapple. They are not a cross between strawberries and pineapples, a claim I've seen floating around on the internet.
What do they taste like?
Pineberries taste like strawberries with hints of pineapple, pear, and apricot. Those subtle flavors aren't always present, as several that I've tried taste just like 'regular' strawberries.
When in-season, they are juicy, sweet, and slightly acidic. However, they are less acidic than regular strawberries, which many people prefer as they don't like that slightly sour flavor. Their subtle flavors also come out more when they are room temperature, as opposed to cold straight from the fridge.
The texture of a pineberry is just slightly softer than the larger (and unripe!) supermarket strawberries you find. They are still firm, just not at all crisp or crunchy.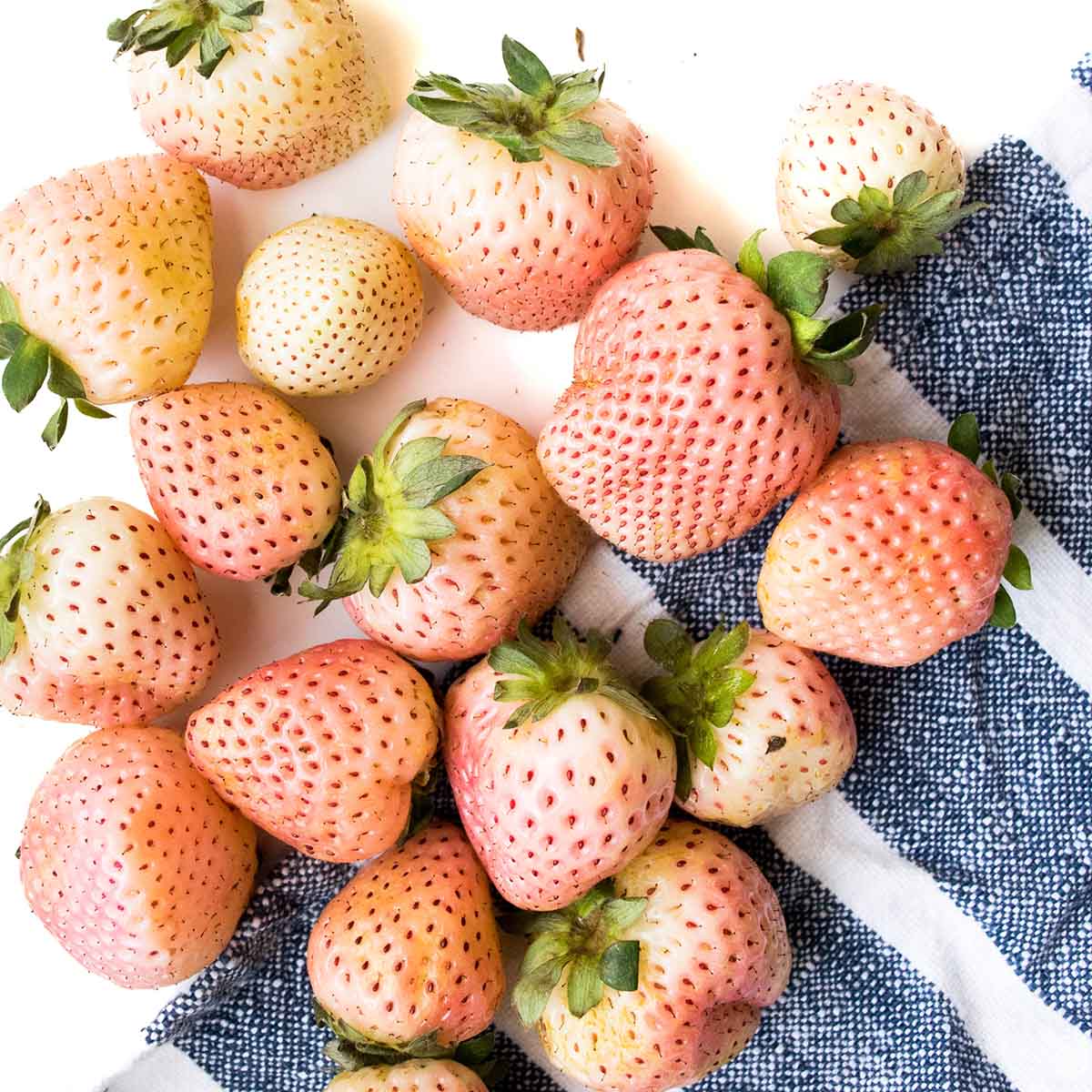 When are they in season?
Pineberry season overlaps with the rest of strawberry season. You might find them locally grown between April and September (depending on your climate). Otherwise, they are shipped in from national growers.
Are pineberries rare or hard to find?
You can grow pineberries at home (from plants, as the seeds aren't reliable reproducers of the white / pink strawberries). They can be grown throughout most of the US so you might see some at farmers markets.
In addition to local options, Pink-a-boo pineberries by Wish Farms were introduced nationwide late in 2021. They are grown in Florida for winter shipping and California for spring through fall. They can be found in most grocery stores, including Trader Joe's, Jewel, Safeway, Aldi, and Walmart.
Just like other strawberries, pineberries do not ripen after harvest. For the best flavor, you'll want to seek them out at a farmers market, where there is a better chance they were picked ripe. Or try growing them in your garden, they are hardy down to zone 4.
Selection & storage
The berries should be firm with no signs of mold or deterioration. Look for bright red seeds, a sign they weren't picked extremely early. The most reliable method is to give them a good sniff - they should smell fragrant.
Store them in the fridge, in a single layer so they don't squish each other. They should last a few days there. They likely won't store as long as regular strawberries purchased from the grocery store, as those have been bred specifically for long shelf life.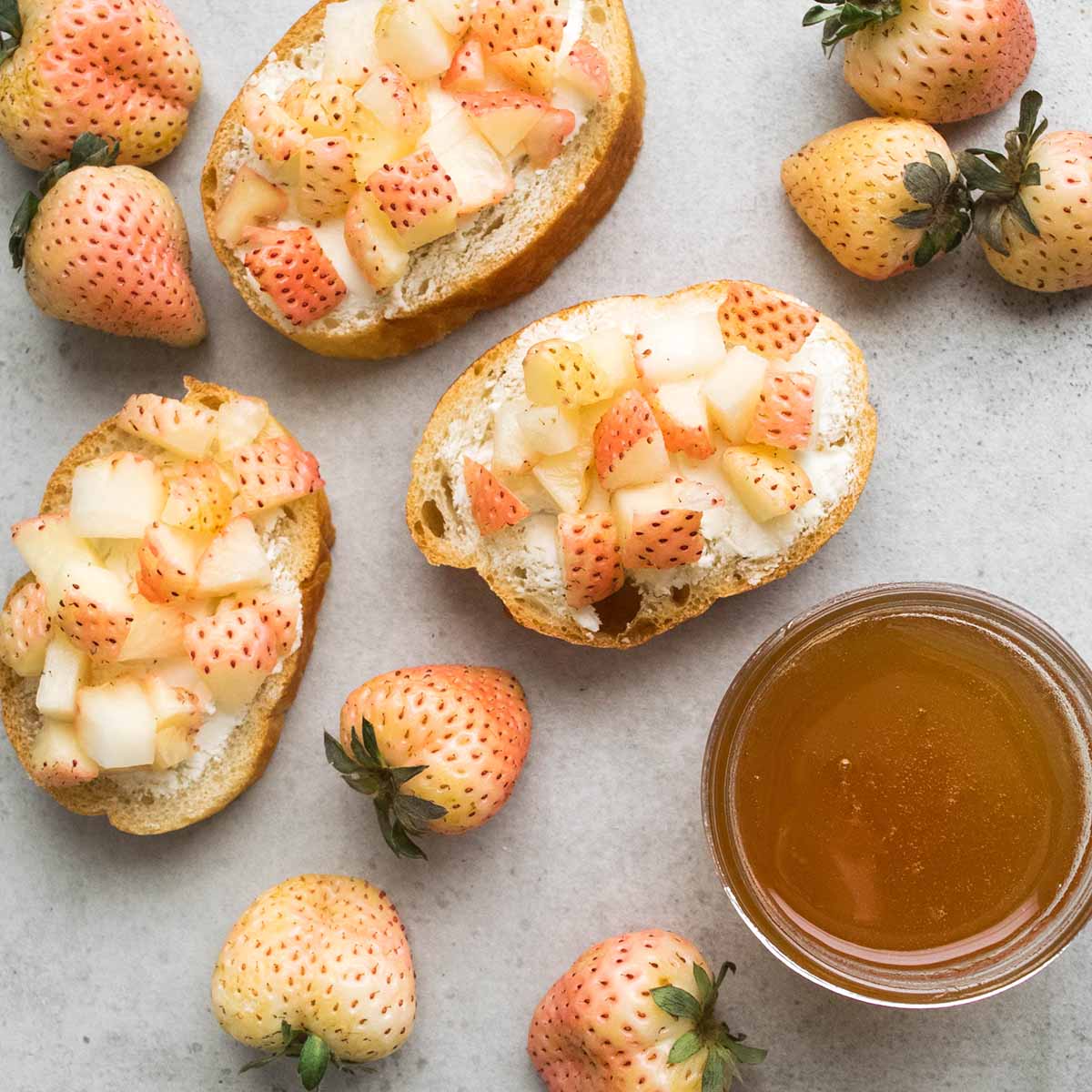 How to use pineberries
Use pineberries in any recipe that calls for strawberries as the flavor is nearly identical (they have less variation in flavor than types of tomatoes).
Substituting pineberries for strawberries
While their flavor is the same, the only difference worth noting when making a substitution is the color.
The white and/or blush color can be used for a showstopping display on appetizers, in salads, a charcuterie board, or set on the rim of a cocktail.
However, their color can be a disadvantage when you're expecting something red, especially since the color can turn a bit off white and unappealing. For example, jams, syrups, and pies made exclusively with pineberries will be an unappetizing color. You can remedy that by mixing in other red produce (plums or beet juice).
Other seasonal resources