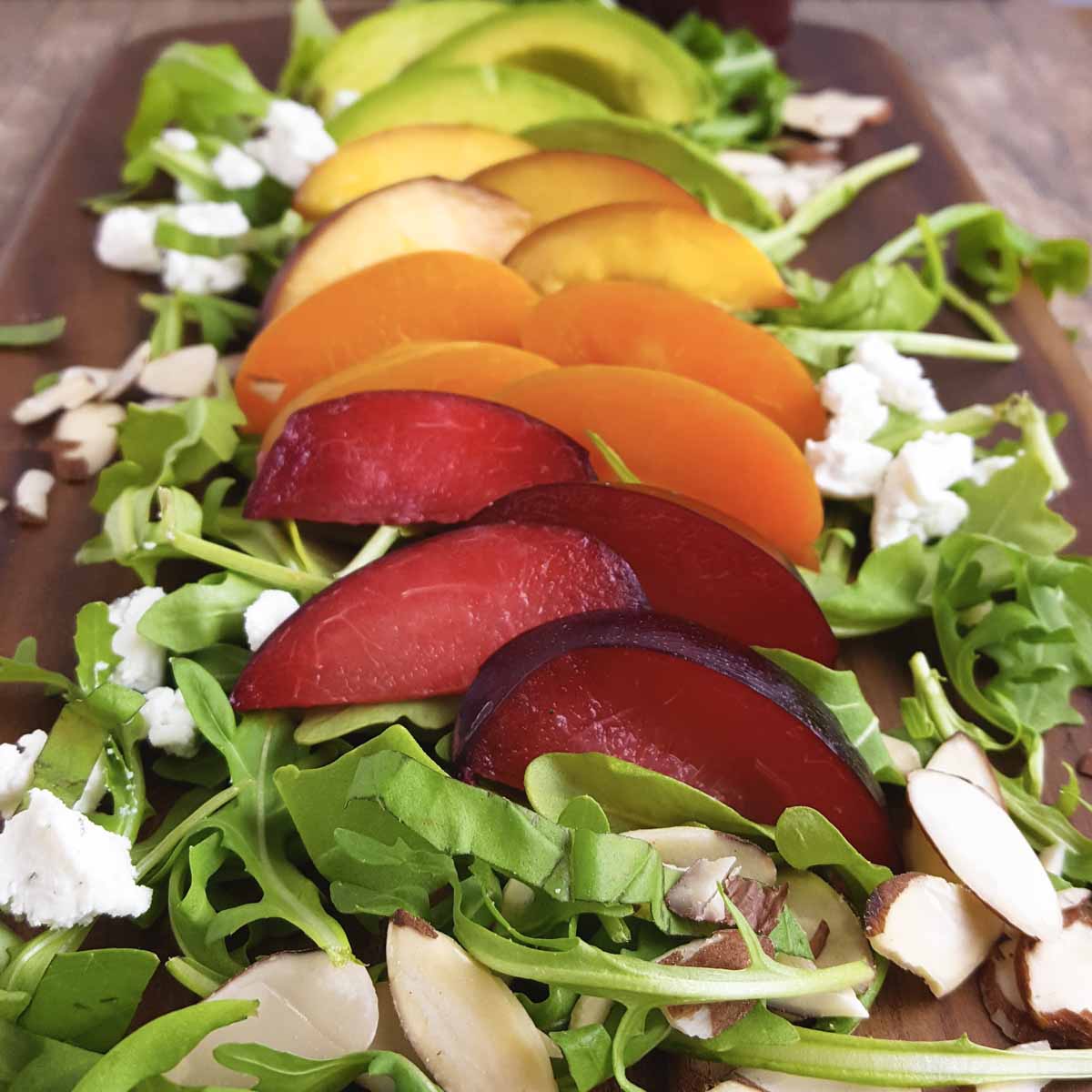 If you find yourself wanting to buy 'one of everything' at the farmers market, this salad is a delightful way to put those peaches and plums to use. It pairs well with grilled meats, especially pork.
For some pro tips on picking out the best fruit, check out the farmers' market guides on peaches, plums, apricots, nectarines, and blackberries.

Recipe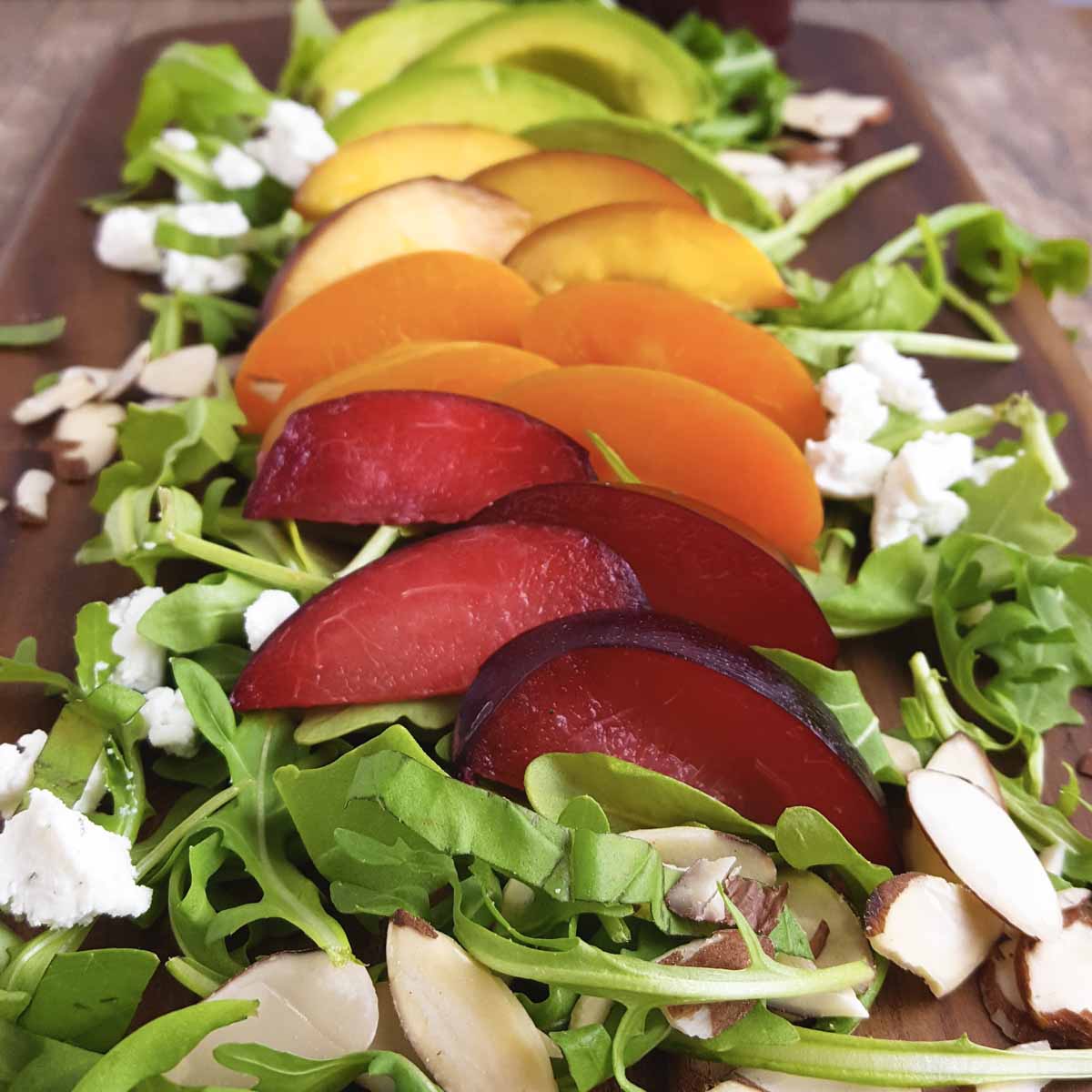 Ingredients
DRESSING
8

oz

blackberries

1 basket

2

teaspoon

honey

1

Tbs

champagne or white wine vinegar

¼

cup

chopped basil leaves*

2

Tbs

olive oil
SALAD
2

peaches or nectarines

1

plum or pluot

1

apricot

1

avocado

10

oz

arugula

4

oz

herb goat cheese*

2

oz

almonds
Instructions
TOAST THE ALMONDS - SET A TIMER
Why toasting matters: toasting turns a bland nut into a much tastier version (something heat does to a lot of foods).

Heat a pan over medium heat, add the almonds (no oil). Toast until golden brown, anywhere from 5-10 minutes. Set a timer to check at 5 minutes, and every 1 minute after, they can burn fast.
MAKE THE DRESSING
Add blackberries to blender and puree (do not add basil leaves yet). Run puree through a fine mesh sieve to remove seeds.

Combine blackberry puree with the honey, vinegar and basil. Then slowly add in half of the olive oil, whisking to combine. Taste. Add more oil if you desire - NOTE that too much oil dramatically reduces the blackberry flavor, which is why I kept it as low as possible.
MAKE THE SALAD
Cut the stone fruit and avocado into slices (or chop them).

Place arugula on each plate and top with fruit and avocado. Crumble goat cheese on top. Add toasted almonds. Drizzle with dressing. Serve!
Notes
Can replace basil with mint.
Any crumbly goat cheese will work, or replace with feta or fresh mozzarella.
Nutrition
Nutrition Facts
Stone Fruit Salad with Blackberry Basil Dressing
Amount per Serving
% Daily Value*
* Percent Daily Values are based on a 2000 calorie diet.
Recipe Notes
Choosing & storing peaches, plums, nectarines, and apricots - These fruit don't transport well, so big grocery stores tend to get them underripe, losing a lot of flavor. For this salad, it's worth seeking out the best ones you can find, so stop by a farmers market and smell every piece of fruit. It should have a great flowery or peachy aroma. Store at room temperature, stem end down (they bruise easy, so be careful when bringing them home). Once fully ripe, refrigerate for 1-3 days until ready to use (though I try to use them the day I buy them).
No need to peel the fruit - wash the fruit (be gentle), but all of the skins are edible and add to the flavor. If you don't like the fuzzy skin on peaches you can peel them or buy nectarines (which are actually just fuzzless peaches).
Cutting avocados - if you're like me, you've watched a pro behind a specialty sandwich shop scoop the flesh out of an avocado and smartly try to mimic that at home. It works well enough. However, I've learned the easier way to do it is cut the avocado in quarters, then just peel the skin right off!
To make this a stand-alone meal, you could add a little bit of quinoa for more substance and protein. You could also serve it with pork tenderloin or ham. If you serve it with meat, consider making extra dressing to pour onto the meat as well.
You might also like:
This grilled nectarine & prosciutto salad from The Food Union is another great option. Stone fruits that are slightly underripe work better on the grill - their firmer flesh holds up better and don't drip juice all over.
You can also take inspiration from the recipe and add prosciutto to my recipe (I've done it, and of course it's excellent). Doing so will add 50-100 calories and salty richness, so you might want to cut back on the goat cheese. Also, if you add prosciutto and want to pair with wine, the bubbles in sparkling wine work to balance fat and salt. (Try a sparkling Rose).