Winter stews are delicious, but can get heavy and repetitive. This chicken stew relies on pantry staples, and the couscous gets brightened up with juice and zest from fresh oranges.
The sweet flavor of the couscous from the oranges and raisins is balanced by the saltiness of olives. Layering these flavors creates a complex stew right from your pantry.
After the recipe, you'll find tips and substitutions. For example, if you don't have chicken around or are vegetarian, you can replace it with another can of chickpeas.
Recipe
Ingredients
Stew
2

Tbs

olive oil

1

medium onion

chopped

2

cloves

garlic

minced

2

teaspoon

dried oregano

1 28-

ounce

can crushed tomatoes

1 15-

ounce

can chickpeas

1

cup

chicken broth

2

bay leaves

½-3/4

lb

cooked

shredded chicken*

½

cup

chopped kalamata olives

Salt & pepper to taste
Couscous
¼

cup

low sodium chicken broth**

Juice from 2 oranges

about 1 cup

Zest from 2 oranges

1

Tbs

olive oil

½

teaspoon

salt

¾

cup

dry couscous

½

cup

raisins

2

teaspoon

ground cinnamon
Instructions
PREP WORK
Chop the onions, mince the garlic, and shred the chicken. Zest the oranges, then squeeze juice from them into a liquid measuring cup. If you have more or less than 1 cup, that is fine. Chop the olives.
MAKE THE STEW
Heat olive oil in a dutch oven or large soup pot. Add the onions and cook until soft (7-10 minutes). Add garlic and oregano and cook for 1-2 minutes until fragrant.

Add crushed tomatoes, chickpeas, broth, bay leaves, a tiny bit of salt and pepper. Bring to a boil and then simmer for 15 minutes. While this simmers, make the couscous.
MAKE THE COUSCOUS
Bring the olive oil, 1.25 cups of liquid (a combo of orange juice and chicken broth), zest and salt to a boil.

Add cinnamon to liquid and stir it in. Then add couscous and raisins. Stir, remove from heat and let the couscous absorb the liquid for 5 minutes.
TEST STEW & SIMMER 5 MORE MIN
Taste for seasonings, adjust as needed. Test chickpeas and continue to cook until they are to your desired softness. This might take another 5-10 minutes.

When chickpeas are ready, or almost ready, add in chicken and olives. Simmer until they are warm.
COMBINE & SERVE
Place some couscous in a bowl. Add stew. Add more olives and raisins if you want 🙂
Notes
* I use leftover rotisserie chicken, about 2.5 ounces a person.
** Juice the oranges, and then add chicken broth to end up with a total of 1.25 cups of liquid for the couscous.
Nutrition
Nutrition Facts
Moroccan chicken stew with orange-cinnamon couscous, olives, and raisins
Amount per Serving
% Daily Value*
* Percent Daily Values are based on a 2000 calorie diet.
Extra nutritional info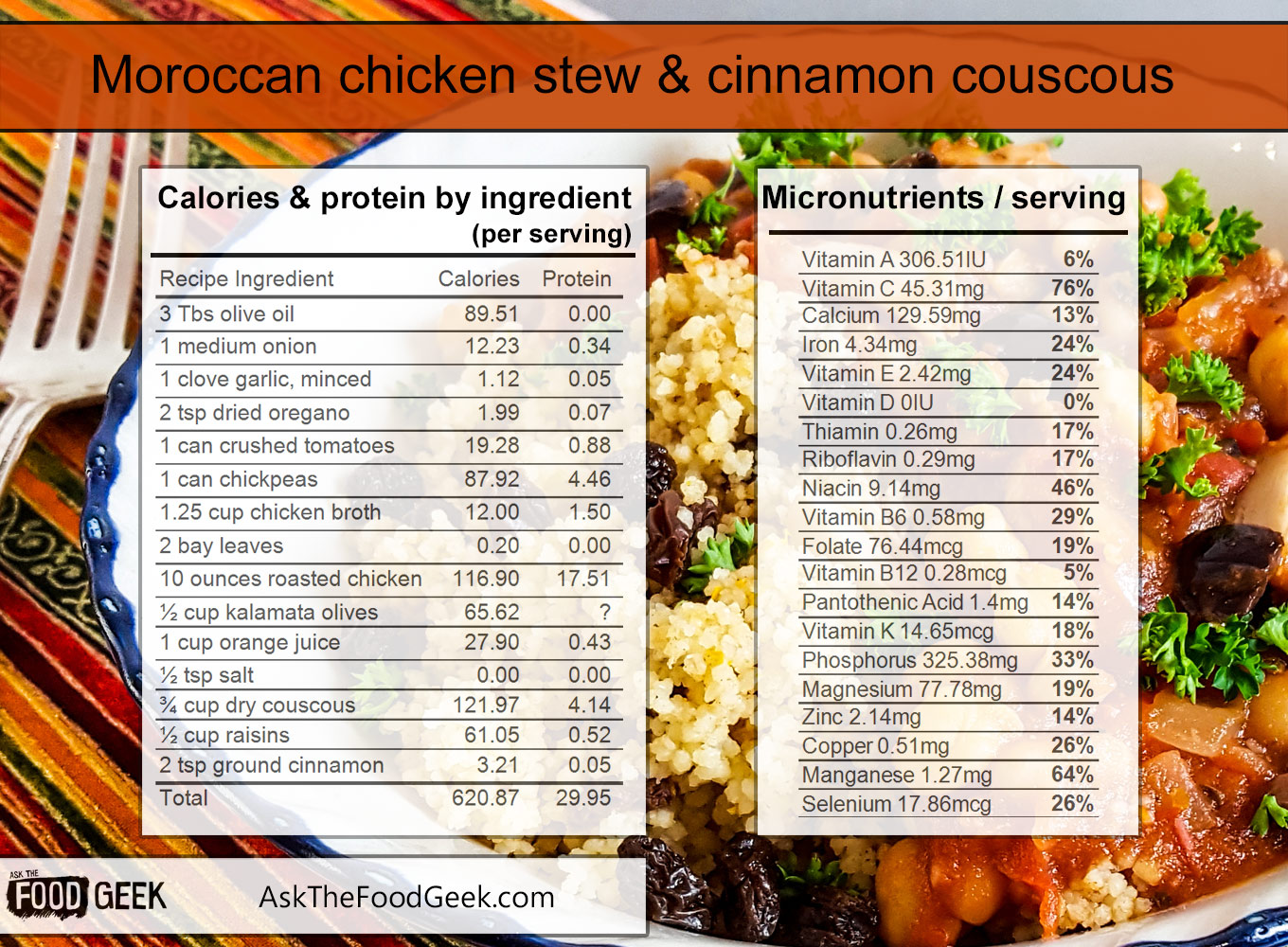 67% of your daily recommended protein is covered in this recipe. 2.5 ounces of chicken per serving gives 17 grams, the chickpeas and couscous add about another 4g each.
Sodium levels are a bit high in this recipe. The big contributors are canned chickpeas (use dried ones and soak overnight + precook to keep them low in salt). The olives are also high in sodium.
There is zero added sugar in this recipe.
Ingredient notes & substitutions
Chicken: you can use part of a rotisserie chicken, leftover chicken from another dinner, frozen chicken, or replace it entirely with another can of chickpeas.
Chickpeas: white beans would be a decent substitution if you don't have chickpeas on hand. You can also use dried beans, but fully cook them before adding to the stew, as they won't have time to soften otherwise.
Uncooked couscous will increase in volume by 2.5-3x when cooked. So ¾ of a cup uncooked will turn out to be about 2 cups cooked.
Substituting couscous: quinoa would also work, as would most grains. The flavor will be different, but it's good to use what you have on hand. Follow the directions on the package to know how much liquid you should use.
Oranges will last a week on the counter or a couple of weeks in the fridge. So you can easily buy ingredients for this ahead of time and make it at the end of the week or even the following week.
Olives: save time and buy pitted olives.
Herbs: while fresh herbs are delicious, you can substitute dried herbs if that is what you have on hand.
More recipes & resources
Looking for other recipes to cook up over winter? Check out some of my own recipes or collections based on seasonal produce.