This is the simplest and fastest pizza dough recipe, hands down. It consistently turns out great and is fairly forgiving, making it perfect for beginners.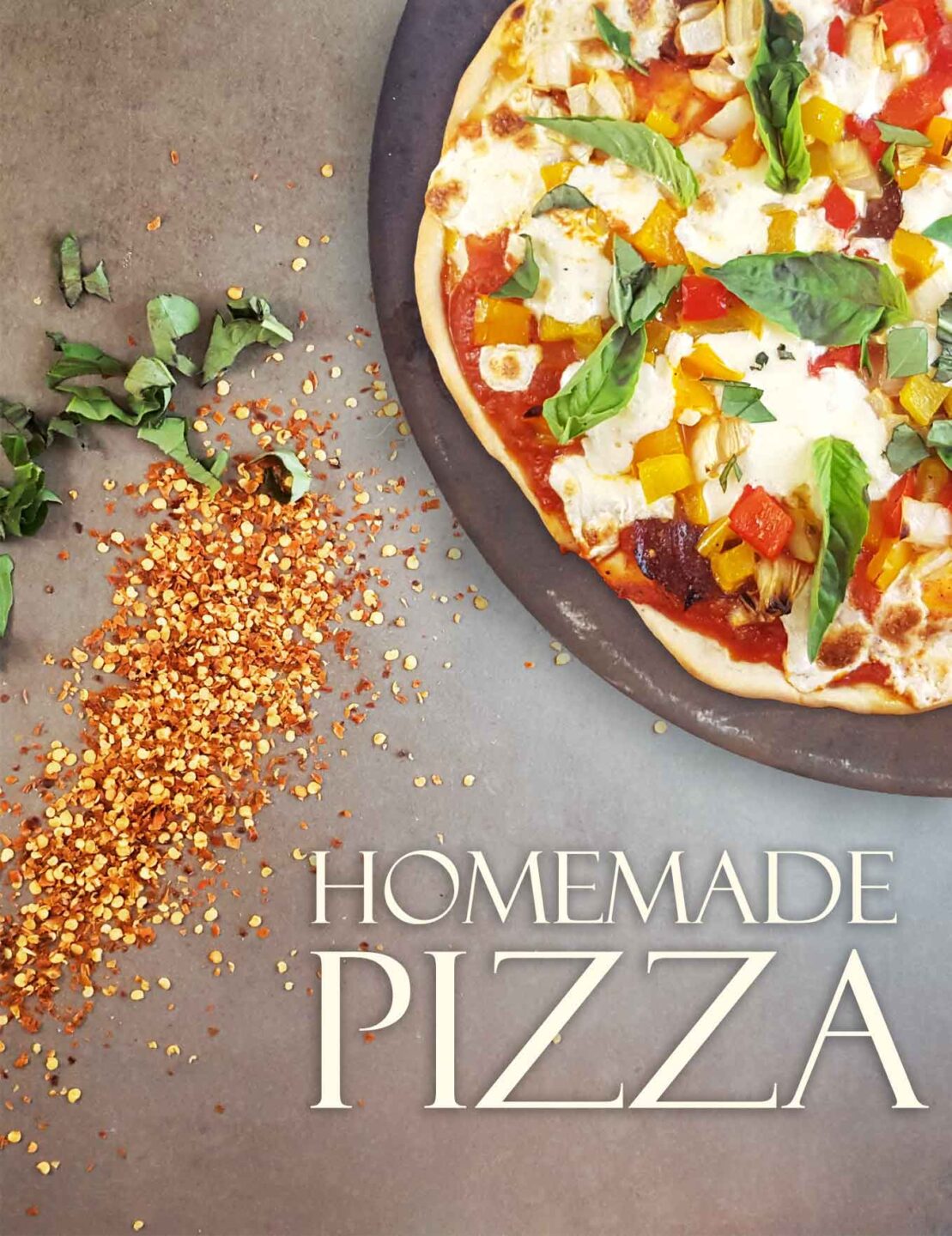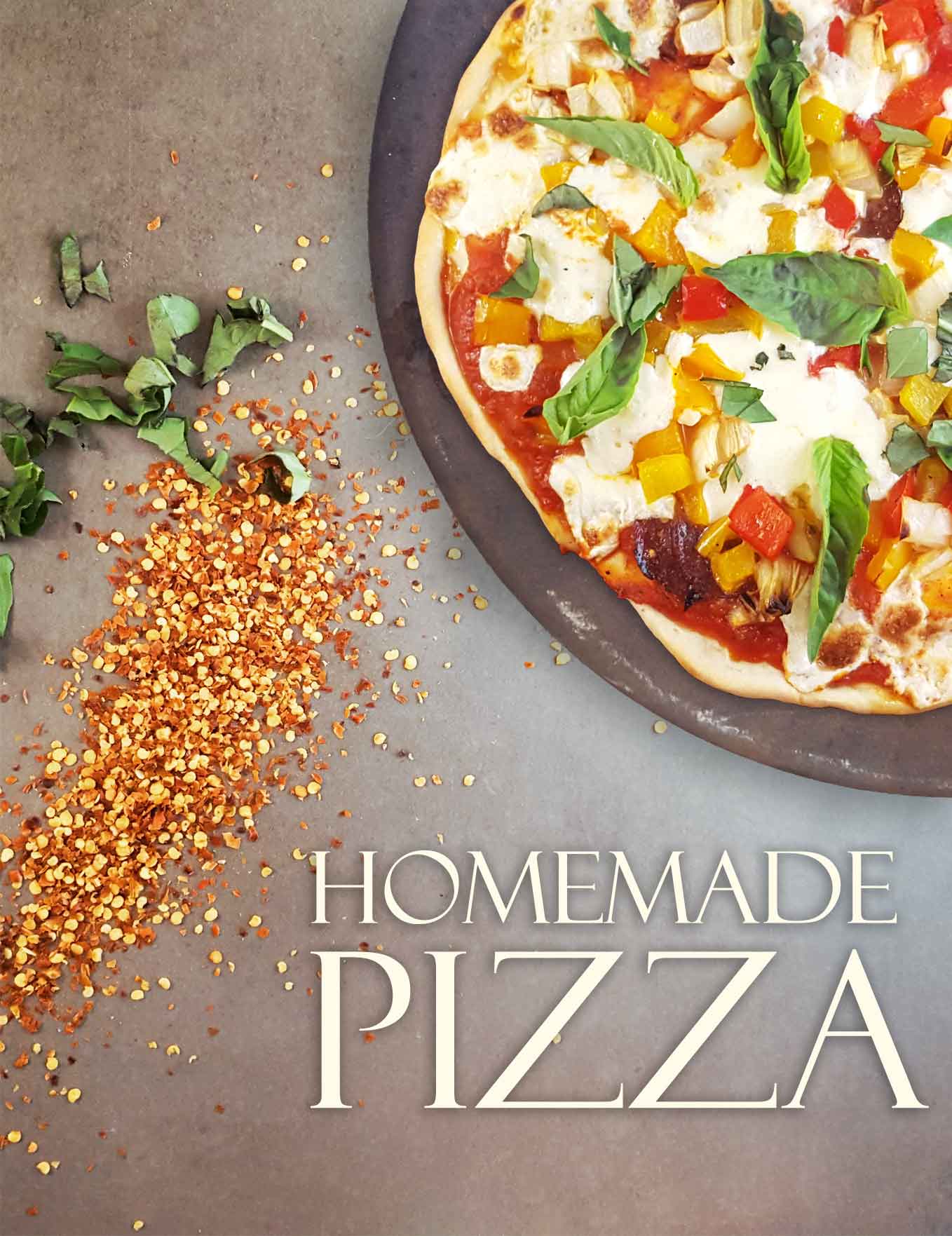 Dear Food Geek, I don't know how to make pizza dough. I want to start making pizza on Friday nights and would love some help.
I have the perfect no-rise, fast and easy pizza dough recipe for you. I'm not just saying this is easy to get your attention – as you know I like to be totally up front and honest. So here's what this recipe is, and isn't:
It IS a crisp, sturdy crust. It is NOT cracker thin, however.
It doesn't require a stand mixer, and it doesn't require a ton of hassle to mix the dough by hand, either.
It requires 5-10 minutes to 'rest' so it becomes pliable enough to stretch it.
It doesn't require rising time (just the rest time).
I also have a few tips on stocking your fridge, freezer, and pantry ahead of time so you don't have to run to the store (or have a quick meal if friends, or your kids' friends stop by):
Pre-cooked sausage and pepperoni store for months in your fridge
Cheese also stores for a long time, so keep extra around for pizza nights
Jarred roasted red peppers, pepperocini peppers, and olives make great toppings
Onions keep well for a long time
Frozen peppers and vegetables work, however, I suggest giving them a quick saute before putting them on the pizza to release some of their water
Keep jarred pizza sauce in the pantry, but you can use marinara sauce or tomato paste & tomato sauce if that's all you have on hand.
If you plan on Sunday for your Friday pizza, you can also get some hardier fresh vegetables that will last for a week or more in your fridge. Bell peppers, mushrooms, asparagus, just to name a few.
Everyone also gets to make their own personal pizza. The dough, sauce and cheese add up to 560 calories… for the entire 8-10″ pizza.
Below the recipe I shared some videos on how to knead dough and also how to stretch dough.
Homemade Pizza Dough – Ready in 15 minutes
Homemade dough that's ready in 15 minutes, no need to let it rise.
Print
Pin
Rate
Servings:
2
8-inch pizzas
Ingredients
Dough
3/4

cup

lukewarm water

110 degrees F

1

tsp

rapid rise yeast

*see note

2

cups

all-purpose flour

10 ounces

1.5

tsp

salt
Toppings
1/2

cup

mozzarella cheese

1/3

cup

pizza sauce

Your favorite toppings (nutrition info includes 1/2 lb of sausage)
Instructions
Preheat oven to 500 degrees
If you have a baking stone (highly recommended), preheat it in the oven now.
Make the dough
Put warm water in a large bowl and add yeast. Stir to dissolve.

Add flour and salt to the bowl and mix to form a shaggy dough.

Move the dough to a clean work surface. Knead until the dough is smooth and elastic, about 5 minutes. It gets less sticky as your work with it, and will still feel slightly tacky when done. But if it sticks like bubble gum, add flour 1 tablespoon at a time.

Set dough aside and prep pizza toppings.
Roll dough & make pizzas
Grab 2 pieces of parchment paper. Divide the dough in half. Stretch or roll each half into 8-10″ circles, on the parchment paper (I prefer using a rolling pin). If it resists stretching or shrinks back, let it rest for 5 more minutes.

Cover in sauce, add toppings.
Bake
Slide pizza onto baking stone while still on the parchment paper.

Rotate pizza after 5 minutes and remove parchment paper* (see note).

Bake for another 3-5 minutes until the crust is browned and the cheese looks perfect.
Notes
Yeast: I've used active dry and rapid rise and don't notice a difference in this recipe. 
Parchment paper: remove it when the recipe says or it might burn and crumble because the pizza stone and oven are so hot. 
Nutrition
Calories:
645
kcal
|
Carbohydrates:
98
g
|
Protein:
23
g
|
Fat:
16
g
|
Saturated Fat:
7
g
|
Cholesterol:
43
mg
|
Sodium:
2340
mg
|
Potassium:
361
mg
|
Fiber:
3
g
|
Sugar:
2
g
|
Vitamin A:
365
IU
|
Vitamin C:
3.4
mg
|
Calcium:
171
mg
|
Iron:
6.7
mg
Pizza recipe tips
How to knead dough – King Arthur Flour shows us the basics

How to stretch pizza dough – this video on the Mario Batali Youtube channel demonstrates an easy way to do it – without tossing it in the air or getting fancy. A pro tip: if the dough isn't stretching – either it's too resistant, or it shrinks all the way back to where you started, let it sit for 5 more minutes. It becomes more pliable with time.

Other tips:
Yeast: honestly, I have used rapid rise and active dry in this recipe and haven't noticed a real difference. I'm sure it has an effect on a lot of different baked goods, so don't take this as general advice that yeast is always interchangeable. What's the difference between so many types of yeast? King Arhtur Flour has a great blog post on it. And as a bonus, if you can find Fleischman's Pizza Crust yeast, give it a try. They claim to have other ingredients in it that make pizza dough easier to stretch and roll out.
Pizza stone: They retain heat well and make for a crispier crust. If you like making pizza it's worth buying one. They are just ceramic disks, so you don't need to buy an expensive one.
Parchment paper: This makes it easy to move the pizza around without needing a pizza peel – I find them too large to store and not necessary – you could also use a no-rimmed baking sheet instead of a peel. But this is important — Remove the parchment paper part way through cooking, as instructed. The heat of the pizza stone and oven can make it burn and crumble, and you don't want that on your pizza! (I've tried leaving it in, this is how I know!)