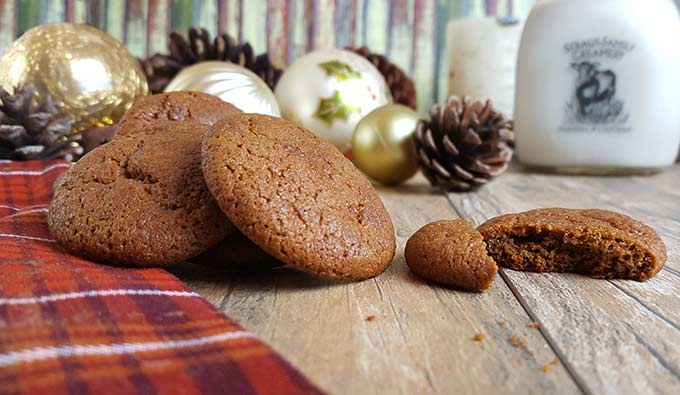 These gingersnaps have as much ginger as they do snap - which is a lot of both. And I love them because of it.
This recipe was engineered to be ultra snappy and delightfully spicy by Cook's Illustrated. Creating a crisp cookie required a reduction in moisture, which they approach for nearly every possible angle.
First, the butter is browned, cooking off some of the water content. The amount of sugar is reduced (which holds water) and extra baking soda is added which forms more cracks (letting moisture escape). And lastly, they lowered the oven temperature so the cookies would bake longer, and have more time to dry out.
These gingersnaps don't play around with their flavor either. They have twice the amount of dried ginger as most recipes (in addition to fresh ginger). Why not keep it going and add in some black pepper and cayenne as well.
Recipe
Ingredients
2 ½

cups

all-purpose flour

12 ½ ounces

2

teaspoon

baking soda

½

teaspoon

salt

12

tablespoon

unsalted butter

2

tablespoon

ground ginger

1

teaspoon

ground cinnamon

¼

teaspoon

ground cloves

¼

teaspoon

pepper

pinch cayenne

1 ¼

cups

packed dark brown sugar

8 ¾ ounces

¼

cup

molasses

2

tablespoon

finely grated fresh ginger

1

large egg plus 1 large yolk

½

cup

granulated sugar

3 ½ ounces
Instructions
PREP:

Whisk flour, baking soda, and salt together in bowl. Set aside.

Grate fresh ginger.
MELT BUTTER, ADD SUGAR
Heat butter in 10-inch skillet over medium heat until melted. Lower heat to medium-low and continue to cook, swirling pan frequently, until foaming slows and butter is just beginning to brown, 2 to 4 minutes.

Transfer butter to large bowl and whisk in ground ginger, cinnamon, cloves, pepper, and cayenne. Let cool for a few minutes.

Add brown sugar, molasses, and fresh ginger to butter mixture and whisk to combine.

Add egg and extra yolk and whisk to combine.
COMBINE FLOUR MIXTURE, CHILL FOR 1 HOUR
Add the flour mixture into the butter mixture and stir until just combined. Cover dough with plastic wrap and refrigerate until firm, about 1 hour.
BAKE
Position oven racks to upper-middle and lower-middle spots and preheat oven to 300 degrees.

Line 2 baking sheets with parchment paper.

Place granulated sugar on a cutting board or plate. Divide dough into heaping teaspoon portions and roll dough into balls. Roll balls in sugar to coat. Place balls on prepared baking sheets, 20 dough balls per sheet.

Place 1 sheet on upper rack and bake for 15 minutes. After 15 minutes, transfer top sheet to lower rack, rotating 180 degrees, and place second sheet of dough balls on upper rack. Continue to bake until cookies on lower tray just begin to darken around edges, 10 to 12 minutes longer. Remove lower sheet of cookies and shift upper sheet to lower rack and continue to bake until cookies begin to darken around edges, 15 to 17 minutes. Slide baked cookies, still on parchment, to wire rack and cool completely before serving. Cool baking sheets slightly and repeat step 2 with remaining dough balls.
Recipe notes
Storage: The gingersnaps can be stored in an airtight container for about 2 weeks. However, I've found that they are best the day you make them, otherwise they start to absorb some moisture from the air and lose a little bit of the snap. They are still delicious, but not as snappy!
Make ahead: the dough can sit in the fridge for 2 days or you can freeze pre-rolled balls for several months. If frozen, thaw overnight before baking. This is a great way to know you can pop some fresh cookies in the oven when holiday guests drop by or when you stop over at a neighbor's.
Grating ginger: I use my zester (microplane) instead of a grater. I found that works better and doesn't even take longer.