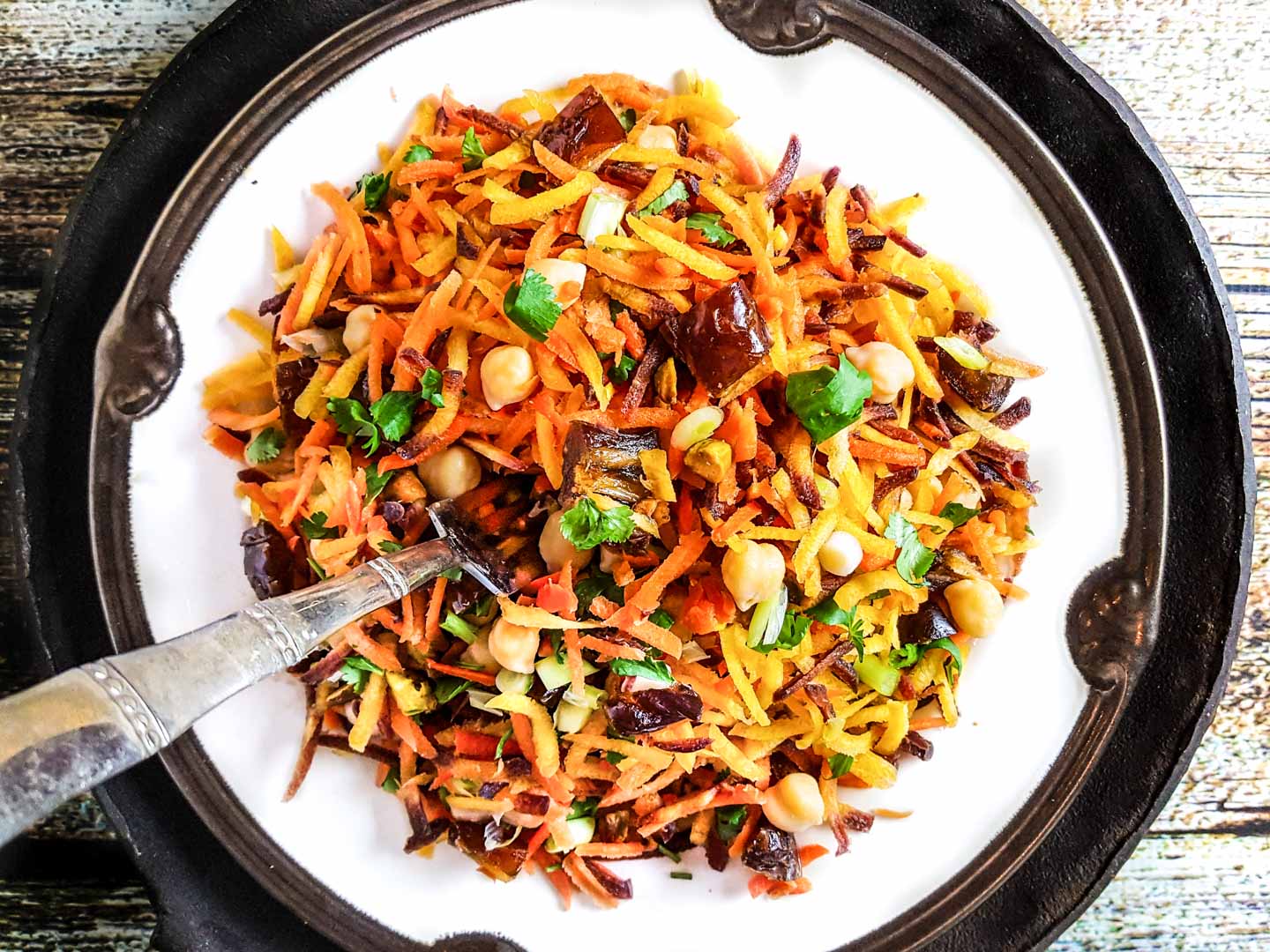 Winter sees a lot of hearty dishes with roasted vegetables, soups, and stews. This recipe deviates from that norm, bringing a spring-like freshness to your dinner.
This uses fresh raw carrots and a bright lime dressing, taking cues from the flavors of Morocco (which is influences from Mediterranean, Arabic, and North African cooking).
Recipe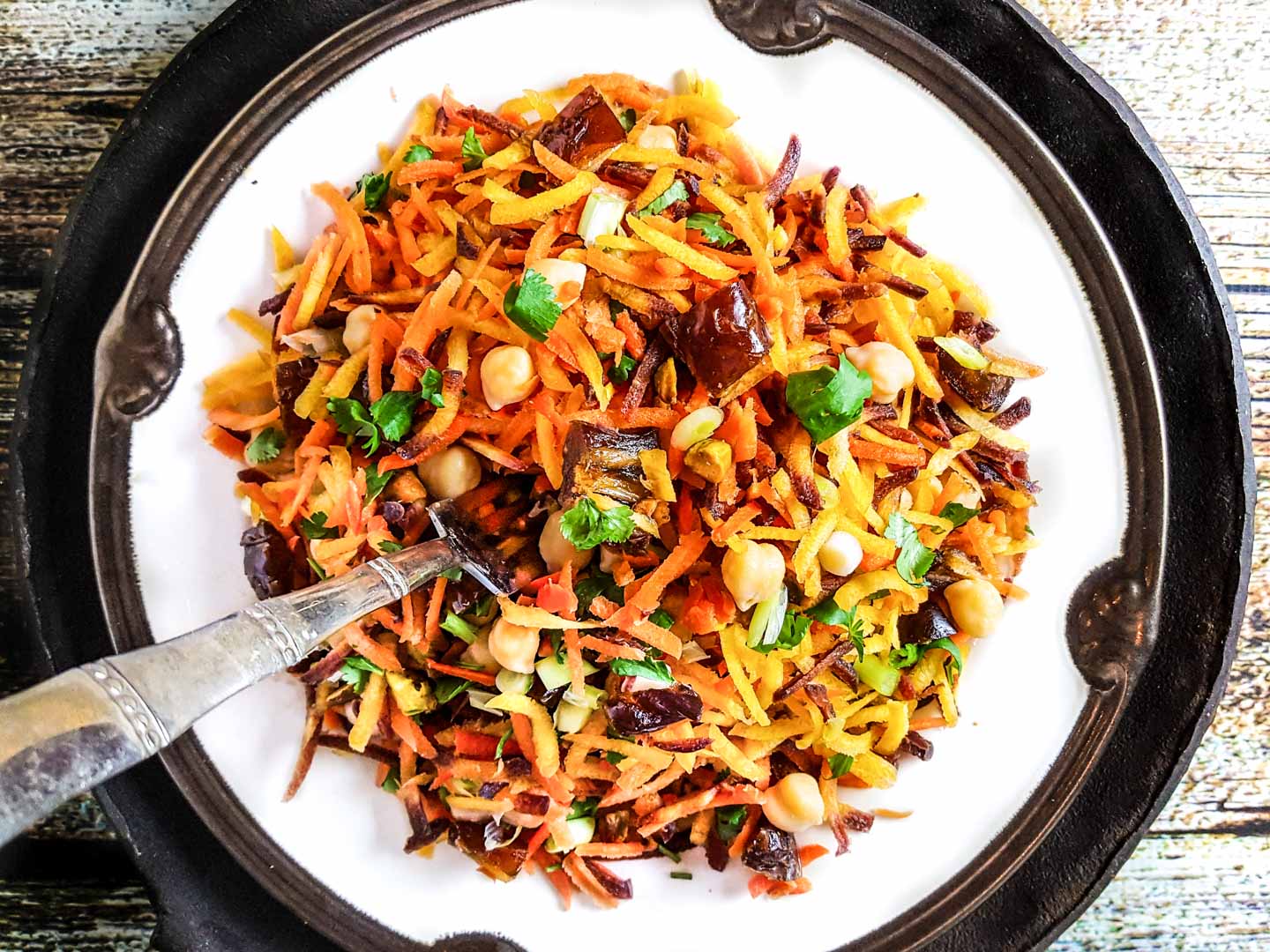 Ingredients
Salad
4

cups

grated carrots

½

cup

dried garbanzo beans*

8

dates

pitted

4

green onions

½

cup

toasted pistachios

½

cup

chopped cilantro
Dressing
3

Tbs

olive oil

2

limes

zest and juice

½

teaspoon

cumin

½

teaspoon

sea salt

¼

teaspoon

freshly grated nutmeg

¼

teaspoon

freshly ground pepper

1

pinch red pepper flakes
Instructions
IN THE MORNING
Soak the chickpeas overnight or in the morning. ½ cup of dried garbanzo beans= 1 ½ cup soaked/cooked.
PREP
Shred the carrots (a food processor makes fast work of this). Chop the dates into large chunks. Slice the white and light green parts of the green onion. Chop nuts.
MAKE THE DRESSING
Whisk together olive oil and lime juice. Add in spices & whisk again.
COMBINE & SERVE
Combine the carrots, onions, dates and beans, toss with dressing. Top with cilantro and pistachios. Serve.
Notes
*½ cup dried garbanzo beans = 1 ½ cup cooked or canned. For this salad the dried ones do taste better and have a slightly crunchier texture.
Nutrition
Nutrition Facts
Farmer's Market Moroccan Carrot Salad (Winter)
Amount per Serving
% Daily Value*
* Percent Daily Values are based on a 2000 calorie diet.
Additional Nutrition
I like to share extra information in case you want to customize the recipe based on your nutritional needs. To accomplish this, below is a breakdown of calories and sugar for each ingredient (per serving), so you can make adjustments as necessary.
For example, this recipe is high in sugar, but you'll see only half of it is from dates, and the rest is naturally occurs in the carrots and other ingredients.
| | Calories | Sugar |
| --- | --- | --- |
| Carrots | 52 | 6g |
| Garbanzo beans | 91 | 2.7g |
| Dates | 47 | 10.5g |
| Green onions | 5 | 0.3g |
| Pistachios | 87 | 1.2g |
| Olive oil | 90 | |
| Lime juice | 10 | 0.6g |
| Cilantro | 1 | |
This recipe also has a lot of micro nutrients:
Vitamin A - 439% of your daily value (DV), slows age-related decline for your sight
Vitamin K - 76% DV, helps prevent osteoporosis
Folate - 48% DV, used is red blood cell production and usually recommended for prenatal care
Manganese - 53% DV, helps process nutrients in the body
Recipe notes
How to pick fresh carrots: Look for carrots with the greens attached, because it's much easier to tell how fresh they are by looking at the greens (rather than the carrot root). If the tops are already cut off, look for the most vibrant colored carrots, since their color fades over time. When you get home, if you are not using the carrots right away, cut the tops off so they don't pull moisture from the roots. Store in the fridge.
Garbanzo beans / Chickpeas: Dried ones do taste better in this recipe. After you soak them, they don't need to be cooked, but you can cook them if you want. Cooked ones will be a bit softer.
Save time with garbanzo snack beans: you could replace the dried garbanzo beans in this recipe with ones meant for snacking. They aren't cheap, though. I really enjoy the ones from Saffron Road.
Nuts: Pistachios are great, but hazelnuts would also work well in this salad.
Oil: You can also use a nice nut oil in place of olive oil for the dressing
Notes from readers
Swap out the cumin for ginger and add 1 teaspoon honey to the dressing (thanks Pam!)
What to eat with the Carrot Salad:
Make it into a stand alone meal by doubling the amount of garbanzo beans for added protein.
You could also pair the carrot salad with a parsnip-pear soup or another type of earthy option. It also goes well with roasted pork rubbed with the same spices used in the dressing - cumin, nutmeg, salt and pepper.
Seasonal produce guides
See what's currently in season and get advice on how to pick, store, and cook produce this month. Each fruit and vegetable has their own guide with extra tips, videos, and additional resources. And lots, and lots of recipes.
Inspiration for the Moroccan Carrot Salad:
The original recipe, "Marrakesh Carrots," is from the Sprouted Kitchen Bowl + Spoon cookbook, which features healthy and produce-centric recipes. As with most recipes, I tailored it over time to what I prefer. In this case, I removed the ¾ cup chopped red onion in the original recipe (feel free to add that back in). The author, Sara Forte, also suggests a couple of optional addins to the recipe: feta cheese and pomegranate seeds for garnishes. While I can normally be found putting cheese on everything, I prefer this salad without it. The pomegranate seeds add a nice flavor to this salad, so I encourage you to try it.
I have over 20 recipes from this book that I want to make soon. A few at the top of my list are a Citrus Beet Salad with Walnut Puree for winter, a Strawberry Tabbouleh for summer, and Lemon Creams with Blueberries and Gingersnaps for dessert.
Also, be sure to stop by and check out the Sprouted Kitchen blog for even more recipes - like if you want to get back to roasting vegetables, try these Roasted Sweet Potatoes with Avocado Chimichurri.