After testing several different styles of lemon bar crusts and fillings, this is the ultimate lemony sweet-tart recipe.
The shortbread crust is easy to make since it uses melted butter (no food processor or 'cutting' butter into flour). The filling uses a fraction of the flour as other recipes, letting the lemon flavor shine. This is possible because the filling is preheated on the stove before pouring over a hot pre-baked crust.
Recipe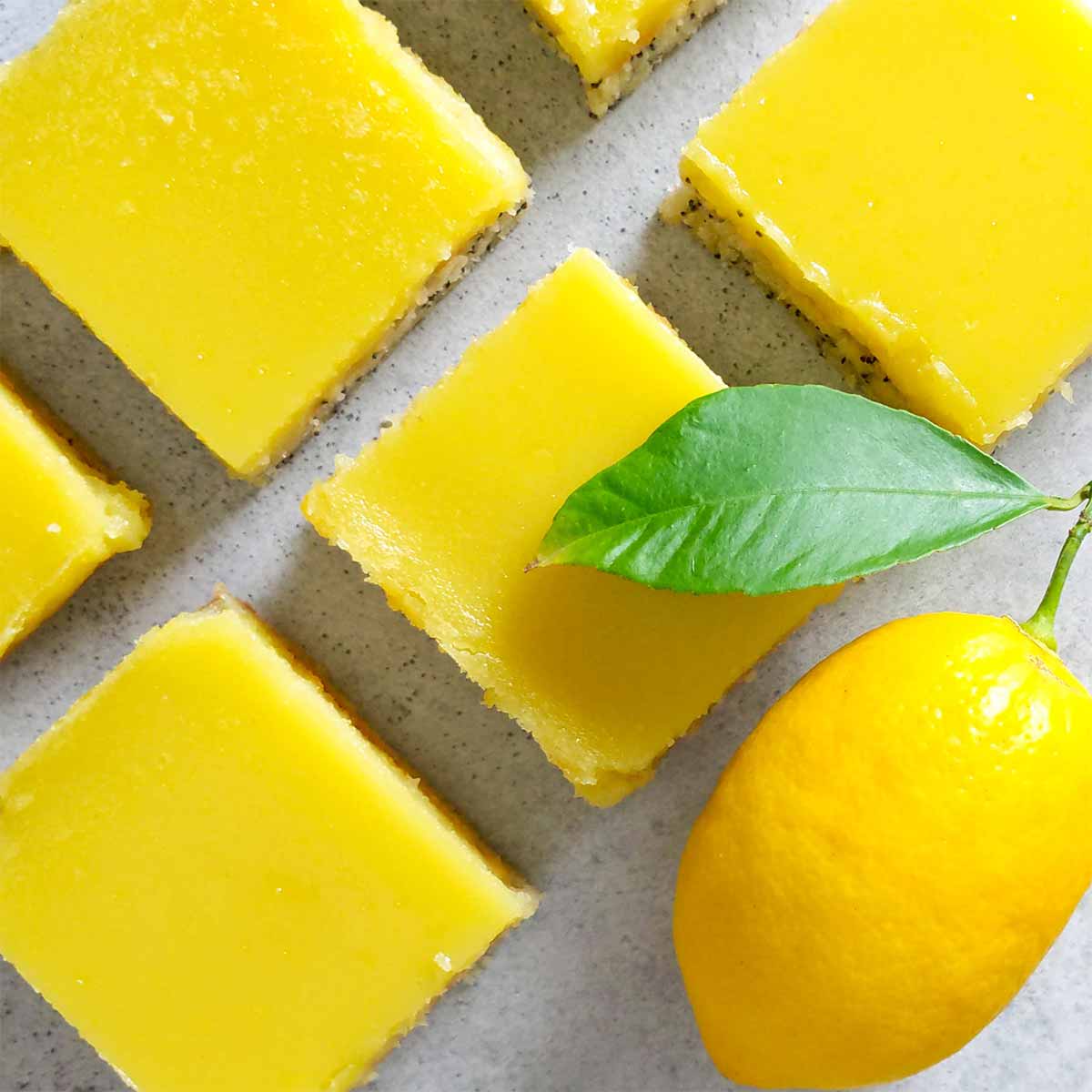 Ingredients
Shortbread crust
1

cup

all-purpose flour

5 ounces

¼

cup

granulated sugar

½

teaspoon

table salt

1-2

tablespoon

poppy seeds

8

tablespoon

unsalted butter

melted
Lemon filling
1

cup

granulated sugar

2

tablespoon

all-purpose flour

2

teaspoon

cream of tartar or lemon powder

see note

¼

teaspoon

table salt

3

large eggs

3

addtional large egg yolks

1

tablespoon

lemon zest

⅔

cup

fresh squeezed lemon juice

about 4 lemons

4

tablespoon

unsalted butter

cut into small pieces
To serve
2-4

tablespoon

powdered sugar
Instructions
Prepare ahead
Preheat oven to 350°F and put the rack in the middle.

Line an 8-inch square pan with foil that comes up over the edges. This will be used to pull the bars out of the pan after baking. Smooth out the foil as much as possible so the edges of your bars look nice.
Make the crust
Whisk dry ingredients: whisk

1

cup flour,

¼

cup sugar,

½

teaspoon salt, and

1

-

2

tablespoon poppy seeds in a bowl.

Add melted butter: add

8

tablespoon melted butter to the bowl and stir to combine. The mixture will be a little crumbly.

Press crust into pan & bake: press the crust mixture into the foil-lined pan. Bake for 18-24 minutes, until golden or dark brown (either option works, see picture). Rotate the pan half way through baking for even baking.

The filling is made while the crust bakes, then it is poured onto the still-hot, browned crust.
Make the filling
The filling takes about 15 minutes to make and should be done while the crust bakes.

Whisk dry ingredients: whisk

1

cup sugar,

2

tablespoon flour,

2

teaspoon cream of tartar, and

¼

teaspoon salt in a bowl.

Add eggs: add in the

3

eggs and

3

additional yolks, and whisk to combine until no streaks of egg remain.

Add lemon: add in

1

tablespoon lemon zest and

⅔

cup of juice, and whisk to combine.

Cook in saucepan & stir constantly: transfer the mixture into a saucepan and cook over medium-low heat (you don't want to overcook the eggs). Stir constantly until the mixture thickens into a pudding-like consistency and is 160°F. This should take about 5-10 minutes.

Add butter & strain: remove the mixture from the heat and stir in

4

tablespoon of cut-up butter pieces (they need to easily melt in the slightly warm mixture). Strain through a fine-mesh strainer (optional, but doing this makes for a perfect looking bar).
Assemble the bars & bake
Pour filling into pan & bake for 8-12 min: pour the filling over the still-warm crust, slightly tilting the pan to evenly spread the filling around. Bake in the 350°F oven for about 8-12 minutes - until the filling is set and barely jiggles when shaken. If you want to use an instant-read thermometer, it is done when the center is 175°F. (You can cover the thermometer hole with powdered sugar).

Cool completely: The bars need to cool completely, 1-2 hours. After they cool on the counter for an hour, you can also pop them in the fridge. Do not dust with powdered sugar until you are ready to serve (the sugar absorbs into the top quickly).

Store in the fridge, since these are a custard-based dessert. They can sit on a counter for several hours when serving.

Dust with powdered sugar right before serving.
Notes
Cream of tartar or lemon powder add extra tartness that really make the lemon flavor jump out at you (more than simply adding extra zest). This is optional but really makes this recipe stand out when added.
Bake crust until light or dark golden brown: I've baked this crust many times, sometimes I take it out when it is light golden brown (left) and sometime dark golden brown (right). The flavor and texture seem unaffected and both work.

Nutrition
Nutrition Facts
Lemon bars with poppy seed crust
Amount per Serving
% Daily Value*
* Percent Daily Values are based on a 2000 calorie diet.
Ingredient details
Flour: I use both King Arthur and Bob's Red Mill all-purpose flours with equal success. The recipe calls for 1 cup of flour, weighing at 5 ounces. The baking world doesn't agree on how much 1 cup of flour should weigh (anywhere from 4-5 ounces). However, I make this using 5 ounces with good results each time.
Butter: I have used both Clove and Challenge brand butters with good results and venture to guess most butter brands will work out well.
Lemons: regular or meyer lemons work in this recipe. Meyer lemons are a bit sweeter and less tart. That tartness is often a sign of a great lemon bar, but that tartness is added in from the cream of tartar or lemon powder.
Cream of tartar or lemon juice powder: I use McCormick's cream of tartar but I also love King Arthur Baking lemon juice powder. I often use the lemon juice powder to add extra lemon flavor to lemon poppy seed muffins, lemon bread, and salad dressings.
Do not add extra lemon juice: this will water down the filling and it likely won't set.
Why preheat the filling
If you don't pre-cook the filling on the stovetop, the bars have to cook longer in the oven. This results in dried-out, harder edges on the bars.
Instead, pre-cooking the filling until it is a pudding-like consistency raises their temperature significantly for a more even bake. The pre-cooking method also prevents the air-bubble marks seen on most lemon bars.
How to tell when the filling is set
This is always tricky and I seem to lose all of my confidence every time I try to gauge the doneness of lemon bars or pumpkin pie. You want the center to barely jiggle when shaken. The problem I've always had is 'how do you define 'barely jiggles' ? I have yet to find a video that demonstrates this (if you find one, share it in the comments!)
Instead, I started using a thermapen, which gives me reliable results every time. The Thermoworks Thermapen is the gold standard of instant-read thermometers, but it is expensive ($99 when not on sale). You can also get instant-read thermometers on Amazon (like this one with a 5-star rating after thousands of reviews) for $15-$25.
When using a thermometer, the center of the filling should be 175 degrees (F). There will be a hole in the center when you take the temperature, but you can cover it up with powdered sugar.
Lemon bar recipe bakeoff
I tested several types of shortbread crust (butter, olive oil, and coconut oil), as well as several fillings (high flour, low flour, and whole-lemon). The article compares each crust and filling in case you are interested in other types of recipes.