In search of a boldly flavored lemon bar, I've tested numerous recipes and narrowed it down to 3 crusts and fillings based on your preferences.
Jump to:
The shortbread crust
Shortbread crust recipes tend to use 1 of 3 different types of fat: butter, olive oil, or coconut oil. I tested recipes that used each type of fat and there is a noticeable impact on the crust's consistency.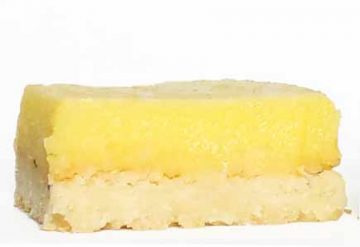 Butter
Butter makes the most tender shortbread crust. Many recipes call for mixing chunks of hard butter with flour (or using a food processor), which can be time consuming. However, recipes that called for melted butter resulted in near-identical shortbread and cut down out unnecessary fuss.
The melted-butter crust in the winning recipe is tender, melts in your mouth, and is strong enough to hold up the filling without falling apart. It has a buttery flavor without being greasy. The crust cuts very cleanly and doesn't break apart when you bite into the lemon bar.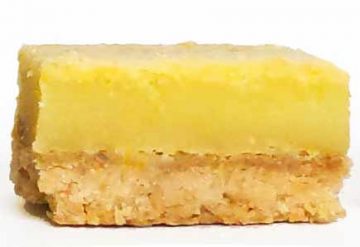 Olive oil
Using olive oil instead of butter adds a very slight savory note to the traditional shortbread. The crust is a little more brittle, crumbling at the edges when cut or bitten. It has more of a crispy-cookie chew to it, rather than a soft crust that seems to disappear as you chew.
The crust wasn't salty (or at least not noticeably so). While it worked well with the lemon bars, it wasn't the savory-sweet pairing I was expecting. It was more like adding a little extra salt to a cookie, as opposed to a salted caramel where the salt really jumps out.
If you tend to think lemon bars are too sweet, try an olive oil crust.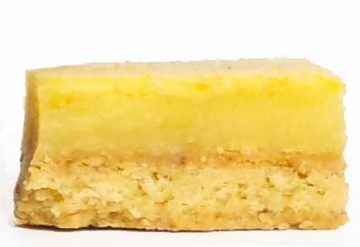 Coconut oil
Yes, coconut oil is super trendy, but that's not why it made this list. I used it hoping to add a tropical flare to the traditional lemon bar. Virgin coconut oil tastes stronger than more processed versions, but I didn't think that came through very much when baked into a shortbread.
I still wanted a coconut flavor so I tried again. This time, I added shredded coconut in addition to the coconut oil with good results. The crust's consistency was very similar to the olive oil crust (more crumbly and crunchy than the buttery one). The coconut flavor was subtle but still added a uniqueness to the lemon bar.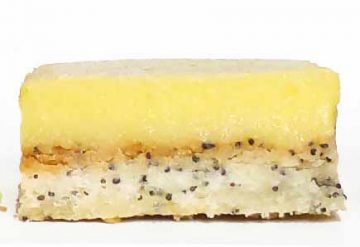 Crust add-ins for flavor
Poppy seeds and lemon go hand-in-hand. I made another batch of lemon bars and added poppy seeds to a buttery shortbread crust, while leaving the filling pure lemon.
The pairing worked perfectly. The poppy seeds really come through to create the classic lemon-poppy seed flavor you'd expect. It's a fun twist on the traditional lemon bar (and my new personal favorite).
Lemon bar filling
I think lemon bars should have a tart, strong lemon flavor. My recipe evaluations are based on this opinion.
I tested 3 different types of fillings:
The Cook's Illustrated recipe wins, hands down. It had the best flavor, texture, and a perfect balance of sweet & tart.
Bolder lemon flavor
Lemon flavor can be added four ways:
It's also worth noting that flour masks the lemon flavor. So recipes like Ina Garten's lemon bars are a loss less tart and lemony. Her recipe uses 1 cup of flour, compared to just 2 tablespoon in the Cook's Illustrated recipe.
Filling consistency
For a perfect looking bar, Cook's Illustrated recipe wins, which pre-cooks the filling on the stovetop before pouring onto the crust to finish baking in the oven. The filling is silky smooth and never bubbles on top (see photos above). The filling is sturdy enough to be handled, but not sturdy enough to be stacked in transport (they would have to remain in one layer).
For a sturdy, chewier bar
If you're looking for a very sturdy bar that can be stacked or hold up at a picnic or potluck, use a recipe with more flour (like Ina Garten's). The filling is more chewy like a bar, and less like a silky custard. It's also very sweet, so if you want to cut back on the sugar like Smitten Kitchen's adaptation, here's the recipe.
Whole lemon
The filling for the whole-lemon recipe tasted a little bitter and the texture wasn't as good as the other recipes. I wouldn't recommend this unless you want to try it for fun.
Bubbles on top
Most fillings that don't get pre-baked will bubble on top (air trying to escape). This is usually not a big deal because you can sprinkle powdered sugar on top.
Add powdered sugar right before serving
Powdered sugar will absorb into the bar quickly (often within an hour). Store the bars in the fridge until you are ready to serve them. Take them out 30 minutes before to warm up a bit, then dust with powdered sugar.
Recipes
Crust variations