Adding pawpaw to cream cheese frosting is a delightful way to let their unique tropical flavor shine. Just ¼ cup of pureed pawpaw flesh is enough to make this frosting.
Jump to:
Recipe
Ingredients
4

oz

cream cheese

softened 30 min on counter

3

tablespoon

salted butter

room temperature, see note

1

teaspoon

vanilla extract

2 ½

cups

powdered sugar

¼

cup

pureed pawpaw

1

teaspoon

cornstarch

optional, for stiffer frosting
Instructions
Using a stand mixer or hand mixer, cream the butter, cream cheese, and vanilla together until smooth. Room temperature ingredients help make a creamy frosting that isn't lumpy.

4 oz cream cheese,

3 tablespoon salted butter,

1 teaspoon vanilla extract

Add half of the powdered sugar and mix until combined. Add half of the pawpaw puree and mix again. Repeat with remaining powdered sugar and then pawpaw puree.

2 ½ cups powdered sugar,

¼ cup pureed pawpaw

If you need a stiffer frosting, add 1 teaspoon cornstarch at this point. Mix until combined.

Store in the fridge for up to a week
Notes
Cream cheese: get a solid block of cream cheese and avoid spreadable kinds (which have additives to make it spreadable and will affect the final consistency of the frosting).
Salted vs unsalted butter: if using unsalted butter, add a pinch (⅛ tsp) of fine table salt to the recipe in the first stem, when creaming together the butter and cream cheese.
Nutrition: calories are calculated as 1/12th of the recipe.
Nutrition
Nutrition Facts
Pawpaw cream cheese frosting
Amount per Serving
% Daily Value*
* Percent Daily Values are based on a 2000 calorie diet.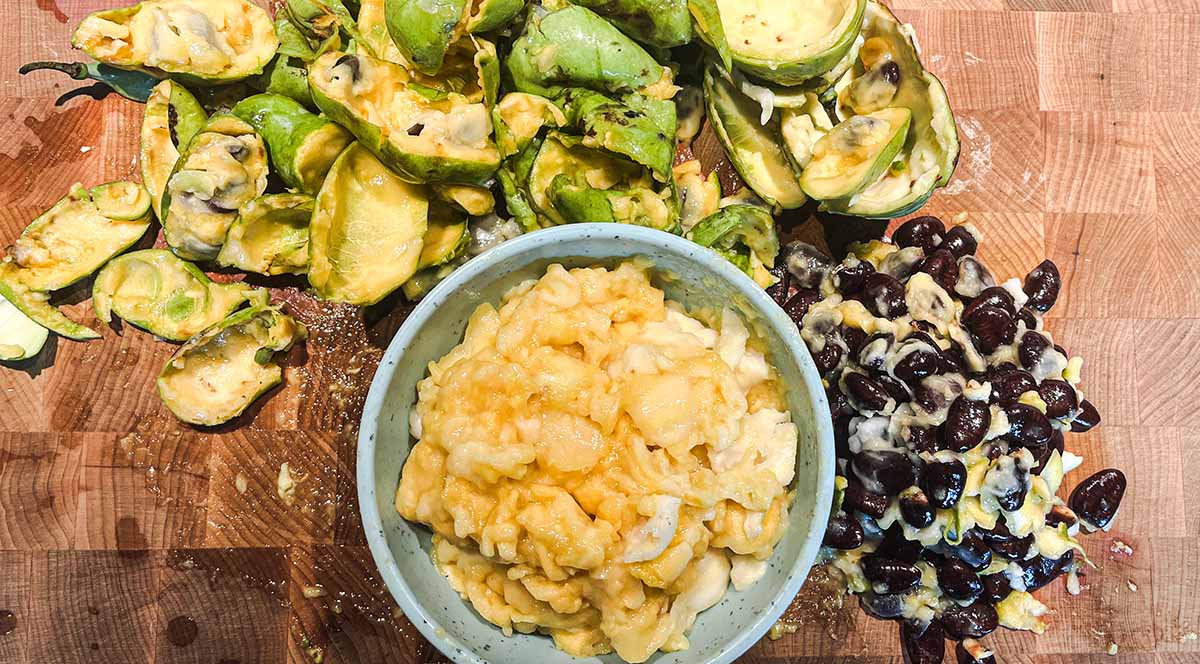 Working with pawpaws
I've said it before and I'll say it again - pawpaws are in season for a short time and are not easy to acquire. If you have only a few left and have already eaten your fill of raw pawpaws, try this recipe.
What I liked about the idea of a pawpaw cream cheese frosting before making it, was that I expected it would let the fruit's flavor take center stage. It lived up to my expectations and the tangy flavor from the cream cheese works well with the tropical pawpaw flavor.
Separating flesh from the seeds
The flesh can be hard to separate from the seeds. I first cut the pawpaws in half, lengthwise, like an avocado. The pawpaw seeds will get in the way, so slide the knife around the entire fruit then twist open in half (again, like an avocado).
Scoop the seeds out, then use a spoon (or butter knife) to scrape the flesh off. Continue until you have enough flesh. Puree the flesh with a food processor or blender until it is nice and smooth.
Adding pawpaw puree to the frosting
When adding the pawpaw puree to the frosting, don't add too much or the frosting will be watery.
On the other hand, if you don't have a ¼ cup to use (pawpaws are hard to come by!), make a half batch, or use less puree in this recipe. If you use less pawpaw, reserve some sugar for the end, after you've mixed in the pawpaw puree.
The last portion of sugar may not be needed (since there is less liquid from less pawpaw). If the frosting is still runny, add in the remaining powdered sugar.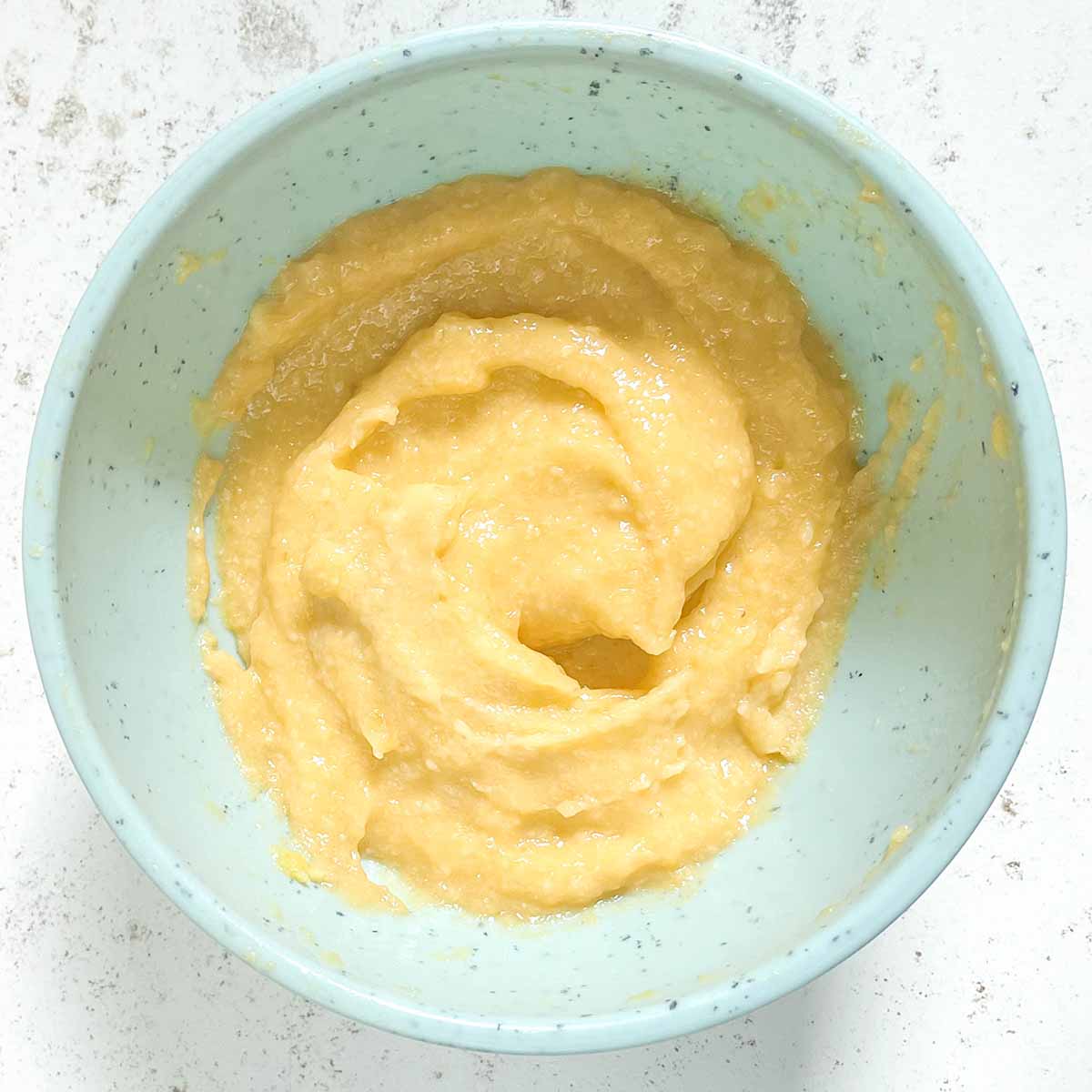 Ingredient notes
There aren't many substitutions to make in this one, but I do have a few notes on the ingredients.
Butter: salted and unsalted both work. If you use unsalted butter add a pinch (⅛th tsp) of salt when creaming the butter and cream cheese.
Cream cheese: buy a block of cream cheese, not the spreadable kind. Spreadable cream cheese has additives to keep it spreadable, ultimately affecting the consistency of the frosting (not in a desirable way). A full fat cream cheese will give you a better consistency than a low-fat version.
Vanilla extract: you could also try replacing this with an equal amount of lime juice.
Powdered sugar: You can use less sugar for a thinner frosting. More sugar will make it stiffer, but as you add more the pawpaw flavor might not be as obvious.
Frosting is too thick or thin
Cream cheese frosting is pretty easy to make, but that doesn't mean I haven't run into trouble myself! Thankfully, the fixes are pretty easy.
If your frosting is too thin, add more powdered sugar, ½ a cup at a time. You can also add 1 teaspoon of cornstarch if you haven't already.
For thick frosting, add in ½ tablespoon of pawpaw puree, milk, or heavy cream. Continue a little at a time until it is the desired consistency.
Do you need to refrigerate cream cheese frosting?
Yes, in general cream cheese frostings need to be refrigerated to prevent spoilage and bacterial growth. They can be kept at room temperature for 2 hours when serving. Note that hot outdoor temperatures speed up spoilage.
However, sugar acts as a preservative in high enough concentrations. If the frosting is at least 65% sugar by weight, it can be kept at room temperature without refrigeration.
Research done at Kentucky State University has tested various frostings and fillings for safety, and published them in a guide for bakers submitting foods for state fairs. Karen Blakeslee, a food science expert at Kansas State, explores the entire topic of frosting and filling safety in a video, specifically talking about cream cheese frosting at 24 minutes and again in an FAQ at the end (39:25).
Note that very few cream cheese frosting recipes call for enough sugar, including the one I shared here today. Buttercream frostings, on the other hand, usually have enough sugar by weight to not require refrigeration.
How to calculate sugar by weight
To see if the frosting recipe you are using needs to be refrigerated, calculate the sugar by weight. This refers to the added sugar, not sugar found in fruit or other ingredients. As Kansas State explains, the calculations "do not factor the sugar found naturally in fruit or other ingredients such as sweetened coconut or chocolate chips."
To calculated the sugar by weight, weigh the ingredients on a kitchen scale in grams. Add up the weight of all of the ingredients, and the calculate the percent of sugar.
I'm using the pawpaw cream cheese recipe as an example, which needs to be refrigerated because it has 56.8% sugar by weight - less than the required 65%.
| Ingredient | Weight in grams |
| --- | --- |
| Cream cheese (4 ounces) | 113 grams |
| Butter (3 Tbsp) | 42 grams |
| Powdered sugar (2.5 cups) | 286 grams |
| Vanilla (1 tsp) | 4 grams |
| Pawpaw puree (¼ cup) | 58 grams |
| Total: | 503 grams |
| Sugar % (143g sugar / 258g total) | 56.8% |
In order for this frosting to be allowed to stored at room temperature, the sugar would have to increase by 50%. That means 2.5 cups (286 grams) would increase to 3.75 cups (429 grams).
If this recipe used 3.75 cups of sugar, the sugar by weight would be 66.4%. The calculation is as follows:
Sugar weight: 429 grams
Total weight of recipe: 646 grams (was 503 grams, plus an extra 143 grams of sugar)
Ratio: 429 grams of sugar / 646 grams total weight = 66.4%
At that point, the frosting would taste extremely sweet (but you could try it in a smaller batch to see how you personally like the flavor).
What about buttercream frosting?
You might already know that most buttercream frostings are safely stored at room temperature. That's because they almost all have enough sugar by weight, and very little added water content (butter is just 10% water by weight).
That said, most buttercream recipes with added fruit puree don't meet the guideline of 65% sugar by weight. And recall that sugar found in other ingredients, including fruit, doesn't count toward the sugar in this calculation according to Kansas State.
Freezing pawpaw frosting
I haven't had a chance to personally freeze this frosting, so I consulted the experts. Better Homes & Gardens says that "You can freeze cream cheese frosting for up to 3 months because of its high fat content."
Freeze it in an airtight container with any air squeezed out (the air contributes to freezer burn). It should last for up to 3 months. Thaw it in the fridge, overnight, before using. Better Homes & Gardens advises against microwaving the frosting to thaw it, as it will ruin the consistency.
Doubling the recipe
If you have enough pawpaws for a double batch (½ cup), go for it! Especially since it should freeze well.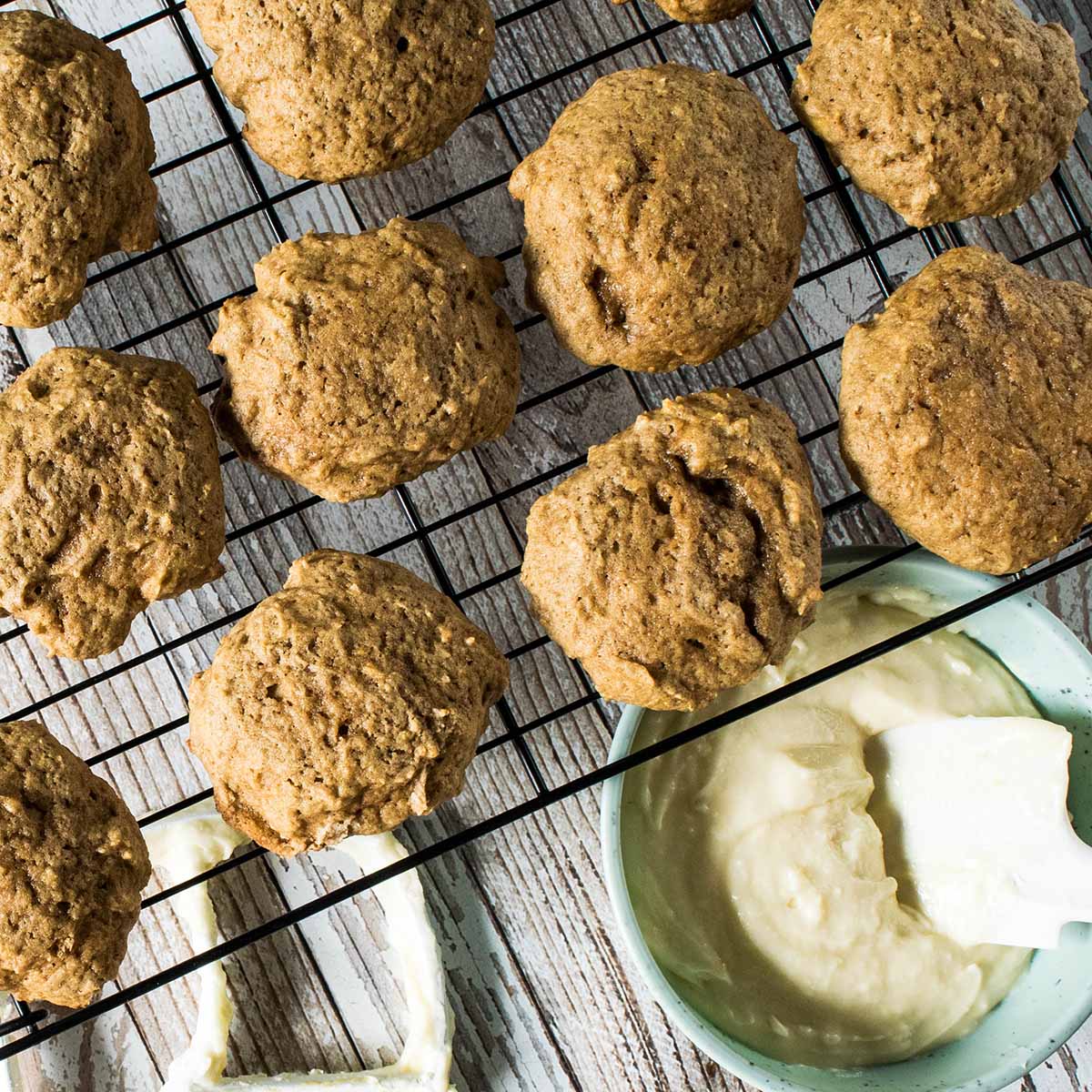 How to use pawpaw cream cheese frosting
Cream cheese frosting is sweet and tangy, and the pawpaw fruit adds a tropical flavor. It works wonders on these cakey pawpaw cookies.
Try it on cakes, muffins, or quickbreads with the following flavors:
Plain yellow or white cake or cupcakes
Carrot cake based recipes
Coconut & lime (pina colada flavors)
Ginger, possibly even ginger bread type recipes
Pineapple or mango desserts
Blondie bars with a tropical twist (try adding candied ginger into the blondies)