Pawpaws are elusive and have a short season. If you're here, congratulations on finding some, or growing your own.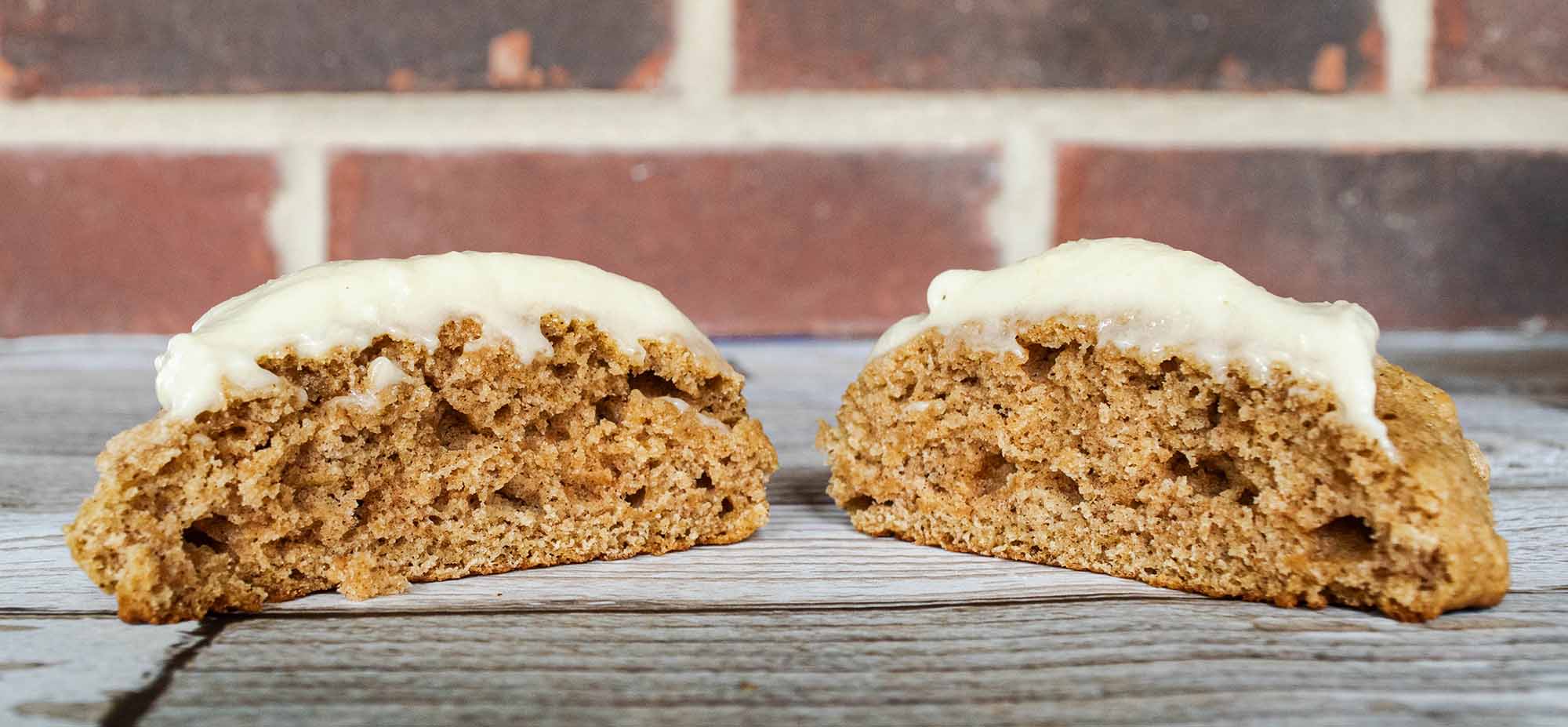 These pawpaw cookies are made specifically to highlight the fruit's unique flavor. Quick breads and muffins are a common way to use up pawpaws, but the flavor is barely noticeable. Instead, I decided on a cake like cookie recipe. The cookie has a subtle pawpaw flavor, which is then amplified with a cream cheese frosting that incorporates some of the fruit puree.
The flavor of these cookies will be unmistakable to pawpaw aficionados, while first-timers will likely describe them as tasting tropical.
Jump to:
Recipe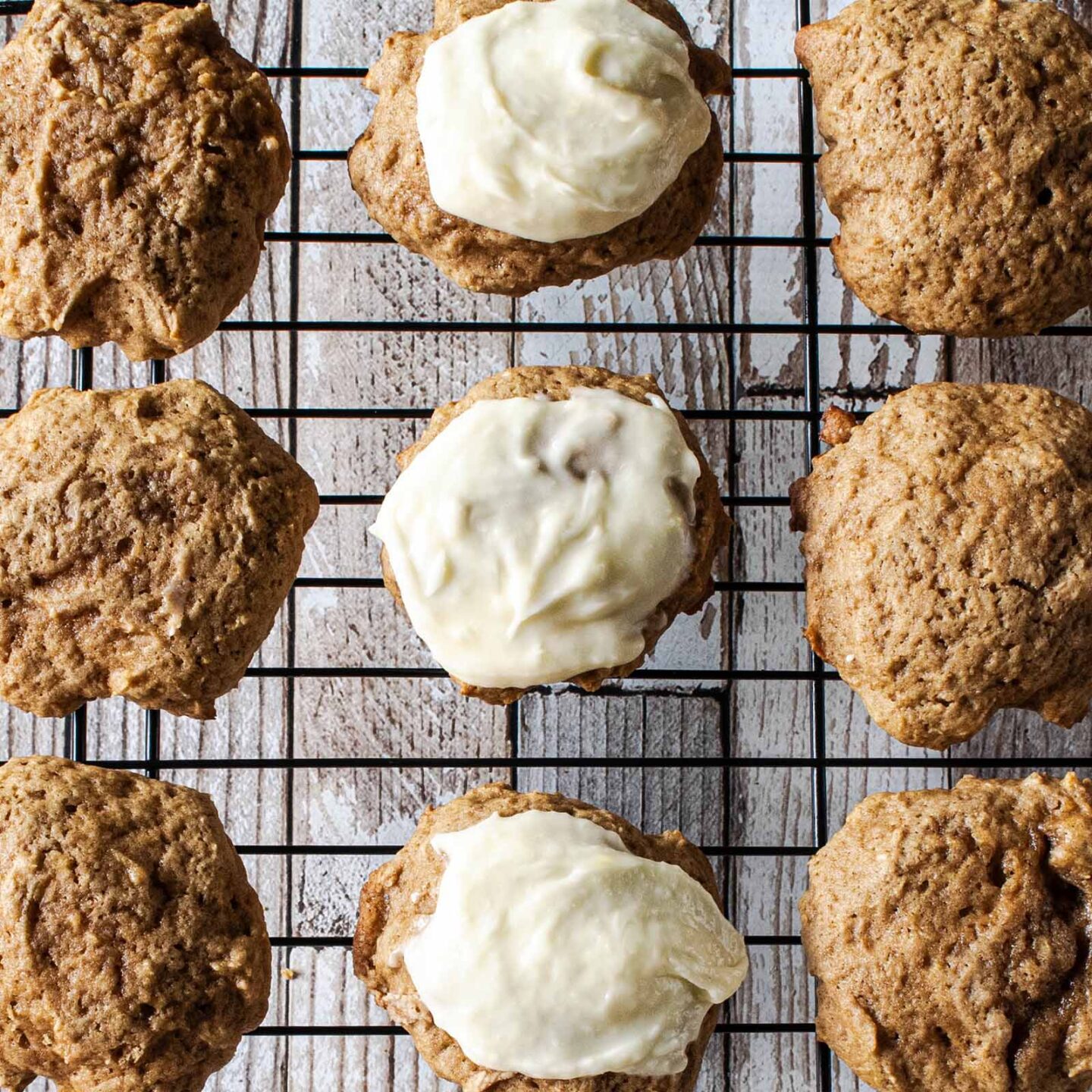 Ingredients
Wet ingredients
½

cup

butter

room temperature

⅓

cup

brown sugar

⅓

cup

granulated sugar

1

large

egg

2

tablespoon

plain yogurt

full fat, (or sour cream)

1

teaspoon

vanilla extract
Dry ingredients
1 ½

cups

all purpose flour

1

tablespoon

cornstarch

1

teaspoon

ground cinnamon

(or ground ginger for more tropical flavor)

½

teaspoon

baking soda

½

teaspoon

table salt
Frosting
4

ounces

cream cheese

(brick style, not spreadable)

3

tablespoon

butter

room temperature

1

teaspoon

vanilla

2.5

cups

powdered sugar

¼

cup

pureed pawpaw

1

teaspoon

cornstarch

optional, for stiffer frosting
Instructions
Preheat oven to

350

°F

(

177

°C

) on normal (not convection). Line a large baking sheet with parchment paper, or 2 medium baking sheets.
Cream butter & sugar
In a stand mixer, cream butter and sugars on high until light and fluffy (2-4 minutes).

½ cup butter,

⅓ cup brown sugar,

⅓ cup granulated sugar

Add the egg, greek yogurt, and vanilla, mixing on medium-low until fully combined. Scrape down the sides as needed.

1 large egg,

2 tablespoon plain yogurt,

1 teaspoon vanilla extract
Mix in dry ingredients
In a separate bowl, mix the flour, cornstarch, cinnamon, baking soda, and salt together until it looks evenly distributed.

1 ½ cups all purpose flour,

1 tablespoon cornstarch,

1 teaspoon ground cinnamon,

½ teaspoon baking soda,

½ teaspoon table salt

Add the flour mixture to the stand mixer and mix on low until just combined. Over-mixing will make them tougher.
Add in pawpaw puree
Add the pawpaw puree to the mixer on low until just combined. You can also incorporate by hand, scraping down the sides as needed. The dough will be a bit wetter and stickier than traditional cookie dough, since these are cake-like in texture.
Bake at

350

°F

(

177

°C

) for 10-15 min
Scoop dough onto parchment-lined cookie sheets, leaving 2 inches between each cookie (they spread when baked). I got 13 cookies when using large 3-tbsp sized scoops. They are the size of lofthouse cookies at your grocery store bakery.

Bake for 10-15 minutes, depending on the size of the cookie and your oven. Mine larger cookies were perfectly done in 12 minutes. The internal temperature will be around

210

°F

(

99

°C

) when perfectly done (they are thick enough to measure with an instant-read thermometer).
Frosting
Use a hand mixer or food processor to mix the butter, cream cheese, and vanilla. (there is not enough volume for a stand mixer).

4 ounces cream cheese,

3 tablespoon butter,

1 teaspoon vanilla

Next, alternate mixing in sugar, then pawpaw puree: add half of sugar, mix until combined. Add half of pawpaw puree, mix until combined. Add remaining sugar, mix, and then remaining pawpaw puree.

2.5 cups powdered sugar,

¼ cup pureed pawpaw

If you want stiffer frosting, you can add ½ teaspoon cornstarch at this point, and mix it in. Add up to another ½ teaspoon if needed.
Frost cookies when cooled, and right before serving
Store cookies and frosting separate until you are ready to eat them or bring to a party. (Frosting should be refrigerated).

Unfrosted cookies can be stored in an airtight container on the counter. Frosting (and frosted cookies) should be stored in the fridge.
Notes
Substitutions:
Flour: 25% all purpose can probably be swapped out for almond or whole wheat
Yogurt: the acid and fat help keep the cookies tender and moist. Can also use sour cream or greek yogurt with a splash of olive oil. Pineapple or lemon yogurt would likely work but I haven't tried it.
Corn starch in the frosting: I didn't try the frosting with corn starch in it, but trust the tip from Sugar Spun Run's carrot cake cookie recipe that says corn starch "helps the frosting to maintain its shape."
See "Ingredients and substitutions" in the post for more information.
Frosting:
This is enough frosting to cover all of your cookies and have a little leftover.
Nutrition:
The nutrition is calculated based on 12 cookies and using ¾ of the forsting (you will likely have some leftover).
The cookies without the frosting are 189 calories (although the frosting really adds to the pawpaw flavor of these cookies).
Nutrition
Nutrition Facts
Pawpaw cookies with cream cheese frosting
Amount per Serving
% Daily Value*
* Percent Daily Values are based on a 2000 calorie diet.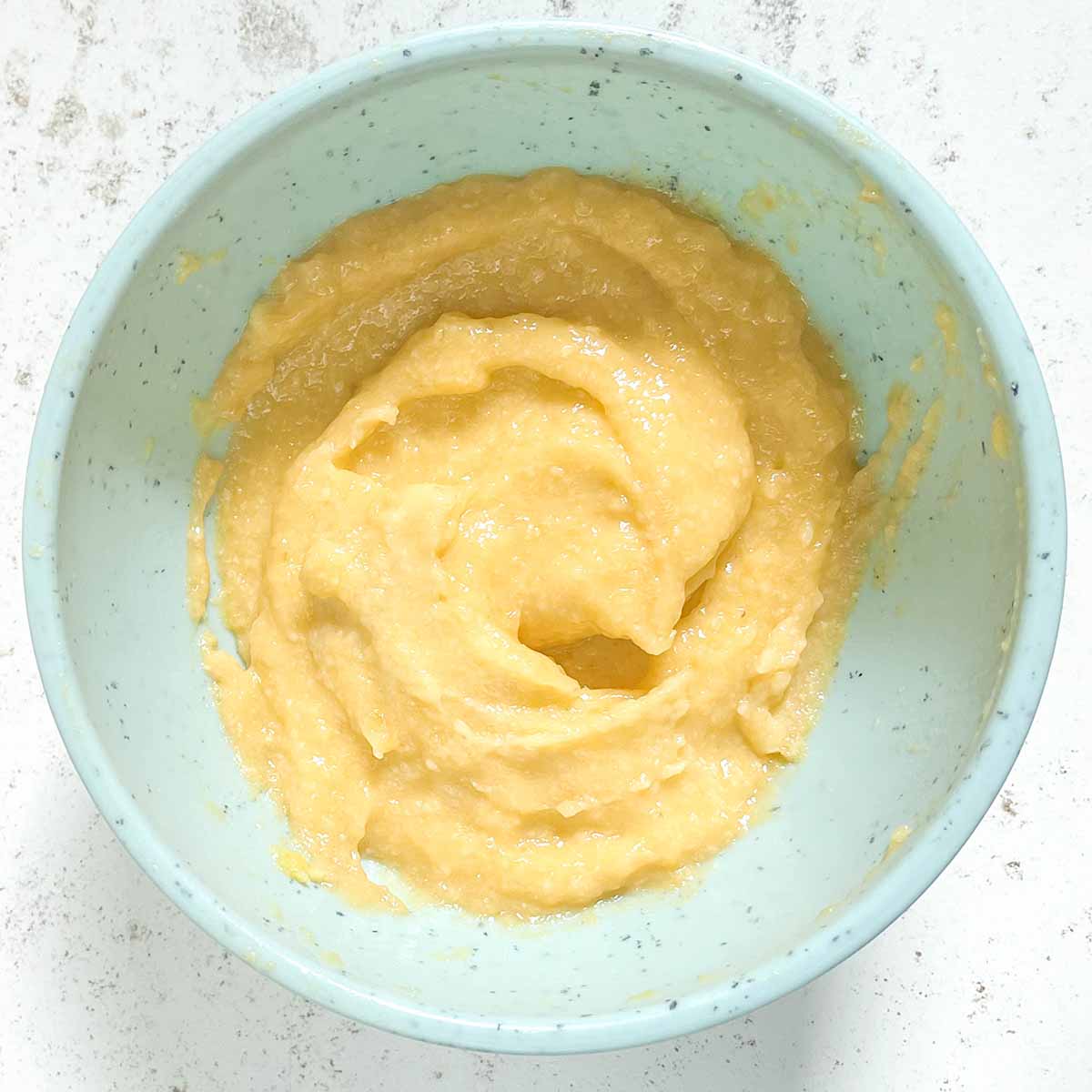 Working with pawpaws
Look for pawpaws when they are in season between August and October, depending on where you live.
If you haven't worked with pawpapws before, you should also know they have a very short shelf life. They last a few days on the counter (starting from when they were picked), and a week or two (if you are lucky) in the fridge.
Getting the flesh out of pawpaws is very time consuming. The flesh loves to stick to the seeds. I scoop the seeds out with a spoon, and then run the spoon along them to scrape the flesh off.
The flesh can be stored in an airtight container in the fridge for at least 2 days (I haven't personally tested any longer duration). It doesn't oxidize and seems to stay quite fresh.
Testing the pawpaw cookie recipe
Most of my recipes are tested again and again. I try several variations, cooking methods, and storage techniques to make sure I have enough experience to provide you with good advice.
But pawpaws are hard to come by, and until my newly planted pawpaw trees start producing fruit, I'm reliant on the generosity of others. This year I received some from a fellow gardener who had too many to use.
I got enough pawpaws to make a few recipes, but not enough to test variations or make little tweaks to the seasonings, sizes, bake times, and so on. I lucked out that these cookies turned out great!
That said, I want to try a few tweaks to see how they turn out. I'd like to replace cinnamon with ginger (and add candied ginger on top), some of the flour with almond flour, a version with whole wheat flour, and a version with all white sugar.
The original pawpaw cookies I made used 2 teaspoon of cinnamon, but I planned to reduce that in future batches and the recipe I shared with you already reflects that. I also feel like using ginger instead of cinnamon would be even better, but since I didn't try them with ginger at all, I felt like that was too big of a leap to officially publish. If you try it, please leave a comment and let me know!
Ingredients & substitutions
It's not uncommon to want to change a few things in a recipe to suit your preferences or use what you have on hand. Let's see if I can help with that.
As I mentioned earlier, I didn't have the chance to test these pawpaw cookies with variations because I didn't have enough of the fruit. My recommendations for substitutions comes from my general baking experience - while I suspect they will work, I can't guarantee that yet.
Flour: You could try swapping in 25% of the all purpose flour for almond flour or whole wheat flour.
Sugar: I went with a 50/50 ratio for the white and brown sugar. You can try changing this up. My hunch is that too much brown sugar might mask the pawpaw flavor.
Yogurt: Yogurt adds acidity and fat which helps make the cookies cakey, tender, and moist. Greek yogurt works, but would benefit from a splash of olive oil to bring the fat content back up. Sour cream would be a great substitution and I suspect possibly even better. Sour cream has a higher fat content, making the cookies more moist. If you don't have either, you can try using half the amount of milk plus a little olive oil and lemon juice (or vinegar) to bring it up to 2 Tbsp. (The addition of fat and acid help keep the cookies moist and tender).
Corn starch in the cookies: this might seem like an oddball ingredient you can skip, but it actually helps make the cake-like texture even more tender. As Bob's Red Mill explains, "Combining a starch like cornstarch with other flours can help soften the rigid proteins of the flour, resulting in a light and chewy dessert."
Corn starch in the frosting: I didn't try the frosting with corn starch in it, but trust the tip from Sugar Spun Run's carrot cake cookie recipe that says corn starch "helps the frosting to maintain its shape."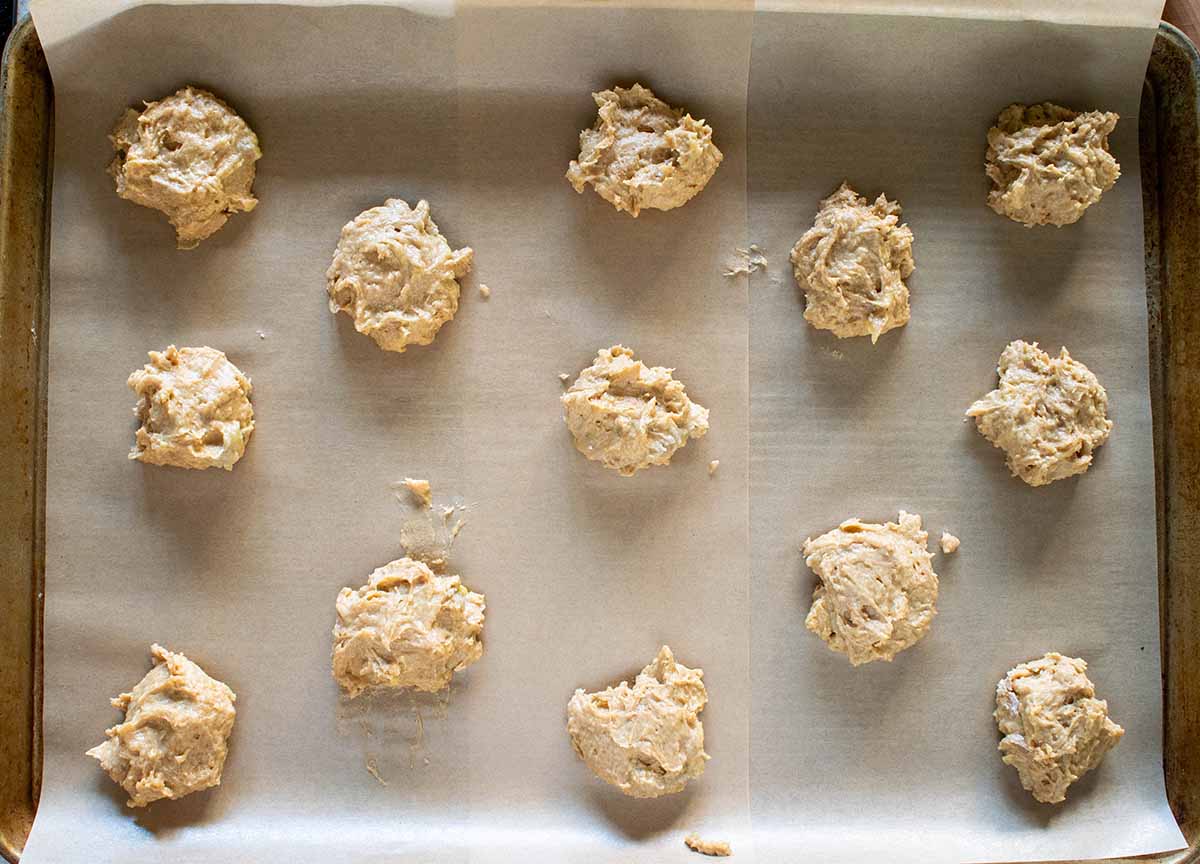 Baking tips
The raw pawpaw cookie dough will be a little gooier than a traditional cookie. That's because they are going to have a lighter cake-like texture, allowing (I suspect) more of the pawpaw flavor to come through.
That said, the dough will still be sturdy enough to hold a cookie shape. They spread a little, but dome up when baked.
I baked these in an oven without the convection setting. The cookies will puff up and turn golden. Since I wanted to make sure they weren't underbaked with a raw center, or overbaked and dry, I used an instant-read thermometer. They are done when the center reads 210 °F (99 °C).
I let them cool on the pan for a few minutes, then use a spatula to transfer them to a cooling rack. Once cooled, I frosted a few cookies to eat right away.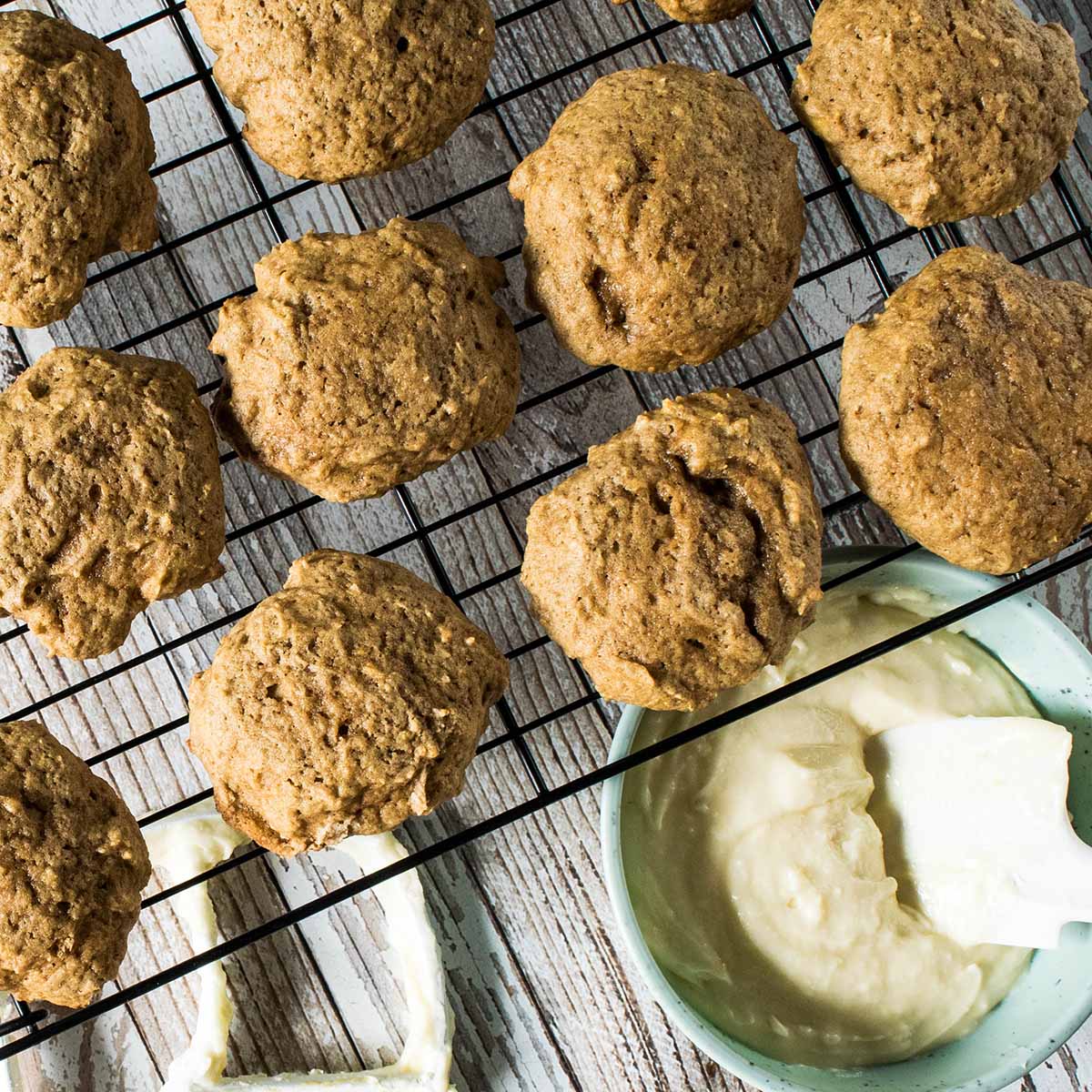 Frosting tips
Cream cheese frosting is generally easy to make, however the order of mixing is important so the frosting doesn't turn lumpy.
I first tried adding the pawpaw puree to the cream cheese and butter mixture, before the sugar. It turned lumpy in the stand mixer and I couldn't smooth it out. Adding the sugar did not smooth it out either.
The way to prevent it from being lumpy is to add some of the sugar to the cream cheese and butter mixture first. This thickens it up, allowing the pawpaw puree to be incorporated smoothly.
Another important element is to use softened cream cheese and butter that aren't straight out of the fridge (allow cream cheese to soften for 30 minutes). Sam from Sugar Spun Run has a cream cheese frosting recipe where she shares this advice: "Make sure you allow your cream cheese and your butter to soften before making your frosting! Softening the butter and cream cheese ensure that your ingredients will combine well and be lump free."
Do you need to refrigerate cream cheese frosting?
Yes, this cream cheese frosting should be refrigerated to prevent spoilage. It can be kept at room temperature for 2 hours when serving, but note it will melt in hot weather (and spoil faster).
Nearly every cream cheese frosting recipe needs to be refrigerated. On the other hand, most buttercream frostings are safe at room temperature. It has to do with the ratio of sugar and liquid. Bacteria needs moisture to grow, and sugar is a deterrent at high concentrations.
If the frosting is at least 65% sugar by weight, it can be kept at room temperature without refrigeration. This recipe is 55.4% sugar by weight. For more information on this topic, check out my pawpaw frosting recipe page, where I go into more details including how to calculate the sugar ratio and adjust to make it safe at room temperature.
In order for this frosting to be allowed to stored at room temperature, the sugar would have to increase from 1.25 cups to 2 cups. At that point, the frosting would taste extremely sweet and mask the pawpaw flavor.