If you've never grown asparagus before, you might be confused on when you can harvest spears. As someone who's grown asparagus for years, I've had the same questions. I'm here to explain when and how to harvest - making this as simple as possible.
Why can't you harvest asparagus the first year?
Every guide that explains how to grow asparagus repeats the same advice: do not harvest asparagus the first year you plant it. But why is that?
When asparagus crowns are transplanted, they need time to get established. The roots need to adjust to new soil and they need a lot of energy to grow.
That energy comes from the asparagus spears that are left unharvested. As they grow, they leaf out (aka "fern out"). That growth soaks up the sun and transfers the energy to the roots.
The roots desperately need that energy the first year. Taking it away dramatically weakens the plant (and future yields). Since asparagus plants will be around for decades to come, slow and steady wins the race.
Harvest timeline
Asparagus plants need extra energy to stay healthy, which comes from the spears leafing (ferning) out. While you can harvest after the first year, you have to do so slowly to make sure enough energy still reaches the roots.
Asparagus crowns need time to establish - the stronger they are, the heavier the yields. Weak plants produce less asparagus and limp spears that are skinnier than a pencil.
The timeline below assumes you are planting 1-year old crowns.
Year of planting (first summer): do not cut any spears
2nd summer: harvest spears for up to 2 weeks
3rd summer: harvest spears for 4 - 6 weeks
4th year and beyond: harvest spears for 8-12 weeks
During harvest season, each crown shoots out a new spear that's ready to harvest in 2-4 days (depending on the weather and other growing conditions). If you haven't grown asparagus before, it's unreal to watch how quickly spears grow.
You can harvest the spears until they are pencil-thin. Once they reach that point, the plant is weakening and needs spears to fern out for energy collection.
How to harvest
You can harvest asparagus spears the second summer after you planted. Some people wait until the third year, but research shows harvesting for a short period in the second year actually increases yields in subsequent years.
Harvest while the tips are still tight and compact, before they fern out.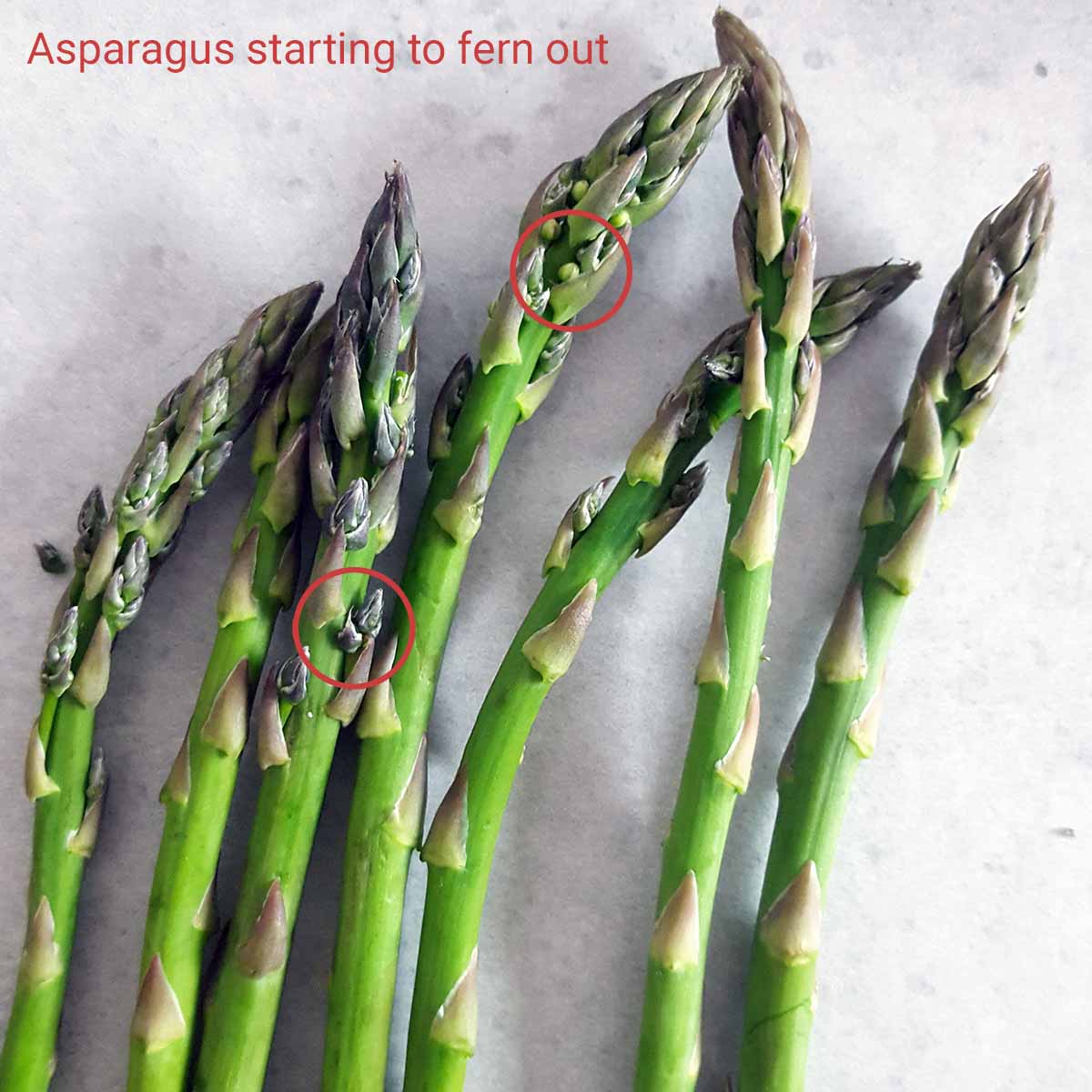 There are generally two methods to harvest asparagus spears:
Use a knife and cut the spear below the soil
Snap the spear off by hand, near ground level
Cutting below the soil
Many farmers use a knife and cut below the ground because the spears end up 20% longer. Since asparagus is sold by weight, this makes their harvest more profitable. In addition the University of Minnesota notes that, "the advantage to cutting spears below the soil is that the white, woody base restricts water loss, which preserves spear quality."
However, the portion of the spear that is below the dirt is usually very fibrous and tough - so it ends up getting trimmed off anyway. You'll know it when you see the white butt ends (they are white because the sunlight couldn't reach that part, so it wasn't able to turn green).
Snapping above the soil
The best way for most home gardeners to harvest asparagus is snap it off near the base. It should break before it hits any fibrous portion. The leftover stump will wither, and a new spear will grown from a bud underground.
The above-ground method is also better, because when using a knife below the soil, you might accidentally cut a bud or spear that has already started to grow, but isn't visible yet.
When to stop harvesting & post harvest care
At any point during your harvest season, stop cutting spears if they get pencil thin (smaller than ⅜") or growth slows considerably. This means the plant is running out of energy. At this point, harvest all spears, regardless of size and height.
Now is a good time to apply fertilizer, specifically nitrogen. Nitrogen helps plants produce leafy growth, which will help the asparagus plants 'fern out' nicely.
The ferns absorb energy from the sun and transfer it to the roots for storage over winter. This helps produce a good crop the following year.
How much you can expect to harvest
If you've already bought & planted crowns, congratulations! If not, see how much asparagus to plant per person first.
Most retailers sell crowns in packs of 25, which is enough for 1-2 people depending on how much you plan to eat in a season (and if you are preserving for future use).
Peak production
How much asparagus is that, you ask? During peak production (starting around year 7), you can expect:
½ - ¾ pound per crown per season (about 10-15 spears over 8 weeks)
25 crowns yields 12-18 pounds per season (spread out over 8 weeks)
That's about 2-3 pounds per week, for 8 weeks
A bundle of asparagus at the grocery store is about 1 pound and contains 15-20 spears.
Earlier production
Early years produce less while the plants get established. How much less? Based on data from several research trials at various universities, there appears to be a trend:
Year 2: (first time you can harvest), has minimal yields
Year 3: produces about 33% of peak (4-5 lbs per 25 crowns)
Year 4-5: production continues to increase to 45-55% of peak
Year 6: production is at about 66% of peak (8-10 lbs per 25 crowns)
Year 7-8: peak production is reached
Year 10 and later: production declines about 5% per year, according to farmers
Storage
Ideally, you harvest spears right before you use them. Once harvested, they very quickly convert their sugars to starch, losing flavor and that super fresh quality. This happens very quickly over the first 24 hours, and then at a slower rate after that.
Storing harvested spears in the fridge slows that sugar conversion, preserving freshness. Asparagus can also be canned (in a pressure cooker), and frozen.
Recipes & resources