These crispy quinoa cakes were born to be soup's sidekick. Make-ahead instructions also help keep soup dinners easy.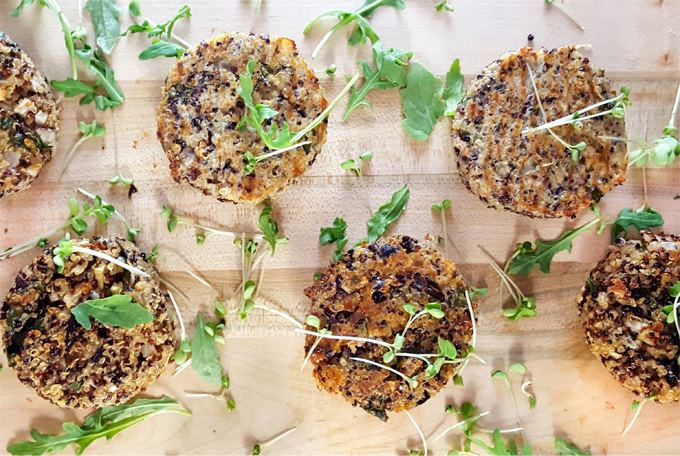 What to eat with soup?
I don't know why I still struggle to answer this question. I love soups and I have a long list of soups that I want to make. But every... single... time... I am left trying to solve what seems like an impossible problem - I don't know what to make with the soup.
Until I found these quinoa cakes.
They are subtly flavored so they pair well with nearly any soup. The olives add saltiness without having an overpowering flavor. The garlic, onion, and parsley also add to the background flavor.
Because I like always being up front with you, I want to make sure I'm clear: these have a pleasant, light flavor. They aren't big and bold on their own, by design. When I eat them with soups that benefit from a glug of hot sauce, I pour some on these quinoa cakes too. Trader Joe's Green Dragon sauce is a perfect not-too-spicy option for these.
I also suggest adding a few spices to the mix that you plan to use in your soup - the flavors in this recipe are very flexible.

Recipe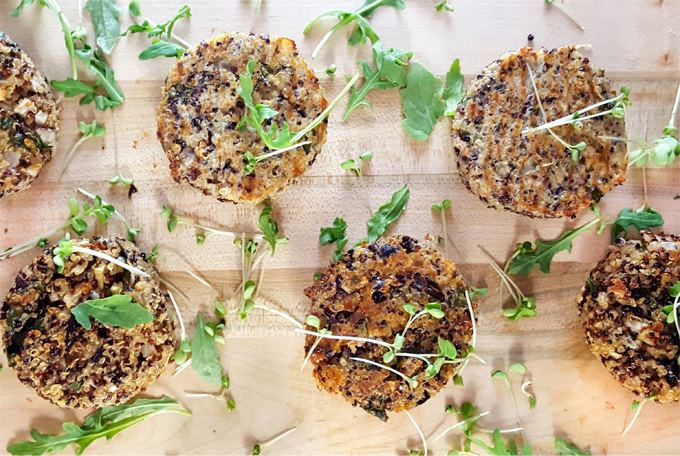 Ingredients
1

cup

dry quinoa

1

bunch parsley

4

cloves

garlic

1

medium yellow onion

½

cup

olives*

2

lemons

½

cup

fresh parmesan cheese

1

Tbs

chia seeds*

3

large eggs

beaten

½

teaspoon

salt

½

teaspoon

aleppo pepper or red pepper flakes

Parchment paper
Instructions
COOK THE QUINOA
Follow the instructions for the package to cook 1 cup of dry quinoa.
PREP & PREHEAT
Preheat oven to 350 degrees.

It takes about 15 minutes to chop everything, so a food processor might save time.

As you prep each ingredient, toss it in a large mixing bowl: Chop parsley. Dice garlic and onion very fine. Dice olives. Zest the lemon and cut it into quarters. Shred the cheese. Beat eggs.
MIX IT ALL TOGETHER
Add slightly cooled quinoa to the mixing bowl with your prepped ingredients (including eggs). Add chia seeds and spices. Mix well.
MAKE CAKES
Coat the inside of a ¼ measuring cup with oil. Fill it with quinoa mixture, packed tight, and level it off. (Packing it tight helps prevent it from falling apart). Drop the cake on a parchment-lined baking sheet.They will be somewhat fragile, but should hold their shape. If it didn't hold it's shape, try adding in some extra chia seeds or bread crumbs.
BAKE
Bake for 20-25 minutes at 350. No need to flip. To serve, flip them upside down, so the browned bottoms are face up. Serve with a fresh squeeze of lemon. It also goes incredibly well with

Trader Joe's Green Dragon Sauce

.
Notes
* Choose your favorite olives, any kind will work (pitted saves time).
* Chia seeds are healthy, but if you don't want to buy them, replace them with ¼ cup bread crumbs.
* Aleppo pepper is tart and spicy. If you don't have it, just use red pepper flakes
Nutrition
Nutrition Facts
Lemon & Olive Quinoa Cakes
Amount per Serving
% Daily Value*
* Percent Daily Values are based on a 2000 calorie diet.
Notes for the Quinoa Cakes
Protein source - Quinoa is one of the few plant sources that contains all 9 essential amino acids, typically provided by meats.
Chia seeds - If you don't have these in your pantry yet, grab some on your next shopping trip (you can find them by the quinoa and other grains). You will use them up before you know it. Chia seeds are one of the favored 'superfoods' for good reason, as they are very rich in macro and micro-nutrients. They expand and 'gel' things, so some people have started using them as thickeners in jams instead of gelatin. They are very easy to add to salads, salad dressings, anything with grains, smoothies and so on.
Bake vs pan fry - Pan frying is messier, adds unnecessary oil to the cakes, and requires a perfect flip so these don't fall apart. I found that baking these quinoa cakes on parchment paper is the ideal method, with the bottoms browning nicely, and the cakes holding together well. Don't try this without the parchment paper, they will stick to the pan, even if you oil it (at least in my tests).
Make ahead - You can make the quinoa cakes ahead of time (uncooked), and the mixture will last 1-2 days in the fridge. You can also cook them, and reheat them later. Alternatively, you can prep everything ahead of time, except the eggs, and assemble right before you want to cook them. Assembly would take about 5 minutes of egg beating and ingredient mixing, then another few minutes to plop them all on the parchment paper.
What to eat with these?
Soup! These are great with this NYT Broccoli & Potato Soup (for winter) or Love & Olive Oil's Corn-Zucchini Soup (in summer) - both benefit from a glug of Green Dragon sauce.
Salad! Add these to any salad heavy on the green and veggies, that are light on grains (or have none at all). A nice lemon vinaigrette dressing works well, as would an herby green goddess dressing (that you can spread on the quinoa cakes too!)
You could also top the quinoa cakes with avocado, tomatoes and/or feta cheese.
Recipe Inspiration
I found this recipe over at Joy the Baker. She has a lot of fun recipes on my long list of things to make, but her Steak & Stout Pot Pie might be moved to the top of my list!
She's a self-taught baker, turned professional, who has been blogging for almost 10 years! She's a real pro and shares fun recipes.