Farmers' market recipes for July
These collections are special.
You see, most monthly lists grab recipes where the main ingredient is in season, but overlook that several supporting ingredients are not. I admit, it drives me crazy! Pull out my hair kind of crazy.
If I am going to take the time to go to the farmers market, I want to make use of everything they have to offer.
So I put together my own collection – recipes you can make this month. These recipes all use ingredients that are in-season for July (or available at high quality year-round, like lemons or limes), and have a creative spin on the ingredients.
Let's start off with some July appetizer recipes
Smashed blackberry and goat cheese toasts - recipe from Wry Toast
Make this right when hot peppers start showing up in July, which is near the end of apricot season. A great way to use up all of those ripe apricots then enjoy later in the year.
Next up: salads for July
Grilled peach, corn, and zucchini salad with lemon-basil vinaigrette - recipe by The Simple Veganista
Eggplant and caramelized onion grain salad grapes and walnut dressing - recipe by Whole Bite Blog
We tend to think of grapes as a fall crop, but they actually start showing up in June, and last well past the end of eggplant season.
Kale salad with cherries, pistachios and grilled flank steak - recipe by So Let's Hang Out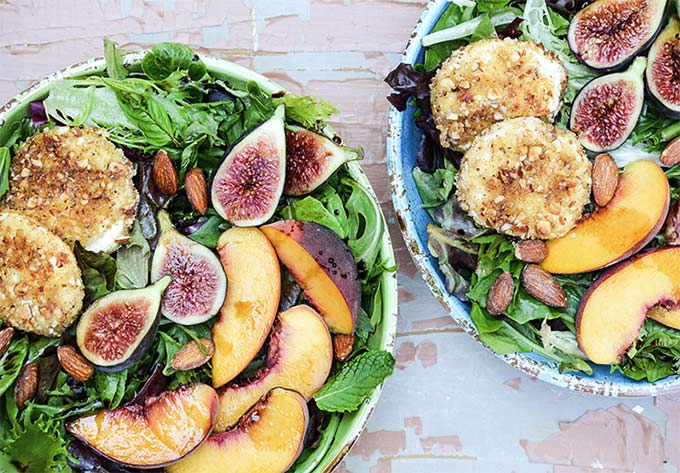 Figs are in season in early summer, and again in early fall, so make this anytime figs are in season.
Use an assortment of berries from the farmer's market - if they have it, it's local and in-season. Most summer berries are in season at the same time.
Main courses, some with meat, some without
Orange-herb chicken kabobs with blueberry balsamic sauce - recipe by Plating Pixels
The recipe calls for pickled jalapenos, but if you use fresh ones, you'll want to make this later in summer, when both blueberries and jalapenos are in season, usually around July.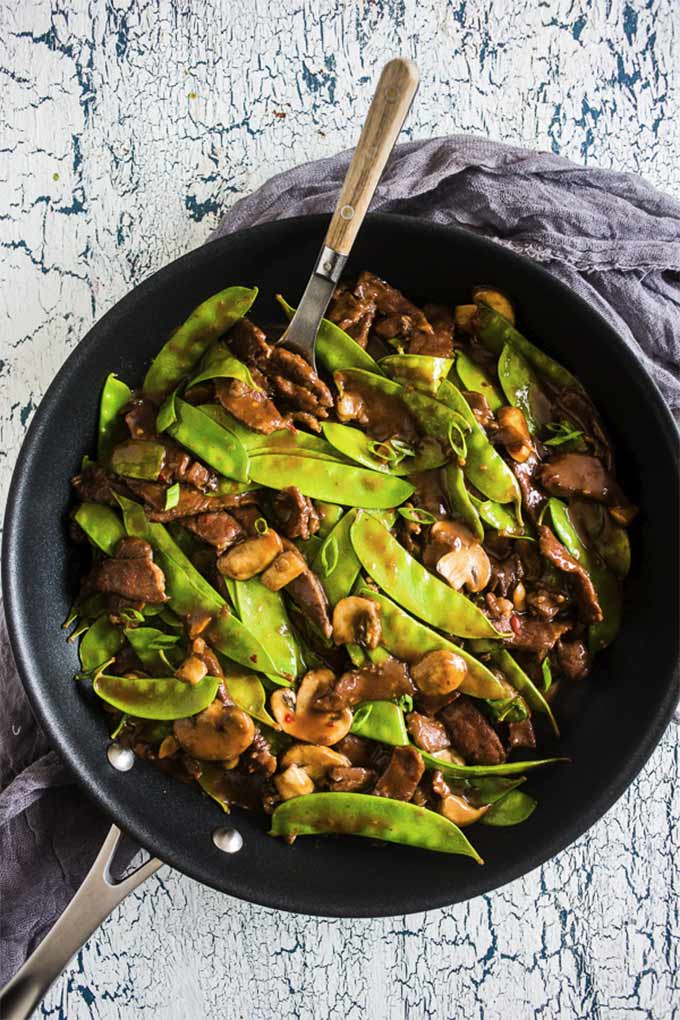 Eggplant and tomato season overlap very well!
Zucchini alfredo - recipe by Damn Delicious
Garlic basil chicken with tomato butter sauce - recipe by Pinch of Yum
BBQ pulled pork sandwiches with raspberry-jalapeno salsa and onion rings - recipe by No Spoon Necessary
Jalapenos are in season when it gets much warmer out, around July - so make these once jalapenos are available, otherwise sub in your favorite hot sauce or dried chilies. The recipe calls for packaged pulled pork - if you are making your own, here's a recipe to try from Stuck on Sweet.
Tomato and cucumber season conveniently overlap. All of the other ingredients are available year-round, so you can really make this anytime cucumbers and tomatoes are both in-season.
Shrimp tacos with apricot and strawberry salsa - recipe by Figs and Flour
Don't forget the side dishes!
Quinoa and spinach stuffed tomatoes - recipe by Diethood
Chili lime salted watermelon - recipe by My Diary of Us
Bonus section: desserts & drinks
Because you can't get enough cherry galettes, here is a chocolate version that also looks incredible! You should try both... in the name of science!