I read a lot of cookbooks (about 200 a year, thanks to the public library). I buy my favorites and review them after cooking through several recipes. Eat Delicious is a keeper (for me). But cookbooks are highly personal, so I hope my review helps you decide if you'll also enjoy this book.
The recipes in this cookbook are hard to classify into one category. They lean towards American, but not entirely. Some are healthy, some are fried. Most use meat, but there's also a vegetarian chapter.
It's not that the author couldn't pick a topic. It's quite the opposite, actually. The collection of recipes makes sense once you know Dennis Prescott's background.
He's a musician that traveled throughout Canada and the United States with several bands. Constantly being on the road had a benefit: he was able to enjoy different food in every city they played in.
When he finally settled down and had to cook for himself, he wanted to bring that experience into his home. Good tasting food was a top priority, not a specific niche. The cookbook shares these recipes and each one comes with a short description of the travels it's inspired by.
If I had to categorize this book, I'd say the majority fall into Gastro-Pub.
A little bit of everything: this cookbook's greatest strength
Most cookbooks that follow a specific diet, cuisine, or trendy niche provide a lot of options. However, I find I usually only want to make a handful of the recipes.
Eat Delicious has a large variety and can easily offer something fun (and different) every day. This is one of its greatest strengths because it's how most people (if I had to guess?) approach food. One day I want a Fried Shoestring Onion Cheeseburger, the next day I want Honey Garlic Noodles.
The author isn't afraid to fry something (Fried Halloumi Burgers, anyone?) or use bacon on a salad. At the same time, he doesn't shy away from vegetable-forward recipes like a roasted butternut squash salad, a chipotle pumpkin beer chili, or kale caesar flatbreads.
There isn't a specific type of cuisine either. You'll find recipes ranging from Italian meatballs, to noodle bowls with peanut sauce, to coriander-apricot chicken and couscous. There are also recipes on making pizza dough, brioche buns, and various sauces.
It's clearly written by someone who enjoys food without trying to define 'healthy' or fall into any specific categories. And I love that about it.
Who should buy Eat Delicious?
Cookbooks are personal and I recommend checking them out at your local library or using the 'look inside' option on Amazon before purchasing. That said, this book will likely be a favorite if you're interested in the following:
Motivation: recipes that look so tasty you are excited to spend time making them, without requiring a ton of fuss.
Inspiration: ideas for twists on classic recipes
Variety: recipes from different types of cuisines, some healthy, some fried, some meat, and some vegetables
Approachable: the recipes are down-to-earth and the instructions are clear. Most ingredients are easy to find. Some recipes are quick & easy, while others take a bit more time in the kitchen.
Instagram: @DennisThePrescott (Eat Delicious' author) has a big following on Instagram and his food photography is stunning. People who love following Instagram celebs will enjoy this book.
On the other hand, this book is probably not a great choice if you want low-calorie (<500) meals. The recipes also don't include nutritional information (although most cookbooks don't, and I wish they did!)
Recipe reviews
I like to make a lot of the recipes from cookbooks before writing about them. It's one thing to thumb through a cookbook and say it looks delicious, it's another to actually cook from it.
I make the recipes exactly as instructed so I can be sure they turn out as the author intended (also a sign they were well tested). Here are a few I made:
Bacon maple scones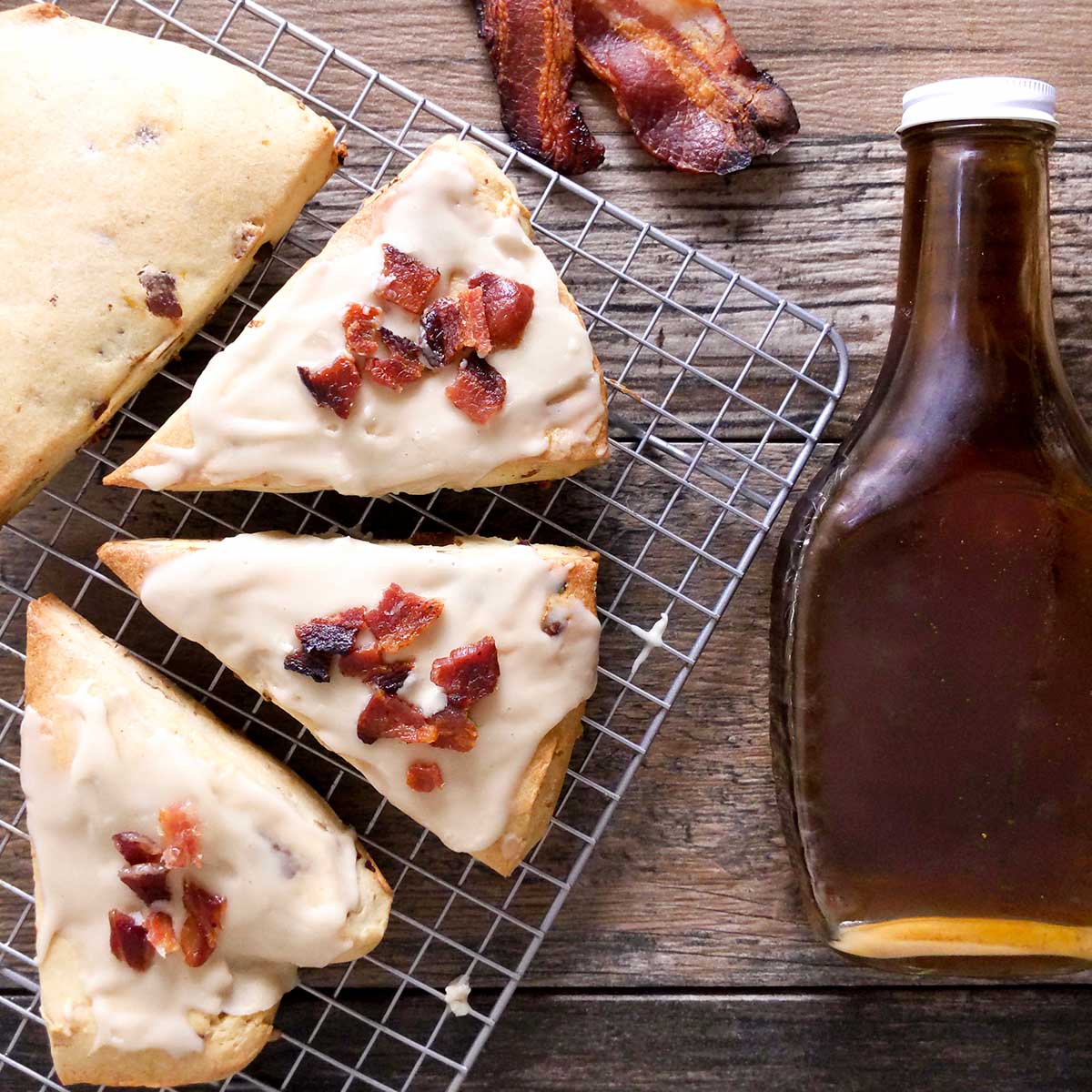 These turned out great, as you might expect based on the title. These are always on my list of things to make when I have overnight guests. The dough can be made in advance the day(s) before and baked fresh that morning.
Each scone has about ½ of a piece of bacon mixed into the dough and another half crumbled on top. I recommend (at least) doubling the amount in the dough to 1 piece each.
Kale caesar flatbreads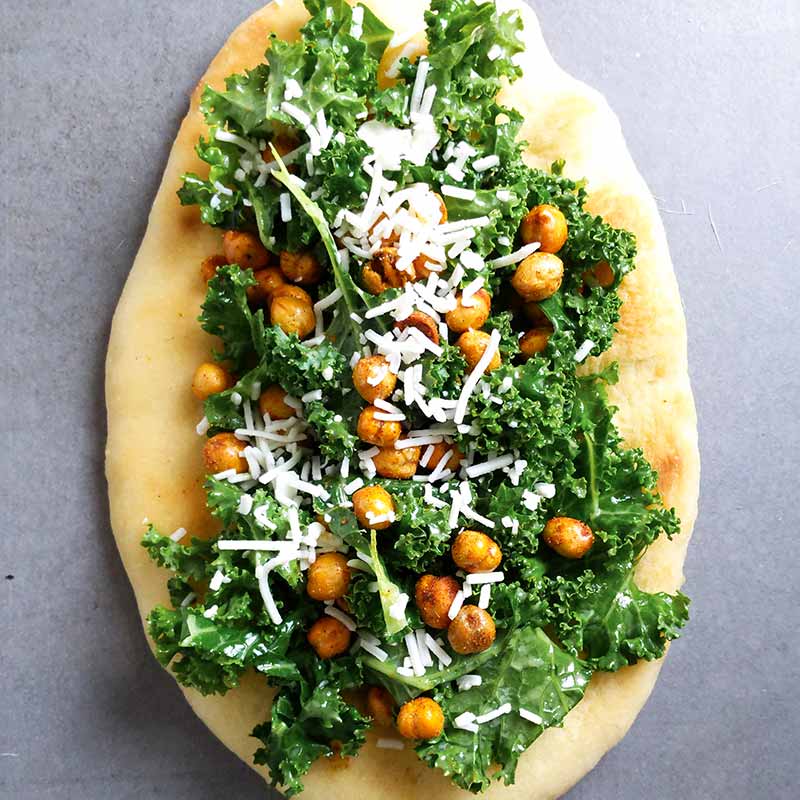 The recipe is a good take on a caesar salad, including a homemade dressing. I like that he gives the option to use worchestershire sauce in place of anchovies in the dressing (so I don't have to buy a special ingredient).
I put the salad on the flatbread, as he did, but going forward will eat them separately, allowing me to have more salad without it falling off.
General tso chicken
This is a pretty standard recipe without any special twists. I made this because most of his recipes have a fun inspirational element and I wanted to test out a 'standard' type recipe. It is similar in flavor to what you'd get at a restaurant (but probably a bit healthier). I wouldn't write home about it, but it's solid.
Highly recommended
Out of 125 recipes, I bookmarked 47 that I wanted to make right away (and plenty more to make later). You can look through the preview on Amazon to see if it interests you (or check your local library).
The link to Eat Delicious on Amazon is an affiliate link (which means I make a tiny commission if you buy it). I was not paid to make this review (and Dennis Prescott has absolutely no idea who I am, so he didn't influence this review either).