The best chocolate cupcakes recipe uses every special trick to enhance the chocolate flavor. It's the best recipe I've worked with.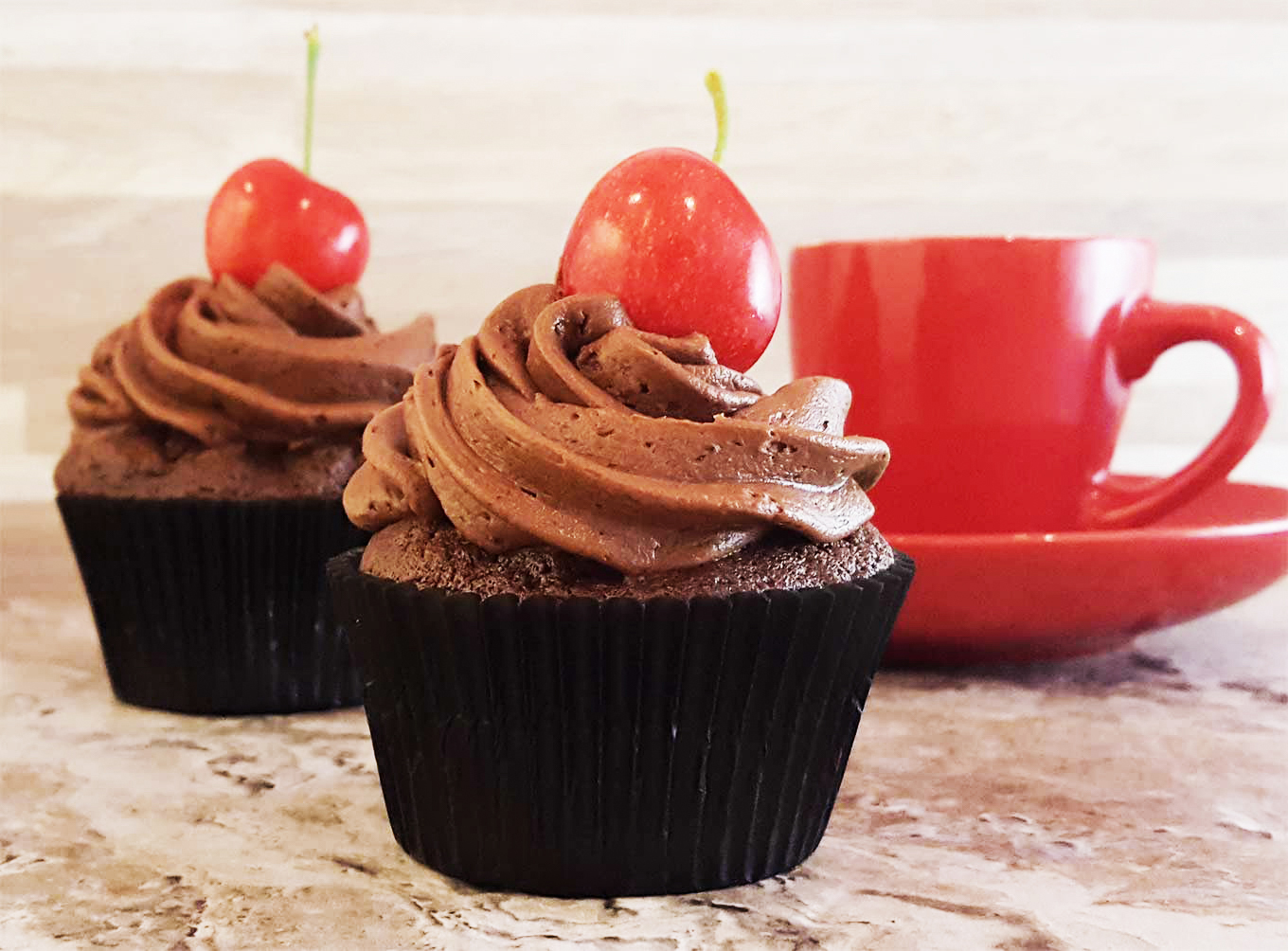 These are nothing... but... chocolate. It's an in-your-face chocolate cupcake. Really, it might even be too chocolaty, if that is even possible (who am I kidding, who would even think such a thing?).
What makes this chocolate cupcake recipe stand out is the focus on ingredients and techniques that maximize the chocolate flavor.
Using more than 1 type of chocolate
Adding cocoa powder to melted butter (instead of adding it to the dry ingredients) enhances the flavor (thanks for that tip, Cook's Illustrated)
Coffee also enhances the chocolate flavor. But to make sure they don't taste like a mocha, we use just a small amount of espresso (or dissolved instant coffee)
The buttercream frosting uses a full cup of cocoa powder and it's worth every cent. Now who gets to lick the bowl?
After the recipe, I've included several how-to videos that I've found for melting chocolate, making buttercream, and frosting cupcakes so they look pretty.
Recipe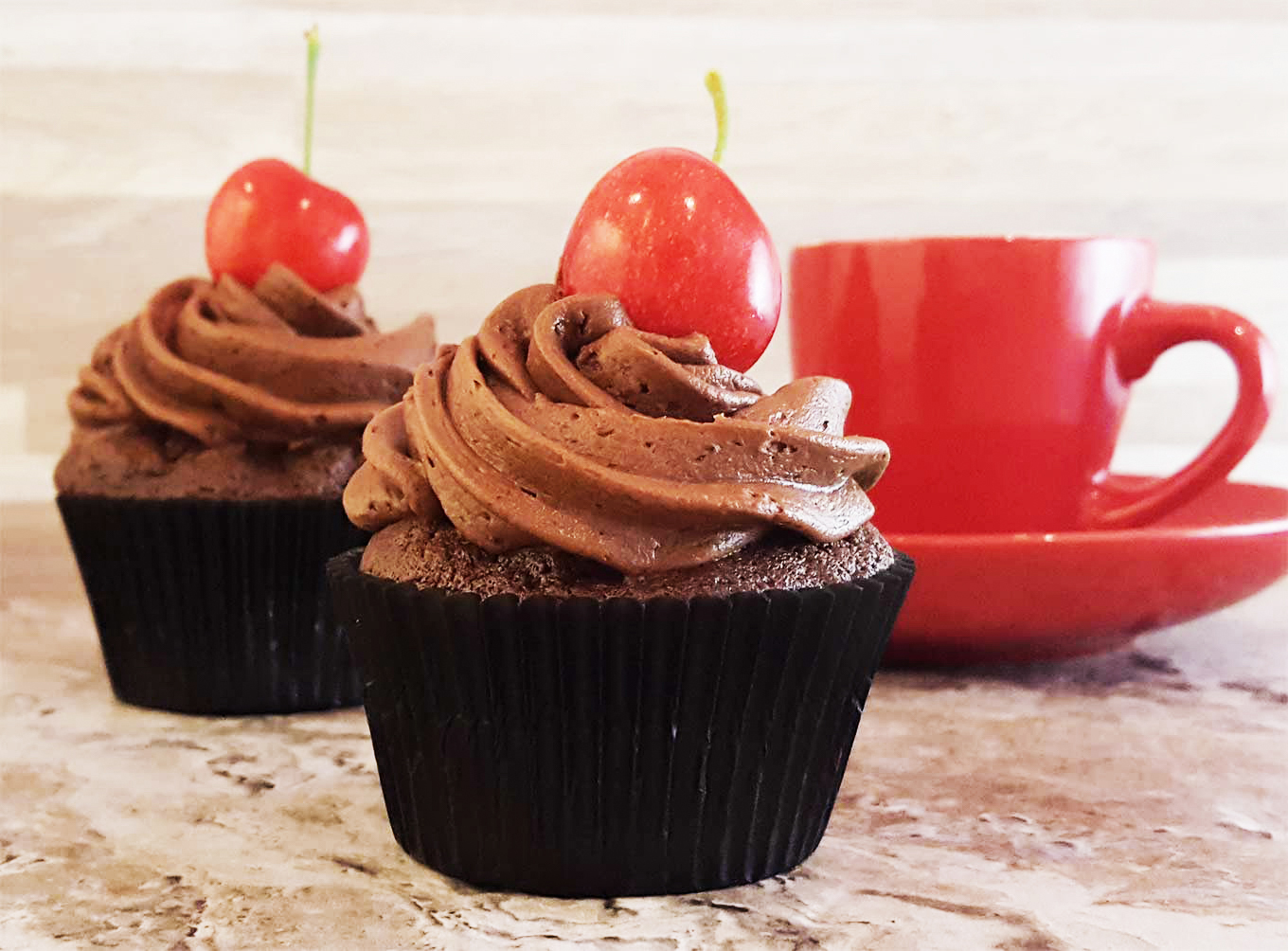 Ingredients
Cupcakes
10

tablespoon

unsalted butter

3

ounces

bittersweet chocolate

¾

cup

cocoa powder

see note

½

teaspoon

espresso powder*

see note

¾

cup

all purpose flour

3.75 ounces

½

teaspoon

baking soda

¾

teaspoon

baking powder

2

large

eggs

¾

cup

sugar

5.25 ounces

2

teaspoon

vanilla extract

½

cup

sour cream

4 ounces

½

teaspoon

salt

12

cherries or strawberries

for decoration
Buttercream frosting
1.5

cups

butter

room temperature

4

cups

powdered sugar

1

cup

cocoa powder

¼

cup

heavy whipping cream

2

teaspoon

vanilla extract

1

pinch

salt
Instructions
CUPCAKES
Preheat oven to 350 degrees F. Line muffin pan with paper liners. Chop the bittersweet chocolate. Cut the butter into small cubes (so it melts faster).
MELT BUTTER & CHOCOLATE
Set a small sauce pan on your stove with 2 inches of water and heat until barely simmering. Set a heat-proof bowl over the top, which will be used to melt the butter and chocolate.

Add the butter, bittersweet chocolate, cocoa powder and espresso powder to the bowl over the simmering water. Heat until it's all melted and whisk until smooth.

Set aside to cool - it should remain warm but not hot.
MIX THE REST OF THE CUPCAKE STUFF UP
Small bowl: Combine flower, baking soda and baking powder and whisk to stir it up well.

Medium bowl: Whisk eggs briefly in the medium bowl. Then add sugar, vanilla, and salt. Whisk again until well combined.

Add melted butter & chocolate mixture to the medium egg-sugar bowl. Whisk again!

Sift ⅓ of flour mixture into the medium bowl, whisk until combined.

Whisk in the sour cream. Then sift in remaining flour mixture and which until it's combined and thick.
POUR & BAKE
Pour the batter into 12 muffin cups in your muffin tin.

Bake for about 18-20 minutes. Check for doneness by inserting a toothpick into the middle - it will come out clean when they are done.
BUTTERCREAM FROSTING
Get out your electric stand mixer and put on the whisk attachment.

Whisk butter and sugar in the mixer on medium-high speed for 2 minutes. Scrape down the sides. Continue whisking on medium-high until it's light in color and very fluffy (about 2-3 more minutes).

Turn the mixer off and add in the cocoa powder, vanilla and salt. Turn it on very low (or it will fly out of the mixer). Mix for 30 seconds, until combined.

Add in the heavy cream, 1 tablespoon at a time, mixing for about 20-30 seconds each time to combine.

Turn the mixer off and scrape down the sides again. This is necessary so you get a nice, even buttercream frosting.

Turn the mixer on medium high and mix one last time, for 3-5 more minutes. It's ready when the frosting is very light and fluffy. It should be slightly shiny.
Notes
The dutch cocoa and black cocoa powder blend from King Arthur is perfect for this recipe.
Espresso powder from King Arthur flour is my go-to for chocolate baking, you'll never look back.
Nutrition is calculated for the cupcake only. Frosting adds anywhere from 150-300 calories per cupcake depending how generous you are with it!
Nutrition
Nutrition Facts
Chocolate lover's ultimate chocolate cupcakes
Amount per Serving
% Daily Value*
* Percent Daily Values are based on a 2000 calorie diet.
Recipe notes & tips
Ingredient tips:
Cocoa powder - The dutch cocoa and black cocoa powder blend from King Arthur is perfect for this recipe. It's a bit expensive, but I love using it. It makes a noticeable difference. However, if you want to use regular or dutch cocoa, both work well in this recipe (you'll lose a tiny bit of rich chocolate flavor, but it's honestly not a huge deal). If you want to geek out about the different kinds of cocoa powder and when you should use them, King Arthur has a great blog post that's worth a read.
Espresso powder - I use this powder instead of actual espresso because I don't have to worry about changing the amount of liquid in a recipe. You could use instant coffee as well, but it won't be as powerful. Another option: you could sub in a shot of espresso. Add it in along with the vanilla extract and decrease the sour cream by a similar amount.
Buttercream tutorial: It can be hard to know what a recipe means when it said 'beat until light and fluffy.' I know, I've been there. This tutorial covers all of the basics and shows you what each step looks like.
How to frost a cupcake & make it pretty: This tutorial video covers some basic ways to pipe frosting. I used the star tip technique that starts in the center and smushes outward. And if you mess up... just scrape the frosting off and try again.
Melting chocolate over hot water: if you have never done this before, the description in the recipe has you saying, "Wait, what?!" This video shows how to do it better than words ever could.
Chocolate cupcake recipe inspiration:
The techniques and base recipe are from Cook's Illustrated, which focuses on more of the science behind cooking to get things right. Their original recipe called for 1 less ounce of bittersweet chocolate and ½ a cup of cocoa powder. I can't help myself... it's a compulsion to always add more chocolate, which is in the recipe I shared with you. They also didn't use coffee to enhance the chocolate flavor, which surprised me. So I added that in to make the chocolate cupcakes even more chocolaty.
The buttercream frosting comes from I Am Baker and it turned out perfect. (I also added a tad more chocolate, like I said, I can't help it).