Corn is ready to harvest all at once, so the number to plant per person depends on how much you plan to eat in a 1-2 week window, as well as how much you will freeze.
You can also extend the harvest with succession planting or by planting an early & late season variety. This effectively doubles the harvest-able season, so you can plant more per person.
A general guideline of how many corn plants per person:
Single variety, fresh eating only: 6-10 per person
Single variety, fresh + freezing: 12-20 per person
Single variety, succession planted: 12-20 per person
Early & late variety: 12-20 per person
The rest of this guide digs into the details, helping you get a clearer picture of how much corn you personally want to plant.
Jump to:
How many ears per stalk
As a general rule of thumb, you can assume 1 ear per stalk unless otherwise noted on the seed packet. But a couple of things can influence this: the specific variety and the growing conditions.
Genetics
Most types of sweet corn have 1-2 ears per stalk. This partly depends on the genetics of the variety - if a variety reliably produces more than one ear, seed catalogues will usually let you know.
For example, "If given enough room, [Gotta Have It!] will produce up to 3 ears per stalk. It's a very productive variety." - Gurneys, Gotta Have It!
Some varieties claim to produce 3-6 ears per plant due to "tillers" that pop up (which are like side shoots that don't take nutrients from the main stalk). I haven't grown this type, but I encourage you to try "Six Shooters" from Victory Seeds.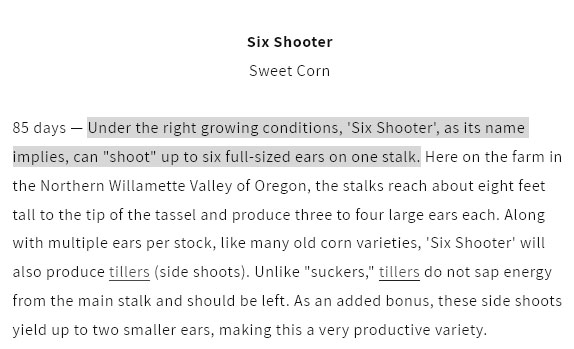 Resource competition
The other factor is spacing and competition for resources. When corn is planted closely, the stalks compete for light, water, and nutrients. Too much competition limits the number of ears that develop to one.
Most often, when planted 1 per square foot, stalks will produce one ear. To increase the chance of two ears per stalk, you'd need to increase the spacing. That said, the denser 1/sq ft spacing typically yields more total ears, even with only one ear per stalk.
How many cobs per cup of kernels?
While the size of the cob and kernels vary, in general an ear of corn yields about ¾ cup of kernels.
Keep that ratio in mind if you plan to make fresh corn bread, fritters, soups, or just freeze it.
Harvest window
The other factor to consider when choosing how many corn seeds to plant per person, is how quickly you plan to eat it.
A single variety is usually ready to harvest all at once. Most corn can sit on the stalk for 3-7 days before quality deteriorates, and another 1-20 days in the fridge depending on the variety.
Standard (su) corn: harvest window is a few days long. Once harvested it loses 50% sugar in 24 hours. (But it has the best corn flavor and texture!)
Sugary enhanced (se) corn: harvest window is about 1 week. Once harvested it can last up to a week in the fridge.
Supersweet (sh2) corn: harvest window is about 1 week, and can last 2-3 weeks in the fridge. Tradeoff: flavor and texture.
If you sow Supersweet corn, you can grow more plants per person as you'll have a longer time to eat them. However, the tradeoff is while these are very sweet, they tend to have less corn flavor and their texture is tougher.
Extending the season
There's only so much corn you can eat in the short harvest window. But if you can get multiple harvest windows, you can plant more corn!
To extend the harvest season, try one of the following:
Succession planting: every 2 weeks, sow more seeds. Note the minimum plot size each time you sow seeds should be 4x4 feet (or 16 plants) to assure proper pollination. This is great for larger families who also have the space for this much corn.
Two plantings: about 4-6 weeks after your first planting, sow another set. In most climates, sow the second set no later than the first week of July. This is best done with early or mid-season varieties so they have enough time to mature.
Early and late season varieties: plant two different varieties at the same time: an early and a late season - they won't interfere with each other's pollination and will yield corn about 3-4 weeks apart.
To determine if a variety is early, mid, or late, look at the time to maturity on the seed packet or description.
Early season: less than 70 days
Mid season: 70-84 days
Late season: 85+ days
To avoid cross pollination, their pollination cycles should be at least 2 weeks apart. Since the mid-season classification is 2 weeks long (70-84 days is a 2-week stretch), planting an early and late variety should work out just fine.
Type
Early season
varieties
Late season
varieties
Standard (su)
Early Sunglow
Golden Jubilee,
Silver Queen
Sugary Enhanced (se)
My Fair Lady,
Sugar Baby
Incredible,
Kandy Korn
Supersweet (sh2)
Northern Xtra Sweet,
Summer Sweet
none
I haven't found an early & late combo for Supersweet corn. They are all early and mid-season with pollination cycles that could overlap.