After using almost 100 pounds of apples to test apple butter recipes, I've found the best apple varieties, cooking methods and ingredients to produce the best results.
Best apples: McIntosh for their cider-like flavor and smooth consistency with cooked
Best cooking method: pressure cooking for its ability to caramelize the sugars
Best flavor tip: keep the peels in when cooking and strain out later if desired
Along the way I also ran into problems and have a full troubleshooting guide that covers everything from runny apple butter to lack
Jump to: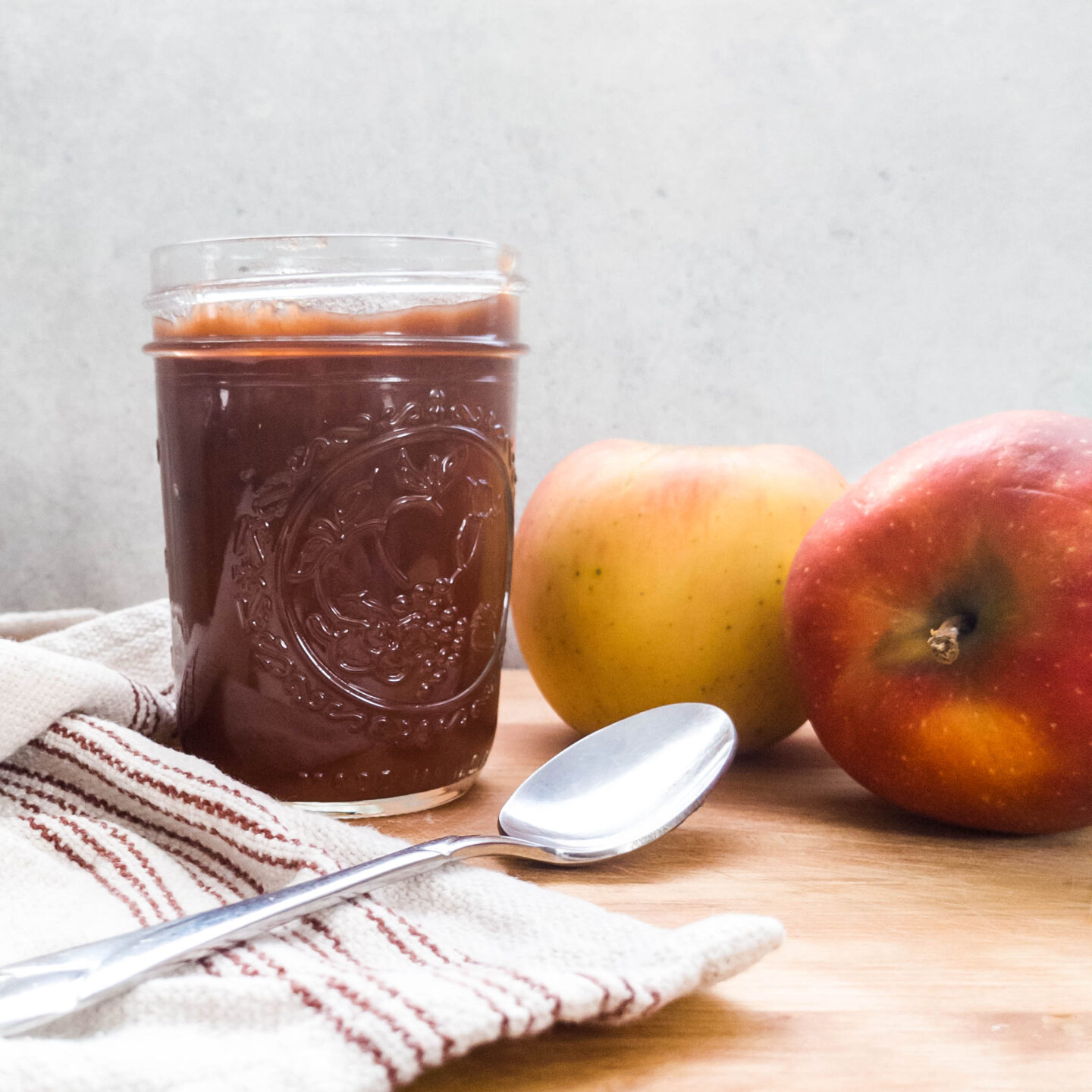 Equipment
Pressure cooker or Instant Pot

Slow cooker or Instant Pot
Ingredients
6

pounds

apples, cut into 2" chunks, leave peels on

McIntosh preferred

½ cup

apple cider

(do not reduce when scaling down)

⅓

cup

brown sugar

see substitution notes

1

teaspoon

combination of cinnamon & nutmeg

optional, add at end to taste

1

tablespoon

lemon juice

optional, even for canning (see notes for source)
Instructions
Cut the apples into large pieces (2" in great), keep peels on, but discard cores.
Pressure cook
Add apples,

⅓ cup

sugar and ½ cup of apple cider to the Instant Pot or pressure cooker. Bring to pressure and cook for 45 minutes. (Apples will soften with just 10 minutes of pressure cooking, but a longer duration caramelizes the sugars to create an excellent flavor).

Quick release the steam. (Slow release allows the water vapor to condense, which would then need to be cooked for evaporation. We want this steam gone to speed up the slow cooking process).

Puree the apples with an immersion blender (or transfer to a blender and return to the Instant Pot). Continue to leave the peels in at this point.
Slow cook
After pressure cooking with quick-release steam, slow cooking will take anywhere from 3-8 hours to fully thicken.

Set the Instant Pot to slow cook for 8 hours and crack the lid to let steam escape. (Do not remove the lid completely as the temperature will drop and make this process take longer). Apple butter will take 3-8 hours depending on the batch size and other variables.

Check the apple butter after 2 hours for consistency, and continue to check until it is done. Scrape the bottom of the pot to see how quickly the apple butter fills in the trench you created. When the apple butter doesn't fill in the area for 1-2 seconds, it is time to add the spices (if necessary)

Add optional spices + extra sugar if needed: Taste the apple butter when it is almost done. Add spices, a little at a time, continuing to taste. (If added earlier in the process, it can cook down too strongly).

Test for doneness: Scrap a spatula along the bottom of the pot. Once the apple butter no longer fills in the space for 5+ seconds, it is done.
Canning
Bring water to boil in a deep stock pot with a metal rack on the bottom to prevent the jars from touching the bottom of the pot. Make sure the water will cover the jars by 1-2 inches.

Fill sterilized canning jars with the warm apple butter. Leave ¼" headspace and run a skewer along the inside to remove air bubbles. Secure lids and bands to finger-tight.

Process jars in the hot water bath for 15 minutes (adjusting up for altitude). Remove and let cool. Leave jars undisturbed for 12 hours, then check for proper seals.
Notes
Lemon juice optional: apples are acidic enough that no extra acid (like lemon juice) is necessary. Ball's own apple butter recipe for canning doesn't even include lemon juice.
The following sugars are approved by Ball and PennState Extension on safe canning:
Granulated sugar
Brown sugar
Maple syrup
Honey
Agave nectar
Sucralose (Splenda)
Stevia
Safe liquid substitutions according to Ball:
Water
Apple juice
Apple cide
Cranberry juice
Orange juice
Pineapple juice
Nutrition
Nutrition Facts
Farmers market apple butter
Amount per Serving
% Daily Value*
* Percent Daily Values are based on a 2000 calorie diet.
Why the Instant Pot really does make the best apple butter
Determined to test every aspect of apple butter recipes, I bought almost 100 pounds of apples from the farmers market to have ample supply.
When I started these tests, I expected that pressure cooking the apples (in a pressure cooker or the Instant Pot) would just be a fast and reliable way to soften them.
Cooking time
Recipes the use the pressure cooker have vastly different cooking times, from 10 minutes to 90. I tested both ends of the spectrum and several in between.
Apples do soften in as little as 10 minutes, leaving a white mash behind that purees easily. Pressure cooking for 90 minutes, on the other hand, resulted in a very dark apple mixture with excellent flavor.
Further investigation led me to a Kenji Lopez article about how the high heat reached in pressure cookers caramelizes sugars. More tests revealed that 45 minutes of pressure cooking seems to be enough to develop that rich flavor and deep color.
Slow cooking or Saute
The Instant Pot lets you continue the cooking process with either the slow cooker or saute options, without dirtying another pan. In my opinion, this makes the Instant Pot better than using a pressure cooker and a slow cooker.
That said, the Instant Pot is known for being a mediocre slow cooker. That's because it doesn't have a ceramic pot and doesn't distribute heat as well. This is a very important distinction when slow cooking stews or meats, but it's totally acceptable for apple butter.
Apple butter just needs a good, slow cook to evaporate the water. It will take longer in an Instant Pot slow cooker than a standalone one (like Crock Pot). That's fine assuming you aren't worried about the time.
If time is an issue, you can always use the Instant Pot saute function. You can skip slow cooking all together and saute for 20-60 minutes until it is done (but the flavor won't be as rich). You can also saute for 20-30 minutes, finishing with 2+ hours of slow cooking.
Batch size
I've tried a lot of different batch sizes and have some notes to share:
6 pounds
I've found that 6 pounds of apples ends up resulting in just over 4 pounds after they are cut and cores are discarded. (The recipe calls for 6 pounds of apples, that is before they are cut and cored).
The resulting 4-ish pounds of apple pieces fill just up to the max line in a 6-quart Instant Pot. You don't want to go over that line for function and safety reasons (like apples can foam up, etc).
This sized batch will also take quite a bit longer during the slow cooking process. There's a lot more liquid in a larger batch because apple are full of water. It can take 8 hours to fully thicken. If you need to speed it along, use the saute function for 20 minutes, followed by slow cooking for about 3-4 hours.
3-4 pounds
These batches cooked up much quicker, fully thickening in 3-4 hours. Note that you still need ½ a cup of liquid at the start (the same amount required in the 6 pound batch) because the Instant Pot (and all pressure cookers) need a minimum amount of liquid to create the steam necessary to pressurize.
Less than ½ a cup can also trigger a 'burn error' code on the Instant Pot. If you do see that, just add ¼ cup more liquid. That said, I didn't have problems in any of the batches with ½ cup in a 6-quart Instant Pot.
The smaller batches yielded 2.5-3 cups of apple butter.
How to tell when apple butter is done
Apple butter is supposed to be thick, but spreadable. To get that consistency, cook it until enough liquid has evaporated.
Scrape a spatula along the bottom of the pot and note the results: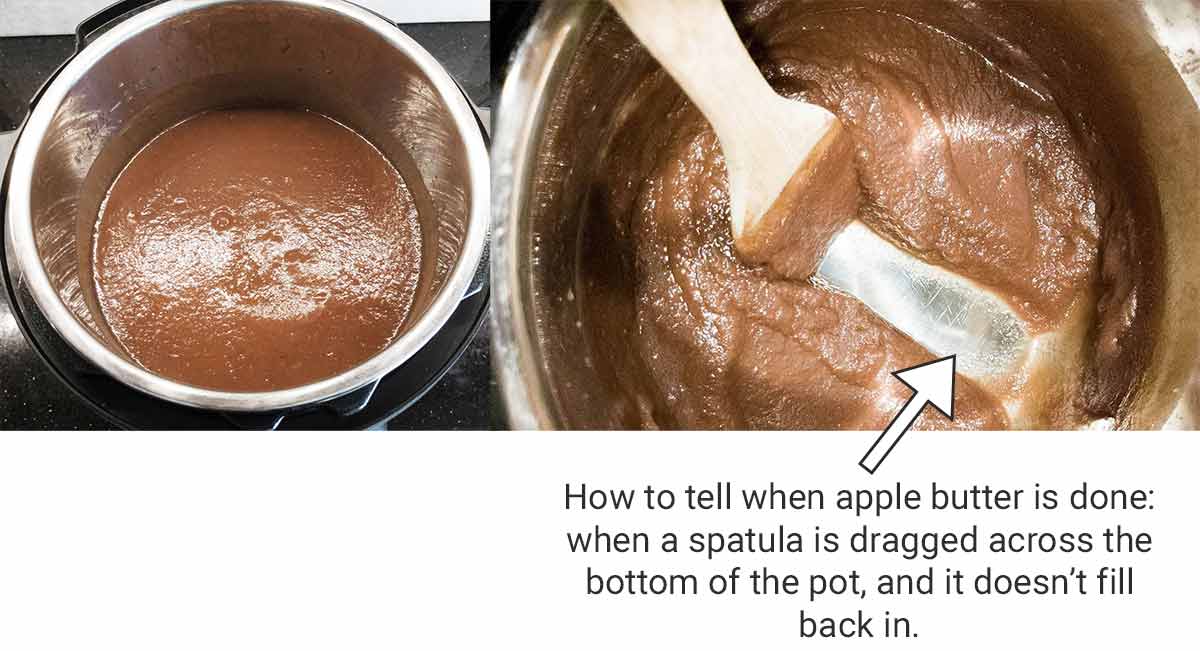 Very thin: If the apple butter immediately fills in the area you just scraped, keep cooking it.
Somewhat thin: If the apple butter slowly fills in the area, completely filling it within 3 seconds, keep cooking it. It's close, but likely needs another hour in a slow cooker.
Thick: If the apple butter leaves a trench and doesn't fill it in, and it isn't a jelly-like consistency, it's done!
Too thick: if the apple butter thickens like a jelly where it is no longer spreadable, it is too thick. You can add more apple cider (or water) to thin it down. Check the consistency again.
If you add significantly more sugar than the recipe calls for, it can thicken faster or start to gel. That's because the sugar interacts with the natural pectin in apples that are responsible for the gelling of jams and jellies.
It's fine to add more sugar, just be sure to test the consistency sooner than the recipe calls for.
Best apples
McIntosh are the stars of apple butter for good reason. They have an excellent tart & sweet, cider-like flavor that remains when cooked. Some apples, like Granny Smith, lose all of their apple flavor when cooked.
McIntosh also break down into a smooth pulp when cooked. That's bad for pie, but great for apple sauce and apple butter.

The only downside to McIntosh is that they have thick skins. Their skins add a lot of flavor, but are chewy and are likely best strained out.
Jonathan are a very close second to McIntosh for flavor, but they also have thicker skins. Cortland are also excellent for their flavor.
If you can't find those varieties, try combining these 3 more widely available varieties:
Granny Smith for the tartness (though they lose most all other flavor when cooked)
Golden Delicious (for a good apple flavor when cooked)
Fuji (for added sweetness)
If you don't have the perfect apples, don't worry. Apple butter can give old or flavorless apples a second chance. You'll just need to add more sugar, spices, and acid (like lemon juice).
You might also like: apple recipes & best uses for each variety.
How to can apple butter safely
First, let's review a few safety rules:
Use approved liquids and sugars
Keep the apple butter mixture hot throughout the cooking process (note that keeping the lid partially on during slow cooking is good practice to ensure the temperature doesn't drop too low)
The stock pot for the hot water bath should be keep enough to cover the jars with 1-2 inches of water
Increase cooking time at higher altitudes
Feet above sea level
Example cities
Increase processing time by:
1,000 - 3,000
Phoenix, AZ
Las Vegas, NV
Asheville, NC
5 minutes
3,001 - 6,000
El Paso, TX
Bend, OR
Salt Lake City, UT
10 minutes
6,001 - 8,000
Denver, CO
Lake Tahoe, CA
Flagstaff, AZ
15 minutes
8,001 - 10,000
Telluride, CO
Aspen, CO
Angel Fire, NM
20 minutes
Canning apple butter at higher altitudes
Look up your elevation.
Acid & sugar
Apples are acidic enough that they don't require added acid, like lemon juice, to be safe for canning. Ball's own apple butter recipe for canning doesn't even include lemon juice.
But that doesn't mean apple juice can't be added. Sometimes it is added for flavor, to add a nice acidic punch. This is helpful if you are only using sweet apples, like Fuji.
Sugar is often cited as a preservative. But when it comes to canning fruit, it isn't necessary for safe canning. The amount used is not enough to prevent bacteria growth.
Other cooking methods
If you don't have a pressure cooker, Instant Pot, or don't want to use one, there are several other ways to make apple butter.
Stove top: fast, messy, lighter flavor and color
Slow cooker: slow, hands off, rich flavor and dark color
Stove top to oven: medium amount of time and effort, rich flavor and dark color